Abstract
The robotic single-site platform was released in late 2011 and since then it has been applied in the fields of gynecologic surgery and general surgery. In this review, we include the reported robotic experience in the above-described fields using this platform to perform surgery as well as its advantages and limitations.
Access options
Buy single article
Instant access to the full article PDF.
USD 39.95
Price excludes VAT (USA)
Tax calculation will be finalised during checkout.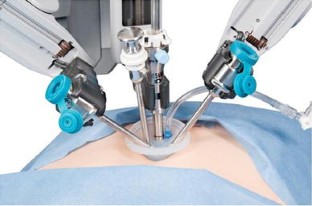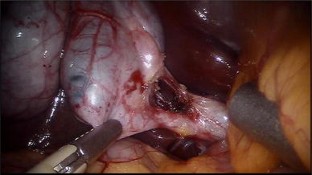 References
Goel R, Lomanto D. Controversies in single-port laparoscopic surgery. Surg Laparosc Endosc Percutan Tech. 2012;22(5):380–2. doi:10.1097/SLE.0b013e3182615776.

Singh J, Podolsky ER, Castellanos AE. Optimizing single port surgery: a case report and review of technique in colon resection. Int J Med Robot. 2011;7(2):127–30. doi:10.1002/rcs.378 Epub 2011 Mar 10.

Wren SM, Curet MJ. Single-port robotic cholecystectomy: results from a first human use clinical study of the new da Vinci single-site surgical platform. Arch Surg. 2011;146:1122–7.

Paek J, Lee JD, Kong TW, Chang SJ, Ryu HS. Robotic single-site versus laparo-endoscopic single-site surgery for adnexal tumours: a propensity score-matching analysis. Int J Med Robot. 2015. doi:10.1002/rcs.1707.

El Hachem L, Momeni M, Friedman K, Moshier EL, Chuang LT, Gretz HF III. Safety, feasibility and learning curve of robotic single-site surgery in gynecology. Int J Med Robot. 2015. doi:10.1002/rcs.1675.

Scheib SA, Fader AN. Gynecologic robotic laparoendoscopic single-site surgery: prospective analysis of feasibility, safety, and technique. Am J Obstet Gynecol. 2015;212(2):179.e1–8. doi:10.1016/j.ajog.2014.07.057.

Akdemir A, Zeybek B, Ozgurel B, Oztekin MK, Sendag F. Learning curve analysis of intracorporeal cuff suturing during robotic single-site total hysterectomy. J Minim Invasive Gynecol. 2015;22(3):384–9. doi:10.1016/j.jmig.2014.06.006.

Cela V, Freschi L, Simi G, Ruggiero M, Tana R, Pluchino N. Robotic single-site hysterectomy: feasibility, learning curve and surgical outcome. Surg Endosc. 2013;27(7):2638–43. doi:10.1007/s00464-012-2780-8.

Bogliolo S, Mereu L, Cassani C, Gardella B, Zanellini F, Dominoni M, Babilonti L, Delpezzo C, Tateo S, Spinillo A. Roboticsingle-site hysterectomy: two institutions' preliminary experience. Int J Med Robot. 2015;11(2):159–65. doi:10.1002/rcs.1613.

Gargiulo AR, Lewis EI, Kaser DJ, Srouji SS. Robotic single-site myomectomy: a step-by-step tutorial. Fertil Steril. 2015;104(5):e13. doi:10.1016/j.fertnstert.2015.07.1159.

Lewis EI, Srouji SS, Gargiulo AR. Robotic single-site myomectomy: initial report and technique. Fertil Steril. 2015;103(5):1370–7. doi:10.1016/j.fertnstert.2015.02.021.

Gungor M, Kahraman K, Ozbasli E. Ovarian cystectomy for a dermoid cyst with the new single-port robotic system. 2015;24(2):123–6. doi:10.3109/13645706.2014.955029.

Sinno AK, Tanner EJ III. Robotic laparoendoscopic single site radical hysterectomy with sentinel lymph node mapping and pelvic lymphadenectomy for cervical cancer. Gynecol Oncol. 2015;139(2):387. doi:10.1016/j.ygyno.2015.08.012.

Tateo S, Nozza A, Del PC, Mereu L. Roboticsingle-site pelvic lymphadenectomy. Gynecol Oncol. 2014;134(3):631. doi:10.1016/j.ygyno.2014.06.027.

White MA, Autorino R, Spana G, Hillyer S, Stein RJ, Kaouk JH. Robotic laparoendoscopic single site urological surgery: analysis of 50 consecutive cases. J Urol. 2012;187(5):1696–701. doi:10.1016/j.juro.2011.12.073.

Jung JH, Kim HW, Oh CK, Song JM, Chung BH, Hong SJ, Rha KH. Simultaneous robot-assisted laparoendoscopic single-site partial nephrectomy and standard radical prostatectomy. Yonsei Med J. 2014;55(2):535–8. doi:10.3349/ymj.2014.55.2.535.

Shin TY, Lim SK, Komninos C, Kim DW, Han WK, Hong SJ, Jung BH, Rha KH. Laparoendoscopic single-site (LESS) robot-assisted partial nephrectomy (RAPN) reduces postoperative wound pain without a rise in complication rates. BJU Int. 2014;114(4):555–61. doi:10.1111/bju.12783.

Tiu A, Shin TY, Kim KH, Lim SK, Han WK, Rha KH. Robotic laparoendoscopic single-site transumbilical partial nephrectomy: functional and oncologic outcomes at 2 years. Urology. 2013;82(3):595–9. doi:10.1016/j.urology.2013.05.010.

Buffi NM, Lughezzani G, Fossati N, Lazzeri M, Guazzoni G, Lista G, Larcher A, Abrate A, Fiori C, Cestari A, Porpiglia F. Robot-assisted, single-site, dismembered pyeloplasty for ureteropelvic junction obstruction with the new da Vinci platform: a stage 2a study. Eur Urol. 2015;67(1):151–6. doi:10.1016/j.eururo.2014.03.001.

Komninos C, Tuliao P, Kim DK, Choi YD, Chung BH, Rha KH. Robot-assisted laparoendoscopic single-site partial nephrectomy with the novel da vinci single-site platform: initial experience. Korean J Urol. 2014;55(6):380–4. doi:10.4111/kju.2014.55.6.380.

Mathieu R, Verhoest G, Vincendeau S, Manunta A, Bensalah K. Robotic-assisted laparoendoscopic single-site radical nephrectomy: first experience with the novel Da Vinci single-site platform. World J Urol. 2014;32(1):273–6.

Kroh M, El-Hayek K, Rosenblatt S, Chand B, Escobar P, Kaouk J, et al. First human surgery with novel single-port robotic system: cholecystectomy using the da Vinci single-site platform. Surg Endosc. 2011;25:3566–73.

Ayloo S, Choudhury N. Single-site robotic cholecystectomy. JSLS. 2014;18:e2014.00266. doi:10.4293/JSLS2014.00266.

Uras C, B€oler DE, Erg€uner I, et al. Robotic single port cholecystectomy (R-LESS-C): Experience in 36 patients. Asian J Surg. 2014;37:115–9.

Konstantinidis KM, Hirides P, Hirides S, et al. Cholecystectomy using a novel Single-Site(1) robotic platform: early experience from 45 consecutive cases. Surg Endosc. 2012;26:2687–94.

Nelson EC, Gottlieb AH, M€uller HG, et al. Robotic cholecystectomy and resident education: The UC Davis experience. Int J Med Robot. 2014;10:218–22.

Morel P, Buchs NC, Iranmanesh P, et al. Robotic single-site cholecystectomy. J Hepatobiliary Pancreat Sci 2014;21:134–41.

Lee SH, Jung MJ, Hwang HK, et al. The first experiences of robotic single-site cholecystectomy in Asia: a potential way to expand minimally-invasive single-site surgery? Yonsei Med J. 2015;56:189–95.

Gonzalez AM, Rabaza JR, Donkor C, et al. Single-incision cholecystectomy: a comparative study of standard laparoscopic, robotic, and SPIDERplatforms. Surg Endosc. 2013;27:4524–31.

Vidovszky TJ, Carr AD, Farinholt GN. Single-site robotic cholecystectomy in a broadly inclusive patient population: a prospective study. Ann Surg. 2014;260:134–41.

Gonzalez A, Murcia CH, Romero R, Escobar E, Garcia P, Walker G, Gallas M, Dickens E, McIntosh B, Norwood W, Kim K, Rabaza J, Parris D. A multicenter study of initial experience with single-incision robotic cholecystectomies (SIRC) demonstrating a high success rate in 465 cases. Surg Endosc. 2015 Nov 5. [Epub ahead of print].

Buchs NC, Hagen ME, Pugin F, et al. Intra-operative fluorescent cholangiography using indocyanin green during robotic single site cholecystectomy. Int J Med Rob. 2012;8:436–40.

Spinoglio G, Priora F, Bianchi PP, et al. Real-time near-infrared (NIR) fluorescent cholangiography in single-site robotic cholecystectomy (SSRC): a single-institutional prospective study. Surg Endoscopy. 2013;27:2156–62.

Daskalaki D, Fernandes E, Wang X, et al. Indocyanine green (ICG) fluorescent cholangiography during robotic cholecystectomy: results of 184 consecutive cases in a single institution. Surg Innov. 2014;21:615–21.

Calatayud D, Milone L, Elli EF, et al. ICG-fluorescence identification of a small aberrant biliary canaliculus during robotic cholecystectomy. Liver Int. 2012;32:602.

Boni L, David G, Mangano A, et al.: Clinical applications of indocyanine green (ICG) enhanced fluorescence in laparoscopic surgery. Surg Endosc. 2014;11.

Iranmanesh P, Morel P, Buchs NC, et al. Docking of the da Vinci Si surgical system with single site technology. Int J Med Robotics Comput Assit Surg. 2013;9:12–6.
Ethics declarations
Conflict of Interest
Drs. Escobar Dominguez and Gonzalez declare no conflicts of interest.
Human and Animal Rights and Informed Consent
This article does not contain any studies with human or animal subjects performed by any of the authors.
Additional information
This article is part of the Topical Collection on Robotic Surgery.
About this article
Cite this article
Escobar Dominguez, J.E., Gonzalez, A.M. Robotic Single-Site Surgery: A Summary of the Current Clinical Experience. Curr Surg Rep 4, 22 (2016). https://doi.org/10.1007/s40137-016-0142-5
Published:

DOI: https://doi.org/10.1007/s40137-016-0142-5
Keywords