Abstract
Infectious uveitis is one of the most common and visually devastating causes of uveitis in the US and worldwide. This review provides a summary of the identification, treatment, and complications associated with certain forms of viral, bacterial, fungal, helminthic, and parasitic uveitis. In particular, this article reviews the literature on identification and treatment of acute retinal necrosis due to herpes simplex virus and varicella virus as well as cytomegalovirus retinitis. While no agreed-upon treatment has been identified, the characteristics of Ebola virus panuveitis is also reviewed. In addition, forms of parasitic infection such as Toxoplasmosis and Toxocariasis are summarized, as well as spirochetal uveitis. Syphilitic retinitis is reviewed given its increase in prevalence over the last decade. The importance of early identification and treatment of infectious uveitis is emphasized. Early identification can be achieved with a combination of maintaining a high suspicion, recognizing certain clinical features, utilizing multi-modal imaging, and obtaining specimens for molecular diagnostic testing.
Access options
Buy single article
Instant access to the full article PDF.
US$ 39.95
Tax calculation will be finalised during checkout.
Subscribe to journal
Immediate online access to all issues from 2019. Subscription will auto renew annually.
US$ 79
Tax calculation will be finalised during checkout.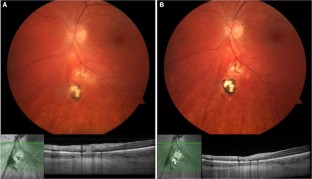 References
Papers of particular interest, published recently, have been highlighted as: • Of importance •• Of major importance
1.

Acharya NR, Tham VM, Esterberg E, et al. Incidence and prevalence of uveitis: results from the Pacific Ocular Inflammation Study. JAMA Ophthalmol. 2013;131(11):1405–12.

2.

Suhler EB, Lloyd MJ, Choi D, Rosenbaum JT, Austin DF. Incidence and prevalence of uveitis in Veterans Affairs Medical Centers of the Pacific Northwest. Am J Ophthalmol. 2008;146(6):890–6 e898.

3.

McCannel CA, Holland GN, Helm CJ, Cornell PJ, Winston JV, Rimmer TG. Causes of uveitis in the general practice of ophthalmology. UCLA Community-Based Uveitis Study Group. Am J Ophthalmol. 1996;121(1):35–46.

4.

Rodriguez A, Calonge M, Pedroza-Seres M, et al. Referral patterns of uveitis in a tertiary eye care center. Arch Ophthalmol. 1996;114(5):593–9.

5.

Nalcacioglu-Yuksekkaya P, Ozdal PC, Teke MY, Kara C, Ozturk F. Presumed herpetic anterior uveitis: a study with retrospective analysis of 79 cases. Eur J Ophthalmol. 2014;24(1):14–20.

6.

Esmaeli-Gutstein B, Winkelman JZ. Uveitis associated with varicella virus vaccine. Am J Ophthalmol. 1999;127(6):733–4.

7.

Lin P, Yoon MK, Chiu CS. Herpes zoster keratouveitis and inflammatory ocular hypertension 8 years after varicella vaccination. Ocul Immunol Inflamm. 2009;17(1):33–5.

8.

Naseri A, Good WV, Cunningham ET Jr. Herpes zoster virus sclerokeratitis and anterior uveitis in a child following varicella vaccination. Am J Ophthalmol. 2003;135(3):415–7.

9.

Wong RW, Jumper JM, McDonald HR, et al. Emerging concepts in the management of acute retinal necrosis. Br J Ophthalmol. 2013;97(5):545–52.

10.

Young NJ, Bird AC. Bilateral acute retinal necrosis. Br J Ophthalmol. 1978;62(9):581–90.

11.

Holland GN. Standard diagnostic criteria for the acute retinal necrosis syndrome. Executive Committee of the American Uveitis Society. Am J Ophthalmol. 1994;117(5):663–7.

12.

Lau CH, Missotten T, Salzmann J, Lightman SL. Acute retinal necrosis features, management, and outcomes. Ophthalmology. 2007;114(4):756–62.

13.

Schaal S, Kagan A, Wang Y, Chan CC, Kaplan HJ. Acute retinal necrosis associated with Epstein–Barr virus: immunohistopathologic confirmation. JAMA Ophthalmol. 2014;132(7):881–2.

14.

Ganatra JB, Chandler D, Santos C, Kuppermann B, Margolis TP. Viral causes of the acute retinal necrosis syndrome. Am J Ophthalmol. 2000;129(2):166–72.

15.

Tran TH, Stanescu D, Caspers-Velu L, et al. Clinical characteristics of acute HSV-2 retinal necrosis. Am J Ophthalmol. 2004;137(5):872–9.

16.

Van Gelder RN, Willig JL, Holland GN, Kaplan HJ. Herpes simplex virus type 2 as a cause of acute retinal necrosis syndrome in young patients. Ophthalmology. 2001;108(5):869–76.

17.

Martinez J, Lambert HM, Capone A, et al. Delayed bilateral involvement in the acute retinal necrosis syndrome. Am J Ophthalmol. 1992;113(1):103–4.

18.

Clarkson JG, Blumenkranz MS, Culbertson WW, Flynn HW Jr, Lewis ML. Retinal detachment following the acute retinal necrosis syndrome. Ophthalmology. 1984;91(12):1665–8.

19.

Meghpara B, Sulkowski G, Kesen MR, Tessler HH, Goldstein DA. Long-term follow-up of acute retinal necrosis. Retina. 2010;30(5):795–800.

20.

Tibbetts MD, Shah CP, Young LH, Duker JS, Maguire JI, Morley MG. Treatment of acute retinal necrosis. Ophthalmology. 2010;117(4):818–24.

21.

Park JJ, Pavesio C. Prophylactic laser photocoagulation for acute retinal necrosis. Does it raise more questions than answers? Br J Ophthalmol. 2008;92(9):1161–2.

22.

Holland GN, Togni BI, Briones OC, Dawson CR. A microscopic study of herpes simplex virus retinopathy in mice. Invest Ophthalmol Vis Sci. 1987;28(7):1181–90.

23.

Hillenkamp J, Nolle B, Bruns C, Rautenberg P, Fickenscher H, Roider J. Acute retinal necrosis: clinical features, early vitrectomy, and outcomes. Ophthalmology. 2009;116(10):1971–5 e1972.

24.

Engstrom RE Jr, Holland GN, Margolis TP, et al. The progressive outer retinal necrosis syndrome. A variant of necrotizing herpetic retinopathy in patients with AIDS. Ophthalmology. 1994;101(9):1488–502.

25.

Accorinti M, Gilardi M, Pirraglia MP, et al. Cytomegalovirus anterior uveitis: long-term follow-up of immunocompetent patients. Graefe's Arch Clin Exp Ophthalmol. 2014;252(11):1817–24.

26.

de Schryver I, Rozenberg F, Cassoux N, et al. Diagnosis and treatment of cytomegalovirus iridocyclitis without retinal necrosis. Br J Ophthalmol. 2006;90(7):852–5.

27.

•• van Boxtel LA, van der Lelij A, van der Meer J, Los LI. Cytomegalovirus as a cause of anterior uveitis in immunocompetent patients. Ophthalmology. 2007;114(7):1358–62. This article provided one of the earlier larger case series demonstrating CMV as a cause for hypertensive uveitis in immunocompetent patients.

28.

Chee SP, Bacsal K, Jap A, Se-Thoe SY, Cheng CL, Tan BH. Clinical features of cytomegalovirus anterior uveitis in immunocompetent patients. Am J Ophthalmol. 2008;145(5):834–40.

29.

Chee SP, Jap A. Cytomegalovirus anterior uveitis: outcome of treatment. Br J Ophthalmol. 2010;94(12):1648–52.

30.

Sandy CJ, Bloom PA, Graham EM, et al. Retinal detachment in AIDS-related cytomegalovirus retinitis. Eye. 1995;9(Pt 3):277–81.

31.

•• de Groot-Mijnes JD, de Visser L, Rothova A, Schuller M, van Loon AM, Weersink AJ. Rubella virus is associated with fuchs heterochromic iridocyclitis. Am J Ophthalmol. 2006;141(1):212–4. This article showed compelling evidence that FHI was caused by rubella virus rather than herpes family viruses or Toxo plasmosis.

32.

•• Birnbaum AD, Tessler HH, Schultz KL, et al. Epidemiologic relationship between fuchs heterochromic iridocyclitis and the United States rubella vaccination program. Am J Ophthalmol. 2007;144(3):424–8. This epidemiologic study provided strong corroborative evidence supporting rubella as a cause for FHI.

33.

Varkey JB, Shantha JG, Crozier I, et al. Persistence of Ebola Virus in ocular fluid during convalescence. New Engl J Med. 2015. doi:10.1056/NEJMoa1500306.

34.

Chan CK, Limstrom SA, Tarasewicz DG, Lin SG. Ocular features of west nile virus infection in North America: a study of 14 eyes. Ophthalmology. 2006;113(9):1539–46.

35.

Khairallah M, Ben Yahia S, Ladjimi A, et al. Chorioretinal involvement in patients with West Nile virus infection. Ophthalmology. 2004;111(11):2065–70.

36.

Jo T, Mizota A, Hatano N, Tanaka M. Frosted branch angiitis-like fundus following presumed influenza virus type A infection. Jpn J Ophthalmol. 2006;50(6):563–4.

37.

Khairallah M, Chee SP, Rathinam SR, Attia S, Nadella V. Novel infectious agents causing uveitis. Int Ophthalmol. 2010;30(5):465–83.

38.

Khairallah M, Kahloun R, Ben Yahia S, Jelliti B, Messaoud R. New infectious etiologies for posterior uveitis. Ophthalmic Res. 2013;49(2):66–72.

39.

Aldave AJ, King JA, Cunningham ET Jr. Ocular syphilis. Curr Opin Ophthalmol. 2001;12(6):433–41.

40.

Wickremasinghe S, Ling C, Stawell R, Yeoh J, Hall A, Zamir E. Syphilitic punctate inner retinitis in immunocompetent gay men. Ophthalmology. 2009;116(6):1195–200.

41.

Gass JD, Braunstein RA, Chenoweth RG. Acute syphilitic posterior placoid chorioretinitis. Ophthalmology. 1990;97(10):1288–97.

42.

Pichi F, Ciardella AP, Cunningham ET Jr, et al. Spectral domain optical coherence tomography findings in patients with acute syphilitic posterior placoid chorioretinopathy. Retina. 2014;34(2):373–84.

43.

Lima BR, Mandelcorn ED, Bakshi N, Nussenblatt RB, Sen HN. Syphilitic outer retinopathy. Ocul Immunol Inflamm. 2014;22(1):4–8.

44.

Chao JR, Khurana RN, Fawzi AA, Reddy HS, Rao NA. Syphilis: reemergence of an old adversary. Ophthalmology. 2006;113(11):2074–9.

45.

Clement ME, Okeke NL, Hicks CB. Treatment of syphilis: a systematic review. JAMA. 2014;312(18):1905–17.

46.

Centers for Disease C, Prevention. Recommendations for test performance and interpretation from the Second National Conference on Serologic Diagnosis of Lyme Disease. MMWR Morb Mortal Weekly Rep. 1995;44(31):590–1.

47.

Winterkorn JM. Lyme disease: neurologic and ophthalmic manifestations. Surv Ophthalmol. 1990;35(3):191–204.

48.

Rathinam SR. Ocular manifestations of leptospirosis. J Postgrad Med. 2005;51(3):189–94.

49.

De Luigi G, Mantovani A, Papadia M, Herbort CP. Tuberculosis-related choriocapillaritis (multifocal-serpiginous choroiditis): follow-up and precise monitoring of therapy by indocyanine green angiography. Int Ophthalmol. 2012;32(1):55–60.

50.

Wroblewski KJ, Hidayat AA, Neafie RC, Rao NA, Zapor M. Ocular tuberculosis: a clinicopathologic and molecular study. Ophthalmology. 2011;118(4):772–7.

51.

Heysell SK, Houpt ER. The future of molecular diagnostics for drug-resistant tuberculosis. Expert Rev Mol Diagn. 2012;12(4):395–405.

52.

Singh R, Toor P, Parchand S, Sharma K, Gupta V, Gupta A. Quantitative polymerase chain reaction for Mycobacterium tuberculosis in so-called Eales' disease. Ocul Immunol Inflamm. 2012;20(3):153–7.

53.

• Taravati P, Lam D, Van Gelder RN. Role of molecular diagnostics in ocular microbiology. Curr Ophthalmol Rep. 2013;1(4):181–9. This review provides an excellent overview of the utility of PCR to diagnose infectious causes of uveitis.

54.

Couto C, Rossetti S, Schlaen A, Hurtado E, D'Alessandro L, Goldstein DA. Chronic postoperative Mycobacterium gordonae endophthalmitis in a patient with phakic intraocular lens. Ocul Immunol Inflamm. 2013;21(6):491–4.

55.

Kuznetcova TI, Sauty A, Herbort CP. Uveitis with occult choroiditis due to Mycobacterium kansasii: limitations of interferon-gamma release assay (IGRA) tests (case report and mini-review on ocular non-tuberculous mycobacteria and IGRA cross-reactivity). Int Ophthalmol. 2012;32(5):499–506.

56.

Nishida T, Ishida K, Niwa Y, Kawakami H, Mochizuki K, Ohkusu K. An eleven-year retrospective study of endogenous bacterial endophthalmitis. J Ophthalmol. 2015;2015:261310.

57.

Do T, Hon do N, Aung T, Hien ND, Cowan CL Jr. Bacterial endogenous endophthalmitis in Vietnam: a randomized controlled trial comparing vitrectomy with silicone oil versus vitrectomy alone. Clin. Ophthalmol. 2014;8:1633–40.

58.

Brooks RG. Prospective study of Candida endophthalmitis in hospitalized patients with candidemia. Arch Intern Med. 1989;149(10):2226–8.

59.

Donahue SP, Greven CM, Zuravleff JJ, et al. Intraocular candidiasis in patients with candidemia. Clinical implications derived from a prospective multicenter study. Ophthalmology. 1994;101(7):1302–9.

60.

Lin P, Wynn P, Stewart JM. Management of a recalcitrant candidal chorioretinal abscess. Retinal cases and brief reports. Summer. 2012;6(3):280–4.

61.

Pearson PA, Piracha AR, Sen HA, Jaffe GJ. Atovaquone for the treatment of toxoplasma retinochoroiditis in immunocompetent patients. Ophthalmology. 1999;106(1):148–53.

62.

• Felix JP, Lira RP, Zacchia RS, Toribio JM, Nascimento MA, Arieta CE. Trimethoprim-sulfamethoxazole versus placebo to reduce the risk of recurrences of Toxoplasma gondii retinochoroiditis: randomized controlled clinical trial. Am J Ophthalmol. 2014;157(4):762–76 e761. This study demonstrated a potential prophylactic strategy to prevent recurrence of Toxoplasmosis retinochoroiditis using trimethoprim/sulfamethoxazole.

63.

Baharivand N, Mahdavifard A, Fouladi RF. Intravitreal clindamycin plus dexamethasone versus classic oral therapy in toxoplasmic retinochoroiditis: a prospective randomized clinical trial. Int Ophthalmol. 2013;33(1):39–46.

64.

Lasave AF, Diaz-Llopis M, Muccioli C, Belfort R Jr, Arevalo JF. Intravitreal clindamycin and dexamethasone for zone 1 toxoplasmic retinochoroiditis at twenty-four months. Ophthalmology. 2010;117(9):1831–8.

65.

Stewart JM, Cubillan LD, Cunningham ET Jr. Prevalence, clinical features, and causes of vision loss among patients with ocular toxocariasis. Retina. 2005;25(8):1005–13.

66.

Lagace-Wiens PR, Dookeran R, Skinner S, Leicht R, Colwell DD, Galloway TD. Human ophthalmomyiasis interna caused by Hypoderma tarandi, Northern Canada. Emerg Infect Dis. 2008;14(1):64–6.

67.

Gass JD, Braunstein RA. Further observations concerning the diffuse unilateral subacute neuroretinitis syndrome. Arch Ophthalmol. 1983;101(11):1689–97.

68.

Vezzola D, Kisma N, Robson AG, Holder GE, Pavesio C. Structural and functional retinal changes in eyes with DUSN. Retina. 2014;34(8):1675–82.

69.

Muccioli C, Belfort R Jr. Hypopyon in a patient with presumptive diffuse unilateral subacute neuroretinitis. Ocul Immunol Inflamm. 2000;8(2):119–21.

70.

Casella AM, Farah ME, Belfort R Jr. Antihelminthic drugs in diffuse unilateral subacute neuroretinitis. Am J Ophthalmol. 1998;125(1):109–11.

71.

Takkar B, Chandra P, Kumar K, Vanathi M. Toxic granulomatous anterior uveitis in live intracameral cysticercosis masquerading as leukocoria. Can J Ophthalmol. 2014;49(6):e140–1.

72.

Wani VB, Kumar N, Uboweja AK, Kazem MA. A case of submacular cysticercosis treated by pars plana vitrectomy in Kuwait. Oman J Ophthalmol. 2014;7(3):144–6.

73.

Fekkar A, Bodaghi B, Touafek F, Le Hoang P, Mazier D, Paris L. Comparison of immunoblotting, calculation of the Goldmann-Witmer coefficient, and real-time PCR using aqueous humor samples for diagnosis of ocular toxoplasmosis. J Clin Microbiol. 2008;46(6):1965–7.

74.

Talabani H, Asseraf M, Yera H, et al. Contributions of immunoblotting, real-time PCR, and the Goldmann-Witmer coefficient to diagnosis of atypical toxoplasmic retinochoroiditis. J Clin Microbiol. 2009;47(7):2131–5.
Disclosure
Dr. Phoebe Lin has no conflicts of interest to declare.
Human and Animal Rights and Informed Consent
This article contains no studies with human or animal subjects performed by the author.
Additional information
This article is part of the Topical collection on Ocular Therapy.
About this article
Cite this article
Lin, P. Infectious Uveitis. Curr Ophthalmol Rep 3, 170–183 (2015). https://doi.org/10.1007/s40135-015-0076-6
Keywords
Infectious uveitis

Molecular diagnostics

Multi-modal ophthalmic imaging