Abstract
Purpose of Review
To summarize relevant anatomy, imaging, and treatment of hip fractures, and to synthesize a treatment-based approach for description and classification of hip fractures.
Recent Findings
Hip fractures are predominantly seen in the elderly, where they are increasing in incidence, and can substantially reduce healthy life-years. The osseous and vascular anatomy of the proximal femur can help to understand the clinical implications of various types of hip fracture. Radiographs are the principal imaging modality for assessment of hip fracture, although there is a clear role for CT and MRI for assessment of radiographically occult fractures. There are multiple classifications of hip fractures in the orthopedic literature; however, these are not commonly used in clinical practice due to complexity, poor reported inter-observer agreement, and relatively few methods of surgical fixation.
Summary
A simplified anatomic and treatment-based approach to hip fractures can help guide image interpretation and clinical management.
This is a preview of subscription content, log in to check access.
Access options
Buy single article
Instant access to the full article PDF.
US$ 39.95
Price includes VAT for USA
Subscribe to journal
Immediate online access to all issues from 2019. Subscription will auto renew annually.
US$ 99
This is the net price. Taxes to be calculated in checkout.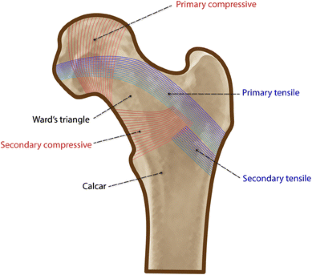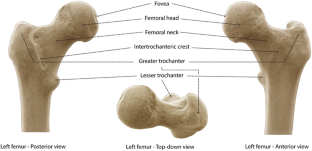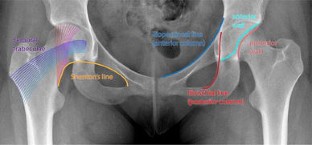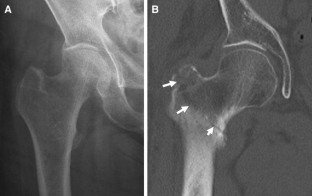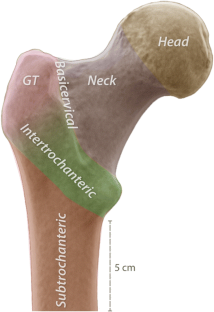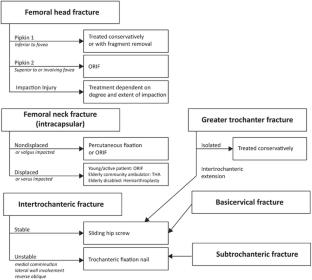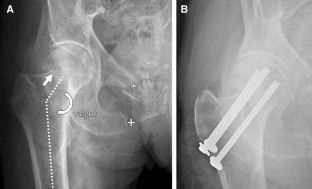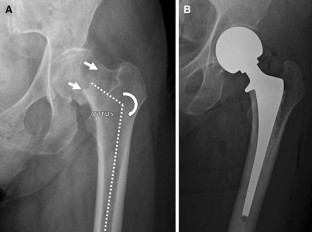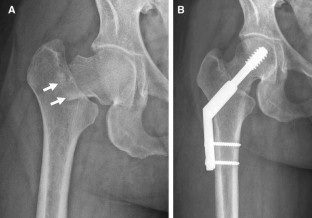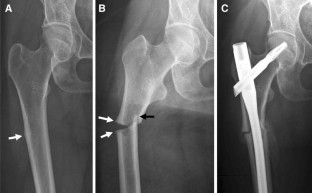 References
Recently published papers of particular interest have been highlighted as: • Of importance •• Of major importance
1.

Gutiérrez L, Roskell N, Castellsague J, Beard S, Rycroft C, Abeysinghe S, et al. Clinical burden and incremental cost of fractures in postmenopausal women in the United Kingdom. Bone. 2012;51(3):324–31.

2.

Papadimitriou N, Tsilidis KK, Orfanos P, Benetou V, Ntzani EE, Soerjomataram I, et al. Burden of hip fracture using disability-adjusted life-years: a pooled analysis of prospective cohorts in the CHANCES consortium. Lancet Public Health. 2017;2(5):e239–46.

3.

Cummings SR, Rubin SM, Black D. The future of hip fractures in the United States. Numbers, costs, and potential effects of postmenopausal estrogen. Clin Orthop Relat Res. 1990;252:163–6.

4.

Barnes R, Brown J, Garden R. Subcapital fractures of the femur. J Bone Joint Surg. 1976;58:2–24.

5.

Cheung WH, Miclau T, Chow SKH, Yang FF, Alt V. Fracture healing in osteoporotic bone. Injury. 2016;47:S21–6.

6.

Pidgeon TS, Johnson JP, Deren ME, Evans AR, Hayda RA. Analysis of mortality and fixation failure in geriatric fractures using quantitative computed tomography. Injury. 2017;49:249–55.

7.

Kerr R, Resnick D, Sartoris DJ, Kursunoglu S, Pineda C, Haghighi P, et al. Computerized tomography of proximal femoral trabecular patterns. J Orthop Res. 1986;4(1):45–56.

8.

Stiehl JB, Jacobson D, Carrera G. Morphological analysis of the proximal femur using quantitative computed tomography. Int Orthop. 2007;31(3):287–92.

9.

Shivji FS, Green VL, Forward DP. Anatomy, classification and treatment of intracapsular hip fractures. Br J Hosp Med. 2015;76(5):290–5.

10.

Stiles RG, Laverina CJ, Resnick D, Convery FR. The calcar femorale. An anatomic, radiologic, and surgical correlative study. Invest Radiol. 1990;25(12):1311–5.

11.

Zhang Q, Chen W, Liu H, Li Z, Song Z, Pan J, et al. The role of the calcar femorale in stress distribution in the proximal femur. Orthop Surg. 2009;1(4):311–6.

12.

Ly TV, Swiontkowski MF. Intracapsular hip fractures. In: Browner BD, Jupiter JB, Krettek C, Anderson PA, editors. Skeletal trauma: basic science, management, and reconstruction. 5th ed. Philadelphia: Saunders; 2014. p. 1607.e12–81.e12.

13.

• Sheehan SE, Shyu JY, Weaver MJ, Sodickson AD, Khurana B. Proximal femoral fractures: what the orthopedic surgeon wants to know. Radiographics. 2015;35(5):1563–84. Provides a comprehensive overview of proximal femur fractures, including a detailed description of mechanism of action and various classification systems.

14.

Gautier E, Ganz K, Krügel N, Gill T, Ganz R. Anatomy of the medial femoral circumflex artery and its surgical implications. J Bone Joint Surg. 2000;82(5):679–83.

15.

Koval KJ, Oh CK, Egol KA. Does a traction-internal rotation radiograph help to better evaluate fractures of the proximal femur? Bull NYU Hosp Joint Dis. 2008;66(2):102–6.

16.

Khurana B, Mandell J, Rocha T, Duran-Mendicuti M, Jimale H, Rosner B, et al. An internal rotation traction radiograph improves proximal femoral fracture classification accuracy and agreement. Am J Roentgenol. 2018, in Press.

17.

Evans PD, Wilson C, Lyons K. Comparison of MRI with bone scanning for suspected hip fracture in elderly patients. J Bone Joint Surg Br. 1994;76(1):158–9.

18.

Dominguez S, Liu P, Roberts C, Mandell M, Richman PB. Prevalence of traumatic hip and pelvic fractures in patients with suspected hip fracture and negative initial standard radiographs—a study of emergency department patients. Acad Emerg Med. 2005;12(4):366–9.

19.

Rizzo PF, Gould ES, Lyden JP, Asnis SE. Diagnosis of occult fractures about the hip. Magnetic resonance imaging compared with bone-scanning. J Bone Joint Surg Am. 1993;75(3):395–401.

20.

Hossain M, Barwick C, Sinha AK, Andrew JG. Is magnetic resonance imaging (MRI) necessary to exclude occult hip fracture? Injury. 2007;38(10):1204–8.

21.

Bogost GA, Lizerbram EK, Crues JV. MR imaging in evaluation of suspected hip fracture: frequency of unsuspected bone and soft-tissue injury. Radiology. 1995;197(1):263–7.

22.

May DA, Purins JL, Smith DK. MR imaging of occult traumatic fractures and muscular injuries of the hip and pelvis in elderly patients. Am J Roentgenol. 1996;166(5):1075–8.

23.

Pandey R, McNally E, Ali A, Bulstrode C. The role of MRI in the diagnosis of occult hip fractures. Injury. 1998;29(1):61–3.

24.

Khurana B, Okanobo H, Ossiani M, Ledbetter S, Al Dulaimy K, Sodickson A. Abbreviated MRI for patients presenting to the emergency department with hip pain. Am J Roentgenol. 2012;198(6):17–9.

25.

Rehman H, Clement RGE, Perks F, White TO. Imaging of occult hip fractures: CT or MRI? Injury. 2016;47(6):1297–301.

26.

Thomas RW, Williams HLM, Carpenter EC, Lyons K. The validity of investigating occult hip fractures using multidetector CT. Br J Radiol. 2016;89(1060):20150250.

27.

Gill SK, Smith J, Fox R, Chesser TJS. Investigation of occult hip fractures: the use of CT and MRI. Sci World J. 2013;2013:10–3.

28.

Heikal S, Riou P, Jones L. The use of computed tomography in identifying radiologically occult hip fractures in the elderly. Ann R Coll Surg Engl. 2014;96(3):234–7.

29.

Hakkarinen DK, Banh KV, Hendey GW. Magnetic resonance imaging identifies occult hip fractures missed by 64-slice computed tomography. J Emerg Med. 2012;43(2):303–7.

30.

Haubro M, Stougaard C, Torfing T, Overgaard S. Sensitivity and specificity of CT- and MRI-scanning in evaluation of occult fracture of the proximal femur. Injury. 2015;46(8):1557–61.

31.

Collin D, Geijer M, Göthlin JH. Computed tomography compared to magnetic resonance imaging in occult or suspect hip fractures. A retrospective study in 44 patients. Eur Radiol. 2016;26(11):3932–8.

32.

Sadozai Z, Davies R, Warner J. The sensitivity of CT scans in diagnosing occult femoral neck fractures. Injury. 2016;47(12):2769–71.

33.

Mandell JC, Weaver MJ, Khurana B. Computed tomography for occult fractures of the proximal femur, pelvis, and sacrum in clinical practice: single institution, dual-site experience. Emerg Radiol. 2018. https://doi.org/10.1007/s10140-018-1580-4.

34.

• Kellock TT, Nicolaou S, Kim SSY, Al-Busaidi S, Louis LJ, O'Connell TW, et al. Detection of bone marrow edema in nondisplaced hip fractures: utility of a virtual noncalcium dual-energy CT application. Radiology. 2017;284(3):798–805. Describes the use of dual-energy CT in detecting bone marrow edema in the setting of nondisplaced hip fractures.

35.

Mandell JC, Marshall RA, Weaver MJ, Harris MB, Sodickson AD, Khurana B. Traumatic hip dislocation: what the orthopedic surgeon wants to know. Radiographics. 2017;37(7):2181–201.

36.

De Palma L, Santucci A, Verdenelli A, Bugatti MG, Meco L, Marinelli M. Outcome of unstable isolated fractures of the posterior acetabular wall associated with hip dislocation. Eur J Orthop Surg Traumatol. 2014;24(3):341–6.

37.

Upadhyay SS, Moulton A, Srikrishnamurthy K. An analysis of the late effects of traumatic posterior dislocation of the hip without fractures. J Bone Joint Surg Br. 1983;65(2):150–2.

38.

Sahin V, Karakaş ES, Aksu S, Atlihan D, Turk CY, Halici M. Traumatic dislocation and fracture-dislocation of the hip: a long-term follow-up study. J Trauma. 2003;54(3):520–9.

39.

Hougaard K, Thomsen PB. Traumatic posterior dislocation of the hip–prognostic factors influencing the incidence of avascular necrosis of the femoral head. Arch Orthop Trauma Surg. 1986;106(1):32–5.

40.

Ebraheim NA, Savolaine ER, Skie MC, Hoeflinger MJ. Soft-tissue window to enhance visualization of entrapped osteocartilaginous fragments in the hip joint. Orthop Rev. 1993;22(9):1017–21.

41.

Mandell JC, Marshall RA, Banffy MB, Khurana B, Weaver MJ. Arthroscopy after traumatic hip dislocation: a systematic review of intra-articular findings, correlation with magnetic resonance imaging and computed tomography, treatments, and outcomes. Arthroscopy. 2017;34:917–27.

42.

Pipkin G. Treatment of grade IV fracture-dislocation of the hip. J Bone Joint Surg Am. 1957;39–A(5):1027–42.

43.

Richardson P, Young JWR, Porter D. CT detection of cortical fracture of the femoral head associated with posterior hip dislocation. Am J Roentgenol. 1990;155(1):93–4.

44.

Keith JE, Brashear HR, Guilford WB. Stability of posterior fracture-dislocations of the hip. Quantitative assessment using computed tomography. J Bone Joint Surg Am. 1988;70(5):711–4.

45.

Moed BR, Ajibade DA, Israel H. Computed tomography as a predictor of hip stability status in posterior wall fractures of the acetabulum. J Orthop Trauma. 2009;23(1):7–15.

46.

Davis AT, Moed BR. Can experts in acetabular fracture care determine hip stability after posterior wall fractures using plain radiographs and computed tomography? J Orthop Trauma. 2013;27(10):587–91.

47.

Birmingham P, Cluett J, Shaffer B. Recurrent posterior dislocation of the hip with a bankart-type lesion: a case report. Am J Sports Med. 2010;38(2):388–91.

48.

Farooq MA, Orkazai SH, Okusanya O, Devitt AT. Intracapsular fractures of the femoral neck in younger patients. Ir J Med Sci. 2010;174(4):42–5.

49.

Thomsen NOB, Jensen CM, Skovgaard N, Pedersen MS, Pallesen P, Soe-Nielsen NH, et al. Observer variation in the radiographic classification of fractures of the neck of the femur using Garden's system. Int Orthop. 1996;20(5):326–9.

50.

Frandsen PA, Andersen E, Madsen F, Skjødt T. Garden's classification of femoral neck fractures. An assessment of inter-observer variation. J Bone Joint Surg Br. 1988;70(4):588–90.

51.

Parker J, Dynan Y. Is Pauwels still valid ? Injury. 1998;29(7):521–3.

52.

Blundell CM, Parker MJ, Pryor GA, Hopkinson-Woolley J, Bhonsle SS. Assessment of the AO classification of intracapsular fractures of the proximal femur. J Bone Joint Surg Br. 1998;80(4):679–83.

53.

Rajan DT, Parker MJ. Does the level of an intracapsular femoral fracture influence fracture healing after internal fixation? A study of 411 patients. Injury. 2001;32(1):53–6.

54.

Parker MJ. The management of intracapsular fractures of the proximal femur. J Bone Joint Surg Br. 2000;82(7):937–41.

55.

• Watson ST, Schaller TM, Tanner SL, Adams JD, Jeray KJ. Outcomes of low-energy basicervical proximal femoral fractures treated with cephalomedullary fixation. J Bone Joint Surg Am. 2016;98(13):1097–102. Basicervical fractures are rare. This report emphasizes the importance of accurately identifying these fractures.

56.

Lee KH, Kim HM, Kim YS, Jeong C, Moon CW, Lee SU, et al. Isolated fractures of the greater trochanter with occult intertrochanteric extension. Arch Orthop Trauma Surg. 2010;130(10):1275–80.

57.

Leslie MP, Baumgaertner MR. Intertrochanteric hip fractures. In: Skeletal trauma: basic science, management, and reconstruction, vol 2, 5th ed. Elsevier Inc., Amsterdam; 2003. pp. 1683.e3–720.e3.

58.

Craig JG, Moed BR, Eyler WR, Van Holsbeeck M. Fractures of the greater trochanter: intertrochanteric extension shown by MR imaging. Skeletal Radiol. 2000;29(10):572–6.

59.

Reiter M, O'Brien SD, Bui-Mansfield LT, Alderete J. Greater trochanteric fracture with occult intertrochanteric extension. Emerg Radiol. 2013;20(5):469–72.

60.

Chung PH, Kang S, Kim JP, Kim YS, Lee HM, Back IH, et al. Occult intertrochanteric fracture mimicking the fracture of greater trochanter. Hip Pelvis. 2016;28(2):112–9.

61.

Kim S-J, Ahn J, Kim HK, Kim JH. Is magnetic resonance imaging necessary in isolated greater trochanter fracture? A systemic review and pooled analysis. BMC Musculoskelet Disord. 2015;16(1):395.

62.

Phillips CD, Pope TL, Jones JE, Keats TE, MacMillan RH. Nontraumatic avulsion of the lesser trochanter: a pathognomonic sign of metastatic disease? Skeletal Radiol. 1988;17(2):106–10.

63.

Rouvillain J-L, Jawahdou R, Labrada Blanco O, Benchikh-El-Fegoun A, Enkaoua E, Uzel M. Isolated lesser trochanter fracture in adults: an early indicator of tumor infiltration. Orthop Traumatol Surg Res. 2011;97(2):217–20.

64.

Pervez H, Parker MJ, Pryor GA, Lutchman L, Chirodian N. Classification of trochanteric fracture of the proximal femur: a study of the reliability of current systems. Injury. 2002;33(8):713–5.

65.

Andersen E, Jørgensen LG, Hededam LT. Evans' classification of trochanteric fractures: an assessment of the interobserver and intraobserver reliability. Injury. 1990;21(6):377–8.

66.

Guyver PM, McCarthy MJH, Jain NPM, Poulter RJ, McAllen CJP, Keenan J. Is there any purpose in classifying subtrochanteric fractures? The reproducibility of four classification systems. Eur J Orthop Surg Traumatol. 2014;24(4):513–8.

67.

Phillips HK, Harrison SJ, Akrawi H, Sidhom SA. Retrospective review of patients with atypical bisphosphonate related proximal femoral fractures. Injury. 2017;48(6):1159–64.

68.

•• Shane E, Burr D, Abrahamsen B, Adler RA, Brown TD, Cheung AM, et al. Atypical subtrochanteric and diaphyseal femoral fractures: second report of a task force of the American society for bone and mineral research. J Bone Miner Res. 2014;29(1):1–23. This task force report describes the imaging findings critical to identify atypical femoral fractures.
Ethics declarations
Conflict of interest
Jacob C. Mandell, Michael J. Weaver, Mitchel B. Harris, and Bharti Khurana each declare no potential conflicts of interest.
Human and Animal Rights and Informed Consent
This article does not contain any studies with human or animal subjects performed by any of the authors.
Additional information
This article is part of the Topical collection on Emergency Radiology.
About this article
Cite this article
Mandell, J.C., Weaver, M.J., Harris, M.B. et al. Hip Fractures: A Practical Approach to Diagnosis and Treatment. Curr Radiol Rep 6, 20 (2018). https://doi.org/10.1007/s40134-018-0281-9
Keywords
Hip fractures

Imaging

Emergency radiology