Abstract
Purpose of Review
The purpose of this article is to illustrate MRI examples of acute triangular fibrocartilage complex (TFCC) injuries following the Palmer classification, including subtypes of the acute traumatic injuries originally described. In the discussion of these athletic TFCC injuries, recent studies and references are discussed with regard to implications in diagnosis and treatment. The article also reviews the role of ulnar abutment in degenerative injury to the TFCC and surgical approaches to correction.
Recent Findings
Recent findings regarding the role of the TFCC in distal radioulnar joint stability (DRUJ) and the importance of MRI in preoperative planning of the wrist are reviewed. New studies emphasizing the importance of repair of partial tears of the foveal attachment of the TFCC, the association of TFCC tears with distal radius fractures, and wafer procedures are also discussed.
Summary
Injuries of the triangular fibrocartilage complex (TFCC) are commonplace in athletes across multiple sports. The TFCC acts to cushion forces transmitted from the ulnar side of the wrist to the upper extremity. Athletic activities tend to deliver an increased axial load and greater twisting motion upon the wrist. The Palmer classification system for TFCC injuries was first introduced in 1989, but is still used for both acute traumatic and degenerative injuries of the TFCC. MRI plays a pivotal role in diagnosing and classifying athletic injuries of the TFCC, helping guide orthopedists and hand surgeons in caring for patients with ulnar-sided wrist pain.
Access options
Buy single article
Instant access to the full article PDF.
USD 39.95
Price excludes VAT (USA)
Tax calculation will be finalised during checkout.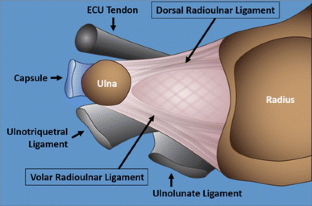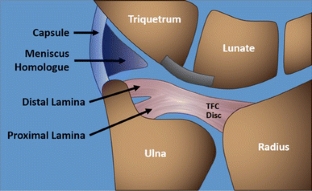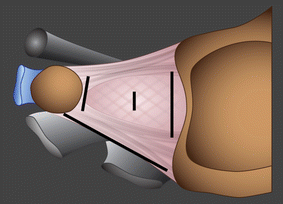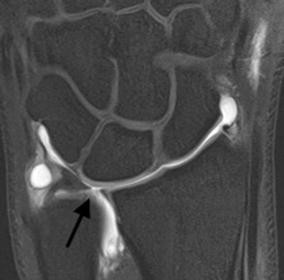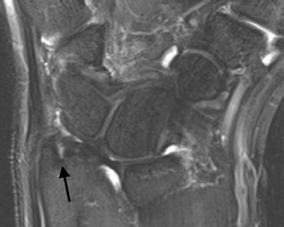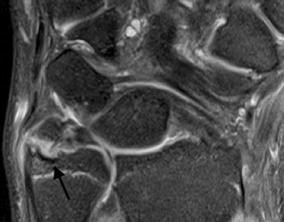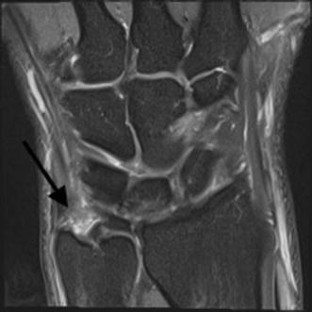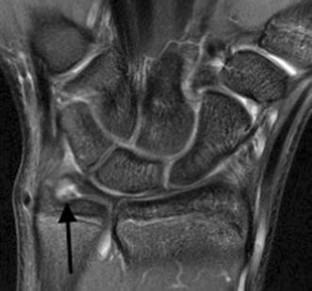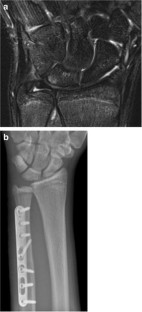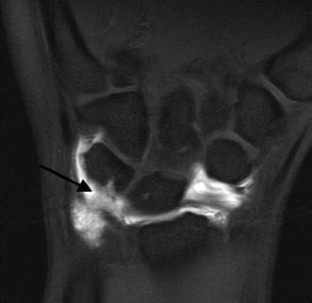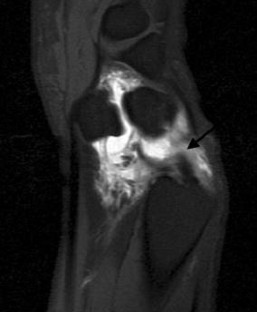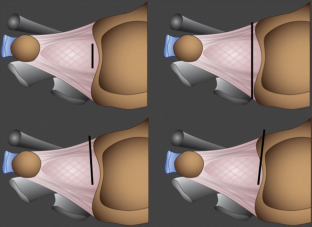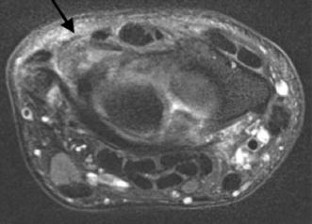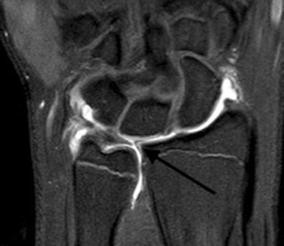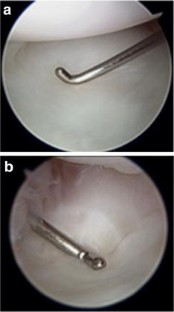 References
Papers of particular interest, published recently, have been highlighted as: ∙ Of importance ∙∙ Of major importance
Yamabe E, Nakamura T, Pham P, Yoshioka H. The athlete's wrist: ulnar-sided pain. Sem Musculoskelet Radiol. 2012;16(04):331–7).

• Miyamura S, Shigi A, Kraisarin J, Omokawa S, Murase T, Yoshikawa H, Moritomo H. Impact of distal ulnar fracture malunion on distal radioulnar joint instability: a biomechanical study of the distal interosseous membrane using a cadaver model. J Hand Surg. 2017;42(3):e185–91. This study uses a cadaver model of injury to look at how the TFCC and distal interosseous membrane help provide stability of the DRUJ. When these structures are injured, an induced distal ulnar fracture resulted in increased DRUJ instability.

Palmer AK. Triangular fibrocartilage complex lesions: a classification. J Hand Surg. 1989;14(4):594–606. 1990;6(2):125–32.

•• Swart E, Tang P. The effect of ligament injuries on outcomes of operatively treated distal radius fractures. Am J Orthop (Belle Mead, NJ). 2017;46(1):E41. This article brings up an important finding regarding patients who require surgery for a distal radius fracture: Approximately 70% of these patients had an associated injury to their TFCC. We felt that this finding was most likely underappreciated by radiologists.

• Bonte F, Mathoulin CL. The PARC lesion: a proximal avulsion of the radiocarpal capsule. J Wrist Surg. 2017;6(01):080–6. An unusual injury that may be underappreciated by radiologists and hand surgeons, but is amenable to arthroscopic repair with satisfactory results.

• Oh E, Yoon YC, Park MJ. Diagnostic performance of wrist magnetic resonance (MR) arthrography: comparison of three-dimensional isotropic T1-weighted fast spin-echo MR arthrography and two-dimensional MR arthrography. Brit J Radiol. 2017 Jan 12:20160867. This paper demonstrates similar sensitivity and specificity for different MR techniques in evaluating central perforations of the TFC. Both techniques are effective in evaluating TFC lesions which were subsequently proven at arthroscopy. Interobserver agreement was also high.

• Mohamadi A, Claessen FM, Ozkan S, Kolovich GP, Ring D, Chen NC. Diagnostic wrist arthroscopy for nonspecific wrist pain. Hand. 2016 Jul 28:1558944716661993. Another recent article supporting the importance of MRI prior to arthroscopy. Diagnostic arthroscopy was unlikely to have diagnostic benefit in the setting of an unclear preoperative diagnosis.

•• Löw S, Spies CK, Unglaub F, van Schoonhoven J, Prommersberger KJ, Mühldorfer-Fodor M. Preventable repeat wrist arthroscopies: analysis of the indications for 133 cases. J Wrist Surg. 2017;6(01):033–8. This is a nice study looking at repeat wrist arthroscopy in 133 patients and how repeat procedures might be clinically preventable. Part of the emphasis is on obtaining MR imaging, to obtain as much diagnostic information as possible before surgical intervention, with the intent of decreasing "diagnostic only" arthroscopy.

Burns JE, Tanaka T, Ueno T, Nakamura T, Yoshioka H. Pitfalls that may mimic injuries of the triangular fibrocartilage and proximal intrinsic wrist ligaments at MR imaging. Radiographics. 2011;31(1):63–78.

•• Chen WJ. Arthroscopically assisted transosseous foveal repair of triangular fibrocartilage complex. Arthrosc Tech. 2017 Jan 16. Current reminder of the importance of evaluating Palmer 1B TFCC tears of the deep/foveal insertion on MRI or MR arthrogram. This is a lesion that is more difficult for the arthroscopist to evaluate at the time of surgery because it is deep to an intact superficial/styloid component. Importantly, this foveal attachment is thought to be a more significant contributor to DRUJ stability and is felt to require special attention at surgical repair. If it is not repaired to the foveal insertion, there can be an increased risk of the patient having DRUJ instability.

•• Johandi F, Sechachalam S. Clinical and functional outcome of open primary repair of triangular fibrocartilage complex tears associated with distal radius fractures. J Orthop Surg. 2017;25(1). Retrospective study of over 3300 patients with distal radius fractures. 12 patients underwent open repair of the TFCC, at the same time as fixation of the distal radius, in the setting of instability during intra-operative DRUJ ballottement test. Over 90% returned to pre-injury function and 83% had preserved post-operative DRUJ stability. This reinforces open procedures as an alternative to arthroscopy in the repair of TFCC injuries.
Ethics declarations
Conflict of interest
Luke B. Simonet, Leon Lenchik, Scott D. Wuertzer, Robert M. Szabo, and Abhijit J. Chaudhari each declare no potential conflicts of interest. Robert D. Boutin is a section editor for Current Radiology Reports.
Human and Animal Rights and Informed Consent
This article does not contain any studies with human or animal subjects performed by any of the authors.
Additional information
This article is part of the Topical collection on Sports Imaging.
About this article
Cite this article
Simonet, L.B., Lenchik, L., Wuertzer, S.D. et al. The Wrist: Athletic TFCC Injuries. Curr Radiol Rep 5, 39 (2017). https://doi.org/10.1007/s40134-017-0231-y
Published:

DOI: https://doi.org/10.1007/s40134-017-0231-y
Keywords