Abstract
Although a variety of research works have been carried out to investigate the behavior of nailed slopes and nail walls, only a few studies are devoted to the optimum design of soil nail walls. In this study, the limit equilibrium-based approach presented in FHWA manual, which is the prevalent design method in conjunction with nonlinear programming, has been used. Based on this approach, the optimum nail inclination angle (η) leading to the maximum safety (FS) factor against overall failure was determined for typical soil nail walls. Effects of some primary contributing factors such as nail diameter, nail length, soil friction, slope angle, back slope angle, and layout of nails on the optimum design indices were investigated thoroughly and presented in dimensionless graphs. Results indicate that increase in the nail diameter gives rise to an increase in both FS and ηopt. In addition, increasing the length of nails up to 1.875H leads to the most significant improvement in slope stability. Furthermore, the increase in soil friction results in an improvement in FS and a limited rise in ηopt. Steeper nail walls are less stable and require higher ηopt, a linear function of slope orientation (α). A higher back slope angle was found to reduce FS. Furthermore, it was found that inserting the nails in the lower 1/3 part of the slope leads to the highest efficiency, and the nails have a minor influence on the stability of short walls or highly cohesive slopes.
Access options
Buy single article
Instant access to the full article PDF.
USD 39.95
Price includes VAT (USA)
Tax calculation will be finalised during checkout.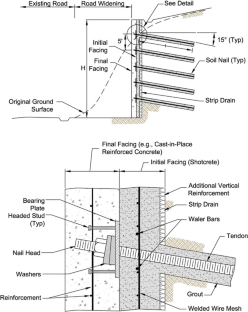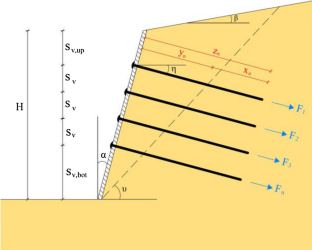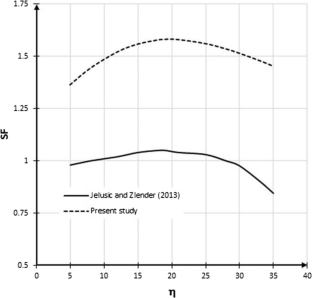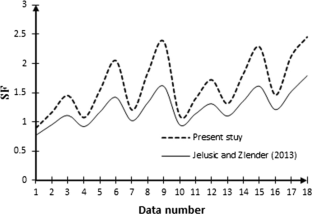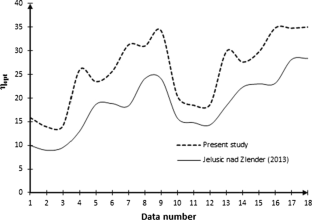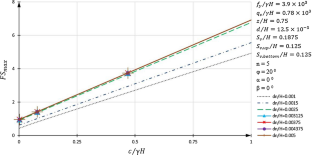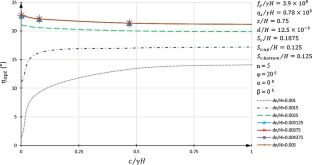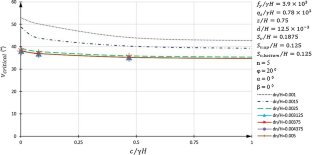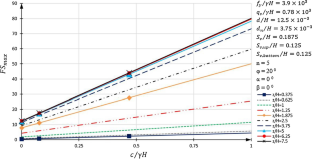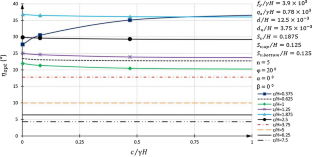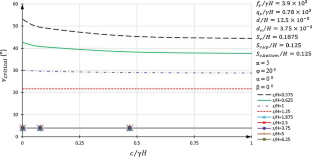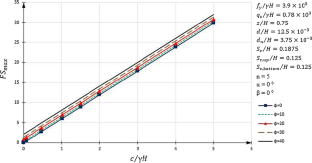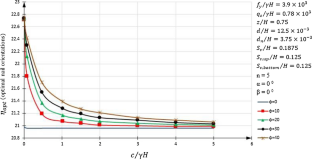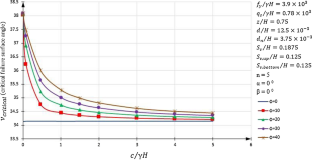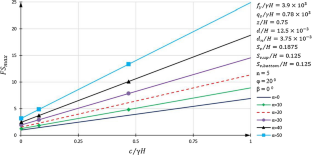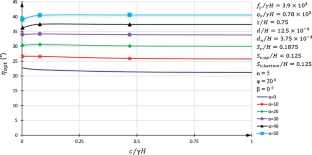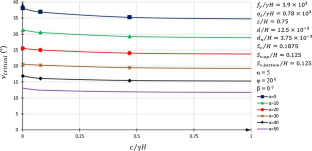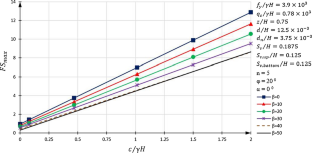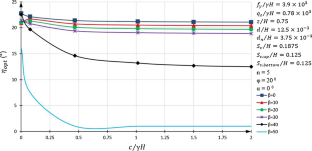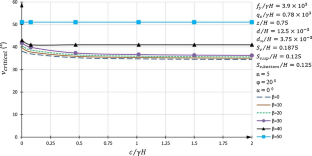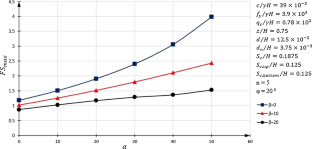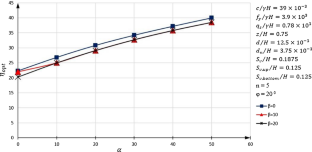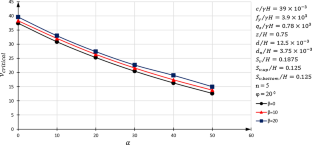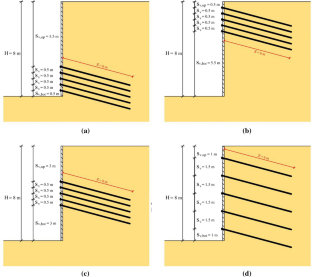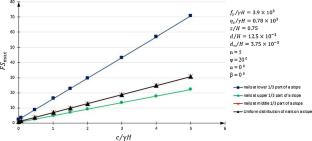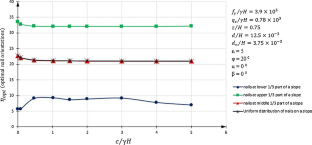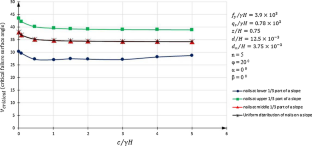 Availability of data and material
All required data have been presented in the manuscript.
Code availability
A custom code prepared by the authors was used in this study.
References
1.

Ardakani A, Bayat M, Javanmard M (2014) Numerical modeling of soil nail walls considering Mohr Coulomb, hardening soil and hardening soil with small-strain stiffness effect models. Geomech. Eng. 6(4):391–401

2.

Basudhar PK, Anubhav LMR (2017) Three-dimensional limit-equilibrium stability analyses of slopes and effect of inclusion of soil nails. Int J Geomech 17:04017067

3.

Byrne RJ, Cotton D, Porterfield J, Wolschlag C, Ueblacker G (1996) Manual for design and construction monitoring of soil nail walls. (No. FHWA-SA-96–069).

4.

Chan CM, Raman MHA (2017) Screw-in soil nail for slope reinforcement against slip failure: a lab-based model study. Int. J. Geomat. 12(29):148–155

5.

Cheuk CY, Ng CWW, Sun HW (2005) Numerical experiments of soil nails in loose fill slopes subjected to rainfall infiltration effects. Comput Geotech 32:290–303

6.

Fan CC, Luo JH (2008) Numerical study on the optimum layout of soil–nailed slopes. Comput Geotech 35:585–599

7.

Gassler G, Gudehus G (1981) Soil-nailing: some aspects of a new technique. In: Proceedings of the Tenth ICSMFE, Stockholm: 665–670

8.

Güler E, Bozkurt C (2004) The effect of upward nail inclination to the stability of soil nailed structures. Geotechn Eng Transport Proj. https://doi.org/10.1061/40744(154)218

9.

Gutierrez V, Tatsuoka AF (1988) Role of facing in reinforce in cohesionless soil slopes by means of metal strips. In: Proceedings of the international geotechnical symposium on theory and practice of earth reinforcement, Kyushu, Japan :289–294

10.

Imam R, Hoseini SS (2016) Design and optimization procedure for composite soil nail-anchor walls. Japanese Geotechn. Soc. Spec. Public. 2(45):1597–1601

11.

Janbu N (1973) Slope stability computation. in: R.C. Hirchfield and S. J. Poulos (eds) Embankment Dam Engineering. Casagrande Volume. Wiley New york: 47–86.

12.

Jelusic B, Zlender B (2013) Soil-nail wall stability analysis using Anfis. Acta geotechnica Slovenica 10:61–73

13.

Jewell RA, Pedley MJ (1992) Analysis for soil reinforcement with bending stiffness. J. geotechn. Eng. 118:1505–1528

14.

Juran I, Baudrand G, Farrag K, Elias V (1990) Kinematical limit analysis for design of soil-nailed structures. ASCE J. Geotechn. Eng 116:54–72

15.

Kim JS, Kim JY, Lee SR (1997) Analysis of soil nailed earth slope by discrete element method. Comput Geotech 20:1–14

16.

Kitamura T, Nagao A, Uehara S (1988) Model loading tests of reinforced slope with steel bars. In: Proceedings of the international geotechnical symposium on theory and practice of earth reinforcements , Kyushu, Japan: 311–316

17.

Lazarte CA, Robinson H, Gómez JE, Baxter A, Cadden A, Berg R (2015) Soil Nail Walls Reference Manual (No. FHWA-NHI-14–007).

18.

MATLAB (2012), Programming. Version 7, The Math Works Inc., USA

19.

Michalowski RL (1998) Limit analysis in stability calculations of reinforced soil structures. Geotext Geomembr 16:311–331

20.

Ming CY (2008) Centrifuge and three dimensional numerical modelling of CDG filled slope reinforced with different nail inclinations. M.Phil. dissertation, Hong Kong University of Science and Technology, Hong Kong.

21.

Mitchell JK, Villet WCB (1980) Reinforcement of Earth Slopes and Embankment. National Cooperative Highway Research Program Report, Transportation Research Board 290

22.

Moradi M, Pooresmaeili Babaki A, Sabermahani M (2020) Effect of Nail Arrangement on the Behavior of Convex Corner Soil-Nailed Walls. J. Geotechn. Geoenvironm. Eng. 146(5):04020026

23.

Nowatzki E, Samtani N (2004) Design, construction, and performance of an 18-meter soil nail wall in Tucson, AZ. In GeoSupport 2004: Innovation and Cooperation in the Geo-IndustryAmerican Society of Civil EngineersAmerican Society of Civil EngineersInternational Association of Foundation Drilling.

24.

Patra CR, Basudhar PK (2005) Optimum design of nailed soil slopes. Geotech Geol Eng. https://doi.org/10.1007/s10706-004-2146-7

25.

Rawat S, Gupta AK (2018) Testing and modelling of screw nailed soil slopes. Ind. Geotechn. J. 48(1):52–71

26.

Rawat S, Zodinpuii R, Manna B, Sharma KG (2014) Investigation on failure mechanism of nailed soil slopes under surcharge loading: testing and analysis. Geomechan. Geoeng. 9:18–35

27.

Sabahit N, Basudhar PK, Madhav MR (1995) A Generalized procedure for the procedure for the optimum design of nailed soil slopes. Int J Numer Anal Method Geomech 19:437–452

28.

Sabermahani M, Ahimoghadam F, Ghalehnovi V (2018) Effect of surcharge magnitude on soil-nailed wall behaviour in a geotechnical centrifuge. Int. J. Phys. Modell. Geotechn 18(5):225–239

29.

Sawick A, Lesniewska D, Kulczykowski M (1988) Measured and predicted stresses and bearing capacity of a full scale slope reinforced with nails. Soils Found 1128:47–56

30.

Schlosser F (1982) Behavior and design of soil nailing, Proceedings in. Symposium on Recent Development in Ground Improvement Techniques, Bangkok: 399–413

31.

Seo HJ, Lee IM, Lee SW (2014) Optimization of soil nailing design considering three failure modes. KSCE J Civ Eng 18:488–496

32.

Shahnazari H, Alizadeh M, Tayefi S, Saeedi Javadi A (2019) Three-dimensional centrifuge modeling of soil nail walls. International Journal of Geotechnical Engineering, 1–8.

33.

Sharma A, Ramkrishnan R (2020) Parametric Optimization and Multi-regression Analysis for Soil Nailing Using Numerical Approaches. Geotechnical and Geological Engineering:1–19

34.

Sharma M, Choudhury D, Samanta M, Sarkar S, Annapareddy VR (2019) Analysis of helical soil nailed walls under static and seismic conditions. Canadian Geotechnical Journal, (ja).

35.

Singh VP, Sivakumar Babu GL (2010) 2D Numerical simulations of soil nail walls. Geotech Geol Eng 28:299–309

36.

Stocker M.F, Korber GW, Gassler G, Gudehus G (1979) Soil nailing. In: Proceedings of the International Conference on Soil Reinforcement, Paris: 469–474

37.

Tei K, Taylor RN, Milligan GWE (1998) Centrifuge model tests of nailed soil slopes. Soils and Foundation 38:165–177

38.

Turner JP, Jensen WG (2005) Landslide stabilization using soil nail and mechanically stabilized earth walls: case study. J. Geotechn. Geoenvironm. Eng. 131:141–150

39.

Viswanadham BVS, Rotte VM (2015) Effect of facing type on the behaviour of soil-nailed slopes. centrifuge and numerical study. Discovery 46:214–223

40.

Wang, B., Jiang, X. and Liu, Q., (2020), Study on the Supporting Features of Composite Soil Nailing Wall. IOP Conf. Series.: Earth Environ. Sci. 455 012111

41.

Yang M, Drumm E (2000) Numerical analysis of the load transfer and deformation in a soil nailed slope. Numer Meth Geotechn Eng. https://doi.org/10.1061/40502(284)8

42.

Yazdandoust M (2017) Experimental study on seismic response of soil-nailed walls with permanent facing. Soil Dyn Earthq Eng 98:101–119

43.

Yazdandoust M (2019) Assessment of horizontal seismic coefficient for three different types of reinforced soil structure using physical and analytical modeling. Int J Geomech 19(7):04019070

44.

Yazdandoust M (2019) b) Shaking table modeling of MSE/soil nail hybrid retaining walls. Soils Found 59(2):241–252

45.

Zhang G, Cao J, Wang L (2014) Failure behavior and mechanism of slopes reinforced using soil nail wall under various loading conditions. Soils Found 54:1175–1187

46.

Zhou YD, Cheuk CY, Tham LG (2009) Numerical modelling of soil nails in loose fill slope under surcharge loading. Comput Geotech 36:837–850
Funding
No funding was received for conducting this study.
Ethics declarations
Conflicts of interest
The authors declare they have no financial interests.
Ethics Approval
The paper has been submitted with full responsibility, following the due ethical procedure, and there is no duplicate publication, fraud, plagiarism, or concerns about human experimentation.
Consent to participate/publication
All authors have revised the paper and have accepted the final version of the paper to be submitted to the journal and published and agreed to be accountable for all aspects of the work.
Additional information
Publisher's Note
Springer Nature remains neutral with regard to jurisdictional claims in published maps and institutional affiliations.
About this article
Cite this article
Arvin, M.R., Ghavami, E. & Motamedi Azari, M. Optimization of Nail Inclination Angle in Soil Nail Walls Based on a Prevalent Limit Equilibrium Method. Indian Geotech J (2021). https://doi.org/10.1007/s40098-021-00574-z
Received:

Accepted:

Published:
Keywords
Nail soil wall

Optimization

Limit equilibrium

Safety factor

Overall failure