Abstract
Earth pressure cells (EPCs) are widely being used for the measurement of pressure acting on structures or within the soil. Output from an EPC varies with properties of contacting media (fluid or soil), density of media, etc. As geofoam is used in many geotechnical applications, especially to control earth pressures, it is prudent to calibrate earth pressure sensors, with geofoam as a contacting material with EPCs (geofoam calibration of EPC). In the present study, two diaphragm-based EPCs of different make are used to perform in-soil and geofoam calibration studies. A deadweight calibration set-up is developed to perform both soil and geofoam calibration tests. Effect of soil thickness, geofoam thickness, combined geofoam and sand thickness, geofoam density and displacement/loading rate on the EPC output under external loading is studied. From soil calibration results, it is observed that optimum sand thickness is 4.17d for both types of EPC. The response of EPC in geofoam calibration resembles the stress–strain response of geofoam, and it varies with the density of geofoam. At any applied pressure, output from an EPC is much higher in the case of geofoam calibration compared to that of soil calibration.
This is a preview of subscription content, log in to check access.
Access options
Buy single article
Instant access to the full article PDF.
US$ 39.95
Price includes VAT for USA
Subscribe to journal
Immediate online access to all issues from 2019. Subscription will auto renew annually.
US$ 99
This is the net price. Taxes to be calculated in checkout.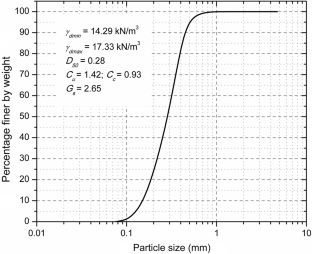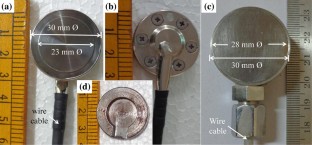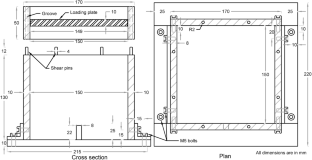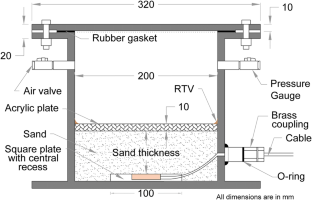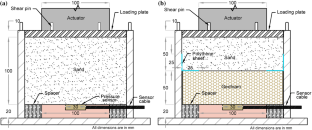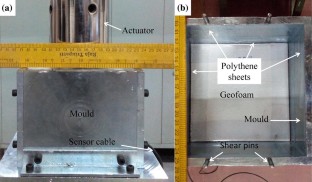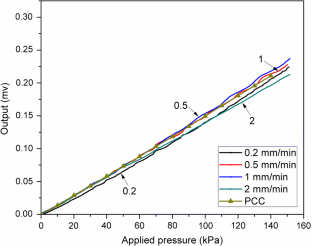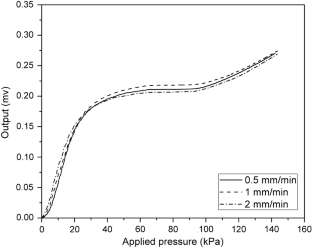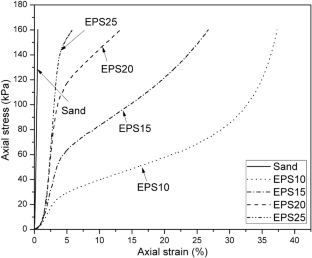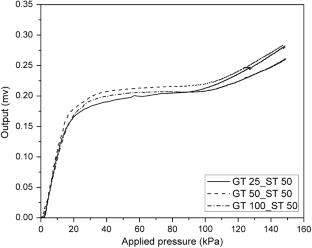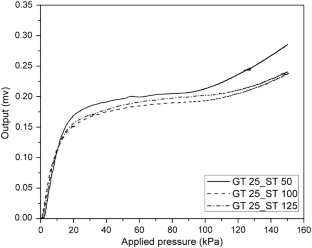 References
1.

Clayton CRI, Bica AVD (1993) The design of diaphragm-type boundary total stress cells. Geotechnique 43(4):523–536. https://doi.org/10.1680/geot.1993.43.4.523

2.

Reese LC, Brown JC, Dalrymple HH (1968) Instrumentation for measurements of lateral earth pressure in drilled shafts. Center for Highway Research, The University of Texas, Austin. Research Report 89-2

3.

Selig ET (1980) Soil stress gage calibration. Geotech Test J 3(4):153–158. https://doi.org/10.1520/GTJ10912J

4.

Peattie KR, Sparrow RW (1954) The fundamental action of earth pressure cells. J Mech Phys Solids 2:141–155. https://doi.org/10.1016/0022-5096(54)90021-6

5.

Zhu B, Jardine RJ, Foray P (2009) The use of miniature soil stress measuring cells in laboratory applications involving stress reversals. Soils Found 49(5):675–688. https://doi.org/10.3208/sandf.49.675

6.

Li Y, Talesnick M, Bolton MD (2014) Use of null gauges to monitor soil stresses during excavation in a centrifuge. Int J Phys Model Geotech 14(2):40–53. https://doi.org/10.1680/ijpmg.13.00021

7.

Talesnick M (2013) Measuring soil pressure within a soil mass. Can Geotech J 50(7):1529–1548. https://doi.org/10.1139/cgj-2012-0347

8.

Talesnick M, Avraham R, Ringel M (2014) Measurement of contact soil pressure in physical modelling of soil–structure interaction. Int J Phys Model Geotech 14(1):3–12. https://doi.org/10.1680/ijpmg.13.00008

9.

Gao Y, Wang YH (2013) Calibration of tactile pressure sensors for measuring stress in soils. Geotech Test J 36(4):1–7. https://doi.org/10.1520/GTJ20120143

10.

Weiler WA, Kulhawy FH (1982) Factors affecting stress cell measurements in soil. J Geotech Eng 108(12):1529–1548

11.

Miura K, Otsuka N, Kohama E, Supachawarote C, Hirabayashi T (2003) The size effects of earth pressure cells on measurement in granular materials. Soils Found 43(5):133–147. https://doi.org/10.3208/sandf.43.5_133

12.

Labuz JF, Theroux B (2005) Laboratory calibration of earth pressure cells. Geotech Test J 28(2):1–9. https://doi.org/10.1520/GTJ12089

13.

Dave TN, Dasaka SM (2012) Transition of earth pressure on rigid retaining walls subjected to surcharge loading. Int J Geotech Eng 6(4):427–435. https://doi.org/10.3328/IJGE.2012.06.04.427-435

14.

ASTM D2487-11 (2011) Classification of soils for engineering purposes (Unified soil classification system). West Conshohocken, PA. http://dx.doi.org/10.1520/D2487-11

15.

Zarnani S, Bathurst RJ (2008) Numerical modelling of EPS seismic buffer shaking table tests. Geotext Geomembr 26(5):371–383. https://doi.org/10.1016/j.geotexmem.2008.02.004

16.

Kim H, Choi B, Kim J (2010) Reduction of earth pressure on buried pipes by EPS geofoam inclusions. Geotech Test J 33(4):1–10. https://doi.org/10.1520/GTJ102315

17.

Witthoeft AF, Kim H (2016) Numerical investigation of earth pressure reduction buried pipes using EPS geofoam compressible inclusions. Geosynth Int 23(4):287–300. https://doi.org/10.1680/jgein.15.00054

18.

Ikizler SB, Aytekin M, Vekli M (2009) Reductions in swelling pressure of expansive soil stabilized using EPS geofoam and sand. Geosynth Int 16(3):216–221. https://doi.org/10.1680/gein.2009.16.3.216

19.

Dave TN, Dasaka SM (2013) In-house calibration of pressure transducers and effect of material thickness. Geomech Eng 5(1):1–15. https://doi.org/10.12989/gae.2013.5.1.001

20.

Gade VK, Dasaka SM (2018) Calibration of earth pressure sensors. Indian Geotech J 48(1):142–152. https://doi.org/10.1007/s40098-017-0223-0

21.

Talesnick M (2005) Measuring soil contact pressure on a solid boundary and quantifying soil arching. Geotech Test J 28(2):171–179. https://doi.org/10.1520/GTJ12484
Acknowledgements
The authors gratefully acknowledge the financial support received from the Ministry of Earth Sciences, Government of India (MoES/P.O(Seismo)/1(118)/2010), to carry out the research.
Additional information
Publisher's Note
Springer Nature remains neutral with regard to jurisdictional claims in published maps and institutional affiliations.
About this article
Cite this article
Gade, V.K., Dasaka, S.M. Influence of Contacting Material on Calibration Response of Diaphragm Earth Pressure Cells. Indian Geotech J 50, 133–141 (2020). https://doi.org/10.1007/s40098-019-00363-9
Received:

Accepted:

Published:

Issue Date:
Keywords
Calibration

Diaphragm earth pressure cell

Geofoam

Sand

Deadweight calibration