Abstract
In recent years, with the rapid development of the global economy and urbanization, the urban electromagnetic environment has become more and more complex; the additional magnetic field cannot be ignored. To study the magnetic effect of remolded cohesive soil, we determined cohesive soil in Shenyang area to the magnetic effect of grain composition and structural strength. The test used two DC power supplies and coils to simulate the magnetic field conditions and analyzed the magnetic effect of the grain composition, the compression property, the shear strength and the subgrade bearing capacity with different magnetic field intensities and the magnetizing times. The results showed that after the treatment of different magnetic field strengths and different magnetization times, small particles in remolded cohesive soil are aggregated, and the percentage of small grains decreased and that of large grains increased. Modulus of compression was gradually increased which showed that the compressibility of soil was decreased. The shear strength and the subgrade bearing capacity were also increased with the increase in the water content. Meanwhile, there existed an optimal water content which made the subgrade bearing capacity reached the maximum. The results showed that after magnetization, the connection between the soil particles was increased and the strength of remolded cohesive soil increased.
This is a preview of subscription content, log in to check access.
Access options
Buy single article
Instant access to the full article PDF.
US$ 39.95
Price includes VAT for USA
Subscribe to journal
Immediate online access to all issues from 2019. Subscription will auto renew annually.
US$ 99
This is the net price. Taxes to be calculated in checkout.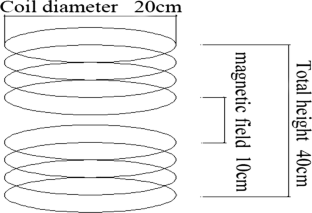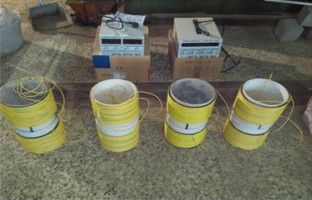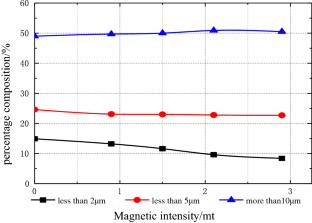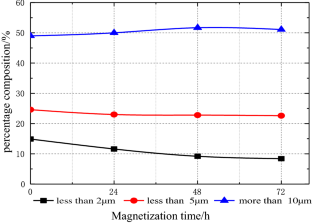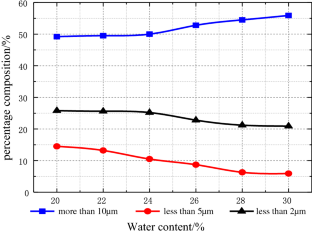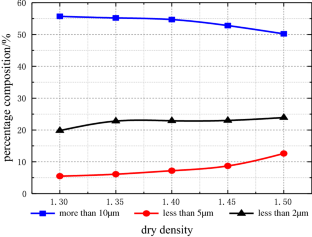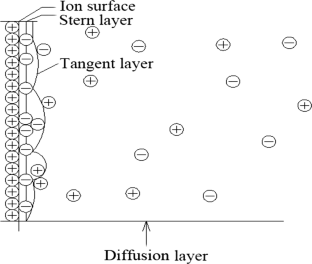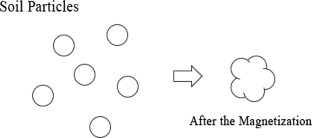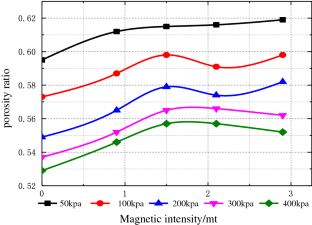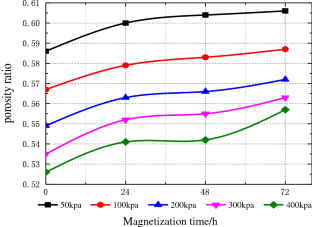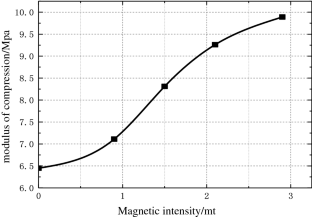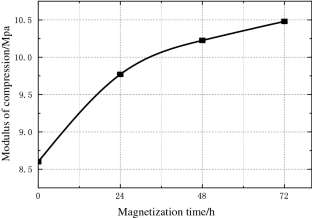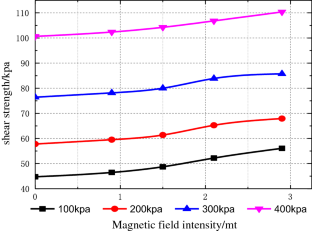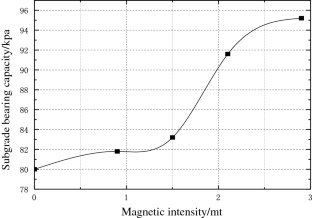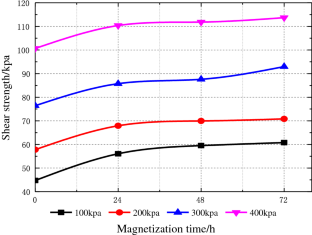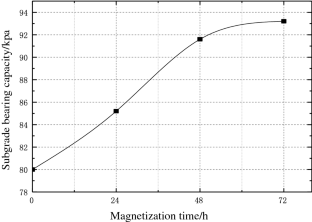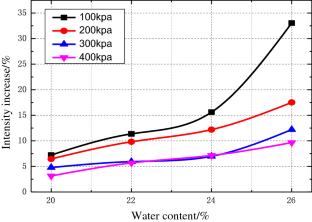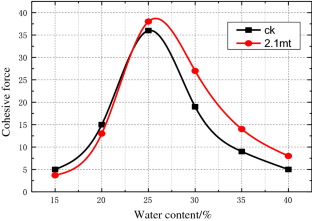 References
1.

Shi B (1996) Review and prospect of study on microstructure of cohesive soil. J Eng Geol 4(1):39–44

2.

Shaw DJ et al (1970) Introduction to colloid and surface chemistry. Butterworths, Oxford

3.

Wong P, Huang P, Meng Y (2003) The effect of the electric double layer on a very thin water lubricating film. Tribol Lett 14:197

4.

Zhuang J, Liu XY (1995) Effect of magnetic treatment on soil colloid specific surface. J Shenyang Agric Univ 26(2):157–161

5.

Zhuang J, Liu XY, Liang DM (1996) Effect of magnetic treatment on specific surface area of clay minerals. J Shenyang Agric Univ 27(2):148–153

6.

Yi YL (1985) Study on the soil specific surface. J Liaoning Agric Sci 6:17–21

7.

Zhang FC, Zhang YP, Bai JL, Chen JZ, Shi RH, Zhang JC (1992) Studies on effect of magnetic treatment on Lou soil physical–chemical properties. Acta Agriculturae Boreali-occidentalis Sinica 1(3):46–48

8.

Liu XY, Zhou GQ et al (1979) Study on soil magnetic properties. J Shenyang Agric Univ 2:10–17

9.

Chen DR (1996) Soil magnetic law improvement. Environ Prot 9:28–30

10.

Long AH, Wang TJ, Wang XM (1996) Study on the effect of magnetic treatment on zeta potential of clay particles. West Prospect Proj 7(2):19–21

11.

Cao J, Wu H, Ou XD (2005) Strength and magnetic effect of cohesive soil in urban environment. J Guilin Inst Technol 04:446–449

12.

Cao P (2004) Study on magnetic effect and microstructure of cohesive soil in urban environment. Guangxi University, Nanning

13.

Berry A, Plater AJ (1998) Rates of tidal sedimentation from records of industrial pollution and environmental magnetism: the tees estuary, north-east England. Water Air Soil Pollut 106(3–4):463–479

14.

Jiong S (2000) Magnetic properties of daily sampled total suspended particulates in Shanghai. Environ Sci Technol 34(12):2393–2400

15.

Heller F, Evans ME (1995) Loess magnetism. Rev Geophys 33:211–240

16.

Japanese Society of soil and Engineering (1999) Compact the coarse aggregate in construction sites. China Water & Power Press, Beijing

17.

Cao J, Wu H (2006) Magnetic effect mechanism and preliminary dividing region of alluvial cohesive soil of Nanning. J Guilin Univ Technol 26(2):196–199

18.

Huang YK, Liu XH, Li S, Yan TY (2016) Development of mean-field electrical double-layer theory. Chin Phys B 25(1):282–288

19.

Wu H, Cao J (2003) On magnetic domino effect mechanism of superimposed magnetic field on city and structural strength of soil mass. J Guangxi Univ (Nat Sci Ed) 28(1):1–4
Funding
Funding was provided by National Natural Science Foundation of China (Grant No. 51578348).
About this article
Cite this article
Fengchi, W., Yizhen, W. & Hui, Y. Magnetic Effect on the Engineering Properties of Remolded Cohesive Soil. Indian Geotech J 49, 543–551 (2019). https://doi.org/10.1007/s40098-018-0347-x
Received:

Accepted:

Published:

Issue Date:
Keywords
Remolded cohesive soil

Magnetic effect

Structure strength

Aggregate