Abstract
The variabilities or uncertainties of the design properties affect the design significantly, and a systematic approach to capture these variations is essential in the design of foundations. Reliability-based design (RBD) can consider the variations in the design properties in a systematic manner. First-order reliability method estimates reliability index at design points which can be used for correlated non-normal random variables. The influence of variability of design properties on foundation design is illustrated by comparing different design approaches such as IS code-based design, Eurocode 7-based design and RBD. Further, the significance of different failure modes and the influence of these on system reliability are also illustrated. Propagation of uncertainty is shown using probability distribution of the allowable load which is obtained using numerical simulations in conjunction with response surface method and Monte Carlo simulations.
This is a preview of subscription content, log in to check access.
Access options
Buy single article
Instant access to the full article PDF.
US$ 39.95
Price includes VAT for USA
Subscribe to journal
Immediate online access to all issues from 2019. Subscription will auto renew annually.
US$ 99
This is the net price. Taxes to be calculated in checkout.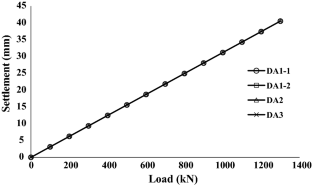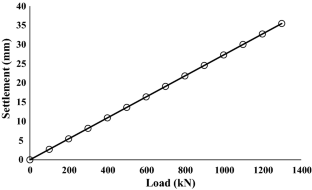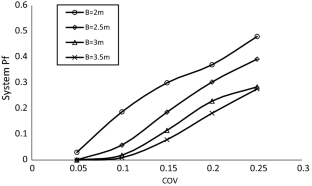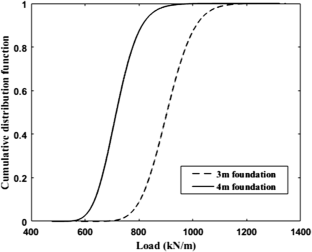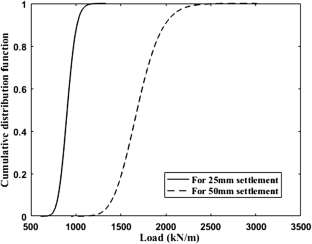 References
1.

BS EN 1997-1:2004 Eurocode 7: Geotechnical design—Part 1: General rules

2.

Babu GLS, Srivastava A (2007) Reliability analysis of allowable pressure on shallow foundation using response surface method. Comput Geotech 34(3):187–194

3.

Bowles JE (1996) Foundation analysis and design, 5th edn. McGraw-Hill, New York

4.

Choi SK, Grandhi RV, Canfield RA (2007) Reliability-based structural design. Springer, London

5.

Ditlevsen O (1979) Narrow reliability bounds for structural systems. J Struct Mech 7(4):453–472

6.

Duncan JM (2000) Factors of safety and reliability in geo technical engineering. J Geotech Geoenviron Eng ASCE 126:307–316

7.

Foye KC, Salgado R, Scott B (2006) Assessment of variable uncertainties for reliability based design of foundations. J Geotech Geoenviron Eng 132(9):1197–1207

8.

Idris A, Olasehinde AJ, Jowunlo OK (2014) Reliability-based design of reinforced concrete raft footings using finite element method. Jordan J Civ Eng 8:419–431

9.

IS 6403:1981 Code of practice for determination of breaking capacity of shallow foundations

10.

IS 8009-Part 1:1976 Code of practice for calculation of settlements of foundations Part 1 Shallow foundations subjected to symmetrical static vertical loads

11.

IS 1904:1986 Code of practice for design and construction of foundations in soils: General requirements

12.

Kulhawy FH, Phoon KK (1996) Engineering judgment in the evolution from deterministic to reliability-based foundation design. In: Uncertainty '96, geotechnical special publication, No. 58. ASCE, New York, pp 29–48

13.

Kuriakose B, Krishnan A, Dodagoudar GR, Rao BN (2017) Reliability analysis of raft foundation on uniformly random soils. J Struct Eng 43(6):568–579

14.

Low BK (1996) Practical probabilistic approach using spreadsheet. In: Uncertainty '96, geotechnical special publication, No. 58(2). ASCE, Madison, pp 1284–1302

15.

Low BK, Phoon KK (2015) Reliability-based design and its complementary role to Eurocode 7 design approach. Comput Geotech 65(2015):30–44

16.

Low BK, Tang WH (1997) Efficient reliability evaluation using spreadsheet. J Eng Mech ASCE 123(7):749–752

17.

Low BK, Tang WH (1997) Reliability analysis of reinforced embankment on soft ground. Can Geotech J 34(5):672–685

18.

Low BK, Tang WH (2007) Efficient spreadsheet algorithm for first-order reliability method. J Eng Mech ASCE 133(12):1378–1387

19.

Low BK, Zhang J, Tang WH (2011) Efficient system reliability analysis illustrated for a retaining wall and a soil slope. Comput Geotech 38(2011):196–204

20.

Marchi M, Butterfield R, Gottardi G, Lancellotta R (2011) Stability and strength analysis of leaning towers. Geotechnique 61(12):1069–1079

21.

Murthy VNS (2002) Geotechnical engineering: principles and practices of soil mechanics and foundation engineering. Marcel Dekker, New York

22.

Phoon KK, Kulhawy FH (1999) Characterization of geotechnical variability. Can Geotech J 36:612–624

23.

Phoon KK, Kulhawy FH, Grigoriu MD (1995) Reliability-based design of foundations for transmission line structures. Report TR-105000, Electric Power Research Institute, Palo Alto

24.

Soubra AH, Massih AMD (2008) Reliability based analysis and design of foundations resting on a spatially random soil. In: Geocongress 2008. ASCE, New Orleans

25.

Wang Y (2011) Reliability based design of spread foundations by monte carlo simulations. Geotechnique 61(8):677–685

26.

Wu TH, Tang WH, Sangrey DA, Baecher GB (1989) Reliability of offshore foundations—state of the art. J Geotech Eng 115(2):157–178

27.

Zhang LM, Tang WH, Ng CWW (2001) Reliability of axially loaded driven pile groups. J Geotech Geoenviron Eng 127(12):1051–1060

28.

Zhang J, Zhang LM, Tang WH (2011) Reliability-based optimization of geotechnical systems. J Geotech Geoenviron Eng 137(12):1211–1221
About this article
Cite this article
Nazeeh, K.M., Babu, G.L.S. Critical Appraisal of Codes for Foundation Design and Role of Reliability-Based Approach. Indian Geotech J 49, 467–477 (2019). https://doi.org/10.1007/s40098-018-0344-0
Received:

Accepted:

Published:

Issue Date:
Keywords
Foundation

Response surface method

Probabilistic analysis