Abstract
The post-cyclic behaviour of a clayey soil after subjecting to cyclic loading is presented in this paper. Tests were carried out on the samples both by allowing the cyclic pore pressure developed during cyclic loading to dissipate and without dissipation. While the samples subjected to post-cyclic monotonic loading without dissipation of cyclic pore pressure exhibited a highly overconsolidated behaviour, the samples after dissipation of cyclic pore pressure exhibited a lightly overconsolidated behaviour. All the samples subjected to cyclic loading exhibited a higher undrained strength during post-cyclic monotonic tests, when compared to the samples without prior cyclic loading history. Post cyclic consolidation tests depicts that the samples show signs of apparent over-consolidation.
Access options
Buy single article
Instant access to the full article PDF.
USD 39.95
Price excludes VAT (USA)
Tax calculation will be finalised during checkout.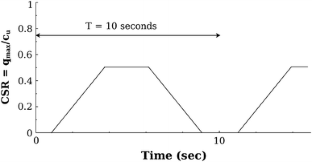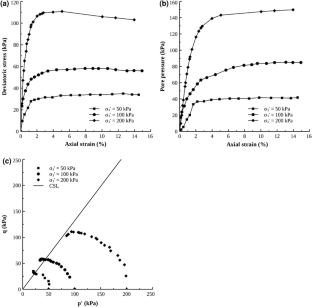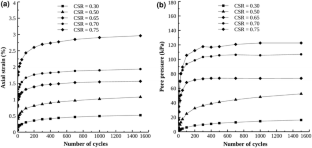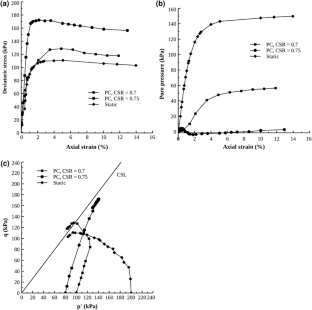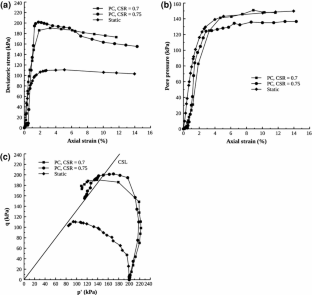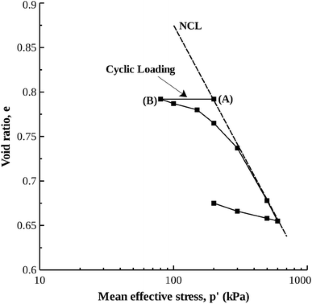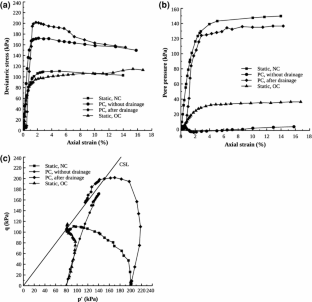 References
Sangrey DA, Henkel DJ, Esrig MI (1969) The effective stress response of a saturated clay soil to repeated loading. Can Geotech J 6:241–252

Yudhbir, Rehman MS (1977) Deformation and pore pressure response of soft clay subjected to repeated loading. In: International symposium on soft clay. The Southeast Asian Geotechnical Society, Thailand, pp 181–191

Lefebvre G, LeBoeuf D, Demers B (1989) Stability threshold for cyclic loading of saturated clay. Can Geotech J 26:122–131

Hyde AFL, Ward SJ (1985) The effect of cyclic loading on the undrained shear strength of a silty clay. Marine Geotechnol 6:299–314

Togrol E, Guler E (1984) Effect of repeated loading on the strength of clay. Soil Dyn Earthquake Eng 3:184–190

Yasuhara K, Hirao K, Hyde FH (1992) Effects of cyclic loading on undrained strength and compressibility of clay. Soils Found 32:100–116

Andersen KH, Pool SF, Brown SF, Rosenbrand WF (1980) Cyclic and static laboratory tests on Drammen clay. J Geotech Eng Div 106:449–529

Thiers GR, Seed HB (1968) Cyclic stress-strain characteristics of clay. Soil Mech Found Eng 94:555–569

Matsui T, Ohara H, Ito T (1980) Cyclic stress-strain history and shear characteristics of clay. J Geotech Eng Div 106:1101–1120

Koutsoftas DC (1978) Effect of cyclic loads on undrained strength of two marine clays. J Geotech Eng Div 104:609–619

Austin G (1979) The behaviour of Keuper marl under undrained creep and repeated loading. Dissertation, University of Nottingham

Moses GG, Rao SN, Rao PN (2003) Undrained strength behaviour of a cemented marine clay under monotonic and cyclic loading. Ocean Eng 30:1765–1789

Pillai RJ, Robinson RG, Boominathan A (2011) Effect of microfabric on undrained static and cyclic behaviour of kaolin clay. J Geotech Geoenviron Eng 137:421–429

Castro G, Christian JT (1976) Shear strength of soils and cyclic loading. J Geotech Eng Div 102:887–894

Bureau of Indian Standards (1970) Classification and identification of soils for general engineering purposes. IS: 1498, New Delhi, India

Bureau of Indian Standards (1981) Methods of tests for soils: Part 12 Determination of shear strength parameter of soil from consolidated undrained triaxial compression test with measurement of pore water pressure. IS: 2720 (Part-12), New Delhi, India

Head KH (1998) Manual of soil laboratory testing: effective stress tests. Wiley, Singapore

Andersen KH (1988) Properties of soft clays under static and cyclic loading. Norwegian Geotech Inst Publ 176:1–20
About this article
Cite this article
Pillai, R.J., Nazeeh, K.M. & Robinson, R.G. Post-Cyclic Behaviour of Clayey Soil. Indian Geotech J 44, 39–48 (2014). https://doi.org/10.1007/s40098-013-0042-x
Received:

Accepted:

Published:

Issue Date:

DOI: https://doi.org/10.1007/s40098-013-0042-x
Keywords
Cyclic triaxial tests

Post cyclic behaviour of clays

Cyclic loading