Abstract
A terpolymer resin derived from Resorcinol, Formaldehyde and Salicylic acid was synthesized through condensation reaction. Transition metal ions namely Mn(II), Co(II), Ni(II), Cu(II), and Zn(II) were incorporated into the resin forming polymer-metal complexes. Both the resin and the complexes were characterized by FTIR, UV–Vis., XRD, 1H NMR, TGA and SEM/EDX. Elemental analysis was carried out to determine the percentage of different elements present in the resin and its complexes. Conductivity measurement data showed higher conductivity of the metal complexes as compared to its precursor resin. The terpolymer resin and its metal complexes were tested against five strains of gram positive bacteria namely; S. aureus, S. mutans, S. pyrogenes, C. xerosis, C. diphtheria, and three strains of gram negative bacteria namely; E. coli, K. pneuomoniae and P. aeruginosa. All the metal complexes exhibited enhanced antibacterial properties as compared to its terpolymer resin. The Mn(II) and Co(II) demonstrated strong antibacterial activity.
Graphic Abstract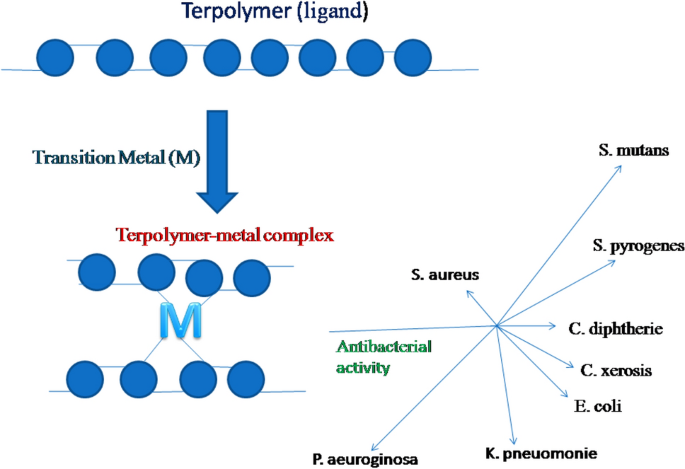 This is a preview of subscription content, log in to check access.
Access options
Buy single article
Instant access to the full article PDF.
US$ 39.95
Price includes VAT for USA
Subscribe to journal
Immediate online access to all issues from 2019. Subscription will auto renew annually.
US$ 199
This is the net price. Taxes to be calculated in checkout.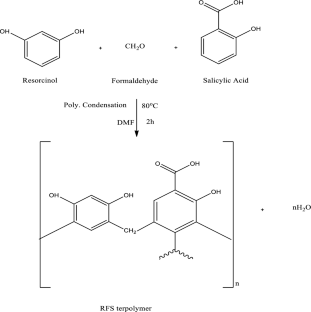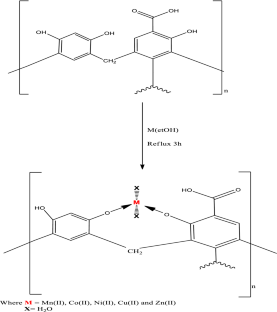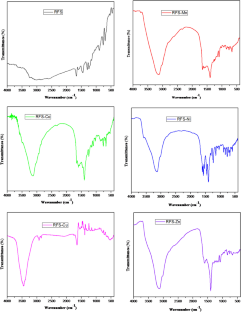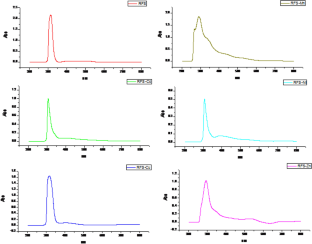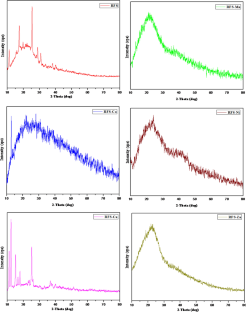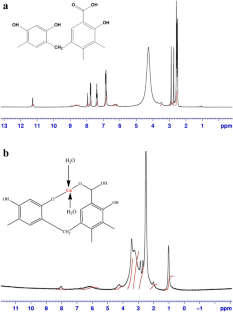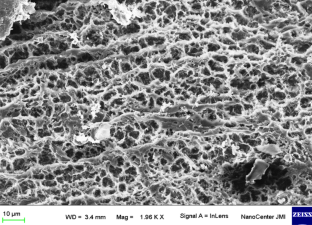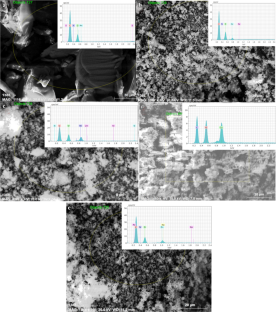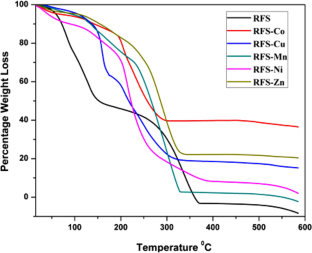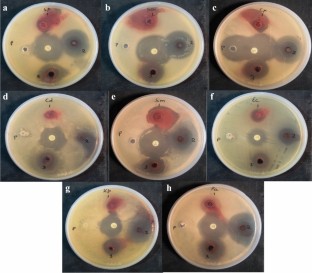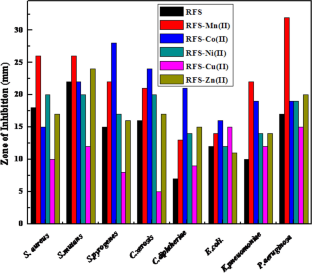 References
1.

Batten SR, Neville SM, Turner DR (2009) Coordination polymers design. RSC Publishing, Analysis and Application, p 1

2.

Colon JY, Furukawa S (2020) Mol Syst Des Eng 5:284–293

3.

Liu JJ, Xia BS, Que TQ, Suo H, Liu J, Shen X, Cheng F (2020) Dalton Trans. https://doi.org/10.1039/C9DT04928B

4.

Yang GX, Zhai MZ, Lu MX, Zhao Y, Chang HX, Ma FL (2019) Dalton Trans 48:10785–10789

5.

Liu QJ, Luo DZ, Pan Y, Singh KA, Trivedi M, Kumar A (2020) Coord Chem Rev 406:213145

6.

Hu Y, Lu T, Ma Y, Xu J, Zhang Y, Hou Y, Huang Z (2019) Nano Lett 19:2731–2738

7.

Phillip AW, Dorin MR, Werner J, Hoek VME, Wiesner U, Elimelech M (2011) Nano Lett 11:2892–2900

8.

Kang ET, Chao H, Kim JH, Lee W, Kang H, Kim JB (2013) Macromol 46:6806–6813

9.

Xu H, Cheng ZY, Dana TMO, Zhang MQ (2001) Appl Phys Lett 78:2360

10.

Fustin C-A, Abetz V, Gohy J-F (2005) Eur Phys J E 16:291–302

11.

Ahamed MAR, Azarudeen RS, Karunakaran M, Burkanudeen AR (2010) Iran Polym J 19:635–646

12.

Bhatt RR, Shah AB, Shah VA (2012) Malays J Anal Sci 16:117–133

13.

Shah AB, Shah VA, Bhandari NB, Bhatt RR (2007) Iran Polym J 16:173–184

14.

Liu J, Qiao ZS, Liu H, Chen J, Orpe A, Zhao D, Lu QG (2011) Angew Chem 123:6069–6073

15.

Qian Y, Zuo C, Tan J, He J (2007) Energy 32:196–202

16.

Lu R, Gan W, Wu BH, Chen H, Wang HF (2004) J Phys Chem B 108(22):7297–7306

17.

Holmberg VC, Rasch MR, Korgel BA (2010) Langmuir 26:14241–14246

18.

Taheri P, Wielant J, Hauffmanc T, Flores JR, Hannour F, de Wit JHW, Mol JMC, Terryn H (2011) Electrochim Acta 56:1904–1911

19.

Specht HC, Frimmel HF (2001) Phys Chem Chem Phys 3:5444–5449

20.

Tong DS, Wu CW, Adebajo MO, Jin GC, Yu WH, Ji SF, Zhou CH (2018) Appl Clay Sci 161:256–264

21.

Oliveira RN, Mancini MC, de Oliveira FCS, Passos TM, Quilty B, da Moreira Thiré RMS, McGuinness GB, Matéria (Rio J.) 21 (2016) 767–779.

22.

Kharas GB, Hill BL, Agos CH, Bosco PJ, Camacho JF, Clay BS, Clementz ME, Jasionowski T, Krupka RA, Muise MJ, Nelson EA, Pavlovsky G, Semp MC, Sherman AC, Stanis M (2013) J Macromol Sci A 50:797–802

23.

Hasnain S, Zulfequar M, Nishat N (2011) J Coord Chem 64:952–964

24.

Al Laifi AG, Al Abdullah J (2015) J Mol Struct 1093:13–23

25.

Ahamed MAR, Burkanudeen AR (2012) J Inorg Organomet Polym 22:1046–1061

26.

Nishat N, Hasnain S, Ahmad T, Parveen A (2011) J Therm Anal Calorim 105:969–979

27.

Xia B-H, Zhang H-X, Che C-M, Leung K-H, Phillips DL, Zhu N, Zhou Z-Y (2003) J Am Chem Soc 125:10362–10374

28.

Bukhari SB, Memon S, Tahir MM, Bhanger MI (2009) Spectrochim Acta Part A 71:1901–1906.

29.

Nishat N, Khan SA, Parveen S, Rasool R (2010) J Coord Chem 63:3944–3955

30.

Mhadhbi N, Said S, Elleuch S, Naili H (2016) J Mol Struct 1108:223–234

31.

Karipcin F, Dede B, Ozkorucuklu SP, Kabalcilar E (2010) Dyes Pigm 84:14–18

32.

Kalita M, Tamuli KJ, Barman P, Sarma B, Baruah R, Prasanna H, Boruah D (2015) Polyhedron 97:140–147

33.

Sharaby MC (2007) Spectrochim. Acta, Part A 66:1271–1278

34.

Ozdemir O, J Photochem Photobiol A. 392 (2020) 112356

35.

S.A.A. Nami, K.S. Siddiqi, Y. Chebude, Ind. J. Chem., 45A (2006) 1139–1143.

36.

Gokce H, Bahceli S (2013) Spectrochim. Acta, Part A 114:61–73

37.

Imran M, Iqbal J, Iqbal S, Ijaz N (2007) Turk J Biol 31:67–72

38.

Lu CC, Bill E, Weyhermuller T, Bothe E, Wieghardt K (2008) J Am Chem Soc 130:3181–3197

39.

Hadi MA (2013) Acta Chim Pharm Indica 3:127–134

40.

Zhang H-Z, Drewe J, Tseng B, Kasibhatla S, Cai SX (2004) Bioorganic. Med Chem 12:3649–3655

41.

Brown SP, Schnell I, Brand JD, Mullen K, Spiess HW (2000) Phys Chem Chem Phys 2:1735–2145

42.

Fergoug T, Bouhadda Y (2014) Fuel 115:521–526

43.

Kontogianni VG, Charisiadis P, Primikyri A, Pappas CG, Exarchou V, Tzakos AG, Gerothanassis IP (2013) Org Biomol Chem 11:1013–1025

44.

Kim H-D, Ishida H (2001) J Appl Polym Sci 79:1207–1219

45.

Nishat N, Ahamad T, Zulfequar M, Hasnain S (2008) J Appl Polym Sci 110:3305–3312

46.

Park JW, Oh SC, Lee PH, Kim HT, Yoo KO (2000) J Polym Degrad Stab 67:535–540

47.

Wang S, Tan Z, Li Y, Sun L, Zhang T (2006) Thermochim Acta 441:191–194

48.

Seoudi R, El-Bahy GS, El Sayed ZA (2005) J Mol Struct 753:119–126

49.

Gallego O, Castillo CJ, Gomez-Garcia F, Zamora S (2012) Delgado. Inorg Chem 51:718–727

50.

Ahamad T, Nishat N, Parveen S (2008) Coord Chem 61:1963–1972

51.

Vamsikrishna N, Daravath S, Ganji N, Pasha N (2020) Shivaraj. Inorg Chem Commun 113:107767

52.

Bonilla M, Garcia MF (2012) Prog Polym Sci 37:281–339.
Acknowledgements
The authors are grateful to Sophisticated Instrumentation Centre (SIC), IIT Indore for providing TGA characterization facility. We are also thankful to Central Instrumentation Facility of Jamia Millia Islamia Delhi, for characterization facilities.
Additional information
Publisher's Note
Springer Nature remains neutral with regard to jurisdictional claims in published maps and institutional affiliations.
About this article
Cite this article
Mohammad, A., Kareem, A., Mirza, A.U. et al. Enhanced performance of terpolymer resin derived from resorcinol/formaldehyde/salicylic acid for antibacterial application. Int J Ind Chem (2020). https://doi.org/10.1007/s40090-020-00219-9
Received:

Accepted:

Published:
Keywords
Terpolymer resin

Metal complex

Antibacterial activity