Abstract
In this paper, we analyze and discuss the optimization challenges and opportunities raised by the decision of building an automated clinical laboratory in a hospital unit. We first describe the general decision setting from a strategic, tactical and operational perspective. We then focus on the analysis of a practical case, i.e., the Central Laboratory of a large urban academic teaching hospital in the North of Italy, the 'Spedali Civili' in Brescia. We will describe the present situation and the research opportunities related to the study of possible improvements of the management of the laboratory.
Access options
Buy single article
Instant access to the full article PDF.
USD 39.95
Price includes VAT (USA)
Tax calculation will be finalised during checkout.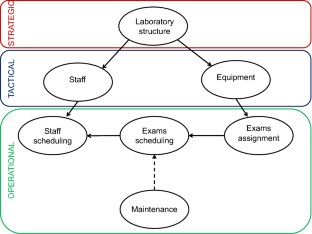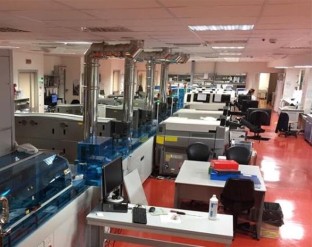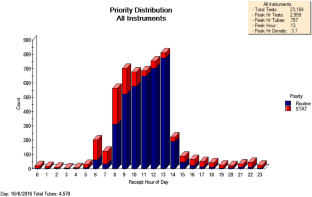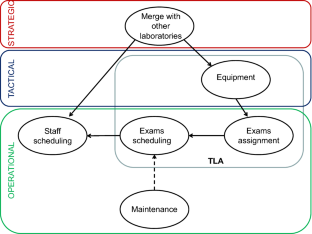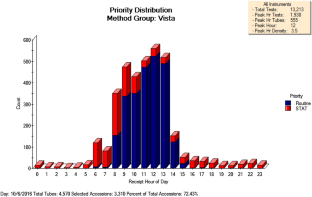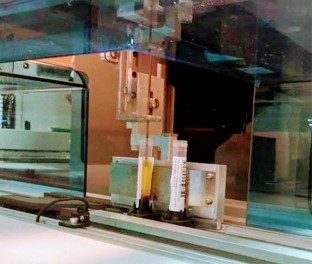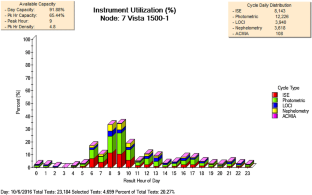 References
Abe TK, Beamon BM, Storch RL, Agus J (2016) Operations research applications in hospital operations: Part i. IIIE Trans Healthc Syst Eng 6:42–54

Abe TK, Beamon BM, Storch RL, Agus J (2016) Operations research applications in hospital operations: Part ii. IIIE Trans Healthc Syst Eng 6:96–109

Abe TK, Beamon BM, Storch RL, Agus J (2016) Operations research applications in hospital operations: Part iii. IIIE Trans Healthc Syst Eng 6:175–191

Allinson JL, Blick KE, Cohen L, Higton D, Li M (2013) Ask the experts. automation: Part i. Bioanalysis 5:1953–1962

Angeletti S, De Cesaris M, Hart JG, Urbano M, Vitali MA, Fragliasso F, Dicuonzo G (2015) Laboratory automation and intra-laboratory turnaround time: experience at the university hospital campus bio-medico of rome. J Lab Autom 20:652–658

Archetti C, Montanelli A, Finazzi D, Caimi L, Garrafa E (2017) Clinical laboratory automation: a case study. J Public Health Res 6:31–36

Brailsford S, Vissers J (2011) OR in healthcare: a European perspective. Eur J Oper Res 212:223–234

Caprara A, Toth P, Vigo D, Fischetti M (1998) Modeling and solving the crew rostering problem. Oper Res 46:820–830

Cheng TCE, Sin CCS (1990) A state-of-the-art review of parallel-machine scheduling research. Eur J Oper Res 47:271–292

Denton BT (2013) Handbook of healthcare operations management. International series in operations research and management science, vol 184. Springer, New York

Eggert AA, Bowers KL, Smulka GJ, Emmerich KA, Iwanski AL, Quam EF (1999) An overhead specimen handling system for variable workloads. J Med Syst 23:1–11

Florian M, Lenstra JK, Rinnooy Kan AHG (1980) Deterministic production planning: algorithms and complexity. Manag Sci 26:669–679

Hawker CD (2007) Laboratory automation: total and subtotal. Clin Lab Med 27:749–770

Ialongo C, Porzio O, Giambini I, Bernardini S (2016) Total automation for the core laboratory: improving the turnaround time helps to reduce the volume of ordered STAT tests. J Lab Autom 21:451–458

Langabeer JR II, Helton J (2016) Healthcare operations management: a system perspective. Jones and Bartlett Learing, Burlingotn

Lam CW, Jacob E (2012) Implementing a laboratory automation system. J Lab Autom 17:16–23

Li M (2013) Automation in the bioanalytical laboratory: what is the future? Bioanalysis 5:2859–2861

Luss H (1982) Operations research and capacity expansion problems: a survey. Oper Res 30:907–947

Maynard A (2012) Public health and economics: a marriage of necessity. J Public Health Res 1:11–13

Melanson SEF, Lindeman NI, Jarolim P (2007) Selecting automation for the clinical chemistry laboratory. Arch Pathol Lab Med 131:1063–1069

Peck-Palmer OM (2009) Total lab automation takes teamwork. MLO 41:30–35

Plebani M (2010) Laboratory diagnostics in the third millennium: where, how and why. Clin Chem Lab Med 48:901–902

Powell JH, Mustafee N (2017) Widening requirements capture with soft methods: an investigation of hybrid m&s studies in health care. J Oper Res Soc 68:1211–1222

Sarkozi L, Simson E, Ramanathan L (2003) The effects of total laboratory automation on the management of a clinical chemistry laboratory. Retrospective analysis of 36 years. Clin Chim Acta 329:89–94

Sasaki M, Kageoka T, Ogura K, Kataoka H, Ueta T, Sugihara S (1998) Total laboratory automation in Japan. Clin Chim Acta 278:217–227

Seaberg RS, Stallone RO, Statland BE (2000) The role of total laboratory automation in a consolidated laboratory network. Clin Chem 46:751–756

Sherif YS, Smith ML (1981) Optimal maintenance models for systems subject to failure—a review. Naval Res Logist Q 28:47–74

Shin KH, Kim HH, Chang CL, Lee EY (2013) Economic and workflow analysis of a blood bank automated system. Ann Lab Med 33:268–273

Shmoys DB, Tardos É (1993) An approximation algorithm for the generalized assignment problem. Math Program 62:461–474

Tatsumi N, Okuda K, Tsuda I (1999) A new direction in automated laboratory testing in japan: five years of experience with total laboratory automation system management. Clin Chim Acta 290:93–108

Xie X, Lawley MA (2015) Operations research in healthcare. Int J Prod Res 53:7173–7176

Yang T, Wang T-K, Li VC, Su C-L (2014) The optimization of total laboratory automation by simulation of a pull-strategy. J Med Syst 39:162

Yuan L, Ji QC (2012) Automation in new frontiers of bioanalysis: a key for quality and efficiency. Bioanalysis 4:2759–2762

Zaninotto M, Plebani M (2010) The 'hospital central laboratory': automation, integration and clinical usefulness. Clin Chem Lab Med 48:911–917
Additional information
Publisher's Note
Springer Nature remains neutral with regard to jurisdictional claims in published maps and institutional affiliations.
About this article
Cite this article
Archetti, C., Speranza, M.G. & Garrafa, E. Managing an automated clinical laboratory: optimization challenges and opportunities. EURO J Decis Process 8, 41–60 (2020). https://doi.org/10.1007/s40070-019-00097-2
Received:

Accepted:

Published:

Issue Date:
Keywords
Clinical laboratory automation

Optimization

Scheduling