Abstract
MCDA is increasingly used to support participatory and collaborative processes. In this paper, we describe and evaluate four real-life environmental planning projects where MCDA was used in different ways to evaluate the alternatives and to support stakeholder involvement. Based on our experience, we present five approaches for eliciting preferences or criteria weights of stakeholders, which vary from an expert-driven to a personal interview approach. We compare the pros and cons of these approaches, and give recommendations regarding their use. We believe that better awareness of different approaches and their applicability would enable MCDA experts to design more effective, meaningful and practical participatory processes. Our cases are from environmental planning, but the framework and conclusions are generic and thus applicable to other fields as well.
Access options
Buy single article
Instant access to the full article PDF.
USD 39.95
Price includes VAT (USA)
Tax calculation will be finalised during checkout.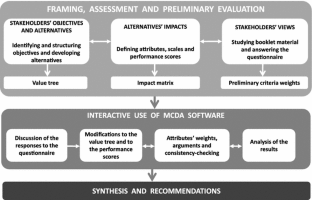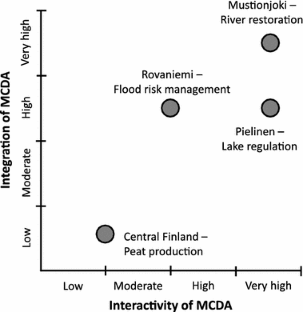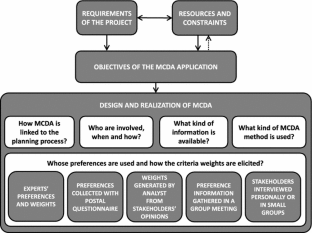 References
Anderson RM, Clemen R (2013) Toward an improved methodology to construct and reconcile decision analytic preference judgments. Decis Anal 10(2):121–134

Antunes P, Santos R, Videira N (2006) Participatory decision making for sustainable development—the use of mediated modelling technique. Land Use Policy 23(1):44–52

Banville C, Landry M, Martel J-M, Boulaire C (1998) A stakeholder approach to MCDA. Syst Res 15(1):15–32

Bayley C, French S (2008) Designing a participatory process for stakeholder involvement in a societal decision. Group Decis Negotiat 17(3):195–210

Beierle TC (2002) The quality of stakeholder-based decisions. Risk Anal 22(4):739–749

Beierle TC, Cayford J (2002) Democracy in practice: public participation in environmental decisions. Resources for the Future, Washington, DC

Belton V, Stewart TJ (2002) Multiple criteria decision analysis: an integrated approach. Kluwer Academic Publishers, Dordrecht

Burgess J, Stirling A, Clark J, Davies G, Eames M, Staley K, Williamson S (2007) Deliberative mapping: a novel analytic-deliberative methodology to support contested science policy decisions. Public Underst Sci 16:299–322

Carson L (2009) Deliberative public participation and hexachlorobenzene stockpiles. J Environ Manage 90(4):1636–1643

Daniels S, Walker G (2001) Working through environmental conflict: the collaborative learning approach. Praeger, Westport

Depoe SP, Delicath JW, Elsenbeer MFA (eds) (2004) Communication and public participation in environmental decision making. State University of New York Press, NY

Gregory R, Failing L, Harstone M, Long G, McDaniels T, Ohlson D (2012) Structured decision making: a practical guide to environmental management choices. Wiley-Blackwell, Chichester

Hämäläinen RP, Alaja S (2008) The threat of weighting biases in environmental decision analysis. Ecol Econ 68(1–2):556–569

Hämäläinen RP, Mustajoki J, Marttunen M (2010) Web-based decision support: creating a culture of applying multi-criteria decision analysis and web supported participation in environmental decision making. In Rios-Insua D, French S (eds.): e-Democracy: a group decision and negotiation perspective. Advances in Group Decision and Negotiation 5, Springer Science + Business Media B.V., Dordrecht, pp 201–221

Hedelin B (2007) Criteria for the assessment of sustainable water management. Environ Manage 39:151–163

Hobbs BF, Horn GT (1997) Building public confidence in energy planning: a multimethod MCDM approach to demand-side planning at BC gas. Energy Policy 25(3):357–375

Hostmann M, Borsuk M, Reichert P, Truffer B (2005) Stakeholder values in decision support for river rehabilitation. Archiv für Hydrobiologie Supplement 155(1–4):491–505

Huang IB, Keisler J, Linkov I (2011) Multi-criteria decision analysis in environmental sciences: ten years of applications and trends. Sci Total Environ 409:3578–3594

Kangas J, Kangas A, Leskinen P, Pykäläinen J (2001) MCDM methods in strategic planning of forestry on state-owned lands in Finland: applications and experiences. J Multi Crit Decis Anal 10:257–271

Kangas A, Kangas J, Kurttila M (2008) Decision support for forest management. Manage For Ecosyst, vol 16. Springer, Berlin

Karjalainen TP, Marttunen M, Sarkki S, Rytkönen A-M (2013) Integrating ecosystem services into environmental impact assessment: an analytic–deliberative approach. Environ Impact Assess Rev 40:54–64

Keeney RL (1992) Value-focused thinking. Harvard University Press, Cambridge

Keeney R, Raiffa H (1976) Decisions with multiple objectives: preferences and value tradeoffs. Wiley, New York

Kiker GA, Bridges TS, Varghese A, Seager TP, Linkov I (2005) Application of multicriteria decision analysis in environmental decision making. Integr Environ Assess Manage 1(2):95–108

Lahdelma R, Hokkanen J, Salminen P (1998) SMAA—stochastic multiobjective acceptability analysis. Eur J Oper Res 106(1):137–143

Linkov I, Satterstrom FK, Kiker G, Seager TP, Bridges T, Gardner KH, Rogers SH, Belluck DA, Meyer A (2006) Multicriteria decision analysis: a comprehensive decision approach for management of contaminated sediments. Risk Anal 26(1):61–78

Marttunen M (2011) Interactive multi-criteria decision analysis in the collaborative management of watercourses. Aalto University publication series: Doctoral Dissertations 75/2011, Helsinki

Marttunen M, Hämäläinen RP (1995) Decision analysis interviews in environmental impact assessment. Eur J Oper Res 87(3):551–563

Marttunen M, Hämäläinen RP (2008) Decision analysis interviews in supporting collaborative management of a large regulated water course. Environ Manage 42(6):1026–1042

Morgan RK (1998) Environmental impact assessment: a methodological perspective. Kluwer Academic Publishers, Dordrecht

Munda G (2004) Social multi-criteria evaluation: methodological foundations and operational consequences. Eur J Oper Res 158(3):662–677

Munda G (2006) Social multi-criteria evaluation for urban sustainability policies. Land Use Policy 23(1):86–94

Munda G (2008) Social multi-criteria evaluation for a sustainable economy. Springer, Berlin

Mustajoki J, Hämäläinen RP (2000) Web-Hipre: global decision support by value tree and AHP analysis. INFOR 38(3):208–220

Mustajoki J, Hämäläinen RP, Sinkko K (2007) Interactive computer support in decision conferencing: two cases on off-site nuclear emergency management. Decis Support Syst 42(4):2247–2260

Mustajoki J, Saarikoski H, Marttunen M, Ahtikoski A, Hallikainen V, Helle T, Hyppönen M, Jokinen M, Naskali A, Tuulentie S, Varmola M, Vatanen E, Ylisirniö A-L (2011) Use of decision analysis interviews to support the sustainable use of the forests in Finnish Upper Lapland. J Environ Manage 92:1550–1563

Patchak WM (2012) Software survey: decision analysis. OR/MS Today 39(5). http://www.orms-today.org/surveys/das/das.html

Phillips LD (2007) Decision conferencing. In: Edwards W, Miles RF Jr., von Winterfeldt D (eds) Advances in decision analysis: from foundations to applications. Cambridge University Press, Cambridge, pp 375–399

Phillips LD, Bana e Costa CA (2007) Transparent prioritisation, budgeting and resource allocation with multi-criteria decision analysis and decision conferencing. Ann Oper Res 154(1):51–68

Phillips LD, Phillips MC (1993) Facilitated work groups: theory and practice. J Oper Res Soc 44(6):533–549

Pöyhönen M, Hämäläinen RP (2000) There is hope in attribute weighting. INFOR 38(3):272–282

Pöyhönen M, Hämäläinen RP (2001) On the convergence of multiattribute weighting methods. Eur J Oper Res 129(3):569–585

Renn O (2006) Participatory processes for designing environmental policies. Land Use Policy 23(1):34–43

Rytkönen A-M, Marttunen M, Lehmonen A-M, Mustajoki J (2013) Involvement of local stakeholders with multi-criteria decision analysis in flood risk management in Finland. Manuscript

Saarikoski H, Mustajoki J, Marttunen M (2013) Participatory multi-criteria assessment as 'opening up' vs. 'closing down' of policy discourses: a case of old-growth forest conflict in Finnish Upper Lapland. Land Use Policy 32:329–336

Salgado P, Quintana CS, Pereira AG, del Moral Ituarte L, Mateos BP (2009) Participative multi-criteria analysis for the evaluation of water governance alternatives: a case in the Costa del Sol (Málaga). Ecol Econ 68:990–1005

Sparrevik M, Barton DN, Oen AM, Sehkar NU, Linkov I (2011) Use of multicriteria involvement processes to enhance transparency and stakeholder participation at Bergen Harbor, Norway. Integr Environ Assess Manage 7:414–425

Steele K, Carmel Y, Cross J, Wilcox C (2009) Uses and misuses of multicriteria decision analysis (MCDA) in environmental decision making. Risk Anal 29(1):26–33

Stirling A (2006) Analysis, participation and power: justification and closure in participatory multi-criteria analysis. Land Use Policy 23(1):95–107

Weber M, Borcherding K (1993) Behavioral influences on weight judgments in multi-attribute decision making. Eur J Oper Res 67(1):1–12

Webler T, Tuler S (2006) Four perspectives on public participation process in environmental assessment and decision making: combined results from 10 case studies. Policy Stud J 34(4):699–722

Wondolleck JM, Yaffee SL (2000) Making collaboration work: lessons from innovation in natural resource management. Island Press, Washington, DC
Acknowledgments
The writing of the article was partly funded by the EU life project IMPERIA (LIFE11 ENV/FI/905). Mikko Dufva acknowledges financial support from the VTT Graduate School.
About this article
Cite this article
Marttunen, M., Mustajoki, J., Dufva, M. et al. How to design and realize participation of stakeholders in MCDA processes? A framework for selecting an appropriate approach. EURO J Decis Process 3, 187–214 (2015). https://doi.org/10.1007/s40070-013-0016-3
Received:

Accepted:

Published:

Issue Date:
Keywords
Multi-criteria decision analysis

Decision analysis interviews

Environmental decision making

Stakeholder involvement