Abstract
In the present investigation, response surface methodology (RSM) is used for a quadratic model that continuously controls the process parameters. This model is used to optimize the removal of iron oxide from Partially Laterised Khondalite (PLK) rocks which is influenced by several independent variables namely acid concentration, time and temperature. Second order response functions are produced for leaching of iron oxide from PLK rocks-a bauxite mining waste. In RSM, Box–Behnken design is used for the process optimization to achieve maximum removal of iron oxide. The influence of the process variables of leaching of iron oxide is presented in the form of 3-D response graphs. The results of this investigation reveals that 3 M hydrochloric acid concentration, 240 min time and 373 K temperature are found to be the best conditions for removal of 99% Fe2O3. The product obtain at this condition contain 80% brightness which is suitable for ceramic and filler industry applications. The novelity of the work is that the waste can be a value added product after suitable physical beneficiation and chemical treatment.
Access options
Buy single article
Instant access to the full article PDF.
US$ 39.95
Tax calculation will be finalised during checkout.
Subscribe to journal
Immediate online access to all issues from 2019. Subscription will auto renew annually.
US$ 79
Tax calculation will be finalised during checkout.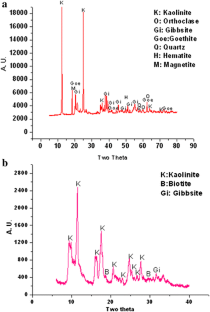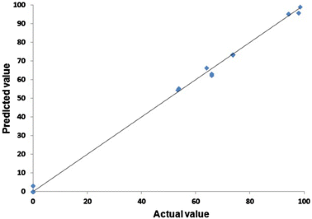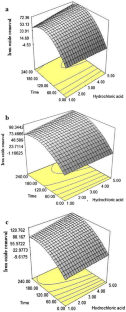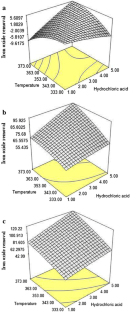 References
1.

D.C. Montgomerry, Design and Analysis of Experiments, 5th edn. (Wiley, New York, 2001)

2.

N. Aslan, Y. Cebeci, Fuel 86, 90–97 (2007)

3.

N. Aslan, Powder Technol. 174, 127–133 (2007)

4.

N. Aslan, F. Cifcia, D. Yanb, Sep. Purif. Technol. 59, 9–16 (2008)

5.

N. Aslan, Sep. Purif. Technol. 64, 237–241 (2008)

6.

S.K. Tripathy, Y. Ramamuthy, C. Raghu Kumar, Powder Technol. 201, 181–186 (2010)

7.

S. Ubaldini, L. Piga, P. Fornari, R. Massidda, Hydrometallurgy 40(3), 369–379 (1996)

8.

V.R. Ambikadevi, M. Lalithambika, Appl. Clay Sci. 16, 133–145 (2000)

9.

D. Guillermo, T. Calderon, J.I. Rodriguez, U. Ortiz-Mendez, T.-L. M. Martinez, Azojomo, J. Mater. Online, 1–10 (2005). www.azom.com

10.

M. Ranjbar, E. Aghaie, M.R. Hosseini, M. Pazouki, F. Ghavipanjeh, Adv. Mater. Res. 20–21, 115–118 (2007)

11.

C.I. Nwoye, C.S. Nwobodo, C. Nlebedim, U.C. Nwoye, R.A. Umana, G.C. Obasi, J. Miner. Mater. Charact. Eng. 8(7), 531–539 (2009)

12.

C.I. Nwoye, J.E.O. Ovri, J. Eng. Sci. Technol. 5(2), 151–164 (2010)

13.

G. Mohanty, L. Besra, S. Bhattacharjee, B.P. Singh, Mater. Res. Bull. 43, 1814–1828 (2008)
About this article
Cite this article
Swain, R., Bhima Rao, R. Application of Response Surface Methodology on Leaching of Iron from Partially Laterised Khondalite Rocks: A Bauxite Mining Waste. J. Inst. Eng. India Ser. D 99, 23–31 (2018). https://doi.org/10.1007/s40033-017-0144-1
Received:

Accepted:

Published:

Issue Date:
Keywords
Partially Laterised Khondalite (PLK) rocks

Response surface methodology

X-ray diffraction

Iron oxide

Ceramic

Filler