Abstract
Deterioration of pavement is defined in terms of decrease in serviceability caused by various defects such as cracks, surface defects and disintegration. Potholes are the surface defects and the primary neighbourhood problems, as they are exceptionally visible defects. In the present study, an attempt has been made to determine the underlying causes for the development of potholes on the streets of Chandigarh city. Bitumen extractor was used to determine the bitumen content present in the road sample taken by core cutter alongside pothole. Grading of aggregates was performed in order to determine the type of soil subgrade. Using the traffic volume data, the required thickness of the road was determined and compared with the existing core cutter sample. For V1 and V2 roads, the present traffic volume is higher than the value for what the road was designed. It was found that the existing bitumen content in V3 roads is less than the optimum value.
Access options
Buy single article
Instant access to the full article PDF.
US$ 39.95
Tax calculation will be finalised during checkout.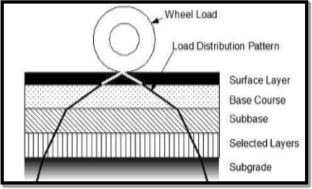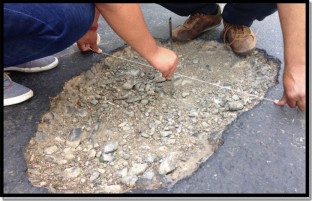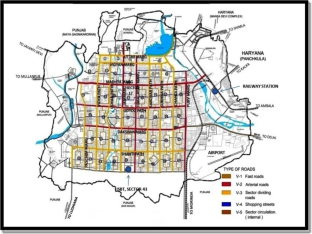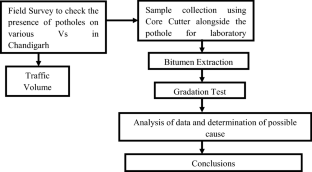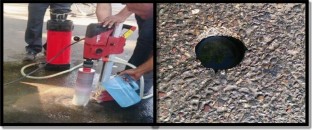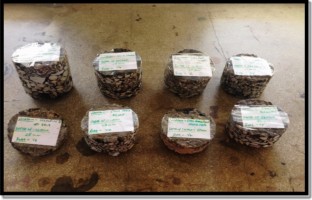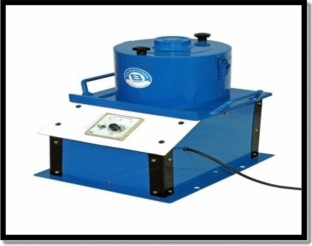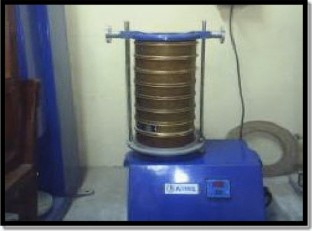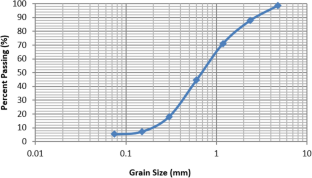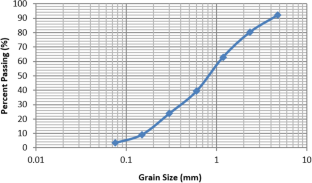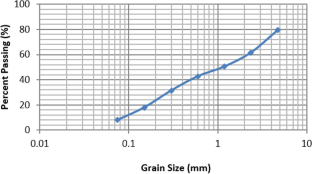 References
1.

K.S. Noureldin, G. Philip, Study of Transverse cracking in bituminous pavements in Oklahoma. Transp. Res. Board 1978, 28–32 (1978). ISSN: 0361-1981

2.

J.J. Hajek, R.C.G. Haas, Prediction low-temperature cracking frequency of Asphalt concrete pavements. Transp. Res. Board 1972, 39–48 (1972). ISSN: 0361-1981

3.

Y. Huang, Asphalt Institute. 1991. Thickness design-asphalt pavements for highways and streets (M.S.-1). Asphalt Institute, Lexington, Ky. Manual series No. 1 (1993)

4.

S. Choudhary, P.K. Agarwal, An innovative strategy for maintenance of highway pavement. Int. J. Eng. Res. Appl. 3(3), 54–60 (2013)

5.

V. Tare, H.S. Goliya, A. Bhatoreand, K. Meshram, Pavement deterioration modelling for low volume streets. J. Indian Streets Congr. 2013, 67–81 (2013)

6.

M.E.E. Hurst, Transportation Geography (McGraw-Hill, New York, 1974). ISBN 10: 0070191905

7.

R. Kalia, Chandigarh: The Making of an India City (S.K. Mackerjee, New Delhi, 1987). https://doi.org/10.1177/001946469002700208

8.

ASTM D2172/D2172M-17e1, Standard Test Methods for Quantitative Extraction of Asphalt Binder from Asphalt Mixtures (ASTM International, West Conshohocken, PA, 2017) www.astm.org

9.

ASTM C 136/C136 M-19, Standard Test Method for Sieve Analysis of Fine and Coarse Aggregates (ASTM, Easton, 1993). vol. 02.01

10.

L.R. Kadiyali, N.B. Lal, M. Satyanarayana, A.K. Swaminathan, Speed Flow Characteristics on Indian highways. J. Indian Streets Congr. 52(2), 233–251 (1991)
Additional information
Publisher's Note
Springer Nature remains neutral with regard to jurisdictional claims in published maps and institutional affiliations.
About this article
Cite this article
Kanoungo, A., Sharma, U., Goyal, A. et al. Assessment of Causes of Pothole Development on Chandigarh Roads. J. Inst. Eng. India Ser. A 102, 411–419 (2021). https://doi.org/10.1007/s40030-021-00520-5
Received:

Accepted:

Published:

Issue Date:
Keywords
Bituminous pavement

Pavement deterioration

Pothole problem

Traffic survey