Abstract
Palm Leaf Manuscripts hold the knowledge of India dating back to several centuries. Therefore, Palm Leaf manuscripts are valued as Saaswathaiswaryam, implying eternal (Saaswath [Sanskrit word meaning Eternal, Forever]) wealth (Aiswaryam [Sanskrit word meaning wealth]). But the Palm Leaf manuscripts are in different conditions- brittle, moth-eaten, edge-damaged, portions broken, etc. Besides, the leaves themselves are in bundles, that too out of order. The challenge for our generation is to design a methodology to capture the contents, recreate the missing portion, and figure out a way to right-order the manuscripts. Alongside, use modern technology for storage and retrieval, with emphasis on relevance to the requirement posed in the search query.
Access options
Buy single article
Instant access to the full article PDF.
US$ 39.95
Tax calculation will be finalised during checkout.
Subscribe to journal
Immediate online access to all issues from 2019. Subscription will auto renew annually.
US$ 79
Tax calculation will be finalised during checkout.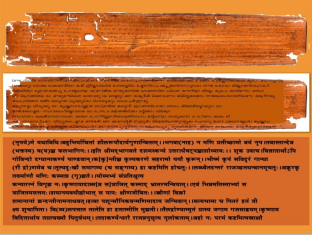 References
3.

www.namami.org—Portal of the National Mission for Manuscripts

4.

http://www.namami.org/pdatabase.aspx—Kriti Sam pada—National Database of Manuscripts

5.

Facilitating Enhanced User Access Through Palm-Leaf Manuscript Digitization—Challenges and Solutions—VK Mehta et al, IEEE International Conference on Electrical, Computer and Communication Technologies (ICECCT 2017), 2017
About this article
Cite this article
Raghavan, S.V., Vasanth Kumar Mehta, R. & Srinivasu, G. Palm leaf manuscripts: Saaswathaiswaryam the eternal treasure of India. CSIT 9, 31–36 (2021). https://doi.org/10.1007/s40012-020-00325-0
Received:

Accepted:

Published:

Issue Date:
Keywords
Palm-leaf manuscripts

Digital preservation

Image processing

Heritage conservation