Abstract
The present research work attempts to develop a Smart Residential Electricity Distribution System (SREDS) for enabling Smart Residences (SR) to participate in Demand Response (DR) schemes of Power Distribution Company (PDC) with either Flat Rate tariff, Time of Use tariff or Real Time Pricing. SREDS includes a Smart Energy Meter (SEM) enabled with Internet of Things, an Intelligent Residential Load Management System (IRLMS) with Wi-Fi connectivity, distributed Wi-Fi enabled Smart Load Nodes (SLN) and Smart Battery Charing/Discharging Controller (SBCDC). The SEM receives the key parameters such as electricity pricing, maximum demand limit, etc. as per the DR schemes from the PDC through Meter Data Management System (MDMS) using Internet. IRLMS receives the required operational timings of the loads as per the desire and comfort of the user either through the user interface or from the SLN connected to the appliances participating in DR. If the SR is equipped with battery storage system, then the battery units are interfaced with the IRLMS through SBCDC. The present status of the battery is communicated to IRLMS by SBCDC. The communication between SEM, IRLMS, SLNs and SBCDC is established through Home Area Network using Wi-Fi. The IRLMS processes the PDC parameters and load requirements, and executes an optimization algorithm to find the best possible scheduling of appliances in order to get minimized electricity bill. The SEM communicates back the energy consumption data to the PDC through MDMS.
Access options
Buy single article
Instant access to the full article PDF.
US$ 39.95
Tax calculation will be finalised during checkout.
Subscribe to journal
Immediate online access to all issues from 2019. Subscription will auto renew annually.
US$ 79
Tax calculation will be finalised during checkout.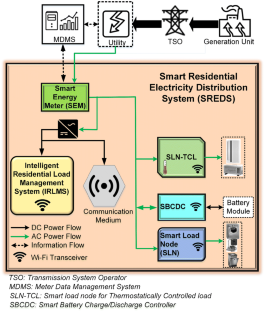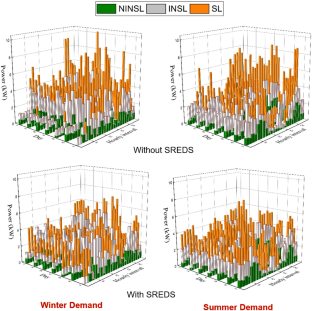 References
1.

Fang X, Misra S, Xue G, Yang D (2012) Smart grid the new and improved power grid: a survey. IEEE Commun Surv Tutor 14(4):944–980

2.

Collotta M, Pau G (2015) A novel energy management approach for smart homes using bluetooth low energy. IEEE J Sel Areas Commun 33(12):2988–2996

3.

Wang P, Ye F, Chen X (2018) A smart home gateway platform for data collection and awareness. IEEE Commun Mag 56(9):87–93

4.

Balijepalli VSKM, Pradhan V, Khaparde SA, Shereef RM (2011) Review of demand response under smart grid paradigm. In: Proceedings of ISGT2011-India, pp 236–243

5.

Costanzo GT, Zhu G, Anjos MF, Savard G (2012) A system architecture for autonomous demand side load management in smart buildings. IEEE Trans Smart Grid 3(4):2157–2165

6.

Pipattanasomporn M, Kuzlu M, Rahman S (2012) An algorithm for intelligent home energy management and demand response analysis. IEEE Trans Smart Grid 3(4):2166–2173

7.

Adika CO, Wang L (2014) Autonomous appliance scheduling for household energy management. IEEE Trans Smart Grid 5(2):673–682

8.

Wang C, Zhou Y, Jiao B, Wang Y, Liu W, Wang D (2015) Robust optimization for load scheduling of a smart home with photovoltaic system. Energy Convers Manag 102:247–257

9.

Mohsenian-Rad A-H, Wong VWS, Jatskevich J, Schober R, Leon-Garcia A (2010) Autonomous demand-side management based on game-theoretic energy consumption scheduling for the future smart grid. IEEE Trans Smart Grid 1(3):320–331

10.

Wang Y, Saad W, Han Z, Poor HV, Basar T (2014) A game-theoretic approach to energy trading in the smart grid. IEEE Trans Smart Grid 5(3):1439–1450

11.

Chen H, Li Y, Louie RHY, Vucetic B (2014) Autonomous demand side management based on energy consumption scheduling and instantaneous load billing: an aggregative game approach. IEEE Trans Smart Grid 5(4):1744–1754

12.

Chai B, Chen J, Yang Z, Zhang Y (2014) Demand response management with multiple utility companies: a two-level game approach. IEEE Trans Smart Grid 5(2):722–731

13.

Maharjan S, Zhu Q, Zhang Y, Gjessing S, Basar T (2013) Dependable demand response management in the smart grid: a stackelberg game approach. IEEE Trans Smart Grid 4(1):120–132

14.

Nekouei E, Alpcan T, Chattopadhyay D (2015) Game-theoretic frameworks for demand response in electricity markets. IEEE Trans Smart Grid 6(2):748–758

15.

Tushar W, Zhang JA, Smith DB, Poor HV, Thiebaux S (2014) Prioritizing consumers in smart grid: a game theoretic approach. IEEE Trans Smart Grid 5(3):1429–1438

16.

Deng R, Yang Z, Chen J, Asr NR, Chow M-Y (2014) Residential energy consumption scheduling: a coupled-constraint game approach. IEEE Trans Smart Grid 5(3):1340–1350

17.

La QD, Chan YWE, Soong B-H (2016) Power management of intelligent buildings facilitated by smart grid: a market approach. IEEE Trans Smart Grid 7(3):1389–1400

18.

Arun SL, Selvan MP (2017) Dynamic demand response in smart buildings using an intelligent residential load management system. IET Gener Transm Distrib 11(17):4348–4357
Funding
Funding was provided by the Ministry of Electronics and Information Technology, Government of India under Visvesvaraya Young Faculty Research Fellowship being implemented by Digital India Corporation (Formerly Media Lab Asia) [Grant No. PhD-MLA-4(16)/2014].
About this article
Cite this article
Manickavasagam Parvathy, S. Smart residential electricity distribution system (SREDS) for demand response under smart grid environment. CSIT 8, 231–234 (2020). https://doi.org/10.1007/s40012-019-00259-2
Received:

Accepted:

Published:

Issue Date:
Keywords
Smart grid

Demand response

Residential load management system

Smart load node