Abstract
Populations of Polygonatum cirrhifolium (Wall.) Royle and Malaxis muscifera (Lindl.) Kuntze are restricted to small pockets and are subject to destructive harvesting (rhizomes/pseudobulbs) from wild. Being under high threat categories considering habitat specificity, population size, utilization and extraction trends, both the species need conservation interventions. This study in Kumaun West Himalaya reveals that in the case of P. cirrhifolium the maximum density (6.33 individual/m2) was reported for the Burphu population, whereas for M. muscifera the maximum density (1.75 individual/m2) was reported for Kathaliya population. No significant (p < 0.05) relationship was found between altitude and studied phytosociological parameters and morphological parameters in both the targeted species. Principal component analysis-based analysis identified population of Gagar (P. cirrhifolium) and Kathaliya (M. muscifera) to be best performing populations and moist habitat is appropriate for the growth and development of these species. These populations can, therefore, be used for mass propagation and cultivation to meet the demand for commercial purposes.
Access options
Buy single article
Instant access to the full article PDF.
USD 39.95
Price excludes VAT (USA)
Tax calculation will be finalised during checkout.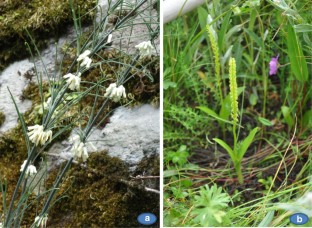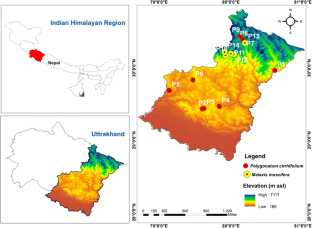 References
Rawal RS, Bhatt ID, Chandra Sekar K, Nandi SK (2013) The Himalayan biodiversity: richness, representativeness, uniqueness and life-support values. G.B. Pant Institute of Himalayan Environment and Development (GBPIHED), Almora

Samant SS, Dhar U, Palni LMS (1998) Medicinal plants of Indian Himalaya: diversity distribution potential values. Gyanodaya Prakashan, Nainital

Dhar U, Rawal RS, Upreti J (2000) Setting priorities for conservation of medicinal plants—a case study in the Indian Himalaya. Biol Conserv 95:57–65

Vasisht K, Kumar V (2002) Trade and production of herbal medicines and natural health products. ICS-UNIDO, Trieste, p 3

Kala CP (2004) Assessment of species rarity. Curr Sci 86:1058–1059

Singh MP, Dey S (2005) Indian medicinal plants. Satish Serial Publishing House, New Delhi

Bhattarai S, Chaudhary RP, Quave CL, Taylor RS (2010) The use of medicinal plants in the trans-Himalayan arid zone of Mustang district, Nepal. J Ethnobiol Ethnomed 6:14

Khory N (1982) Materia medica of India and their therapeutics. Neeraj Publishing House, New Delhi

Jain AK (2016) Indian ethnobotany: emerging trends. Scientific Publishers, Jodhpur

Sharma P, Samant SS (2014) Diversity, distribution and indigenous uses of medicinal plants in Parbati Valley of Kullu district in Himachal Pradesh, Northwestern Himalaya. Asian J Adv Basic Sci 2:77–98

Pandey A, Chandra Sekar K, Joshi B, Rawal RS (2018) Threat assessment of high-value medicinal plants of cold desert areas in Johar valley, Kailash Sacred Landscape, India. Plant Biosyst Int J Deal Asp Plant Biol 153:39–47

Balkrishna A, Srivastava A, Mishra RK, Patel SP, Vashistha RK, Singh A, Jadon V, Saxena P (2012) Astavarga plants—threatened medicinal herbs of the North-West Himalaya. Int J Med Arom Plants 2(4):661–676

Bhatt D, Kumar R, Tewari LM, Joshi GC (2014) Polygonatum cirrhifolium Royle and Polygonatum verticillatum (L.) Allioni: status assessment and medicinal uses in Uttarakhand, India. J Med Plant Res 8:253–259

Saha D, Ved D, Ravikumar K, Haridasan K (2015) Malaxis muscifera. The IUCN Red List of Threatened Species. http://dx.doi.org/10.2305/IUCN.UK.2015

Singh SK, Patra A (2019) Evaluation of adaptogenic potential of Polygonatum cirrhifolium (Wall.) Royle: in vitro, in vivo and in silico studies. S Afr J Bot 121:159–177

Giri L, Belwal T, Bahukhandi A, Suyal R, Bhatt ID, Rawal RS, Nandi SK (2017) Oxidative DNA damage protective activity and antioxidant potential of Ashtvarga species growing in the Indian Himalayan Region. Ind Crops Prod 102:173–179

Chowdhery HJ, Wadhwa BM (1984) Flora of Himachal Pradesh: analysis. Flora of India series, vol 2. Botanical Survey of India, Howrah

Singh A, Duggal S (2009) Medicinal orchids—an overview. Ethnobot Leafl 2009:3

Gupta RK (1968) A hand book of the flowering plants of Nainital, Flora Nainitalensis. Navyug Traders, New Delhi

Pangtey YP, Samant SS, Rawat GS (1991) Orchids of Kumaun Himalaya. Dehra Dun: Bishen Singh Mahendra Pal Singh. ISBN: 8121100526. En Maps, Keys. Geog, 6

Gaur RD (1999) Flora of the District Garhwal, North West Himalaya. Transmedia, Srinagar

Mishra R (1968) Ecology workbook. Oxford & IBH, Calcutta

Mueller-Dombois D, Ellenberg H (1974) Aims and methods of vegetation ecology. Wiley, Hoboken

Curtis JT, McIntosh RP (1950) The interrelations of certain analytic and synthetic phytosociological characters. Ecology 31:434–455

Kershaw KA (1973) Quantitative and dynamic plant ecology, 2nd edn. Elbsd and Edward Arnold, London, p 308

Sang W, Bai F, Axmacher JC (2013) Relationships between plant diversity and the abundance and α-diversity of predatory ground beetles (Coleoptera: Carabidae) in a mature Asian temperate forest ecosystem. PLoS ONE 8(12):e82792

Pala NA, Sarkar BC, Shukla G, Chettri N, Deb S, Bhat JA, Chakravarty S (2019) Floristic composition and utilization of ethnomedicinal plant species in home gardens of the Eastern Himalaya. J Ethnobiol Ethnomed 15(1):14

Airi S, Rawal RS, Dhar U, Purohit AN (1997) Population studies on Podophyllum hexandrum Royle—a dwindling, medicinal plant of the Himalaya. Plant Genet Res Newslett 110:29–34

Hammer O, Harper DA, Ryan Paul D (2001) PAST palaeontological statistics, software package for education and data analysis. Palaeontol electronic 4:4–9

Sekar KC, Lalit G, Aseesh P, Srivastava SK (2015) A note on distribution of Juniperus semiglobosa in Uttarakhand, India. Indian J For 38:79–80

Samant SS (1996) Conservation of rare endangered plants: the context of Nanda Devi Biosphere Reserve. In: Ramakrishnan PS, Purohit AN, Saxena KG, Rao KS, Maikhuri RK (eds) Conservation and management of biological resources in Himalaya. Oxford and IHB publishing company, New Delhi, pp 521–545

Bhatt A, Rawal RS, Dhar U (2006) Ecological features of a critically rare medicinal plant, Swertia chirayita, in Himalaya. Plant Species Biol 21:49–52

Rawal RS, Pandey B, Dhar U (2003) Himalayan forest database—thinking beyond dominants. Curr Sci 84(8):990–994

Rawat S, Jugran AK, Bhatt ID, Rawal RS, Nandi SK (2017) Effects of genetic diversity and population structure on phenolic compounds accumulation in Hedychium spicatum. Ecol Genet Genom 3:25–33
Acknowledgements
The authors thank the Director, G.B. Pant National Institute of Himalayan Environment and Sustainable Development, Almora, for support and encouragement. The funding for this study under the Botanical Garden Scheme of Ministry of Environment, Forest & Climate Change (MoEF&CC), New Delhi (F.N. BSI-290/6/2013-Tech; dated 29/09/2013), is gratefully acknowledged. The authors also thank Mr. Puran Singh Kanwal, Miss Shashi Upadhyay and Miss Shinny Thakur for their help during the study.
Ethics declarations
Conflict of interest
The authors declare that there is no conflict of interest among the authors to publish this manuscript.
Additional information
Publisher's Note
Springer Nature remains neutral with regard to jurisdictional claims in published maps and institutional affiliations.
Significance Statement
Variability in biomass of target species across populations suggests a possible use of propagules from elite populations, for instance, Gagar (P. cirrhifolium) and Kathaliya (M. muscifera), for harnessing best potential through cultivation.
About this article
Cite this article
Suyal, R., Bhatt, D., Rawal, R.S. et al. Status of Two Threatened Astavarga Herbs, Polygonatum cirrhifolium and Malaxis muscifera, in West Himalaya: Conservation Implications. Proc. Natl. Acad. Sci., India, Sect. B Biol. Sci. 90, 695–704 (2020). https://doi.org/10.1007/s40011-019-01144-3
Received:

Revised:

Accepted:

Published:

Issue Date:

DOI: https://doi.org/10.1007/s40011-019-01144-3
Keywords
Polygonatum cirrhifolium
Malaxis muscifera

Threatened

Ecology

Distribution

Conservation