Abstract
Trans-resveratrol is an enormously exploited stilbene exhibiting a broad spectrum of biological activities. However, commercial production to meet the demand and supply is very difficult as it is largely extracted from plants such as Polygonum cuspidatum making it very expensive. In the present study, resveratrol-producing endophytic fungi have been investigated for their in vitro antioxidant, antifungal and anti-staphylococcal activities. All the four fungal endophytes exhibited significant resveratrol production in the range of 31.3–89.1 mg/L in liquid cultures which was evaluated by high-performance liquid chromatography analysis. The endophytic isolate #12VVLPM in the present study exhibited strong antioxidant property in case of 2,2-diphenyl-1-picrylhydrazyl, Trolox equivalent antioxidant capacity, metal ion chelating, Nitric oxide radical and Hydrogen peroxide with IC50 values of 0.11–4.96, 0.28–2.16, 0.12–1.33, 0.08–1.35 and 0.12–1.18 mg/mL, respectively. The maximum inhibition (57.76 ± 0.82%) was exhibited by #12VVLPM against Botrytis cinerea. The present result shows strong correlation between antioxidant activities, anti-staphylococcal as well as antifungal activity.
Graphical Abstract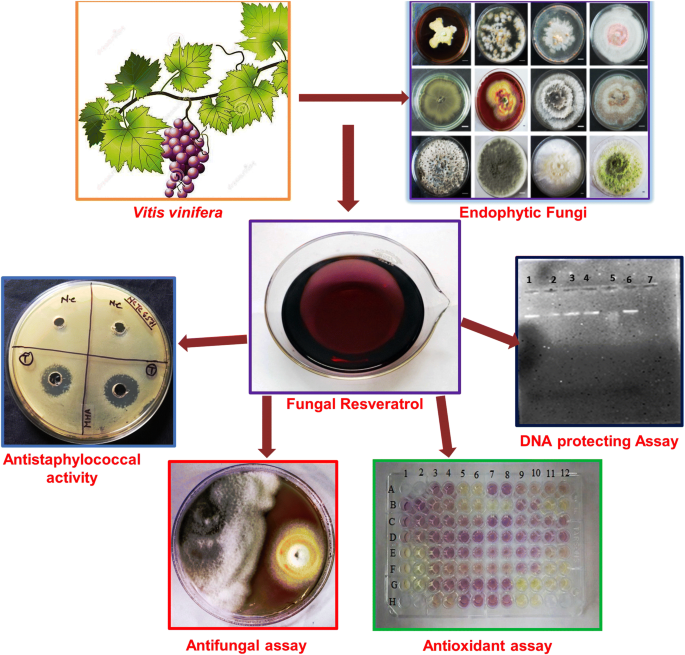 This is a preview of subscription content, log in to check access.
Access options
Buy single article
Instant access to the full article PDF.
US$ 39.95
Price includes VAT for USA
Subscribe to journal
Immediate online access to all issues from 2019. Subscription will auto renew annually.
US$ 99
This is the net price. Taxes to be calculated in checkout.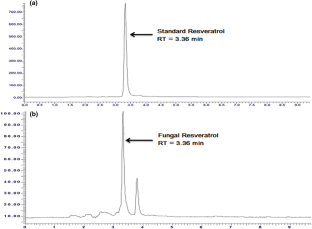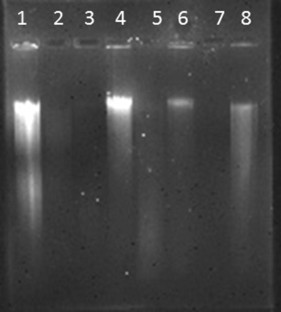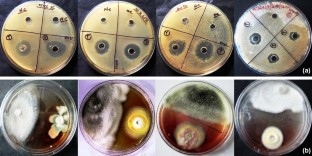 Abbreviations
DPPH:

2,2-Diphenyl-1-picrylhydrazyl

TEAC:

Trolox equivalent antioxidant capacity

FRAP:

Ferric reducing antioxidant power

TPC:

Total phenolic content

TFC:

Total flavonoids content

RESV:

Resveratrol

MHA:

Mueller Hinton agar

SDA:

Sabouraud dextrose agar

MTCC:

Microbial type culture collection

ATCC:

American type culture collection

Sau:

Staphylococcus aureus
References
1.

Strobel G, Daisy B (2003) Bioprospecting for microbial endophytes and their natural products. Microbiol Mol Biol Rev 67(4):491–502

2.

Suryanarayanan TS, Thirunavukkarasu N, Govindarajulu MB, Sasse F, Jansen R, Murali TS (2009) Fungal endophytes and bioprospecting. Fungal Biol Rev 23(1–2):9–19

3.

Parker JA, Arango M, Abderrahmane S, Lambert E, Tourette C, Catoire H, Néri C (2005) Resveratrol rescues mutant polyglutamine cytotoxicity in nematode and mammalian neurons. Nat Genet 37(4):349

4.

Petrovski G, Gurusamy N, Das DK (2011) Resveratrol in cardiovascular health and disease. Ann N Y Acad Sci 1215(1):22–33

5.

Wang DG, Liu WY, Chen GT (2013) A simple method for the isolation and purification of resveratrol from Polygonum cuspidatum. J Pharmaceut Anal 3(4):241–247

6.

Ramana KV, Reddy A, Majeti NV, Singhal SS (2018) Therapeutic potential of natural antioxidants. Oxidative Med Cell Longev. https://doi.org/10.1155/2018/9471051

7.

Ratz-Łyko A, Arct J (2018) Resveratrol as an active ingredient for cosmetic and dermatological applications: a review. J Cosmet Laser Therapy. https://doi.org/10.1080/14764172.2018.1469767

8.

Simioni C, Zauli G, Martelli AM, Vitale M, Sacchetti G, Gonelli A, Neri LM (2018) Oxidative stress: the role of physical exercise and antioxidant nutraceuticals in adulthood and aging. Oncotarget 9(24):171–181

9.

Berman AY, Motechin RA, Wiesenfeld MY, Holz MK (2017) The therapeutic potential of resveratrol: a review of clinical trials. NPJ Precis Oncol 1(1):35

10.

Mehton RK, Meshram V, Saxena S, Chhibber M (2016) Synthesis and anti-staphylococcal activity of 2, 4-disubstituted diphenylamines. J Braz Chem Soc 27(7):1236–1244

11.

Saxena S, Gomber C (2010) Surmounting antimicrobial resistance in the millennium superbug: Staphylococcus aureus. Open Med (previously Central European Journal of Medicine) 5(1):12–29

12.

Ma DS, Tan LTH, Chan KG, Yap WH, Pusparajah P, Chuah LH, Goh BH (2018) Resveratrol—potential antibacterial agent against foodborne pathogens. Front Pharmacol 9:102

13.

Paulo L, Ferreira S, Gallardo E, Queiroz JA, Domingues F (2010) Antimicrobial activity and effects of resveratrol on human pathogenic bacteria. World J Microbiol Biotechnol 26(8):1533–1538

14.

Mora-Pale M, Bhan N, Masuko S, James P, Wood J, McCallum S, Koffas MA (2015) Antimicrobial mechanism of resveratrol-trans-dihydro dimer produced from the peroxidase-catalyzed oxidation of resveratrol. Biotechnol Bioeng 112(12):2417–2428

15.

Deshmukh S, Gupta M, Prakash V, Saxena S (2018) Endophytic fungi: a source of potential antifungal compounds. J Fungi 4(3):77

16.

Dwibedi V, Saxena S (2018) Arcopilus aureus, a resveratrol-producing endophyte from Vitis vinifera. App Biochem Biotechnol 186(2):476–495

17.

Ho R, Violette A, Cressend D, Raharivelomanana P, Carrupt PA, Hostettmann K (2012) Antioxidant potential and radical-scavenging effects of flavonoids from the leaves of Psidium cattleianum grown in French Polynesia. Nat Prod Res 26(3):274–277

18.

Re R, Pellegrini N, Proteggente A, Pannala A, Yang M, Rice-Evans C (1999) Antioxidant activity is applying an improved ABTS radical cation decolorization assay. Free Radic Biol Med 26(9–10):1231–1237

19.

Danagoudar Josh CG, Sunil Kumar R, Poyya J, Nivya T, Hulikere MM, AnuAppaiah KA (2017) Molecular profiling and antioxidant as well as the anti-bacterial potential of polyphenol producing endophytic fungus-Aspergillus austroafricanus CGJ-B3. Mycology 8(1):28–38

20.

Patel A, Patel A, Patel A, Patel NM (2010) Determination of polyphenols and free radical scavenging activity of Tephrosiapurpurea Linn. leaves (Leguminosae). Pharmacogn Res 2(3):152

21.

Ruch RJ, Cheng SJ, Klaunig JE (1989) Prevention of cytotoxicity and inhibition of intercellular communication by antioxidant catechins isolated from Chinese green tea. Carcinogenesis 10(6):1003–1008

22.

Ghildiyal A, Pandey A (2008) Isolation of cold tolerant antifungal strains of Trichoderma sp. from glacial sites of Indian Himalayan region. Res J Microbiol 3(8):559–564

23.

Meshram V, Saxena S, Kapoor N (2012) In vitro anti-staphylococcal potential of endophytic fungi from Aegle marmelos. J Pure App Microbiol 6(4):1859–1868

24.

Wang J, Cox DG, Ding W, Huang G, Lin Y, Li C (2014) Three new resveratrol derivatives from the mangrove endophytic fungus Alternaria sp. Mar Drugs 12(5):2840–2850

25.

Khanduja KL, Bhardwaj A (2003) Stable free radical scavenging and anti-peroxidative properties of resveratrol compared in vitro with some other bioflavonoids. Indian J Biochem Biophys 40(6):416–422

26.

Shrikanta A, Kumar A, Govindaswamy V (2015) Resveratrol content and antioxidant properties of underutilized fruits. J Food Sci Technol 52(1):383–390

27.

Zhou J, Diao X, Wang T, Chen G, Lin Q, Yang X, Xu J (2018) Phylogenetic diversity and antioxidant activities of culturable fungal endophytes associated with the mangrove species Rhizophorastylosa and R. mucronata in the South China Sea. PloS ONE 13(6):e0197359

28.

Gülçin İ (2010) Antioxidant properties of resveratrol: a structure-activity insight. Innov Food Sci Emerg Technol 11(1):210–218

29.

Houille B, Papon N, Boudesocque L, Bourdeaud E, Besseau S, Courdavault V, Clastre M (2014) Antifungal activity of resveratrol derivatives against Candida species. J Nat Prod 77(7):1658–1662

30.

Balik J, Kyselakova M, Vrchotová N, Tříska J, Kumšta M, Veverka J, Lefnerová D (2008) Relations between polyphenols content and antioxidant activity in vine grapes and leaves. Czech J Food Sci 26:S25–S32

31.

Fernández-Pachón MS, Villano D, Troncoso AM, García-Parrilla MC (2006) Determination of the phenolic composition of sherry and table white wines by liquid chromatography and their relation with antioxidant activity. Anal Chim Acta 563(1–2):101–108
Acknowledgements
The authors thank to the Department of Biotechnology (DBT), Government of India, New Delhi, for financial assistance through Project No-BT/PR9094/NDB/39/378/2013 and to Thapar Institute of Engineering and Technology, Patiala, Punjab, for providing the necessary infrastructure to carry out the research work. They also acknowledge Mr. Saurabh Rawat Assistant Manager, Sula Vineyards Pvt. Ltd. Nashik India for providing samples.
Ethics declarations
Conflict of interest
The authors declare no conflict of interest to publish this manuscript.
Additional information
Publisher's Note
Springer Nature remains neutral with regard to jurisdictional claims in published maps and institutional affiliations.
Significance Statement Resveratrol is extensively being used as a therapeutic moiety, as well as a pharmacophore for development of new drugs due to its multifarious beneficial effects. In the present study, resveratrol-producing endophytic fungi have been investigated for their in vitro antioxidant, antifungal and anti-staphylococcal activities.
About this article
Cite this article
Dwibedi, V., Saxena, S. In Vitro Anti-oxidant, Anti-fungal and Anti-staphylococcal Activity of Resveratrol-Producing Endophytic Fungi. Proc. Natl. Acad. Sci., India, Sect. B Biol. Sci. 90, 207–219 (2020). https://doi.org/10.1007/s40011-019-01098-6
Received:

Revised:

Accepted:

Published:

Issue Date:
Keywords
Endophytes

In vitro antioxidant activity

In vitro antifungal activity

In vitro anti-staphylococcal activity

Resveratrol