Abstract
Glycyrrhizin (GL) is the main bioactive component in the extract of licorice root, with beneficial effects on metabolic syndrome. This study investigates the effect of GL on biochemical and histological parameters and UCP2 gene expression in a rodent nonalcoholic steatosis model. Thirty-two male Wistar rats were classified into four groups randomly: control (normal diet with standard rat chow), high-cholesterol diet (HCD for 12 weeks) and two experimental groups (HCD for 12 weeks then shifted to normal diet plus receiving either 20 mg/kg or 100 mg/kg of glycyrrhizin for 4 weeks). At the end of experiment, in the HCD group, body weight, glucose and insulin levels were increased, lipid profile was impaired, and the markers related to liver were abnormal, while adiponectin, catalase and superoxide dismutase levels were decreased. Histological analysis of liver sections showed the appearance of hepatic fibrosis and steatosis, and UCP2 gene expression was increased significantly. GL treatment at both doses and especially at 100 mg/kg ameliorated the situation, and levels of UCP2 were decreased significantly. In conclusion, administration of glycyrrhizin can improve liver fibrosis through down-regulating the UCP2 expression.
This is a preview of subscription content, log in to check access.
Access options
Buy single article
Instant access to the full article PDF.
US$ 39.95
Price includes VAT for USA
Subscribe to journal
Immediate online access to all issues from 2019. Subscription will auto renew annually.
US$ 99
This is the net price. Taxes to be calculated in checkout.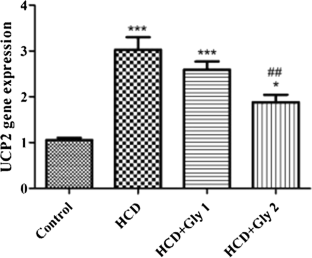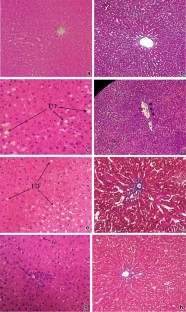 References
1.

Kotronen A, Yki-Järvinen H (2008) Fatty liver. Arterioscler Thromb Vasc Biol 28(1):27–38

2.

Oosterveer MH, Van Dijk TH, Tietge UJ, Boer T, Havinga R, Stellaard F, Groen AK, Kuipers F, Reijngoud D-J (2009) High fat feeding induces hepatic fatty acid elongation in mice. PLoS ONE 4(6):e6066

3.

Hübscher S (2006) Histological assessment of non-alcoholic fatty liver disease. Histopathology 49(5):450–465

4.

Wu X, Zhang L, Gurley E, Studer E, Shang J, Wang T, Wang C, Yan M, Jiang Z, Hylemon PB (2008) Prevention of free fatty acid–induced hepatic lipotoxicity by 18β-glycyrrhetinic acid through lysosomal and mitochondrial pathways. Hepatology 47(6):1905–1915

5.

Sacco R, Pucci L, Sivozhelezov V, Pellegrini L, Giacomelli L, Longo V (2015) Prevention of vascular damage with Lisosan G wheat extract: the in vitro basis for a clinical investigation. Eur Rev Med Pharmacol Sci 19(8):1517–1519

6.

Fernando HA, Chandramouli C, Rosli D, Lam YL, Yong ST, Yaw HP, Ton SH, Kadir KA, Sainsbury A (2014) Glycyrrhizic acid can attenuate metabolic deviations caused by a high-sucrose diet without causing water retention in male Sprague-Dawley rats. Nutrients 6(11):4856–4871

7.

El-Magd NFA, El-Karef A, El-Shishtawy MM, Eissa LA (2015) Hepatoprotective effects of glycyrrhizin and omega-3 fatty acids on Nuclear Factor-kappa B pathway in thioacetamide-induced fibrosis in rats. Egypt J Basic Appl Sci 2(2):65–74

8.

Pecqueur C, Alves-Guerra M-C, Gelly C, Lévi-Meyrueis C, Couplan E, Collins S, Ricquier D, Bouillaud F, Miroux B (2001) Uncoupling protein 2, in vivo distribution, induction upon oxidative stress, and evidence for translational regulation. J Biol Chem 276(12):8705–8712

9.

Echtay KS, Murphy MP, Smith RA, Talbot DA, Brand MD (2002) Superoxide activates mitochondrial uncoupling protein 2 from the matrix side Studies using targeted antioxidants. J Biol Chem 277(49):47129–47135

10.

Brand MD, Esteves TC (2005) Physiological functions of the mitochondrial uncoupling proteins UCP2 and UCP3. Cell Metab 2(2):85–93

11.

O'Connor E (2019) The role of mitochondrial uncoupling protein 3 in T cell function. Doctoral dissertation, The University of Dublin

12.

Fülöp P, Derdák Z, Sheets A, Sabo E, Berthiaume EP, Resnick MB, Wands JR, Paragh G, Baffy G (2006) Lack of UCP2 reduces fas-mediated liver injury in ob/ob mice and reveals importance of cell-specific UCP2 expression. Hepatology 44(3):592–601

13.

Dludla PV, Nkambule BB, Tiano L, Louw J, Jastroch M, Mazibuko-Mbeje SE (2018) Uncoupling proteins as a therapeutic target to protect the diabetic heart. Pharmacol Res 137:11–24

14.

Heinitz S, Piaggi P, Yang S, Bonfiglio S, Steel J, Krakoff J, Votruba SB (2018) Response of skeletal muscle UCP2-expression during metabolic adaptation to caloric restriction. Int J Obes 42(5):974–984

15.

Hu Y-W, Zhang P, Yang J-Y, Huang J-L, Ma X, Li S-F, Zhao J-Y, Hu Y-R, Wang Y-C, Gao J-J (2014) Nur77 decreases atherosclerosis progression in apoE–/– mice fed a high-fat/high-cholesterol diet. PLoS ONE 9(1):e87313

16.

Karkhaneh L, Yaghmaei P, Parivar K, Sadeghizadeh M, Ebrahim-Habibi A (2016) Effect of trans-chalcone on atheroma plaque formation, liver fibrosis and adiponectin gene expression in cholesterol-fed NMRI mice. Pharmacol Rep 68(4):720–727

17.

Singh S, Bigoniya P, Shrivastava B, Sharma J (2016) Hypo-glycemic profile of gymnemic acid and glycyrrhizic acid on high fructose diet related obesity induced diabetes. Int J Med Pharm Sci (IJMPS) 6(3):61–84

18.

Najafian M, Ebrahim-Habibi A, Yaghmaei P, Parivar K, Larijani B (2010) Core structure of flavonoids precursor as an antihyperglycemic and antihyperlipidemic agent: an in vivo study in rats. Acta Biochim Pol 57(4):553

19.

Najafian M, Ebrahim-Habibi A, Hezareh N, Yaghmaei P, Parivar K, Larijani B (2011) Trans-chalcone: a novel small molecule inhibitor of mammalian alpha-amylase. Mol Biol Rep 38(3):1617–1620

20.

Sil R, Ray D, Chakraborti AS (2013) Glycyrrhizin ameliorates insulin resistance, hyperglycemia, dyslipidemia and oxidative stress in fructose-induced metabolic syndrome-X in rat model. Indian J Exp Biol 51(2):129–138

21.

Yazdanparast R, Bahramikia S, Ardestani A (2008) Nasturtium officinale reduces oxidative stress and enhances antioxidant capacity in hypercholesterolaemic rats. Chem Biol Interact 172(3):176–184

22.

Chung AP, Gurtu S, Chakravarthi S, Moorthy M, Palanisamy UD (2018) Geraniin protects high-fat diet-induced oxidative stress in Sprague Dawley rats. Front Nutr 5:17

23.

Cheng HS, Yaw HP, Ton SH, Choy SM, Kong JMXF, Kadir KA (2016) Glycyrrhizic acid prevents high calorie diet–induced metabolic aberrations despite the suppression of peroxisome proliferator-activated receptor γ expression. Nutrition 32(9):995–1001

24.

Chavin KD, Yang S, Lin HZ, Chatham J, Chacko VP, Hoek JB, Walajtys-Rode E, Rashid A, Chen C-H, Huang C-C (1999) Obesity induces expression of uncoupling protein-2 in hepatocytes and promotes liver ATP depletion. J Biol Chem 274(9):5692–5700

25.

Horimoto M, Fülöp P, Derdák Z, Wands JR, Baffy G (2004) Uncoupling protein-2 deficiency promotes oxidant stress and delays liver regeneration in mice. Hepatology 39(2):386–392

26.

Ajith TA (2018) Role of mitochondria and mitochondria-targeted agents in non-alcoholic fatty liver disease. Clin Exp Pharmacol Physiol 45(5):413–421

27.

Nazari S, Rameshrad M, Hosseinzadeh H (2017) Toxicological effects of Glycyrrhiza glabra (Licorice): a review. Phytother Res 31:1635–1650
Acknowledgements
This study has been performed in the laboratory complex of Science and Research Branch of Azad University, Tehran.
Ethics declarations
Conflict of interest
The authors declare that there is no conflict of interests to publish this manuscript.
Additional information
Publisher's Note
Springer Nature remains neutral with regard to jurisdictional claims in published maps and institutional affiliations.
Significance Statement Fatty liver has still no definitive cure. Glycyrrhizin (GL) attenuates the symptoms of fatty liver in rats. GL is suggested to act by influencing lipid profile, liver enzymes, bilirubin, glucose and adiponectin levels, and expression of UCP2 gene.
About this article
Cite this article
Bagheri, H., Yaghmaei, P., Modaresi, M. et al. Glycyrrhizin Improves Fatty Liver Symptoms, Increases Adiponectin and Reduces UCP2 Expression in Wistar Rats. Proc. Natl. Acad. Sci., India, Sect. B Biol. Sci. 90, 191–197 (2020). https://doi.org/10.1007/s40011-019-01097-7
Received:

Accepted:

Published:

Issue Date:
Keywords
Glycyrrhizin

UCP2

NAFLD

Cholesterol