Abstract
An experiment was conducted with three managements varied in tillage, crop establishments, residue, fertilizer, water to evaluate crop behaviour, irrigation water use, crop productivity and profitability of crops in an individual and in system mode. Three management systems were conventional system [TPR (transplanted rice)–CTW (conventional-till wheat)], partial CA [TPR–ZTW (zero–till wheat)] and full CA [ZTDSR (ZT direct seeded rice)–ZTW]. Rice plant growth (shoot and root) behaves similarly in CT and ZT based systems up to 40 days after sowing and after that TPR–ZTW recorded higher growth followed by TPR–CTW and lowest with ZTDSR. However, reverse trend in growth was observed with wheat in order of ZTDSR–ZTW > TPR–ZTW > TPR–CTW. Lower NDVI values were observed with ZTDSR and higher values with TPR throughout the crop season. Full CA based wheat recorded higher NDVI values than other management systems during the crop growth period. Higher wheat yield attributing character was recorded with ZTDSR–ZTW and lowest with farmer's practices (TPR–CTW). On 2-years mean basis, ZTDSR–ZTW system produced similar crop yields to TPR–ZTW and TPR–CTW with 28% less irrigation water and 29% higher returns compared to TPR–CTW. However, TPR–ZTW improved system productivity and net returns by 8 and 37% respectively, compared to TPR–CTW while saving of 14% irrigation water. ZTDSR recorded a yield loss of 10%; while wheat registered a yield gain of 21% with ZTDSR–ZTW. CA based management practices slowed down the DSR crop growth and yield but increased same for wheat crop which is ultimately helpful in sustaining productivity and profitability of rice–wheat system (RWS) in North West India.
Access options
Buy single article
Instant access to the full article PDF.
US$ 39.95
Tax calculation will be finalised during checkout.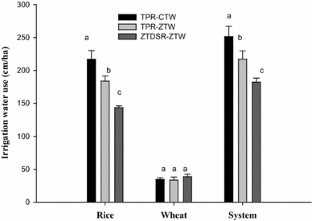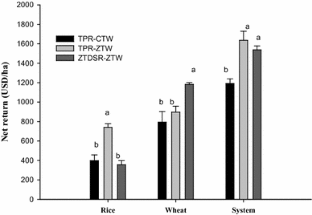 References
1.

Ladha JK, Pathak H, Padre AT, Dave D, Gupta RK (2003) Productivity trends in intensive rice–wheat cropping systems in Asia. In: Ladha JK et al. (eds) Improving the productivity and sustainability of rice–wheat systems: issues and impacts. ASA Spec. Publ. 65. ASA, CSSA, and SSA, Madison, WI, pp 45–76

2.

Bhatt R, Kukal SS, Busari MA et al (2016) Sustainability issues on rice–wheat cropping system. Int Soil Water Conserv Res. https://doi.org/10.1016/j.iswcr.2015.12.001

3.

Kumar P, Kumar S, Joshi L (2015) Socioeconomic and environmental implications of agricultural residue burning. Springer Briefs Environ Sci. https://doi.org/10.1007/978-81-322-2014-5-1

4.

Sharma PC, Jat HS, Kumar V, Gathala MK, Datta A, Yaduvanshi NPS, Choudhary M, Sharma S, Singh LK, Saharawat Y, Yadav AK, Parwal A, Sharma DK, Singh G, Jat ML, Ladha JK, McDonald A (2015) Sustainable intensification opportunities under current and future cereal system of North-West India. Technical Bulletin: CSSRI/Karnal/2015/4. Karnal, Central Soil Salinity Research Institute, p 44

5.

Utomo WH, Islami T, Murdoko B (1985) The effect of tillage method on the growth and yield of lowland rice. Paper presented at the National Congress of Indonesian Soil Science Society, Bogor, Indonesia

6.

Jat ML, Gathala MK, Saharawat YS, Tetarwal JP, Gupta R (2013) Double no-till and permanent raised beds in maize–wheat rotation of north-western Indo-Gangetic plains of India: effects on crop yields, water productivity, profitability and soil physical properties. Field Crops Res 149:291–299

7.

Dwivedi BS, Singh VK, Kumar V (2011) Maximizing the rice–wheat system productivity through balance fertilizer use under Typic Ustochrept soils of western Indo-Gangetic Plain. J Farm Syst Dev 17:1–14

8.

Kumar V, Ladha JK (2011) Direct seeding of rice: recent developments and future research needs. Adv Agron 111:297–413

9.

Ladha JK, Kumar V, Alam MM, Sharma S, Gathala M, Chandana P, Saharawat YS, Balasubramanian V (2009) Integrating crop and resource management technologies for enhanced productivity, profitability, and sustainability of the rice–wheat system in South Asia. In: Ladha JK, Singh Y, Erenstein O, Hardy B (eds) Integrated crop and resource management in the rice–wheat system of South Asia. International Rice Research Institute, Los Banos, pp 69–108

10.

Kumar V, Singh S, Chhokar RS, Malik RK, Brainard DC, Ladha JK (2013) Weed management strategies to reduce herbicide use in zero-till rice–wheat cropping systems of the Indo-Gangetic Plains. Weed Technol 27:241–254

11.

Aryal JP, Sapkota TB, Stirling CM, Jat ML, Jat HS, Rai M, Mittal S, Sutaliya JM (2016) Conservation agriculture-based wheat production better copes with extreme climate events than conventional tillage-based systems: a case of untimely excess rainfall in Haryana, India. Agric Ecosyst Environ 233:325–335

12.

Jat HS, Singh G, Singh R, Choudhary M, Gathala MK, Jat ML, Sharma DK (2015) Management influence on maize-wheat system performance, water productivity and soil biology. Soil Use Manag 31:534–543

13.

Gathala MK, Kuma V, Sharma PC, Saharawat Y, Jat HS, Singh M, Kumar K, Jat ML, Humphreys E, Sharma DK, Sharma S, Ladha JK (2013) Optimizing intensive cereal-based cropping systems addressing current and future drivers of agricultural change in the northwestern Indo-Gangetic Plains of India. Agric Ecosyst Environ 177:85–97

14.

Mishra RD, Ahmad M (1987) Manual on irrigation agronomy. Oxford and IBH Publishing Co., Pvt. Ltd., New Delhi

15.

SAS-Institute (2008) SAS 9.2 Copyright 2002–2008. SAS Institute Inc., Cary

16.

Belder P, Bouman BAM, Cabangon Guoan RL, Quilang EJP, Li Y, Spiertz JHJ, Tuong TP (2004) Effect of water-saving irrigation on rice yield and water use in typical lowland conditions in Asia. Agric Water Manag 65:193–210

17.

Gupta N, Yadav S, Humphreys E et al (2016) Effects of tillage and mulch on the growth, yield and irrigation water productivity of a dry seeded rice–wheat cropping system in north-west India. Field Crops Res. https://doi.org/10.1016/j.fcr.2016.07.005

18.

Wopereis MCS, Kropff MJ, Maligaya AR, Tuong TP (1996) Drought-stress responses of two lowland rice cultivars to soil water status. Field Crops Res 46:21–39

19.

Jat HS, Datta A, Sharma PC, Kumar V, Yadav AK, Choudhary M, Choudhary V, Gathala MK, Sharma DK, Jat ML, Yaduvanshi NPS, Singh G, McDonald A (2017) Assessing soil properties and nutrient availability under conservation agriculture practices in a reclaimed sodic soil in cereal-based systems of North-West India. Arch Agron Soil Sci. https://doi.org/10.1080/03650340.2017.1359415

20.

Bajpai RK, Tripathi RP (2000) Evaluation of non-puddling under shallow water tables and alternative tillage methods on soil and crop parameters in a rice–wheat system in Uttar Pradesh. Soil Tillage Res 55:99–106

21.

Chen T, Qin J, Xu S, Huang H, Jiang L (2013) Effects of no-tillage on rhizosphere soil nutrient contents and root lipid peroxidation and antioxidative properties of irrigated rice. Res Crops 14(4):1007–1013

22.

Goitom B, Tripathi RP, Ogbazghi W, Weldeslassie T (2016) Effect of puddling and compaction on water requirements of rice at Hamelmalo, Eritrea. Comput Water Energy Environ Eng 5:27–37. https://doi.org/10.4236/cweee.2016.52003

23.

Francis GS, Knight TL (1993) Long-term effects of conventional and no-tillage on selected soil properties and crop yields in Canterbury, New Zealand. Soil Tillage Res 26:193–210

24.

Malhi SS, Lemke R (2007) Tillage, crop residue and N fertilizer effects on crop yield, nutrient uptake, soil quality and nitrous oxide gas emissions in a second 4-yr rotation cycle. Soil Tillage Res 96:269–283

25.

Scotford IM, Miller PCH (2004) Combination of spectral reflectance and ultrasonic sensing to monitor the growth of winter wheat. Biosyst Eng 87:27–38

26.

Verhulst N, Govaertsa B, Nelissen V, Sayre KD, Crossa J, Raes D, Deckers J (2011) The effect of tillage, crop rotation and residue management on maize and wheat growth and development evaluated with an optical sensor. Field Crops Res 120:58–67

27.

Devkota KP, Manschadi AM, Lamers JPA, Humphreys E, Devkota M, Egamberdiev O, Gupta RK, Sayre KD, Vlek PLG (2013) Growth and yield of rice (Oryza sativa L.) under resource conservation technologies in the irrigated drylands of Central Asia. Field Crops Res 149:115–126

28.

Hari RS, Anandakumar CR, Saravanan S, Malini N (2006) Association of analysis of yield traits in rice (Oryzasativa L.). J Appl Sci Res 2:402–404

29.

Singh BN, Vishwakarma SR, Singh VK (2010) Character association and path analysis in elite lines of wheat (Triticum aestivum L.). Plant Arch 10(2):845–847

30.

Kumar V, Jat H, Sharma PC, Singh B, Gathala MK, Malik RK, Kamboj BR, Yadav AK, Ladha JK, Raman A, Sharma DK, McDonald A (2018) Can productivity and profitability be enhanced in intensively managed cereal systems while reducing the environmental footprint of production? assessing sustainable intensification options in the bread basket of India. Agric Ecosyst Environ 252:132–147
Acknowledgements
This research was funded by the U.S. Agency for International Development (USAID) and the Bill & Melinda Gates Foundation (BMGF) through Cereal System Initiatives for South Asia (CSISA) project, CIMMYT (International Maize and Wheat Improvement Centre). The support from research platform team member of ICAR-Central Soil Salinity Research Institute (CSSRI), Karnal and CIMMYT is duly acknowledged.
Ethics declarations
Conflict of interest
The authors declare that they have no conflict of interest to publish this manuscript.
Additional information
Significance Statement
The authors studied effect of management practices on crop growth, productivity and profitability of rice-wheat system. There are many studies on CA effects on soil health, yield and income. The authors studied crop growth rate under DSR. Also increase in yield about 21% with full CA under subsequent wheat crop was observed.
Electronic supplementary material
Below is the link to the electronic supplementary material.
About this article
Cite this article
Sharma, P.C., Datta, A., Yadav, A.K. et al. Effect of Crop Management Practices on Crop Growth, Productivity and Profitability of Rice–Wheat System in Western Indo-Gangetic Plains. Proc. Natl. Acad. Sci., India, Sect. B Biol. Sci. 89, 715–727 (2019). https://doi.org/10.1007/s40011-018-0985-x
Received:

Revised:

Accepted:

Published:

Issue Date:
Keywords
Rice–wheat system

Conservation agriculture

Plant growth (root and shoot)

Normalized difference vegetation index

Irrigation water use

Yield attributes and yield

Net returns