Abstract
In canine mammary tumours, role of surface glycoproteins and cytokines is poorly understood as focus on these markers in the veterinary practice is lacking. The serum markers in 41 malignant CMT cases along with six control dogs were studied to determine their importance in the diagnosis and prognosis of CMT. The surface glycoproteins (CA 15.3 and CEA) and inflammatory cytokines (IL-8 and TNF-α) in mammary tumour cases were significantly higher than those of controls. The Kaplan–Meier survival analysis elucidated poor survival in cases with high serum marker levels. The studies implicate that serum glycoproteins and cytokines are important determinants of diagnosis and prognosis of this tumour having great relevance in veterinary oncology.
Access options
Buy single article
Instant access to the full article PDF.
US$ 39.95
Tax calculation will be finalised during checkout.
Subscribe to journal
Immediate online access to all issues from 2019. Subscription will auto renew annually.
US$ 79
Tax calculation will be finalised during checkout.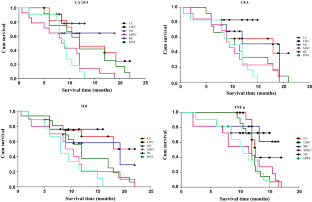 References
1.

Weichselbaumer M, Willmann M, Reifinger M, Singer J, Bajna E, Sobanov Y, Mechtcherikova D, Selzer E, Johann G, Kammerer R, Jarolim EJ (2011) Phylogenetic discordance of human and canine carcinoembryonic antigen (CEA, CEACAM) families, but striking identity of the CEA receptors will impact comparative oncology studies. PLOS Curr Tree Life. https://doi.org/10.1371/currents.rrn1223

2.

Shahzad A, Knapp M, Lang I, Kohler G (2010) Interleukin 8 (IL-8)—a universal biomarker. Int Arch Med 3:11

3.

Goldschmidt M, Pena L, Rasotto R, Zappulli V (2011) Classification and grading of canine mammary tumors. Vet Pathol 48:117–131

4.

Chan YH (2004) Biostatistics 203 survival analysis. Singap Med J 45:249–256

5.

Souza JV (2002) Marker mucinous cancer associated. Rev AMRIGS 46:70–83

6.

Campos LC, Lavalle GE, Estrela LA, Melgac JC, Faria JE, Guimaraes AP, Dutra EF, DeSousa LP, Rabelo ML, Vieirada Costa AFD, Cassali GD (2012) CA 15.3, CEA, and LDH in dogs with malignant mammary tumours. J Vet Int Med 26:1383–1388

7.

Una Cidon E (2017) A brief overview of the role of CA 15.3 in breast cancer. Web Med Central Breast 8:WMC005313

8.

Shawn RC, Kevin LB, Bryant SA (2002) Comparative study of four serological tumour markers for the detection of breast cancer. J Miss Acad Sci 47:126–128

9.

Balint E, Manolescu N, Braslasu D (2008) Molecular detection through CEA (carcino-embrionic-antigen) of different types of cancer in animal. Lucr Stiint Med Vet 51:89–93

10.

Daniele A, Rosa D, Paolo T, Maria EC, Angelo P, Porzia C, Ines A, Michele Q, Antonio M (2013) Clinical usefulness of cancer antigen 15-3 in breast cancer patients before and after surgery. Open Breast Cancer J 5:1–6

11.

Marchesi MC, Manuali E, Pacifico E (2010) Cancer antigen15/3: possible diagnostic use in veterinary clinical oncology. Preliminary study. Vet Res Commun 34:103–106

12.

Machado VS, Leandro Z, Crivellenti BC, Nathieli B, Alexandre Luana P, Borin-Crivellentib S, Santanab AE, Vanessa D, Morescof Rafael N, Rosa C, Schetingerd VM (2015) Oxidative stress and inflammatory response biomarkers in dogs with mammary carcinoma. Pathol Res Pract 211:677–681

13.

Baba OK, Sood NK, Gupta K (2016) Classification, grading and prognostic evaluation of canine mammary tumours. Indian J Vet Pathol 40:183–186

14.

Zlotnik A, Yoshie O (2000) Chemokines: a new classification system and their role in immunity. Immunity 12:121–127

15.

Barbieri A, Quagliariello V, Vecchio VD, Falco M, Luciano A, Amruthraj NJ, Nasti G, Ottaiano A, Berretta M, Iaffaioli RV, Arra C (2017) Anticancer and anti-inflammatory properties of ganoderma lucidum extract effects on melanoma and triple-negative breast cancer treatment. Nutrients 9:210

16.

Sheikhpour R (2017) The role of interleukin-8 and its mechanism in patients with breast cancer: its relation with oxidative stress and estrogen receptor. Int J Cancer Manag. https://doi.org/10.5812/ijcm.8791

17.

Derin D, Soydinc HO, Guney N, Tas F, Camlica H, Duranyildiz D, Yasasever V, Topuz E (2007) Serum IL-8 and IL-12 levels in breast cancer. Med Oncol 24:163–168

18.

Lee HL, Eom HS, Yun T, Kim HJ, Park WS, Nam BH, Moon-Woo S, Lee DH, Kong SY (2008) Serum and urine levels of interleukin-8 in patients with non-Hodgkin's lymphoma. Cytokine 43:71–75

19.

Gelaleti GB, Jardim BV, Leonel C, Moschetta MG, Zuccari DAPDC (2012) Interleukin-8 as a prognostic serum marker in canine mammary gland neoplasias. Vet Immunol Immunopathol 146:106–112

20.

Aggarwal BB, Shishodia S, Sandur SK, Pandey MK, Sethi G (2006) Inflammation and cancer: how hot is the link. Biochemical Pharmacol 72:1605–1621

21.

Thriveni K, Raju A, Ramaswamy G, Krishnamurthy S, Kumar RV (2018) Tumor necrosis factor an inflammatory microenvironment marker in primary breast cancer patients. Int J Mol Immuno Oncol. https://doi.org/10.18203/issn.2456-3994

22.

Felix CE, Ehigiator IF, Chinedum CF (2018) Pro-inflammatory cytokines (TNF-α and IL-1) in Nigerian women with breast cancer. Open J Immunol 8:13–28

23.

Piwowar A (2014) Biochemical and clinical aspects of advanced oxidation protein products in kidney diseases and metabolic disturbances. Postepy Hig Med Dosw 68:179–190

24.

Sbarouni EP, Georgiadou V, Voudris (2011) Ischemia modified albumin changes: review and clinical implications. Clin Chem Lab Med 49:177–184
Acknowledgements
The first author is highly grateful to DST INSPIRE, New Delhi, India, for fellowship during the Ph.D. programme (Fellowship No. IF 130347). The current research has been carried out at the Department of Veterinary Pathology, GADVASU, Ludhiana. The study is a part of the research project entitled "Canine Mammary Tumour as a Model for Human Breast Cancer" funded by ICAR Niche area of excellence.
Ethics declarations
Conflict of interest
The authors declare that there is no conflict of interest to publish this manuscript.
Additional information
Significance Statement
The present study emphasizes on non-invasive methods of evaluating various surface glycoprotein cancer markers (CA 15-3 and CEA) and inflammatory cytokines (IL-8 and TNF-alpha) in the serum of canine mammary tumour cases and their role in the diagnosis and prognosis of CMT.
About this article
Cite this article
Baba, O.K., Sood, N.K. & Gupta, K. Clinical Evaluation of Glycoproteins and Inflammatory Cytokines in the Serum of Dogs Affected with Canine Mammary Cancer. Proc. Natl. Acad. Sci., India, Sect. B Biol. Sci. 89, 1465–1469 (2019). https://doi.org/10.1007/s40011-018-01073-7
Received:

Revised:

Accepted:

Published:

Issue Date:
Keywords