Abstract
Information about the genetic diversity of any crop is important for successful employment of breeding programmes. In the present study, an initiative was taken to characterise genetic diversity of 40 pea genotypes using twenty-four EST-SSRs and three biochemical traits. The polymorphism information content value for SSR markers ranged from 0.095 to 0.500 at an average of 0.349. Jaccard's similarity coefficient ranged from 0.17 (Azad Pea1/IC-219010) to 0.92 (IC-219010/219008) with an average value of 0.45 exhibiting considerable genetic diversity. Forty genotypes were clustered into two major clusters A and B. Bayesian model-based programme determined population structure and divided the accessions into two major populations. The mean data of various genotypes for protein content (%), total sugar content (%) and ascorbic acid content (mg/100 g) were found in the range of 16.07 (Azad P3) to 25.09 (IC-208366), 12.65 (IC-218991) to 19.97 (Lincoln) and 3.01 (Arka Pramodh) to 5.57 (DPPIV-2), respectively. The information collected from EST-SSR markers and biochemical traits may assist pea breeders to utilise breeding programmes for the improvement of the target traits.
This is a preview of subscription content, log in to check access.
Access options
Buy single article
Instant access to the full article PDF.
US$ 39.95
Price includes VAT for USA
Subscribe to journal
Immediate online access to all issues from 2019. Subscription will auto renew annually.
US$ 99
This is the net price. Taxes to be calculated in checkout.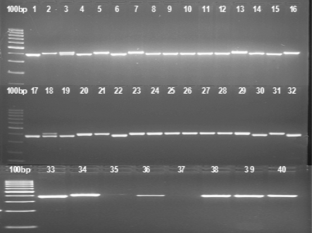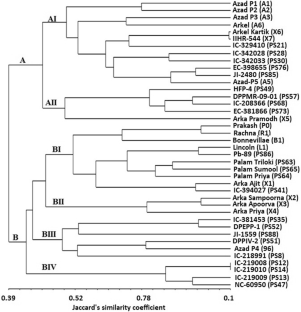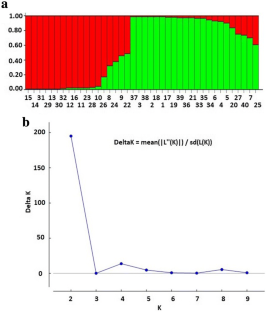 References
1.

Bouhadida M, Srarfi F, Saadi I, Kharrat M (2013) Molecular characterization of pea (Pisum sativum L.) using microsatellite markers. IOSR J Appl Chem 5:57–61

2.

Sato S, Isobe S, Tabata S (2010) Structural analyses of the genomes in legumes. Curr Opin Plant Biol 13:146–152

3.

FAO Statistical Database (2017) Food and Agriculture Organization (FAO) of the United Nations, Rome. http://www.fao.org.StatisticalDatabase. Accessed 28 Feb 2019

4.

Mahesh C, Tarte G, Ashok K, Nilesh C (2014) Studies on the effect of pH and temperature on the activity of esterase enzyme isolated from Pisum sativum. Asian J Biomed Pharm Sci 3:2231–2560

5.

Chakraborty U, Sarkar B, Chakraborty BN (2003) Protection of soybean root rot by Bradyrhizobium japonicum and Trichoderma harzianum, associated changes in enzyme activities and phytoalexin production. J Mycol Plant Pathol 33:21–25

6.

Deepika, Mahajan R, Lay P, Sharma P, Salgotra RK, Sharma S(2017) Assessment of genetic variability, heritability and genetic advance among Pisum accessions. Vegetos 30:482–488

7.

Rao NK (2004) Plant genetic resources: advancing conservation and use through biotechnology. Afr Biotechnol 3:136–145

8.

Tatikonda L, Wani SP, Kannan S, Varshney RK (2009) AFLP-based molecular characterization of an elite germplasm collection of Jatrophacurcas L., a biofuel plant. Plant Sci 176:505–513

9.

Varshney RK, Graner A, Sorrells ME (2005) Genic microsatellite markers in plants: features and applications. Trends Biotechnol 23:48–55

10.

Squirrell J, Hollingsworth PM, Woodhead M, Russell J, Lowe AJ, Gibby M, Powell W (2003) How much effort is required to isolate nuclear microsatellites from plants? Mol Ecol 12:1339–1348

11.

Ellis JR, Burke JM (2007) EST-SSRs as a resource for population genetic analysis. Heredity 99:125–132

12.

Kong Q, Xiang C, Yu Z, Zhang C, Liu F, Peng C, Peng X (2007) Mining and charactering microsatellites in Cucumis melo expressed sequence tags from sequence database. Mol Ecol Notes 7:281–283

13.

Doyle JJ, Doyle JL (1990) Isolation of plant DNA from fresh tissue. Focus 12:13–15

14.

Gong YM, Xu SC, Mao WH, Zhang GW, Ding J, Li YD (2010) Developing new SSR markers from ESTs of pea (Pisum sativum L.). J Zhejiang Univ Sci B Biomed Biotechnol 11:702–707

15.

Mishra RK, Gangadhar BH, Nookaraju A, Kumar S, Park SW (2012) Development of EST-derived SSR markers in pea (Pisum sativum) and their potential utility for genetic mapping and transferability. Plant Breed 131:118–124

16.

Xu SU, Gong YM, Mao WH, Hu QZ, Zhang GW, Fu W, Xian QQ (2012) Development and characterization of 41 novel EST-SSR markers for Pisum sativum (Leguminosae). Am J Bot 2:e149–e153

17.

Zhuang X, McPhee KE, Coram TE, Peever TL, Chilvers MI (2013) Development and characterization of 37 novel EST-SSR markers in Pisum sativum. Appl Plant Sci 1:1200249

18.

Liu K, Muse SV (2005) Power marker. Integrated analysis environment for genetic marker data. Bioinformatics 21:2128–2129

19.

Dar AA, Mudigunda S, Mittal PK, Arumugam N (2017) Comparative assessment of genetic diversity in Sesamum indicum L. using RAPD and SSR markers. 3 Biotech 7:10. https://doi.org/10.1007/s13205-016-0578-4

20.

Dar AA, Mahajan R, Lay P, Sharma S (2017) Genetic diversity and population structure of Cucumis sativus L. by using SSR markers. 3 Biotech 7:307. https://doi.org/10.1007/s13205-017-0944-x

21.

Pritchard JK, Stephens M, Donnelly P (2000) Inference of population structure using multilocus genotype data. Genetics 155:945–959

22.

Evanno G, Regnaut S, Goudet J (2005) Detecting the number of clusters of individuals using the software structure: a simulation study. Mol Ecol 14:2611–2620

23.

McKenzie HA, Wallace HS (1954) The Kjeldahl's determination of nitrogen. Austral J Chem 7:55–70

24.

Dubois M, Gilles KA, Smith F (1956) Calorimetric method for determination of sugars and related substances. Anal Chem 28:350–356

25.

Sadasivam S, Manickam A (1996) Biochemical methods, 2nd edn. New Age International (p) Ltd Publisher, New Delhi, pp 179–186

26.

Burstin J, Deniot G, Potier J, Weinachter C, Aubert G, Baranger A (2001) Microsatellite polymorphism in Pisum sativum. Plant Breed 120:311–317

27.

Gangadhar BHM, Mishra RK (2016) Comparative study of EST-SSR, SSR, RAPD, and ISSR and their transferability analysis in pea, chickpea and mungbean. Eur Acad Res 4:1346

28.

Nisar M, Khan A, Wadood SF, Shah AA, Hanci F (2017) Molecular characterization of edible pea through EST-SSR markers. Turk J Bot 41:338–346

29.

Kapila K, Naryal S, Dhiman KC (2011) Analysis of genetic diversity among garden and field pea genotypes of higher Indian Himalayas. J Plant Biochem Biotechnol. https://doi.org/10.1007/s13562-011-0090-1

30.

Choudhury RP, Tanveer H, Dixit GP (2007) Identification and detection of genetic relatedness among important varieties of pea (Pisum sativum L.) grown in India. Genetica 130:183–191

31.

Thakur B, Sharma S, Sharma I, Sharma P, Deepika Zargar SM (2018) Diversity analysis of pea genotypes using RAPD markers. Legume Res 41:196–201

32.

Ahmad S, Kaur S (2015) Genetic diversity and population structure of Pisum sativum accessions for marker-trait association of lipid content. Crop J 3:238–245

33.

Saharan K, Khetarpaul N (1994) Protein quality traits of vegetable and field peas: varietal differences. Plant Foods Hum Nutr 45:11–22

34.

Harmankaya M, Ozcan MM, Kardas S, Ceyhan E (2010) Protein and mineral contents of pea (Pisum sativum L.) genotypes grown in central region of Turkey. South West J Hortic Biol Environ 1:159–165
Acknowledgements
The authors are grateful to SERB, DST, New Delhi, for the financial support of the project (Project sanction order No. SB/YS/LS-182/2013 dated 15/05/2014). They are also thankful to NBPGR, New Delhi, for facilitating germplasm.
Ethics declarations
Conflict of interest
The authors declare that there is no conflict of interest to publish this manuscript.
Additional information
Significance statement
The present study depicts the molecular characterisation of pea genotypes using 35 EST-SSR markers and biochemical analysis of important traits using suitable standard methods. Such study will help plant breeders for the improvement of pea crop.
Electronic supplementary material
Below is the link to the electronic supplementary material.
About this article
Cite this article
Sharma, R., Dar, A.A., Mahajan, R. et al. Molecular and Biochemical Characterisation of Indian Germplasm of Pisum sativum L.. Proc. Natl. Acad. Sci., India, Sect. B Biol. Sci. 90, 103–111 (2020). https://doi.org/10.1007/s40011-018-01069-3
Received:

Revised:

Accepted:

Published:

Issue Date:
Keywords
Pisum sativum L.

Genetic diversity

EST-SSRs

PIC

Biochemical characterisation