Abstract
Dysophylla auricularia (L.) Blume. is a medicinal plant of the family Lamiaceae used in the tribal traditional medicinal practice in Bangladesh. The scientific basis of the toxicological effects of the plants is yet to be evaluated. This study evaluated the toxic, cytotoxic and mutagenic non-clinical effects of the methanol extract of D. auricularia (MDA). The cytotoxic effect of MDA was observed on eggs of Artemia salina for 24-h treatment, while the toxic and mutagenic effects in Allium cepa for 48-h treatment. Potassium dichromate (K2Cr2O7) and copper sulfate (CuSO4·5H2O) were used as standard A. salina and A. cepa test systems, respectively. For A. salina test, the MDA and K2Cr2O7 were tested at 6.25–100 µg ml−1, while for A. cepa test MDA and CuSO4·5H2O at 100–500 µg ml−1 and 0.6 µg ml−1, respectively. Results showed that MDA increased mortality in A. salina in a concentration-dependent manner with highest mortality (50 ± 0.71%) at 100 µg ml−1. In A. cepa test also, MDA caused concentration-dependent decrease in percentage of mitotic index with an increased number of non-dividing cells. Moreover, MDA also inhibited the growth of the meristematic region of A. cepa and caused an increase in chromosomal aberrations such as breaks, bridges, stickiness, as well as micronuclei formation in a concentration-dependent manner. In conclusion, D. auricularia exhibited toxicological responses in A. salina and A. cepa test systems that advocates that adequate precautions should be taken during its traditional usages.
Graphical Abstract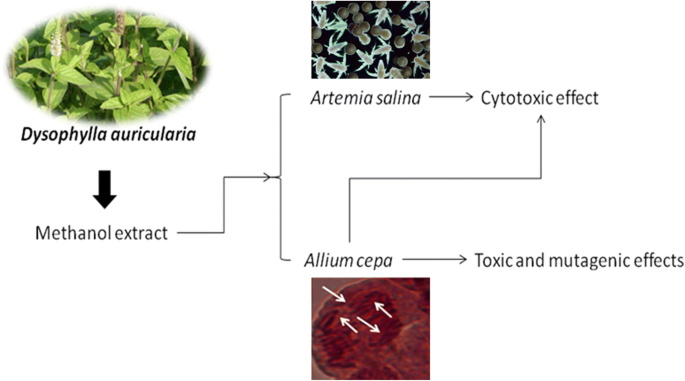 This is a preview of subscription content, log in to check access.
Access options
Buy single article
Instant access to the full article PDF.
US$ 39.95
Price includes VAT for USA
Subscribe to journal
Immediate online access to all issues from 2019. Subscription will auto renew annually.
US$ 99
This is the net price. Taxes to be calculated in checkout.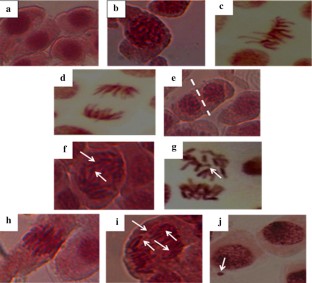 References
1.

Latha LS, Reddy PN (2009) Antimicrobial, antidiarrheal and analysis of phytochemical constituents of Sphaeranthus amaranthoides. Indian J Sci Technol 2:45–48

2.

Abu-Rabia A (2005) Urinary diseases and ethnobotany among pastoral nomads in the Middle East. J Ethnobiol Ethnomed 1:4

3.

Yakubu MT, Salimon SS (2015) Antidiarrhoeal activity of aqueous extract of Mangifera indica L. leaves in female albino rats. J Ethnopharmacol 163:135–141

4.

Rates SMK (2001) Plants as source of drugs. Toxicon 39:603–613

5.

Ivkovic BM, Nikolic K, Ilic BB, Zizak ZS, Novakovic RB, Cudina OA, Vladimirov SM (2013) Phenylpropiophenone derivatives as potential anticancer agents: synthesis, biological evaluation and quantitative structure activity relationship study. Eur J Med Chem 63:239–255

6.

Nunes GBL, Paola R, Policarpo PR, Costa LM, da Silva TG, Militão GCG, Filho CACGMB, Gutierrez SJC, Islam MT, de Freitas RM (2014) In vitro antioxidant and cytotoxic activity of some synthetic riparin-derived compounds. Molecules 19:4595–4607

7.

Nur T, Islam MT, Alam S, Chowdhury MMU, Melo-Cavalcante AAC, Freitas RM (2015) Pharmacological investigations of organic crude fractions of Dysophylla auricularia. Orient Pharm Exp Med 15:207–215

8.

Islam MT, Sousa LR, Mata AMOF, Alencar MVOB, Lima RMT, Sousa JMC, Melo-Cavalcante AAC (2018) Antioxidant capacity of the methanol extract of Dysophylla auricularia. Curr Bioact Compd 14:92–98

9.

Michael AS, Thompson CG, Abramovitz M (1956) Artemia salina as a test organism for bioassay. Science 123:464–466

10.

Sorgeloos P, Remiche-Van Der Wielen C, Persoone G (1978) The use of Artemia nauplii for toxicity tests—a critical analysis. Ecotoxicol Environ Saf 2:249–255

11.

Meyer BN, Ferringni NR, Puam JE, Lacobsen LB, Nichols DE, McLaughlin JL (1982) Brine shrimp: a convenient general bioassay for active constituents. Planta Med 45:31–34

12.

Diana F, Fernandéz V, Torres E (2000) Evaluacion de la actividad genotóxica de efluentes de curtiembres del Dpto. Central de la region oriental. Paraguay Rev Ciencia Tecnol 2:37–48

13.

Islam MT, Mata AMOF, Aguiar RPS, Paz MFCJ, Alencar MVOB, Melo-Cavalcante AAC (2016) Therapeutic potential of essential oils focusing on diterpens. Phytother Res 30:1420–1444

14.

Asante-Duah K (2002) Public health risk assessment for human exposure to chemicals (illustrated), vol 6. Kluwer Academic Publishers, Dordrecht

15.

Gyawali R, Ibrahim SA (2014) Natural products as antimicrobial agents. Food Control 46:412–429

16.

Sans J, Aguilera AM, Faundez P, Troncoso P, Fernandez V, Videla LA (1999) Influence of copper-(II) on colloidal carbon-induced Kupffer cell-dependent oxygen uptake in rat liver: relation to hepatotoxicity. Free Rad Res 30:489–498

17.

Yildiz M, Ciğerci IH, Konuk M, Fidan AF, Terzi H (2009) Determination of genotoxic effects of copper sulphate and cobalt chloride in Allium cepa root cells by chromosome aberration and comet assays. Hemosphere 75:934–938

18.

Clayton GD, Clayton FE (1981) Patty's industrial hygiene and toxicology, 3rd edn, vol 2, Part 6 Toxicol. Wiley, NY

19.

Rana NU, Hasan I, Karim N, Sakib MH, Rashid MHO, Dhar R (2015) Phytochemical, cytotoxic and thrombolytic activity of methanolic extract of Dysophylla auricularia leaves. Am J Pharmtech Res 5:466–476

20.

Sangian H, Faramarzi H, Yazdinezhad A, Mousavi SJ, Zamani Z, Noubarani M et al (2013) Antiplasmodial activity of ethanolic extracts of some selected medicinal plants from the northwest of Iran. Parasitol Res 112:3697–3701

21.

Mclaughlin JL, Rogers LL, Anderson JE (1998) The use of biological assays to evaluate botanicals. Drug Inf J 32:513–524

22.

Nunes BS, Carvalho FD, Guilhermino LM, Van Stappen G (2006) Use of the genus Artemia in ecotoxicity testing. Environ Pollut 144:453–462

23.

Rajabi S, Ramazani A, Hamidi M, Naji T (2015) Artemia salina as a model organism in toxicity assessment of nanoparticles. J Pharmaceut Sci 23:20

24.

Pathiratne A, Hemachandra CK, De Silva N (2015) Efficacy of Allium cepa test system for screening cytotoxicity and genotoxicity of industrial effluents originated from different industrial activities. Environ Monit Assess 187:730–736

25.

Mesi A, Kopliku D (2013) Cytotoxic and genotoxic potency screening of two pesticides on Allium cepa L. Procedia Technol 8:19–26

26.

Fiskesjö G (1985) The Allium test as a standard in environmental monitoring. Hereditas 102:99–112

27.

Das AB, Mallick R (1993) Nuclear DNA and chromosomal changes within the tribe Ammineae. Cytobios 74:197–207. https://doi.org/10.1139/g07-083

28.

Singh BN, Singh BR, Singh RL, Prakash D, Singh DP, Sarma BK, Upadhyay G, Singh HB (2009) Polyphenolics from various extracts/fractions of red onion (Allium cepa) peel with potent antioxidant and antimutagenic activities. Food Chem Toxicol 47:1161–1167

29.

Neto MPL, Gomes DCV, Júnior ALG, Paz MFCJ, Alencar MVOB, Islam MT, Ferreira PMP, Melo-Cavalcante AAC (2016) Toxicogenetic evaluation of an imidazolidine derivative PT-31. Curr Pharmaceut Biotechnol 17:1043–1048

30.

Islam MT, Streck L, Paz MFCJ, Sousa JMC, Alencar MVOB, Mata AMOF, Carvalho RM, Santos JVO, Silva-Junior AA, Ferreira PMP, Melo-Cavalcante AAC (2016) Preparation of phytol-loaded nanoemulsion and screening for antioxidant capacity. Int Arch Med 9:1–15

31.

Islam MT (2016) Concentration-dependent-activities of diterpenes: achieving anti-/pro-oxidant links. Asian J Ethnopharmacol Med Foods 2:12–15
Acknowledgement
The authors are grateful to the Department of Pharmacy, Southern University Bangladesh (SUB) and Nuclear of Pharmaceutical Technology (NTF), Federal University of Piauí (UFPI), Brazil, for laboratory facilities to conduct this study.
Ethics declarations
Conflict of interest
The authors declare that there is no conflict of interest to publish this manuscript.
Additional information
Significance statement
Dysophylla auricularia exhibited toxicological responses in A. salina and A. cepa test systems by increasing chromosomal aberrations like breaks, bridges, stickiness, and micronuclei formation. Adequate precaution is requisite in traditional usage.
About this article
Cite this article
Islam, M.T., Ali, E.S., Uddin, S.J. et al. Cytogenotoxicological Effects of the Methanolic Extract of Dysophylla auricularia. Proc. Natl. Acad. Sci., India, Sect. B Biol. Sci. 89, 1399–1406 (2019). https://doi.org/10.1007/s40011-018-01068-4
Received:

Revised:

Accepted:

Published:

Issue Date:
Keywords
Allium cepa
Artemia salina

Cytotoxicity

Mutagenicity

Toxicity

Health concern