Abstract
Pandanus odorifer L. belongs to Pandanaceae grows in the wild, mainly in semi-natural vegetation throughout the tropical and subtropical Pacific in littoral habitats, where it prevails against drought, strong winds, and salt sprays. To investigate the mechanism of salt stress tolerance in P. odorifer, the leaves from natural populations growing in the coastal region (SW) and those maintained under fresh water conditions (FW) were compared and analyzed for the common osmolytes proline, glycine betaine and γ-aminobutyric acid (GABA). The proline contents in both FW (13 µmol/g) and SW (12.7 µmol/g) plants were found nearly equal. The glycine betaine in FW plants was 0.745 µmol/g and in SW plants, it was 1.71 µmol/g and the amount of GABA in SW plants was ~60 and ~15 µmol/g in FW plants. Thus, among the three metabolites, GABA contents were found significantly higher, hence, the key enzymes responsible for GABA biosynthesis; glutamate decarboxylase (GAD EC 4.1.1.15), succinic semialdehyde dehydrogenase (SSADH EC 1.2.2.16) and betaine aldehyde dehydrogenase 2 (BADH2 EC 1.2.1.8) were studied with respect to their activity and expression levels in FW and SW plants. Relative expression of GAD was higher in both FW as well as in SW plants of P. odorifer. The highest activity and expression level of GAD under both the conditions suggests that probable pathway for GABA synthesis in P. odorifer is via GABA shunt.
Access options
Buy single article
Instant access to the full article PDF.
US$ 39.95
Tax calculation will be finalised during checkout.
Subscribe to journal
Immediate online access to all issues from 2019. Subscription will auto renew annually.
US$ 79
Tax calculation will be finalised during checkout.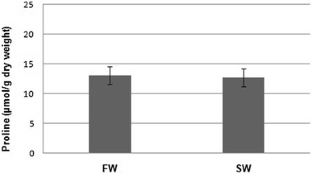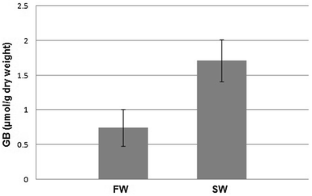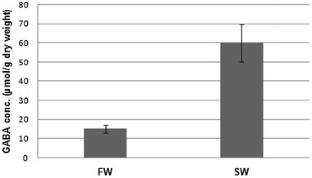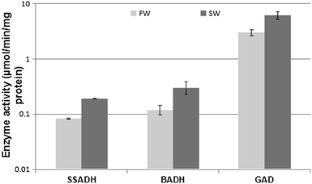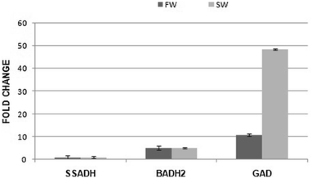 Abbreviations
GABA:

γ-Aminobutyric acid

GB:

Glycine betaine

GAD:

Glutamate decarboxylase

SSADH:

Succinic semialdehyde dehydrogenase

BADH2:

Betaine aldehyde dehydrogenase2

SSA:

Succinic semialdehyde

GABald:

4-Aminobutyraldehyde
Acknowledgements
First author thank University Grants Commission (UGC), New Delhi for the award of BSR fellowship. The authors also thank Dr. Trupti Kad and Dr. Rahul Zanan for their help and suggestions.
Ethics declarations
Conflict of interest
The authors declare that they have no conflict of interest.
Additional information
Significance statement
Salt tolerance mechanism of P. odorifer has been explored for the first time in this study. GABA emerged as a prominent osmolyte conferring salt stress tolerance in P. odorifer.
About this article
Cite this article
Rashmi, D., Nadaf, A. Understanding the Mechanism of Salt Tolerance in Pandanus odorifer L.. Proc. Natl. Acad. Sci., India, Sect. B Biol. Sci. 88, 1557–1563 (2018). https://doi.org/10.1007/s40011-017-0900-x
Received:

Revised:

Accepted:

Published:

Issue Date:
Keywords
GABA

GABA shunt

Glutamate decarboxylase

Glycine betaine

Pandanus odorifer

Proline

Salinity