Abstract
Immunological responses of Litopenaeus vannamei fed with two probiotic bacteria, Bacillus licheniformis and Bacillus megaterium were evaluated at a post probiotic treatment scenario. This shrimp fed with the probiotics individually and in combination for 60 days was fed with normal feed and the immune response was evaluated at the 10th day post probiotic treatment (PPT). The immune response was reduced in all the treatments during the post probiotic treatment even though it was higher than the control. The probiotic treated shrimps were challenged with Vibrio harveyi after 5 days PPT and the immunological evaluation were carried out at the 10th day PPT. Probiotic fed shrimps showed significantly higher survival and immunological response than the control. Among the treatments, combination of the two probiotics enhanced the non-specific immunity significantly in the shrimps than the individual probiotic.
Access options
Buy single article
Instant access to the full article PDF.
USD 39.95
Price excludes VAT (USA)
Tax calculation will be finalised during checkout.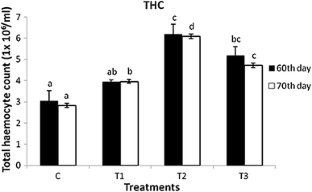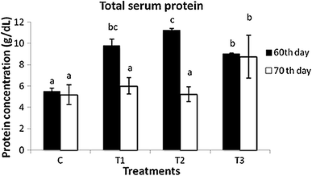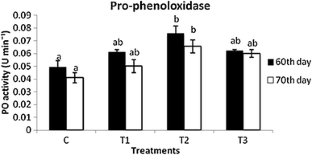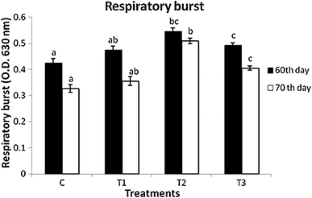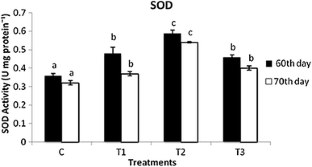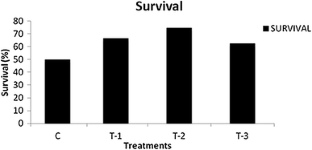 References
Anderson DP (1992) Immunostimulants, adjuvants and vaccine carriers in fish: application to aquaculture. Annu Rev Fish Dis 2:281–307

Sung HH, Yang YL, Song YL (1996) Enhancement of microbicidal activity in the tiger shrimp Penaeus monodon via immunostimulation. J. Crustac. Biol. 16:278–284

Li K, Zheng T, Tian Y, Xi F, Yuan J, Zhang G, Hong H (2007) Beneficial effects of Bacillus licheniformis on the intestinal microflora and immunity of the white shrimp, Litopenaeus vannamei. Biotechnol. Lett. 29:525

Tseng DY, Ho PL, Huang SY, Cheng SC, Shiu YL, Chiu CS, Liu C-H (2009) Enhancement of immunity and disease resistance in the white shrimp, Litopenaeus vannamei, by the probiotic, Bacillus subtilis E20. Fish Shellfish Immunol 26:339–344

Rengpipat S, Rukpratanporn S, Piyatiratitivorakul S, Menasaveta P (2000) Immunity enhancement in black tiger shrimp (Penaeus monodon) by a probiont bacterium (Bacillus S11). Aquaculture 191:271–288

Nicholson WL, Munakata N, Horneck G, Melosh HJ, Setlow P (2000) Resistance of Bacillus endospores to extreme terrestrial and extraterrestrial environments. Microbiol Mol 64:548

Moriarty DJW (1997) The role of microorganisms in aquaculture ponds. Aquaculture 151:333–349

Moriarty DJW (1998) Control of luminous Vibrio species in penaeid aquaculture ponds. Aquaculture 164:351–358

Kumar A, Suresh Babu PP, Roy SD, Razvi SSH, Charan R (2014) Synergistic effects of two probiotic bacteria on growth, biochemical, and immunological responses of Litopenaeus vannamei (Boone, 1931). Isr J Aquacult 66:1009–1017

Sritunyalucksana K, Gangnonngiw W, Archakunakorn S, Fegan D, Flegal T (2005) Bacterial clearance rate and a new differential hemocyte staining method to assess immunostimulant activity in shrimp. Dis Aquat Org 63:89–94

Tanner C, Burnett L, Burnett K (2006) The effects of hypoxia and pH on phenoloxidase activity in the Atlantic blue crab, Callinectes sapidus. Comp Biochem Physiol A 144:218–223

Secombes CJ (1996) The nonspecific immune system: cellular defenses. In: Iwama G, Nakanishi T (eds) The fish immune system: organism, pathogen, and environment. Academic Press, San Diego, pp 63–103

Stasiack AS, Bauman CP (1996) Neutrophil activity as a potent indicator of neromitant analysis. Fish Shellfish Immunol 37:539–542

Reinhold JG (1953) Determination of plasma proteins. In: Standard methods of clinical chemistry, vol 1. Academic press, New York, p 88

Misra HP, Fridovich I (1972) The role of superoxide anion in the antioxidation of epinephrine and a simple assay for superoxide dismutase. J Biol Chem 217:3170–3175

Gullian M, Thompson F, Rodriguez J (2004) Selection of probiotic bacteria and study of their immunostimulatory effect in Penaeus vannamei. Aquaculture 233:1–14

Wiegertjes GF, Stet RJM, Parmeatier HK, Van Muiswinkel WB (1996) Immunogenetics of disease resistance in fish; a comparable approach developmental and comparative immunology. J Exp Boil 20:365–381

Sung HH, Yang YL, Song YL (1996) Enhancement of microbicidal activity in Tiger shrimp (Penaeus monodon) via immunostimulation. J Crustac Biol 16:278–284

Itami T, Kubono K, Asano M, Tokushige K, Takeno N, Nishimura H, Kondo M, Takahashi Y (1998) Enhancement of disease resistance of kuruma shrimp, Penaeus japonicus, after oral administration of peptidoglycan derived from Bifidobacterium thermophilum. Aquaculture 164:277–288

Mou HJ, Jiang XL, Liu SQ, Guan HS (1999) Effects of immunopolysaccharide on the activities of acid phosphatase, alkaline phosphatase and superoxide dismutase in Chlamys farreri. J Ocean Univ Qingdao 29:463–468

Liu H, Li GY (1998) The effect of immunopolysaccharide as a food additive on the penaeid shrimp, Penaeus vannamei. Oceanol Limnol Sin 29:113–118

Vieira FN, Buglione CC, Mouriño JPL, Jatobá A, Martins ML, Schleder DD, Andreatta ER, Barraco MA, Vinatea LA (2010) Effect of probiotic supplemented diet on marine shrimp survival after challenge with Vibrio harveyi. Arq Bras Med Vet Zootec 62:631–638

Van DeB CBT, Botterblom MHA, Taverne N (2002) The roles of haemocytes and the lymphoid organ in the clearance of injected Vibrio bacteria in Penaeus monodon shrimp. Fish Shellfish Immunol 13:293–309

Jiravanichpaisal P, Lee BL, Söderhäll K (2006) Cell-mediated immunity in arthropods, Hematopoiesis, coagulation, melanization and opsonization. Immunobiology 211:213–236

Fridovich I (1995) Superoxide radical and superoxide dismutases. Annu Rev Biochem 64:97–112

Sharp GJE, Secombes CJ (1993) The role of reactive oxygen species in the killing of the bacterial fish pathogen Aeromonas salmonicida by rainbow trout macrophages. Fish Shellfish Immunol 3:119–129

Thompson FL, Abreu PC, Cavalli R (1999) The use of microorganisms as food source for Penaeus paulensis, larvae. Aquaculture 174:139–153

Verschuere L, Rombaut G, Sorgeloos P, Verstraete W (2000) Probiotics bacteria as biological control agents in aquaculture. Microbiol Mol Biol Rev 64:655–671

Ochoa-Solano LJ, Olmos-Soto J (2006) The functional property of Bacillus for shrimps feeds. Food Microbiol 23:519–525

Nakayama T, Lu H, Nomura N (2009) Inhibitory effects of Bacillus probionts on growth and toxin production of Vibrio harveyi pathogens of shrimp. Lett Appl Microbiol 49:679–684
Acknowledgments
The authors are grateful to Dr. W. S. Lakra, The Director, Central Institute of Fisheries Education, Mumbai for the continuous encouragement to carry out the research work.
Ethics declarations
Conflict of interest
The authors declare that they have no conflict of interest.
About this article
Cite this article
Kumar, A., Suresh Babu, P.P. & Roy, S.D. Assessment of immune response in post-probiotic treated Litopenaeus vannamei challenged with Vibrio harveyi . Proc. Natl. Acad. Sci., India, Sect. B Biol. Sci. 88, 797–802 (2018). https://doi.org/10.1007/s40011-016-0818-8
Received:

Revised:

Accepted:

Published:

Issue Date:

DOI: https://doi.org/10.1007/s40011-016-0818-8
Keywords