Abstract
Plant based non-lethal repellents are most suitable for rodent control. Present studies were conducted to increase the efficacy of eucalyptus oil as repellent against black rat, Rattus rattus by its controlled release through encapsulated wax blocks. Mature and healthy R. rattus of both sexes were exposed to 5, 10 and 20 % eucalyptus oil encapsulated in wax blocks in laboratory pens in bi-choice tests. Each concentration was applied through three different modes of application i.e. daily, once a week, and every second day per week. Repellent effect of the oil was assessed based on food consumption from treated and untreated sides of a chamber for four days a week. Food consumption was found to be significantly (P ≤ 0.05) low from treatment side as compared to that observed on untreated side at all the three concentrations tested indicating repellent effect of the eucalyptus oil against R. rattus. Percent repellency with eucalyptus oil encapsulated in wax blocks at all the three concentrations was found to be similar. Being the minimum effective concentration, present studies suggest the use of 5 % eucalyptus oil encapsulated in wax blocks as repellent against R. rattus. This method may be used as part of integrated pest management technology for managing rats in enclosed store houses.
Access options
Buy single article
Instant access to the full article PDF.
USD 39.95
Price excludes VAT (USA)
Tax calculation will be finalised during checkout.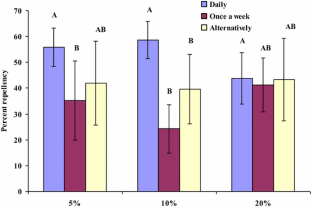 References
Brouat C, Tollenaere C, Estoup A, Loiseau A, Sommer S, Soanandrasana R, Rahalison L, Rajerison M, Piry S, Goodman SM, Duplantier JM (2014) Invasion genetics of a human commensal rodent: the black rat Rattus rattus in Madagascar. Mol Ecol 23:4153–4167

Capizzi D, Bertolino S, Mortelliti A (2014) Rating the rat: global patterns and research priorities in impacts and management of rodent pests. Mamm Rev 44:148–162

Khater HF (2012) Prospects of botanical biopesticides in insect pest management. Pharmacologia 3:641–656

Menn J, Hall F (1999) Biopesticides: present status and future prospects. In: Hall F, Menn J (eds) Methods in biotechnology: biopesticides: use and delivery, vol 5. Humana Press, Totowa, pp 1–10

Isman MB, Machial CM (2006) Pesticides based on plant essential oils: from traditional practice to commercialization. In: Rai M, Carpinella MC (eds) naturally occurring bioactive compounds. Elsevier, Philadelphia, pp 29–44

Batish DR, Singh HP, Kohli RK (2008) Eucalyptus essential oil as a natural pesticide. Forest Ecol Manag 256:2166–2174

Meehan AP (1988) Chemical repellents. In: Prakash I (ed) Rodent pest management. CRC Press, Boca Raton, pp 399–400

Nolte DL, Mason JR, Clark L (1993) Avoidance of bird repellents by mice (Mus musculus). J Chem Ecol 19:427–432

Singla N, Parshad VR (2007) Antifeeding effects of a neem (Azadirachta indica) based formulation botanical bird repellent against the house rat (Rattus rattus). Indian J Agric Sci 77(8):502–504

Mills EM, Munich JC (1942) Repellents. Pest Control 10:20–21

Khater HF (2011) Ecosmart biorational insecticides: alternative insect control strategies. In: Perveen F (ed) Advances in integrated pest management. In Tech, Rijeka, pp 17–60

Dubey NK, Shukla R, Kumar A, Singh P, Prakash B (2011) Global scenario on the application of natural products in integrated pest management programmes. In: Dubey NK (ed) Natural products in plant pest management, vol 1. CAB International, Wallingford, Oxfordshire, UK, pp 1–20

Leicach SR, Yaber Grass MA, Chludil HD, Garau AM, Guarnaschelli AB and Fernandez PC (2012) Chemical defenses in Eucalyptus species: a sustainable strategy based on antique knowledge to diminish agrochemical dependency. In: New Advances and Contributions to Forestry Research, http://www.intechopen.com/books/new-advances-and-contributions-to-forestry-research

Duke JA (2004) Dr. Duke's phytochemical and ethnobotanical databases. http://www.ars-grin.gov/duke

United States Environment Protection Agency (USEPA) (1993) R E D Facts. Flower and Vegetable Oils. http://www.epa.gov/oppsrrd1/REDs/factsheets/4097fact.pdf

Singla N, Thind RK, Mahal AK (2014) Potential of eucalyptus oil as repellent against house rat. Sci World J, Rattus rattus. doi:10.1155/2014/249284 (Article ID 879405)

Singla N, Kaur R (2014) Potential of citronella oil as rodent repellent measured as aversion to food. Appl Biol Res 16(2):192–198

Atterholt CA, Delwiche MJ, Rice RE, Krochta JM (1999) Controlled release of insect sex pheromones from paraffin wax and emulsions. J Controll Release 57:233–247

Babbar BK, Kaur J, Singla N, Mahal AK (2015) Effectiveness and persistence of cinnamic aldehyde as an antifeedant on rats under storage conditions. Crop Protect 67:235–242

Brooker MIH, Kleinig DA (2006) Field guide to eucalyptus, vol 1, 3rd edn. Melbourne, Bloomings

Jaenson TGT, Garboui S, Palsson K (2006) Repellency of oils of lemon eucalyptus, geranium, and lavender and the mosquito repellent MyggA natural to Ixodes ricinus (Acari: Ixodidae) in the laboratory and field. J Med Entomol 43:731–736

Han J, Kim SI, Choi BR, Lee SG, Ahn YJ (2011) Fumigant toxicity of lemon eucalyptus oil constituents to acaricide susceptible and acaricide-resistant Tetranychus urticae. Pest Manag Sci 67:1583–1588

Koschier EH, Sedy KA (2001) Effects of plant volatiles on the feeding and oviposition of Thrips tabaci. Thrips and tospoviruses. CSIRO, Collingwood, pp 185–187

Patyal SK, Kumar J (1989) Olfacto-gustatory repellency of some essential oils to the Indian honey bee, Apis cerana indica Fabr. J Indian Bee 51:5–8

Lin TS (1998) Effects of essential oil from the leaves of seven Eucalyptus spp. on the control of termite. For Prod Ind 17:751–760

Choi WS, Park BS, Ku SK, Lee SE (2002) Repellent activities of essential oils and monoterpenes against Culex pipiens pallens. J Am Mosq Control Assoc 18:348–351

Trigg JK (1996) Evaluation of a eucalyptus-based repellent against Anopheles spp. in Tanzania. J Am Mosq Control Assoc 12:243–246

Singla N, Kaur R, Mahal AK (2013) Repellent effect of eucalyptus oil applied as paint against house rat, Rattus rattus. Int J Adv Res 1:220–229

Babbar BK, Kaur J, Singla N, Mahal AK (2015) Effectiveness and persistence of cinnamic aldehyde as an antifeedant on rats under storage conditions. Crop Prot 67:235–242

Gaoh AT (1999) Potential of selected natural products as repellents against vertebrate pests of crops. M.Sc. Thesis, Department of Natural Resource Sciences, McGill University, Montreal
Acknowledgments
Authors are thankful to the Indian Council of Agricultural Research, New Delhi, India for financial assistance and Head, Department of Zoology, Punjab Agricultural University, Ludhiana, India for the facilities provided.
Ethics declarations
Conflict of interest
The authors declare that they have no conflict of interest.
About this article
Cite this article
Singla, N., Kaur, R. Increasing Efficacy of Eucalyptus Oil as Repellent Against Rattus rattus by Controlled Release Through Encapsulated Wax Blocks. Proc. Natl. Acad. Sci., India, Sect. B Biol. Sci. 87, 1407–1413 (2017). https://doi.org/10.1007/s40011-016-0723-1
Received:

Revised:

Accepted:

Published:

Issue Date:

DOI: https://doi.org/10.1007/s40011-016-0723-1
Keywords