Abstract
The present study evaluated the presence of micro-fungi and mycotoxins in fifty six market samples of dried apricots. Twenty two fungal species belonging to ten genera were isolated using standard methods. Aspergillus niger showed the highest frequency percentage. Assessment of mycobial load of dried apricots showed the presence of many such fungal species that are widely acknowledged as the most important mycotoxin producers. Mycotoxins were assessed by high performance liquid chromatography. 12.5 % of dried apricot samples tested positive for total aflatoxins (AFs) at a mean value of 35 ± 0.006 ng/g and 19.64 % samples contained patulin (PAT) (1025 ± 0.01 ng/g). Ochratoxin A (OTA) was quantified in 28.57 % of positive samples at a mean value of 194 ± 0.001 ng/g. Mycotoxin co-occurrence was recorded in low frequency. The co-occurrence of AFs–OTA, OTA–PAT and AFs–OTA–PAT has been detected in 3.57, 12.5 and 3.57 % samples respectively. To the best of author's knowledge, this is the first report on the natural occurrence of mycoflora and mycotoxins in dried apricots from India but no literature is available on co-occurrence of AFs, OTA and PAT in dried apricots.
Access options
Buy single article
Instant access to the full article PDF.
USD 39.95
Price excludes VAT (USA)
Tax calculation will be finalised during checkout.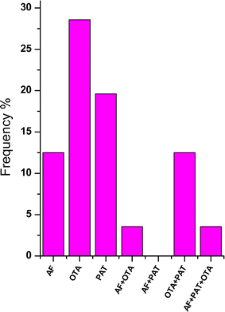 References
CBI (Centre for the Promotion of Imports from developing countries) (2008) The EU market for dried fruit. CBI market Information Database. http://www.icci.com.pk/data/dowmloads/1/131919889-1

Parmer C, Kaushal MK (1982) Wild fruits of sub-Himalayan Region. Kalyani Publishers, New Delhi, p 403

Duke JA, Ayensu ES (1985) Medicinal plants of China, 3rd edn. References Publication Inc, Algonac

Yeung HC (1985) Handbook of China herbs and formulas, vol I. Institute of China Medicine, Los Angeles

FAO (Food and Agriculture Organization of the United Nations) (2012) Production statistics. http://faostat.fao.org/site/567/default.aspx

Kashmir Life (2012) The Ramzan blessing. www.kashmirlife.net. Accessed 9 Dec 2012

Bastianelli D, Le Bas C (2002) Evaluating the role of animal feed in food safety: presecptive for action. In: Hanak E, Boutraf E, Fabre P, Pineira M (eds) Food safety management in developing countries. CIRAD-FAO, Montpellier, pp 1–4

Waliyar F, Traore A, Fatondji D, Ntare BR (2003) Effect of irrigation interval, planting date and cultivar on Aspergillus flavus and aflatoxin contamination of peanut in a sandy soil of Niger. Pean Sci 30:79–84

Anonymous (2011) Statistical hand book for the year 2010–11. District Statistical and Evaluation Agency, Ladakh Autonomous Hill Development Council, Leh, Government of Jammu and Kashmir

Marcus AK, Amling HJ (1973) Escherichia coli field contamination of pecan nuts. App Microbiol 26:279–281

FAO (Food and Agriculture Organization of the United Nations) (2001) Manual on the application of the HACCP system in mycotoxin prevention and control. FAO/IAEA Training and Reference Centre for Food and Pesticide Control, Rome

Golan BR, Paster N (2008) Mouldy fruits and vegetables as a source of mycotoxins: part 1. World Mycotoxin J 1:147–159

El-Magraby OM, El-Maraghy SS (1988) Mycoflora and mycotoxins of peanut (Arachis hypogaea L.) seeds in Egypt, III: cellulose decomposing and mycotoxin producing fungi. Mycopathologia 104:19–24

Abdulla NQF (2013) Evaluation of fungal flora and mycotoxin in some important nut products in Erbil local markets. Res J Environ Earth Sci 5:330–336

Zohri AA, Abdel-Gawad KM (1993) Survey of microflora and mycotoxins of some dried fruits in Egypt. J Basic Microbiol 33:279–288

Iamanaka BT, Taniwaki MH, Menezes HC, Vicente E, Fungaro MH (2005) Incidence of toxigenic fungi and ochratoxin A in dried fruits sold in Brazil. Food Addit Contam 22:1258–1263

Bircan C (2009) Incidence of ochratoxin A in dried fruits and co-occurrence with aflatoxins in dried figs. Food Chem Toxicol 47:1996–2000

Janati SSF, Behesti HR, Asadi M, Mihanparast S, Feizy J (2012) Preliminary survey of aflatoxins and ochratoxin A in dried fruits from Iran. Bull Environ Contam 88:391–395

Rahimi A, Shakerian A (2013) Ochratoxin A in dried figs, raisings, apricots, dates on Iranian retail market. Health 5:2077–2080

Azaiez I, Fant G, Manes J, Franzon MF (2015) Survey of mycotoxins in dates and dried fruits from Tunisian and Spanish markets. Food Contr 51:340–346

Gnonlonfin GJB, Hell K, Fandohan P, Siame AB (2008) Mycoflora and natural occurrence of aflatoxins and fumonisin B1 in cassava and yam chips from Benin, West Africa. Int J Food Microbiol 122:140–147

Gilman JC (1957) A manual of soil fungi (revised 2nd edition). Oxford and IBH Publishing Co. New Delhi, p 450

Raper EB, Fennell DI (1965) The genus Aspergillus. The Williams and Wilkins Company, Baltimore, pp 132–575

Rifai MA (1969) A revision on the genus Trichoderma. Mycol Pap 116:1–56

Booth C (1971) The genus Fusarium. CMI, Kew, p 237

Ellis MB (1971) Dematiaceous hyphomycetes. Commonwealth Mycological Institute (CMI), Kew, p 608

Pitt JI (1979) The genus Penicillium and its teleomorphic states Eupenicillium and Talaromyces. CSIRO Division of Food Research, Academic Press, Harcourt Brace Jovanovich Publishers, London

Pitt JI, Hocking AD (2009) Fungi and food spoilage, 3rd edn. Springer, New York, p 519

Roberts BA, Patterson DSP (1975) Detection of twelve mycotoxins in mixed animal feed stuffs, using a novel membrane clean-up procedure. J Assoc Off Anal Chem 58:1178–1181

Bhajbujhe MN (2013) Biodiversity of fungal mycoflora in storage of Solanum melongena seeds L. Int J Life Sci 1:165–181

Peter M, Kiss E, Sabau M, Bedo C (1990) A study on the parasitic and fungal contamination of fruits and vegetables cultivated on soils irrigated with water from various sources. Rev IG Med Muncii Med Soc 39:31–37

Freire FCO, Kozakiewicz Z, Paterson RRM (2000) Mycoflora and mycotoxins in Brazilian black pepper, white pepper and Brazil nuts. Mycopathologia 149:13–19

Abdel-Sater MA, Saber SM (1999) Mycoflora and mycotoxins of some Egyptian dried fruits. Bull Fac Sci Assiut Univ 28:91–107

Alghalibi SMS, Shater AM (2004) Mycoflora and mycotoxin contamination of some dried fruits in Yemen Republic. Ass Univ Bull Environ Res 7:19–27

Khare KB, Khooanyana TM, Loeto D (2013) Mycological analysis of raisins retailing in supermarkets of Botswana. Int J Food Agric Vet Sci 3:26–31

European Commission (2006) Commission Regulation EC No. 1881/2006 of 19 December 2006 setting maximum levels for certain contaminants in foodstuffs. Official Journal of the European Union, EU publication, L 364/5

Morton SG, Eadie T, Lewellyn GC (1979) Aflatoxigenic potential of dried figs, apricots, pineapples and raisin. J Assoc Off Anal Chem 62:958–962

Celik B, Ozturk K (2000) Determination of possible means and levels of aflatoxin contamination in dried apricots and development an appropriate analysis method. Turkish General Directorate of Agricultural Research Project, TAGEM 99-01, p 54

Gunsen U, Buyukyoruk I (2002) Aflatoxins in retail products in Bursa, Turkey. Vet Hum Toxicol 44:289–290

Apergi E, Gardikis JP, Panagiotopoulou UY (1998) Occurrence of aflatoxins B1, B2, G1 and G2 in imported goods in Greece during 1995. In: Miraglia M, Van Egmond H, Brera C, Gilbert J (eds) Mycotoxins and phycotoxins-development in chemistry, toxicology and food safety. Alaken Inc, Seattle, pp 105–110

MAFF (Ministry of Agriculture, Fisheries and Food) (2002) Survey of nuts, nuts products and dried tree fruits for mycotoxins. Food Safety Information Bulletin No. 21. MAFF, London

Aksoy U, Dunbay O, Gulseri O (1995) Survey of aflatoxins and ochratoxin A in Turkish dried apricots. ISHS Acta Hortic 384:651–654

Abdulkadar HW, Al-Ali AA, Al-Kildi AM, Al-Jedah JH (2004) Mycotoxins in food products available in Qatar. Food Control 15:543–548

Musaiger AO, Al-Jedah JH, D'souza R (2008) Occurrence of contaminants in foods consumed in Bahrain. Food Control 19:854–861

Speijers GJA, Speijers MHH (2004) Combined toxic effects ofmycotoxins. Toxicol Lett 153:91–98

Senyuva HZ, Gilbert J, Samson RA, Ozcan S, Ozturkoglu S, Onal D (2008) Occurrence of fungi and their mycotoxins in individual Turkish dried figs. World Mycotoxin J 1:79–86

Ozbey F, Kabak B (2012) Natural co-occurrence of aflatoxins and ochratoxin A in spices. Food Control 28:354–361

Heperkan D, Guler FK, Oktay HI (2012) Mycoflora and natural occurrence of aflatoxin, cyclopiazonic acid, fumonisin and ochratoxin A in dried figs. Food Addit Contam 29:277–286

Prelle A, Spadaro D, Garibaldi A, Gullino ML (2014) Co-occurrence of aflatoxins and ochratoxin in spices commercialized in Italy. Food Control 39:192–197

Sedmikova M, Reisnerova H, Dufkova Z, Barta I, Zilek F (2001) Potential hazard of simultaneous occurrence of aflatoxin B1 and ochratoxin A. Vet Med 46:169–174

Sharma S, Gupta D, Sharma YP (2014) Natural incidence of aflatoxins, ochratoxin A, patulin and their co-occurrence in chilgoza pine nuts marketed in Jammu, India. Proc Natl Acad Sci India Sect B. doi:10.1007/s40011-014-0326-7
Acknowledgments
The authors are thankful to Heads of Department of Botany and Environmental Sciences for providing necessary laboratory facilities. Basic Research Fellowship (BSR) of UGC is gratefully acknowledged for providing the financial support for this research.
About this article
Cite this article
Gupta, D., Bala, P. & Sharma, Y.P. Evaluation of Fungal Flora and Mycotoxin Contamination in Whole Dried Apricots (Prunus armeniaca L.) from J&K, India. Proc. Natl. Acad. Sci., India, Sect. B Biol. Sci. 87, 81–87 (2017). https://doi.org/10.1007/s40011-015-0589-7
Received:

Accepted:

Published:

Issue Date:

DOI: https://doi.org/10.1007/s40011-015-0589-7
Keywords