Abstract
Fusarium basal rot (FBR) caused by Fusarium oxysporum f. sp. cepae (FOC) is a highly destructive soil borne disease incurring heavy damage in pre and post harvest onion and garlic crops worldwide. Only a few onion lines exhibit partial resistance against the pathogen and there is a need for identification of more effective resistance sources for use in breeding programmes. Selected sets of wild onion and garlic accession and seven related Allium species were screened for resistance to Fusarium basal rot using three FOC isolates. FOC infection revealed significant variation among the evaluated Allium species (at P = 0.001). A. sativum accession 'CBT-As153' showed high level of resistance to each isolate while A. cepa accession 'CBT-Ac77' exhibited intermediate resistance. Among related Allium species, A. fistulosum, A. roylei and A. schoenoprasum were highly resistant, A. tuberosum had mixed response while A. griffithianum was susceptible. Further, the root density of Allium species negatively correlated with disease incidence for different FOC isolates. Thus, the present study suggests that besides related Allium species, A. sativum 'CBT-As153' can be used as a potential donor of FBR resistance for genetic improvement of onion and garlic in India.
Access options
Buy single article
Instant access to the full article PDF.
USD 39.95
Price excludes VAT (USA)
Tax calculation will be finalised during checkout.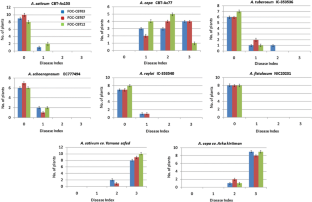 References
Smith C (2003) Genetic analysis of quercetin in Onion (Allium cepa L.) Laddy Raider. Texas J Agric Nat Resour 16:24–28

Corzo-Martinez M, Corzo N, Villamiel M (2007) Biological properties of onions and garlic. Trends Food Sci Technol 18(12):609–625

Cramer CS (2000) Breeding and genetics of Fusarium basal rot resistance in onion. Euphytica 115:159–166

Kik CKK, Gebhardt R (2001) Garlic and health. Nutr Metab Cardiovasc Dis 11:57–65

FAOSTAT (2010) Available at: http://faostat.fao.org/faostat/collections/subset/agriculture

Brayford D (1996) Fusarium oxysporum f. sp. cepae. Mycopathologia 133:39–40

Dissanayake M, Kashima R, Tanaka S, Ito SI (2009) Pathogenic variation and molecular characterization of Fusarium species isolated from wilted Welsh onion in Japan. J Gen Plant Pathol 75:37–45

Rajendran K, Ranganathan K (1996) Biological control of basal rot (Fusarium oxysporum f. sp. cepae) by combined application of fungal and bacterial antagonists. J Biol Control 10:97–102

Coskuntuna A, Ozer N (2007) Biological control of onion basal rot disease using Trichoderma harzianum and induction of antifungal compounds in onion set following seed treatment. Crop Prot 27:330–336

DeVisser C, Van den Broeck R, Van den Brink L (2006) Fusarium basal rot in the Netherlands. Veg Crops Res Bull 65:5–16

Kik C (2002) Exploitation of wild relatives for the breeding of cultivated Allium species. In: Robinowitch HD, Currah L (eds) Allium crop science: recent advances. CABI Publishing, Wallingford, pp 81–100

Galvan GA, Koning-Boucoiran CFS, Koopman WJM, Burger-Meijer K, Gonzalez PH, Waalwijk C, Scholten C (2008) Genetic variation among Fusarium isolates from onion, and resistance to Fusarium basal rot in related Allium species. Eur J Plant Pathol 121:499–512

Esfahani MN, Hosseini M, Sasehi A, Golkhandan E (2013) Screening of onion seeds for resistance against new Iranian isolates of Fusarium f. sp. cepae. Arch Phytopathol Plant Protect 46:1864–1873

Ganeshan G, Pathak CS, Veere Gowda B (1998) Reaction of onion lines to basal rot disease caused by Fusarium oxysporum f. sp. cepae. PKV Res J 25:53–54

Lopez JA, Cramer CS (2004) Screening short-day onion varieties for resistance to Fusarium basal rot. Acta Hortic 637:169–173

Saxena A, Cramer CS (2009) Screening of onion seedlings for resistance against New Mexico isolates of Fusarium oxysporium f. sp. cepae. J Plant Pathol 91:199–202

Gei PFC, Valdez JG, Piccolo RJ, Galmarini CR (2014) Influence of Fusarium spp. isolate and inoculum density on resistance screening test in onion. Trop Plant Pathol 39:19–27

Feuillet C, Travella S, Stein N, Albar L, Nublat A, Keller B (2003) Map-based isolation of the leaf rust disease resistance gene Lr10 from the hexaploid wheat (Triticum aestivum L.) genome. Proc Natl Acad Sci (USA) 100:15253–15258

Tek AL, Stevenson WR, Helgeson JP, Jiang J (2004) Transfer of tuber soft rot and early blight resistances from Solanum brevidens into cultivated potato. Theor Appl Genet 109:249–254

Cramer CS (2006) Onion trait heritability and response and response from selection. J Am Soc Hortic Sci 131:646–650

Ozer N, Koycu D, Chilosi D, Magro P (2004) Resistance to Fusarium basal rot of onion in greenhouse and field and associated expression of antifungal compounds. Phytoparasitica 32:388–395

Holz G, Knox-Davies PS (1974) Resistance of onion selections to Fusarium oxysporum f. sp. cepae. Phytophylactica 6:153–156

Kavitha PG, Thomas G (2007) Evaluation of Zingiberaceae for resistance to ginger rot caused by Pythium aphanidermatum (Edson) Fitzp. Plant Gen Resour Newsl 152:1–4

Zhang H, Mallik A, Zeng RS (2013) Control of Panama disease of Banana by rotating and intercropping with Chinese chive (Allium tuberosum R.): role of plant volatiles. J Chem Ecol 39:243–252

Kamoun S, Huitema E, Vleeshouwers VGAA (1999) Resistance to Oomycetes: a general role for the hypersensitive response. Trends Plant Sci 4:196–200

Van Raamsdonk LWD, Ensink W, van Heusden AW, Vrielink van Ginkel M, Kik C (2003) Biodiversity assessment based on cpDNA and crossability analysis in selected species of Allium subgenus Rhizidium. Theor Appl Genet 107:1048–1058

Konvicka O (1984) Generative Reproduktion von Knoblauch (Allium sativum). Allium Newsl 1:28–37

Etoh T, Simon PW (2002) Diversity, fertility and seed production of garlic. In: Robinowitch HD, Currah L (eds) Allium crop science: recent advances. CABI Publishing, Wallingford, pp 101–117
Acknowledgments
ER is grateful to Dept. of Science and Technology (DST), Government of India for financial support in the form of Junior Research Fellowship. The authors are thankful to Dr Patitapaban Dash for his help with statistical analysis and the President, Siksha O Anusandhan University for his guidance and support. The work is funded by research grant (SR/FT/LS-41/2012-13) from Science and Engineering Research Board (SERB), DST, Government of India.
Conflict of interests
The authors declare no conflict of interest.
Electronic supplementary material
Below is the link to the electronic supplementary material.
About this article
Cite this article
Rout, E., Tripathy, P., Nanda, S. et al. Evaluation of Cultivated and Wild Allium Accessions for Resistance to Fusarium oxysporum f. sp. cepae . Proc. Natl. Acad. Sci., India, Sect. B Biol. Sci. 86, 643–649 (2016). https://doi.org/10.1007/s40011-015-0506-0
Received:

Revised:

Accepted:

Published:

Issue Date:

DOI: https://doi.org/10.1007/s40011-015-0506-0
Keywords