Abstract
Significant variations in the multivariate morphometric analysis were observed in the sub-populations of freshwater murrel, Channa punctatus from two habitats characterized by different environmental conditions. A linear relationship was noted between different body measurements and total length of the fish in both the environments. The 14 morphometric parameters found to be significant (p < 0.05) in univariate (one way ANOVA) analysis were further subjected to multivariate analysis using principal component and discriminant function analysis. Principal component analysis indicated shape variation and accounted for 76 % of the total variance. In discriminant function analysis of the significantly different morphometric parameters, 96.9 % of cross-validated grouped cases were correctly classified and the sub-populations were discriminated. Parameters like dorsal fin length, snout length, inter-orbital length, pre-anal length, head length, pre-dorsal length and pre pectoral length were mainly responsible for variations and discrimination between the sub-populations in the discriminant function analysis. The fish from the two environments also deviated from the so called cube law which indicated the different growth rate in length-weight relationship study. Significant divergence in morphometric analysis revealed that intraspecific variations existed between the two sub-populations of C. punctatus. Therefore, these findings indicate the presence of two different stocks of C. punctatus.
Access options
Buy single article
Instant access to the full article PDF.
USD 39.95
Price includes VAT (USA)
Tax calculation will be finalised during checkout.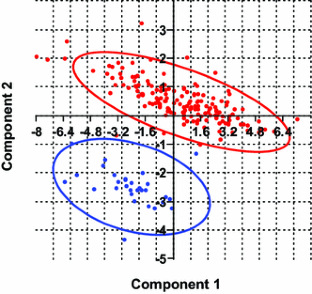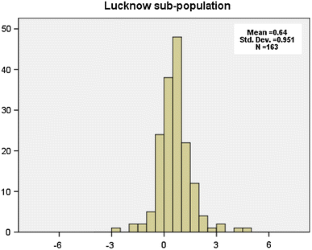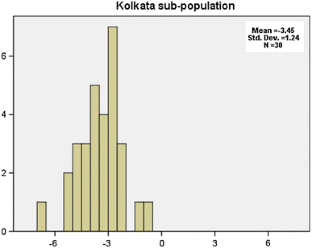 References
1.

Pethiyagoda R (1991) Freshwater fishes of Sri Lanka. Wildlife Heritage Trust of Sri Lanka, Colombo

2.

Rahman A (1989) Freshwater fisheries of Bangladesh. Zoological Society of Bangladesh, Bangladesh

3.

Froese R, Pauly D (2013) FishBase. World Wide Web electronic publication. www.fishbase.org, version (08/2013)

4.

Ghosh S (2006) Composition and distribution of lipids and fatty acids in two jeol fishes of West Bengal. Ph.D. thesis, University of Calcutta, Calcutta

5.

Cadrin SX (2000) Advances in morphometric identification of fishery stock. Rev Fish Biol Fisher 10:91–112. doi:10.1023/A:1008939104413

6.

Pepin P, Carr SM (1993) Morphological, meristic and genetic analysis of stock structure in juvenile atlantic cod (Gadus morhua) from the Newfoundland shelf. Can J Fish Aquat Sci 50:1924–1933. doi:10.1139/f93-215

7.

Serajuddin M (2004) Intraspecific diversity of riverine populations of spiny eel, Mastacembelus armatus. Appl Fish Aquac 4:25–29

8.

Turan C (2004) Stock identification of Mediterranean horse mackerel (Trachurus mediterraneus) using morphometric and meristic characters. ICES J Mar Sci 61:774–781. doi:10.1016/j.icesjms.2004.05.001

9.

Krumhoitz LA, Cavanah SH (1968) Comparative morphometry of freshwater drum from two mid western localities. Trans Am Fish Soc 97:429–441. doi:10.1577/1548-8659(1968)97[429:CMOFDF]2.0.CO;2

10.

Fowler JA (1970) Control of vertebral numbers in teleots-an embryological problem. Quart Res Biol 45:148–167. http://www.jstor.org/stable/2821325. Accessed 2 Nov 2013

11.

Fabrizio MC (1987) Growth-invarient discrimination and classification of striped bass stocks by morphometric and electrophoretic methods. Trans Am Fish Soc 116:728–736. doi:10.1577/1548-8659(1987)116<728:GDACOS>2.0.CO;2

12.

Schaefer KM (1991) Geographical variation in morphometric characters and gill-raker counts of yellowfin tuna, Thunnus albacares, from the Pacific Ocean. Fish Bull USA 91:690–698. http://fishbull.noaa.gov/892/schaefer.pdf. Accessed 2 Nov 2013

13.

Gislason D (1998) Genetic and morphological variation in polymorphic Arctic charr, Salvelinus alpinus from Icelandic lakes. M.Sc. thesis, University of Guelph, Guelph

14.

Anyanwu AO, Ugwumba OA (2003) Studies on the morphometric, meristic and electrophoresis patterns of Pseudotolithus species. Zoologist 2:70–77

15.

Eyo JE (2003) Congeneric discrimination of morphometric characters among members of the Pisces genus Clarias (Clariidae) in Anambra River, Nigeria. Zoologist 2:1–17

16.

Turan C, Yalcin S, Turan F, Okur F, Akyurt I (2005) Morphometric comparisons of African catfish, Clarias gariepinus populations in turkey. Folia Zool 54:165–172. http://www.ivb.cz/folia/contents/Content_obsah.htm. Accessed 2 Nov 2013

17.

Jayasankar P, Thomas PC, Paulton MP, Mathew J (2004) Morphometric and genetic analyzes of Indian mackerel (Rastrelliger kanagurta) from Peninsular India. Asian Fish Sci 17:201–215. http://eprints.cmfri.org.in/5744/1/jayasankar.pdf. Accessed 2 Nov 2013

18.

Sajina AM, Chakraborty SK, Jaiswar AK, Pazhayamadam DG, Sudheesan D (2011) Stock structure analysis of Megalaspis cordyla (Linnaeus, 1758) along the Indian coast based on truss network analysis. Fish Res 108:100–105. doi: http://dx.doi.org/10.1016/j.fishres.2010.12.006

19.

Ujjainia NC, Kohli MPS (2011) Landmark-based morphometric analysis for selected species of Indian major carp (Catla catla, Ham. 1822). Int J Food Agr Vet Sci 1:64–74. http://www.cibtech.org/J%20FOOD%20AGRI%20VETERINARY%20SCIENCES/PUBLICATIONS/2011/Vol%201%20No.%201/23-12-JFAV-Ujjaina.pdf. Accessed 30 Mar 2014

20.

Pathak BC, Mir JJ, Serajuddin M (2013) Morphometric variation among barred Spiny Eel, Macrognathus pancalus (Hamilton 1822) populations from the Ganges and Brahmaputra River Basin, India by Using Geomorphometrics. Res J Biol 3:15–20. http://www.jifro.ir/browse.php?a_code=A-10-600-10&slc_lang=en&sid=1. Accessed 2 Nov 2013

21.

Khan MA, Miyan A, Khan S (2012) Morphometric variation of snakehead fish, Channa punctatus, populations from three Indian rivers. J Appl Ichthyol 29:1–6. doi:10.1111/j.1439-0426.2012.02058.x

22.

Dars BA, Narejo NT, Awan KP (2012) Morphometric, meristic characters and their relationships in Channa punctatus (Bloch) from River Indus near Jamshoro Sindh, Pakistan. Sindh Univ Res J (Sci Ser) 44:91–96

23.

Mayr E (1942) Systematics and the origin of species from the viewpoint of a zoologist. Columbia University Press, New York

24.

Elliott NG, Haskard K, Koslow JA (1995) Morphometric analysis of orange roughy (Hoplostethus atlanticus) off the continental slope of Southern Australia. J Fish Biol 46:202–220. doi:10.1111/j.1095-8649.1995.tb05962.x

25.

Cadrin SX, Silva VM (2005) Morphometric variation of yellowtail flounder. ICES J Mar Sci 62:683–694. doi:10.1016/j.icesjms.2005.02.006

26.

LeCren ED (1951) The length weight relationship and seasonal cycle in gonad weight and condition in the perch (Perca fluviatilis). J Anim Ecol 21:210–219

27.

Corti M, Thorpe RS, Sola L, Sbordoni V, Cataudella S (1988) Multivariate morphometrics in aquaculture: a case study of six stocks of the common carp (cyprinus carpio) from Italy. Can J Fish Aquat Sci 45:1548–1554. doi:10.1139/f88-183

28.

Jolicoeur P, Mosimann JE (1960) Size and shape variation in the painted turtle: a principal component analysis. Growth 24:339–354

29.

Piska RS (1990) Racial analysis of carp minnow, Salmostoma clupeids (Bloch). Indian J Fish 37:265–268. http://210.212.232.213/ijf/result.asp. Accessed 2 Nov 2013

30.

Haniffa MA, Nagarajan M, Gopalkrishnan A (2006) Length–weight relationships of Channa punctata (Bloch, 1793) from Western Ghats Rivers of Tamil Nadu. J Appl Ichthyol 22:308–309. doi:10.1111/j.1439-0426.2006.00779.x
Acknowledgments
The authors thank the Head, Department of Zoology, University of Lucknow for providing laboratory facilities and one of the author is thankful to the Department of Science and Technology (DST-PURSE) for providing him fellowship. There is no conflict of interest between the authors on this publication.
About this article
Cite this article
Kashyap, A., Awasthi, M. & Serajuddin, M. Geographic Morphometric Variations of Freshwater Murrel, Channa punctatus from Northern and Eastern Parts of India. Proc. Natl. Acad. Sci., India, Sect. B Biol. Sci. 86, 367–373 (2016). https://doi.org/10.1007/s40011-014-0451-3
Received:

Revised:

Accepted:

Published:

Issue Date:
Keywords
Channa punctatus

Morphometric

Length-weight

Stocks