Abstract
A field experiment was conducted during 2008–2009 and 2009–2010 to investigate the effect of organic sources of nutrients on tuber bulking rate, grades and specific gravity of potato tubers. The experiment consisted 24 treatment combinations with 8 treatment in popcorn [control, recommended dose of fertilizers (N120P25K35 kg ha−1), farmyard manure equivalent to 120 kg N ha−1, leaf compost equivalent to 120 kg N ha−1, vermicompost equivalent to 120 kg N ha−1, farmyard manure equivalent to 90 kg N ha−1, leaf compost equivalent to 90 kg N ha−1 vermicompost equivalent to 90 kg N ha−1 in succeeding crop of potato, three treatments [control, farmyard manure equivalent to 60 kg N ha−1 and farmyard manure equivalent to 90 kg N ha−1] were superimposed on the different treatments of pop corn. It was found that the application of farmyard manure equivalent to120 kg N ha−1 to pop corn and farmyard manure equivalent in 90 kg N ha−1 in potato gave the highest values of tuber bulking rate, specific gravity, number of large–sized (A–grade) and medium–sized tubers (B–grade) and total tuber yield followed by vermicompost equivalent to to 120 kg N ha−1. Farmyard manure equivalent to 90 kg N ha−1 to potato also recorded the higher bulking rate, tuber yield, specific gravity and a number of large sized tubers (A– grade and B–grade) as compared to the farmyard manure equivalent to 60 kg N ha−1. The available N, P, and K in soil also improved with the application of organic manures.
Access options
Buy single article
Instant access to the full article PDF.
US$ 39.95
Tax calculation will be finalised during checkout.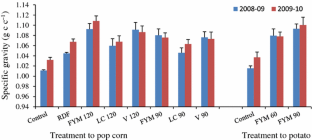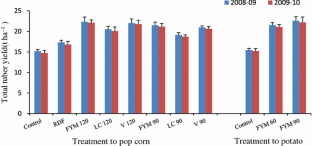 References
1.

Khurana PSM, Naik PS (2003) The Potato: an overview. In: Paul SM, Khurana JS, Minas, Pandy SK (ed) The potato production and utilization in Sub–tropics, Mehta Publication, New Delhi, pp 1–14

2.

Economic survey (2011) Ministry of finance, Government of India, pp 68

3.

FAI (2008) Fertilizer statistics. Fertilizer Association of India, New Delhi, pp 232–264

4.

Jenssen BH (1993) Integrated nutrient management: The use of organic and mineral fertilizer. In: Van Reuler H, Prins WH (eds) The role of plant nutrients for sustainable food crop production in Sub-Saharan Africa. Leidschendam, Netherlands, pp 89–105

5.

Palm CA, Myers RJK, Nandwa SM (1993) Combined use of organic and inorganic nutrient sources for soil fertility maintenance and replenishment. In: Sanchez PA, Calhoun E, Buresh RJ (eds) Replenishing soil fertility in Africa, Madison, pp 193–217

6.

Ilin Z, Durvra M, Markovic V, Branka Seferovic (1992) Yield and quality of young potato effected by irrigation and farm manure. Savremena Poljop Rivreda 40(1–2):211–215

7.

Abou MM, Hoda MA, Fawzy ZF (2005) Relationships, growth, yield of broccoli with increasing N, P and K ratio in a mixture of NPK fertilizers. Ann Agri Sci 43(2):791–805

8.

Upadhayay NC, Singh N, Rawal S, Kumar P (2003) Response of two potato cultivars to vermicompost and inorganic fertilizers. J Indian Potato Assoc 30:85–86

9.

Ibeawuchi LL, Opara FA, Tom CT, Obiefuna JC (2007) Graded replacement of inorganic fertilizer with organic manure for sustainable maize production in Owerri Imo State. Nigeria Life Sci J 4(2):82–87

10.

Pathak SK, Singh SB, Jha RN, Sharma R (2005) Effect of nutrients management on nutrient uptake and change in soil fertility in maize (Zea mays L.)–wheat (Triticum aestivum L.) cropping system. Indian. J Agron 50(4):269–273

11.

Kumar A, Gautam RC, Singh R, Rana KS (2005) Growth, yield and economics of maize (Zea mays L.)–wheat (Triticum aestivum L.) cropping sequences as influenced by integrated nutrient management. Indian J Agric Sci 75(11):709–711

12.

Ashoka P, Mudalagiriyappa, Pujari BT, Hugar PS, Desai BK (2008) Effect of micronutrient with or without organic manures on yield of baby corn (Zea mays L.)–chickpea (Cicer artietinumm L.) sequence. Karnataka J Agric Sci 21(4):485–487

13.

Jackson ML (1967) Soil chemical analysis. Prentice Hall of India Pvt Ltd, New Delhi

14.

Prasad R, Shivay YS, Kumar D, Sharma SN (2006) Learning by doing exercise in soil fertility—a practical manual for soil fertility. Division of Agronomy IARI, New Delhi

15.

Gomez KA, Gomez AA (eds) (1984) Statistical procedures for agricultural research. Wiley, New York

16.

Kumar A (2008) Direct and residual effect of nutrient management in maize (Zea mays L.)–wheat (Triticum aestivum L.) cropping system. Indian J Agron 53(1):37–41

17.

Singh SN, Singh BP, Singh OP, Singh R, Singh RK (2007) Effect of nitrogen application in conjunction with bio-inoculant on the growth, yield and quality of potato under Indo-Gangetic Plain region. Potato J 34:103–104

18.

Pervez MA, Muhammad F, Ullah E (2000) Effects of organic and inorganic manures on physical characteristics of potato (Solanum tuberosum L.). Int J Agric biol 2(1-2):34–36

19.

Upadhyay VB, Jain V, Vishwakarma SK, Kumar AK (2011) Production potential, soil health water productivity and economic of rice (Oryza sativa) based cropping system under different nutrients sources. Indian J Agron 56(4):311–316

20.

Moller K (2002) Agronomic challenges for organic potato production. In: Wenzel G, Wulfert I (ed) Potatoes today and tomorrow. Abstracts of the 15 Triennial Conference of the European Association of Potato Research, Munich Supplement. WPR Communication, Konigswinter, Germany, pp104

21.

Finckh MR, Schulte-Geldermann E, Bruns C (2006) Challenges to organic potato farming: disease and nutrient management. Potato Res 49:27–42

22.

Majumdar B, Venkatesh, Kumar K, Pantiram (2002) Effect of nitrogen, sulphur and pig manure application on yields, nutrient uptake and quality parameters of maize–mustard cropping rotation and residual nutrient buildup in an acidic Alfisol of Meghalaya. J Hill Res 15(2):63–70

23.

Mondal SS, Sarkar B (2005) Effect of integrated nutrient management on the growth and productivity of potato (Solanum tuberosum). Environ Econ 235:387–391

24.

Chettri M, Mondal SS, Roy B (2002) Influence of potassium and sulphur with or without FYM on growth, productivity and disease index of potato in soils. J Indian Potato Assoc 29(1–2):61–65

25.

Bhawalker US (1991) Vermiculture technology for LEISA. In: Seminar on low external input sustainable agriculture. Amsterdam, Netherland

26.

Zaman A, Sarkar A, Sarkar S, Dev WP (2011) Effect of organic and inorganic sources of nutrients on productivity, specific gravity and processing quality of potato (Solanum tuberosum). Indian J Agric Sci 81(12):1137–1142

27.

Edmendes CD (2003) The long–term effects of manures and fertilizers on soil productivity and quality: a review. Nutr Cycl Agro ecosys 66:165–180
Acknowledgments
The authors wish to acknowledge Indian Agricultural Research Institute (IARI), New Delhi for financial assistance.
About this article
Cite this article
Meena, B.P., Kumar, A., Dotaniya, M.L. et al. Effect of Organic Sources of Nutrients on Tuber Bulking Rate, Grades and Specific Gravity of Potato Tubers. Proc. Natl. Acad. Sci., India, Sect. B Biol. Sci. 86, 47–53 (2016). https://doi.org/10.1007/s40011-014-0398-4
Received:

Revised:

Accepted:

Published:

Issue Date:
Keywords
Bulking rate

Farmyard manure

Leaf compost

Specific gravity

Potato

Vermicompost