Abstract
Small ruminants are the host to different species of gastrointestinal nematodes and their epidemiology depends on the aspects of host–parasite relationship and the prevailing agro-climatic conditions. Haemonchus, Trichostrongylus, Bunostomum are highly prevalent in small ruminants of warmer climates, whereas Teladorsagia (Ostertagia), Nematodirus and Cooperia are responsible for severe diseases in small ruminants of temperate areas. This is, because of the fact that the free-living stages of these parasites are strongly affected by moisture conditions of the soil and the climate. Thus, extreme heat and cold are detrimental to development and survival, while, within tolerable limits, increasing temperature generally accelerates the development. Although nematodes of small ruminants are ubiquitous in all agro-climatic zones, their presence does not necessarily result in diseases. Various categories of anthelmintics decrease the level of infection and reduce the egg output of these parasites, whereas grazing management lowers the level of larval exposure to host. Usually the treatment regimes of gastrointestinal nematodes are based on extrapolation of epidemiological studies carried out elsewhere, although the control strategies designed for one geo-climatic region and farming system may not necessarily be appropriate for all agro-ecological zones and farming systems. This paper reviews the current epidemiology, control of gastrointestinal nematode infections of small ruminants and the current alternatives to conventional anthelmintics to control gastrointestinal nematode infections with an emphasis on the inevitable rise of anthelmintic resistance and the suggestions that need to be considered for the future integrated control of these nematode infections in small ruminants.
Access options
Buy single article
Instant access to the full article PDF.
US$ 39.95
Tax calculation will be finalised during checkout.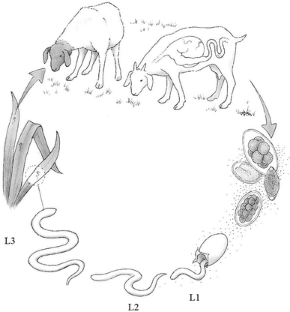 References
1.

Odoi A, Gathuma JM, Gachuiri CK, Omore A (2007) Risk factors of gastrointestinal nematode parasite infections in small ruminants kept in smallholder mixed farms in Kenya. Vet Res 3:6

2.

Barger IA (1999) The role of epidemiological knowledge and grazing management for helminth control in small ruminants. Int J Parasitol 29:41–47

3.

Vlassoff A, Leathwick DM, Heath AC (2001) The epidemiology of nematode infections of sheep. NZ Vet J 49:213–221

4.

Uriarte J, Liorente MM, Valderrabano J (2003) Seasonal changes of gastrointestinal nematode burden in sheep under an intensive grazing system. Vet Parasitol 118:79–92

5.

Regassa F, Sori T, Dhuguma R, Kiros Y (2006) Epidemiology of gastrointestinal parasites of ruminants in western Oromia, Ethiopia. Int J Appl Res Vet Med 4:51–57

6.

Sissay MM, Uggla A, Waller PJ (2007) Epidemiology and seasonal dynamics of gastrointestinal nematode infections of sheep in a semi-arid region of eastern Ethiopia. Vet Parasitol 143:311–321

7.

Gordon HM (1948) The epidemiology of parasitic diseases, with special reference to studies with nematode parasites of sheep. Aus Vet J 24:17–45

8.

Armour J (1980) The epidemiology of helminth diseases in farm animals. Vet Parasitol 6:7–46

9.

Michel JF (1976) The epidemiology and control of some nematode infections in grazing animals. Adv Parasitol 14:355–397

10.

Williams JC, Knox JW (1988) Epidemiology of Ostertagia ostertagi in warm temperate regions of the United States. Vet Parasitol 27:23–38

11.

Bali K, Singh RP (1977) Studies on the prevalence of Haemonchus contortus in sheep and goat in Hisar. Haryana Agric Univ J Res 7:143–148

12.

Arora N, Kumar A, Sharma SD (2003) Prevalence of Haemonchus infection in goats under semi-intensive system. Ind J Anim Sci 73:1200–1201

13.

Soundararajan C, Iyue M (2003) Seasonal prevalence of helminthic infection of sheep in Nilgiris hills. Ind J Small Rumin 9:144–164

14.

Thangathurai R, Rao DGK, Thimma Reddy PM (2003) Prevalence of enteric parasitism in sheep and goats in and around bidder. Ind Vet J 80:72–73

15.

Hassan SS, Kaur K, Juyal PD (2005) Epidemiology of paramphistomosis in domestic ruminants in different districts of Punjab and other adjoining areas. J Vet Parasitol 19:43–46

16.

Dhar DN, Sharma RL, Bansal GC (1982) Gastrointestinal nematodes in sheep in Kashmir. Vet Parasitol 11:271–277

17.

Pandit BA, Shadardar RA, Darzi MM, Banday MAA, Bhat AS (2003) Survey of gastrointestinal nematodes in sheep of Kashmir Valley. Ind J Small Rumin 9:39–42

18.

Nasreen S, Jeelani SG, Hakeem M (2005) Incidence of gastrointestinal nematodes in sheep in Kashmir Valley. J Vet Parasitol 19:27–29

19.

Tariq KA, Chishti MZ, Ahmad F, Shawl AS (2008) Epidemiology of gastrointestinal nematodes of sheep managed under traditional husbandry system in Kashmir valley. Vet Parasitol 158:38–143

20.

Tariq KA, Chishti MZ, Ahmad F (2010) Gastro-intestinal nematode infections in goats relative to season, host gender and age from the Kashmir valley, India. J Helminthol 84:93–97

21.

Coles GC, Bauer C, Borgsteede FHM, Geerts S, Klei TR, Taylor MA, Waller PJ (1992) World association for the advancement of veterinary parasitology (WAAVP) methods for the detection of anthelmintic resistance in nematodes of veterinary importance. Vet Parasitol 44:35–44

22.

Bergquist R, Johansen MV, Utzinger J (2009) Diagnostic dilemmas in helminthology: what tools to use and when? Trends in Parasitol 25:151–156

23.

Sangstera N, Batterhamb P, David H, Chapmanc H, Duraisinghd M, Le Jambree L, Shirleyf M, Upcroftg J, Upcroft P (2002) Resistance to antiparasitic drugs: the role of molecular diagnosis. Int J Parasitol 32:637–653

24.

Soulsby EJL (1982) Helminths, arthropods and protozoa of domesticated animals, 7th edn. The English Language Book Society and Bailliere Tindall, London

25.

Christie MG (1962) On the hatching of Nematodirus battus, with some remarks on N. filicolis. Parasitol 52:297–313

26.

Magona JW, Musisi G (2002) Influence of age, grazing system, season and agroclimatic zone on the prevalence and intensity of gastrointestinal strongylosis in Ugandan goats. Small Rumin Res 44:187–192

27.

Sissay MM (2007) Helminth parasites of sheep and goats in eastern Ethiopia: Epidemiology, and anthelmintic resistance and its management. Doctoral thesis, Swedish University of Agricultural Sciences, Uppsala, Sweden. p. 16–17.

28.

Wall R, Morgan E (2009) Veterinary parasitology and climate change. Vet Parasitol 4775:1

29.

Kenyon F, Sargison ND, Skuce PJ, Jackson F (2008) Sheep helminth parasitic disease in south eastern Scotland arising as a possible consequence of climate change. Vet Parasitol 163:293–297

30.

Gorski P, Niznikowski R, Strzelec E, Popielarczyk D, Gajewska A, Wedrychowicz H (2004) Prevalence of protozoan and helminth internal parasite infections in goat and sheep flocks in Poland. Arch Tierz Dummerstorf 47:43–49

31.

Broughan JM, Wall W (2007) Faecal soiling and gastrointestinal helminth infection in lambs. Int J Parasitol 37:1255–1268

32.

French NP, Berriatua E, Kaya G, Morgan KL (1998) Case control study of diarrhoea and faecal soiling in 2–6 month-old lambs. Vet Record 143:408–412

33.

Allerton GR, Gogolewski RP, Rugg D, Plue RE, Barrick RA, Eagleson JS (1998) Field trials evaluating ivermectin controlled release capsules for weaner sheep and breeding ewes. Aus Vet J 76:39–43

34.

French NP, Parkin TDH, Morgan KL (1996) A case control study of blowfly strike in lambs. Vet Record 139:384–388

35.

Lutzelschwab CM, Fiel CA, Pedonesse SI, Najile R, Rodriguez E, Steffan PE, Saumell C, Fuse L, Iglesias L (2005) Arrested development of Ostertagia ostertagi: effect of the exposure of infective larvae to natural spring conditions of the humid Pampa (Argentina). Vet Parasitol 127:253–262

36.

Michel JF, Lancaster MB, Hong C (1978) Arrested development of Ostertagia ostertagi and Cooperia oncophora: effect of the time of year on the conditioning and deconditioning of infective larvae. J Comp Pathol 88:131–136

37.

Sargison ND, Wilson DJ, Bartley DJ, Penny CD, Jackson F (2007) Haemonchosis and teladorsagiosis in a Scottish sheep flock putatively associated with the overwintering of hypobiotic fourth stage larvae. Vet Parasitol 147:326–331

38.

Papadopoulos E, Arsenos G, Sotiraki S, Deligiannis C, Lainas T, Zygoyiannis D (2003) The epizootiology of gastrointestinal nematode parasites in Greek dairy breeds of sheep and goats. Small Rumin Res 47:193–202

39.

Khajuria JK, Kapoor PR (2003) Prevalence of parasites in sheep and goats at Kathua-Jammu. J Vet Parasitol 17:121–126

40.

Abebe W, Esayas G (2001) Survey of ovine and caprine gastrointestinal helminthosis in eastern part of Ethiopia during the dry season of the year. Revue Med Vet 152:379–384

41.

Armour J, Coop RL (1991) Pathogenesis and Control of Gastrointestinal Helminthiasis. In: Martin WB, Aitken ID (eds) Diseases of sheep, 2nd edn. Blackwell Scientific Publications, Oxford, pp 122–130

42.

Fox MT (1993) Pathophysiology of infection with Ostertagia ostertagi in cattle. Vet Parasitol 46:143–158

43.

Vercruysse J, Claerebout E (2001) Treatment vs non-treatment of helminth infections in cattle: defining the threshold. Vet Parasitol 98:195–214

44.

Love SCJ, Hutchinson GW (2003) Pathology and diagnosis of internal parasites in ruminants. In: Gross pathology of ruminants, Proceedings 350, Post Graduate Foundation in Veterinary Science, University of Sydney, Sydney. Chapter 16, p. 309–338.

45.

Burke JM, Kaplan RM, Miller JE, Terrill TH, Getz WR, Mobini S, Valencia E, Williams MJ, Williamson LH, Vatta AF (2007) Accuracy of the FAMACHA system for on-farm use by sheep and goat producers in the southeastern United States. Vet Parasitol 147:89–95

46.

Coop RL, Holmes PH (1996) Nutrition and parasite interaction. Int J Parasitol 26:951–962

47.

Dimander SO (2003) Epidemiology and control of gastrointestinal nematodes in first season grazing cattle in Sweden. Doctoral Thesis to Swedish University of Agricultural Sciences Uppsala. doi: 10.1016/j.vetpar.2009.03.023

48.

Waller PJ (1999) International approaches to the concept of integrated control of nematode parasites of livestock. Int J Parasitol 29:155164

49.

Silvestre A, Leignel V, Berrag B, Gasnier N, Humbert JF, Chartier C, Cabaret J (2002) Sheep and goat nematode resistance to anthelminthics: pro and cons among breeding management factors. Vet Res 33:465–480

50.

Dimander S, Höglund J, Uggla A, Spörndly E, Waller PJ (2009) Evaluation of gastro-intestinal nematode parasite control strategies for first-season grazing cattle in Sweden. Vet Parasitol 111:193–209

51.

Cabaret J, Benoit M, Laignel G, Nicourt C (2009) Current management of farms and internal parasites by conventional and organic meat sheep French farmers and acceptance of targeted selective treatments. Vet Parasitol 164:21–29

52.

Githiori JB, Athanasiadou S, Thamsborg SM (2006) Use of plants in novel approaches in control of gastrointestinal helminthes in live stock with emphasis on small ruminants. Vet Parasitol 139:308–320

53.

Jabbar A, Iqbal Z, Kerboeuf D, Muhammad G, Khan MN, Afaq M (2006) Anthelmintic resistance: the state of play revisited. Life Sci 79:2413–2431

54.

Maciel MV, Morais SM, Bevilaqua CML, Camurc¸a-Vasconcelos ALF, Costa CTC, Castro CMS (2006) Ovicidal and larvicidal activity of Melia azedarach extracts on Haemonchus contortus. Vet Parasitol 140:98–104

55.

Burke JM, Miller JE (2008) Dietary copper sulfate for control of gastrointestinal nematodes in goats. Vet Parasitol 154:289–293

56.

Riley DG, Van Wyk JA (2009) Genetic parameters for FAMACHA score and related traits for host resistance/resilience and production at differing severities of worm challenge in a Merino flock in South Africa. Vet Parasitol 164:44–52

57.

Reynecke P, Van Wyk JA, Gummow B, Dorny P, Boomke J (2011) Application of ROC curve analysis to FAMACHA© evaluation of haemonchosis on two sheep farms in South Africa. Vet Parasitol 177:224–230

58.

van Wyk JA (2001) Refugia–overlooked as perhaps the most potent factor concerning the development of anthelmintic resistance. Onderpest J Vet Res 68:55–67

59.

Kaplan RM, Burke JM, Terill TH, Miller JE, Getz WR, Mobini S, Valencia E, Williams MJ, Williamson LH, Larsen M, Vatta AF (2004) Validation of the FAMACHA© eye colour chart for detecting clinical anaemia in sheep and goats on farms in the southern United States. Vet Parasitol 123:105–120

60.

Iqbal Z, Lateef M, Jabbar A, Mohammad G, Khan MN (2005) Anthelmintic activity of Calotropis procera (Ait) Ait F. flowers in sheep. J Ethnopharmacol 102:256–261

61.

Iqbal Z, Lateef M, Akhter MS, Gayur MN, Gilani AH (2006) In vivo anthelmintic activity of ginger against gastrointestinal nematodes of sheep. J Ethnopharmacol 106:285–287

62.

Githiori JB, Hoglund J, Waller PJ, Baker RL (2003) The anthelmintic efficacy of the plant, Albizia anthelmintica, against the nematode parasites Haemonchus contortus of sheep and Heligmosomoides polygyrus of mice. Vet Parasitol 116:23–34

63.

Githiori JB, Hoglund J, Waller PJ, Baker RL (2004) Evaluation of anthelmintic properties of some plants used as livestock dewormers against Haemonchus contortus infections in sheep. Parasitol 129:245–253

64.

Eguale T, Tilahun G, Debella A, Feleke A, Makonnen E (2007) In vitro and in vivo anthelmintic activity of crude extracts of Coriandrum sativum against Haemonchus contortus. J Ethnopharmacol 110:428–433

65.

Waghorn GC, McNabb WC (2003) Consequences of plant phenolic compounds for productivity and health of ruminants. Proc Nutr Soc 62:383–392

66.

Waller PJ, Bernes G, Thamsborg SM, Sukura A, Richter SH, Ingebrigtsen K, Hoglund J (2001) Plants as de-worming agents of livestock in the Nordic countries: historical perspective, popular beliefs and prospects for the future. Acta Vet Scand 42:31–44

67.

Tariq KA, Chishti MZ, Ahmad F, Shawl AS (2009) Anthelmintic activity of extracts of Artemisia absinthium against ovine nematodes. Vet Parasitol 160:83–88

68.

Knox MR, Faedo M (2001) Biological control of field infections of nematode parasites of young sheep with Duddingtonia flagrans and effects of spore intake on efficacy. Vet Parasitol 101:155–160

69.

Go´mez-Rinco´n C, Uriarte J, Valderra´bano J (2006) Efficiency of Duddingtonia flagrans against trichostrongyle infections of sheep on mountain pastures. Vet Parasitol 141:84–90

70.

Faessler H, Torgerson PR, Hertzberg H (2007) Failure of Duddingtonia flagrans to reduce gastrointestinal nematode infections in dairy ewes. Vet Parasitol 147:96–102

71.

Larsen M (2000) Prospects for controlling animal parasitic nematodes by predacious microfungi. Parasitol 120:121–131

72.

Ilieva-Makulec K, Makulec G (2002) Effect of the earthworm Lumbricus rubellus on the nematode community in a peat meadow soil. Europian J Soil Bio 38:59–62

73.

Scown J, Baker G (2006) The influence of livestock dung on the abundance of exotic and native earthworms in a grassland in south-eastern Australia. Europian J Soil Biol 42:S310–S315

74.

Larsen M, Nansen P, Onvold JG, Wolstrup J, Henriksen SA (1997) Biological control of gastro-intestinal nematodes—facts, future, or fiction? Vet Parasitol 72:470–492

75.

Stromberg BE, Averbeck GA (1999) The role of parasite epidemiology in the management of grazing cattle. Int J Parasitol 29:33–39

76.

Shaw KL, Nolan JV, Lynch JJ, Coverdale OR, Gill HS (1996) Effects of weaning, supplementation and gender on acquired immunity to Haemonchus contortus in lambs. Int J Parasitol 25:381–387

77.

Niezen JH, Waghorn GC, Charleston WAG (2002) Establishment and fecundity of Ostertagia circumcincta and Trichostrongylus colubriformis in lambs fed Lotus (Lotus pedunculatus) or perennial rye grass (Lolium perenne). Vet Parasitol 78:13–21

78.

Kyriazakis I, Oldham JD, Coop RL, Jackson F (1994) The effect of subclinical intestinal nematode infection on the diet selection of growing sheep. British J Nutr 72:665–677

79.

Stear MJ, Murray M (1994) Genetic resistance to parasitic disease: particularly of resistance in ruminants to gastrointestinal nematodes. Vet Parasitol 54:161–176

80.

Jackson F, Miller J (2006) Alternative approaches to control—Quo vadit? Vet Parasitol 139:371–384

81.

Aumont G, Gruner L (1989) Population evolution of the free-living stage of goat gastrointestinal nematodes on herbage under tropical conditions in Guadeloupe (French West Indies). Int J Parasitol 19:539–546

82.

Paolini V, Bergeaud JP, Grisez C, Prevot F, Dorchies P, Hoste H (2003) Effects of condensed tannins on goats experimentally infected with Haemonchus contortus. Vet Parasitol 113:253–261

83.

Mahieu M, Arquet R, Kandassamy T, Mandonnet N, Hoste H (2007) Evaluation of targeted drenching using Famachal (c) method in Creole goat: reduction of anthelmintic use and effects on kid production and pasture contamination. Vet Parasitol 146:135–147
Acknowledgments
The author is thankful to Prof. M Z Chishti, Professor Emeritus, Centre for Research and Development, University of Kashmir for the helpful comments on the manuscript.
About this article
Cite this article
Tariq, K.A. A Review of the Epidemiology and Control of Gastrointestinal Nematode Infections of Small Ruminants. Proc. Natl. Acad. Sci., India, Sect. B Biol. Sci. 85, 693–703 (2015). https://doi.org/10.1007/s40011-014-0385-9
Received:

Revised:

Accepted:

Published:

Issue Date:
Keywords
Gastrointestinal

Nematodes

Epidemiology

Control

Management

Pathogenicity