Abstract
Results of a cage aquaculture experiment conducted in Charan beel (a floodplain wetland), district Morigaon, Assam, India to determine optimum stocking density of Labeo rohita fry are discussed. Locally available bamboo and other low-cost construction materials were used for constructing a battery of ten cages (individual cage dimensions 2 × 2 × 2 m and effective water volume 6 m3). Labeo rohita fry (average length 4.0 ± 0.04 cm, average weight 1.05 ± 0.03 g) were stocked at five different stocking densities, viz. 50 (SD1), 100 (SD2), 150 (SD3), 200 (SD4) and 250 (SD5) fry/m3 with two replicates each. Reared fry were fed twice daily with a formulated feed containing 33.16 % crude protein for 2 months. The physico-chemical parameters of sediment were not significantly (p > 0.05) affected by stocking density. Different stocking densities significantly (p < 0.05) affected the growth parameters of reared fish. The final weight, weight gain percent and specific growth rate were highest in the lowest stocking density of 50 fry/m3. These responses remained unaffected (p > 0.05) at SD2 to SD4, but at SD5 there was significant reduction of growth. Feed conversion ratio, protein efficiency ratio, apparent net protein utilization and energy retention value were adversely affected with the increase in stocking densities. The net benefit and benefit-cost ratio were highest in SD4. Therefore, economics of cage culture was considered as the most important criterion in judging SD4 (200 fry/m3) to be the optimal stocking density for raising L. rohita fry in cages in seasonally open floodplain wetlands of Assam, India.
Access options
Buy single article
Instant access to the full article PDF.
US$ 39.95
Tax calculation will be finalised during checkout.
Subscribe to journal
Immediate online access to all issues from 2019. Subscription will auto renew annually.
US$ 79
Tax calculation will be finalised during checkout.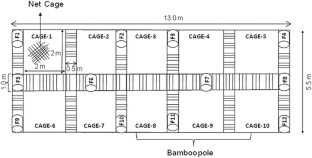 References
1.

Pathak V, Tyagi RK, Singh B (2004). Ecological status and production dynamics of wetlands of Uttar Pradesh. Bulletin No. 131, Central Inland Fisheries Research Institute, Barrackpore

2.

ARSAC (1997) Report of wetlands of Assam. Assam Remote Sensing Application Centre, Guwahati

3.

Sugunan VV, Vinci GK, Bhattacharjya BK, Hassan MA (2000) Ecology and fisheries of beels in West Bengal. Bulletin No. 103, Central Inland Fisheries Research Institute, Barrackpore

4.

Bhattacharjya BK, Sarma KK (2010) Stock enhancement practices followed in floodplain wetlands (beels) of Barak valley. Assam Environ Ecol 28(2B):1396–1399

5.

Sugunan VV, Bhattacharjya BK (2000) Ecology and fisheries of beels in Assam. Bulletin No. 104, Central Inland Fisheries Research Institute, Barrackpore. p 53

6.

Smith HT, Schreck CB, Maughan OE (1978) Effect of population density and feeding rate on the fathead minnow (Pimephales promelas). J Fish Biol 12:449–455

7.

Haque MZ, Rahman MA, Hossain MM, Rahman MA (1994) Effect of stocking densities on the growth and survival of mirror carp, Cyprinus carpio var. specularis in rearing ponds. Bangladesh J Zool 22:109–116

8.

El-Sayed A (2002) Effects of stocking density and feeding levels on growth and feed efficiency of Nile tilapia (Oreochromis niloticus L.) fry. Aquac Res 33:621–626

9.

Kohli MPS, Ayyappan S, Langer RK, Dubey K, Prakash C, Reddy AK, Deshmukhe G (2002) Cage culture of carps, Labeo rohita and Cyprinus carpio at Powai lake, Mumbai, Maharashtra. Appl Fish Aquac 2:1–4

10.

Bhattacharjya BK, Manna RK, Sarma KK, Biswas A (2008) Growth performance of Indian major and minor carps in cage aquaculture for raising stocking materials in Puthimari beel, Assam. J Inland Fish Soc India 40:93–98

11.

APHA (1998) Standard methods for the examination of water and wastewater (20th edition). American Water Works Association, Water Environment Federation, Washington, DC, USA

12.

Walkley A, Black IA (1934) An examination of the Degtjareff method for determining organic matter and a proposed modification of the chromic and titration method. Soil Sci 37:29–38

13.

Subbiah BV, Asija GL (1956) A rapid procedure for estimation of available nitrogen in soils. Curr Sci 25:259–260

14.

Bray RH, Kurtz LT (1945) Development of total organic and available forms of phosphorus in soils. Soil Sci 59:39–45

15.

Jackson ML (1967) Soil chemical analysis. Prentice Hall of India, New Delhi

16.

AOAC (1995) Official methods of analysis of the association of official analytical chemists, 16th edn. AOAC International, Arlington

17.

Halver JE (1976) The nutritional requirements of cultivated warm water and coldwater fish species. Paper no. 31.In: FAO Technical Conference on Aquaculture, Kyoto, Japan, p 9

18.

Pfuderer P, Williams P, Francis AA (1973) Partial purification of the crowding factor from Carassius auratus and Cyprinus carpio. J Exp Zool 183:375–382

19.

Chua TE, Teng SK (1978) Effect of feeding frequency on growth of young estuary grouper Epinephelus salmoides Maxwell, cultured in floating net cages. Aquaculture 14:31–47

20.

Essa MA, Nour AM (1988) Effect of stocking density and supplementary feeding on growth rate, food utilization and cost of tilapia hybrid production (Oreochromis niloticus X O. aureus) in cages. Proceedings of first conference for development of fisheries research, Alexandria, Egypt, 6–8 August, 1988. p 75–82

21.

Cruz EM, Ridha M (1991) Production of the tilapia (Oreochromis spiluris. Gunther) stocked at different densities in sea cages. Aquaculture 99:95–103

22.

Robinson EH, Li MH, Manning BB (2003) How a catfish reaches commercial weight is key to composition. Catfish J 18:12–15

23.

Catacutan MR, Coloso RM (1995) Effect of dietary protein to energy ratios on growth, survival and body composition of juvenile Asian seabass, Lates calcarifer. Aquaculture 131:125–133

24.

Yousif OM, Osman MF, Anwahi AA, Cherian T (1996) Optimum protein-to-energy ratio for two size groups of rabbitfish, Siganus canaliculatus (Park). Aquac Nutr 2:229–233

25.

Adelman IR (1978) Influence of temperature on growth promotion and body composition of carp, Cyprinus carpio due to bovine growth hormone. Trans Am Fish Soc 107:747–750

26.

Metusalach J, Brown A, Shahidi F (1999) Effects of stocking density on composition and performance of reared Arctic Charr (Salvelinus alpines). J Aquat Food Prod Technol 8:39–57

27.

Boyd CE (1982) Water quality management for pond fish culture. Elsevier, The Netherlands, p 318

28.

ASI (1999) Literature review of the environmental impacts of caged aquaculture. ASI project E9708, G.B.A. Foundation. pp 22

29.

McGinty AS (1991) Tilapia production in cages: effects of cage size and number of non-caged fish. Progress Fish-Cult 53:246–249
Acknowledgments
The financial support offered by Indian Council of Agricultural Research, New Delhi, India to carry out the work is gratefully acknowledged. The authors also thank the Assam Fisheries Development Corporation, Guwahati, their field staff and the lessee of Charan beel for providing help and assistance in carrying out the experiment.
About this article
Cite this article
Biswas, P., Kohli, M.P.S., Chadha, N.K. et al. Optimizing Stocking Density of Labeo rohita Fry in Cage Aquaculture System as a Tool for Floodplain Wetland Fisheries Management. Proc. Natl. Acad. Sci., India, Sect. B Biol. Sci. 85, 181–190 (2015). https://doi.org/10.1007/s40011-014-0343-6
Received:

Revised:

Accepted:

Published:

Issue Date:
Keywords
Labeo rohita

Cage culture

Stocking density

Growth

Floodplain wetland