Abstract
Simmondsia chinensis (Link) Schneider is a dioecious shrub in which female plants are economically more important than the male plants, as seeds produced by the female plants store liquid wax ester that is extensively used in cosmetic industry. Sex of jojoba individuals can be determined only at flowering stage which comes after 3–4 years of seeding. Since, population of jojoba is male biased, so, to identify female plants at seedling stage, more reliable and robust male-specific sequence characterized amplified region marker was developed from male-specific inter-simple sequence repeat marker. During homology searching, no DNA sequence with significant similarity to male-specific inter-simple sequence repeat marker was found in non-redundant database of National Center for Biotechnology Information. Sequence characterized amplified region primer pair designed, based on the sequence of inter-simple sequence repeat marker, (GenBank accession no. HQ166029.1) amplified a fragment approx. 1000 bp in male plants only. This fragment was completely absent in female plants. Authentication of marker was done by using samples taken from two provinces of India.
Access options
Buy single article
Instant access to the full article PDF.
USD 39.95
Price includes VAT (USA)
Tax calculation will be finalised during checkout.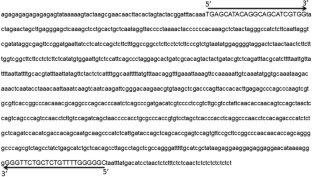 References
1.

Al-Obaidi JR, Suliman BK, Al-Ani NK (2012) Molecular-based marker for sex determination of jojoba in vivo and in vitro Iraqi cultivars using RAPD-PCR technique. Sci Res Essays 7(4):522–527

2.

Hosseini FS, Hassani HS, Arvin MJ, Baghizadeh A, Mohammadi-Nejad G (2011) Sex determination of jojoba (Simmondsia chinensis cv. Arizona) by random amplified polymorphic DNA (RAPD) molecular markers. Afr J Biotechnol 10(4):470–474

3.

Agrawal V, Sharma K, Gupta S, Kumar R, Prasad M (2007) Identification of sex in Simmondsia chinensis (jojoba) using RAPD markers. Plant Biotechnol Rep 1(4):207–210

4.

Parasnis AS, Gupta VS, Tamhankar SA, Ranjekar PK (2000) A highly reliable sex diagnostic PCR assay for mass screening of papaya seedlings. Mol Breed 6:337–344

5.

Mohasseb HAA, Moursy HA, El-Bahr MK, Adam ZM, El-Din Solliman M (2009) Sex determination of jojoba using RAPD markers and Sry gene primer combined with RAPD primers. Res J Cell Mol Biol 3(2):102–112

6.

Sharma K, Sharma V, Gupta S, Kumar R, Prasad M (2008) ISSR marker-assisted selection of male and female plants in a promising dioecious crop: jojoba (Simmondsia chinensis). Plant Biotechnol Rep 2:239–243

7.

Ince AG, Karaca M, Onus AN (2010) A reliable gender diagnostic PCR assay for jojoba (Simmondsia chinensis (Link) Schneider). Genet Resour Crop Evol 5:773–779

8.

Hardrys H, Balick M, Schierwater B (1992) Applications of random amplified polymorphic DNA (RAPD) in molecular ecology. Mol Ecol 1:55–63

9.

Gill GP, Harvey CF, Gardner RC, Fraser LG (1998) Development of sex-linked PCR markers for gender identification in Actinidia. Theor Appl Genet 97:439–445

10.

Kiran U, Khan S, Mirja KJ, Ram M, Abdin MZ (2012) SCAR markers: a potential tool for authentication of herbal drugs. Fitoterapia 81:969–976

11.

Jiang C, Sink KC (1997) RAPD and SCAR markers linked to the sex expression locus M in asparagus. Euphytica 94:329–333

12.

Liao L, Liu J, Dai Y, Li Q, Xie M, Chen Q, Yin H, Qiu G, Liu X (2009) Development and application of SCAR markers for sex identification in the dioecious species Ginkgo biloba L. Euphytica 169:49–55

13.

Paran I, Michelimore RW (1993) Development of reliable PCR based markers linked to downey mildew resistance genes in lettuce. Theor Appl Genet 85:985–993

14.

Murray MG, Thompson WF (1980) Rapid isolation of high molecular weight plant DNA. Nucleic Acid Res 8:4321–4326

15.

Saghai-Maroof MA, Soliman KM, Jorgensen RA, Allerd RW (1984) Ribosomal spacer length polymorphism in barley: mendelian inheritance, chromosomal location and population dynamics. Proc Natl Acad Sci 81:8014–8018

16.

Brinboim HC, Doly J (1979) A rapid alkaline extraction procedure for screening recombinant plasmid DNA. Nucl Acids Res 7:1513–1523

17.

Li M, Yang H, Li F, Yang F, Yin G, Gan S (2010) A male-specific SCAR marker in Calamus simplicifolius, a dioecious rattan species endemic to China. Mol Breed 25:549–551
Acknowledgments
Authors are highly thankful to CCS Haryana Agricultural University, Hisar, India for providing financial assistance during course of research.
About this article
Cite this article
Jangra, S., Kharb, P., Mitra, C. et al. Early Diagnosis of Sex in Jojoba, Simmondsia chinensis (Link) Schneider by Sequence Characterized Amplified Region Marker. Proc. Natl. Acad. Sci., India, Sect. B Biol. Sci. 84, 251–255 (2014). https://doi.org/10.1007/s40011-013-0226-2
Received:

Revised:

Accepted:

Published:

Issue Date:
Keywords
Simmondsia chinensis

Homology searching

Dioecious

GenBank

Sequence characterized amplified region