Abstract
Rapid and unplanned urbanization of cities has been a cause of great concern world over. Increased urbanization has immensely altered the Land Use pattern of several Indian cities, thereby altering the physical properties of the land surface. The pronounced effect of urban heat island (UHI) apart from the acute stress on limited natural resources are consequences of this rapid urbanization. UHI effect manifests as unexpected rise in city temperatures when compared to their surrounding areas, thus making them unfriendly for habitation over time. The present work analyses the effect of UHI on Bhubaneswar, an Indian city undergoing rapid urbanization in recent times, utilizing land use and land cover (LULC) change data from Landsat over a 25 km radius about the city and MODIS land surface temperatures (LST) at 1 km2 spatial resolution for a period of 15 years (2000–2014). From the study, significant changes in LULC through over-exploitation of natural resources and the related spatio-temporal variations in LST has been identified as one major factor responsible for changes in the UHI effect over Bhubaneswar. Owing to rapid urbanization (83% increase in 15 years), the city has undergone major changes in LULC aggregating to a massive ~ 89% decrease in dense vegetation and ~ 83% decrease in crop fields over this time period. Analyses of the changes in the urban energy balance and resulting UHI effect across many such Indian cities undergoing rapid urban growth is quite essential for mitigating the negative impacts of urbanization for a long-term sustainability.
Access options
Buy single article
Instant access to the full article PDF.
US$ 39.95
Tax calculation will be finalised during checkout.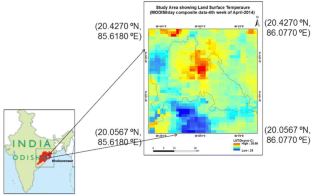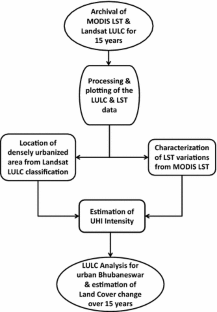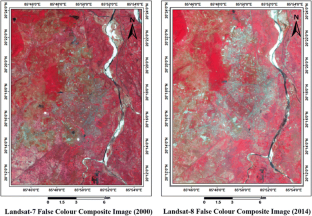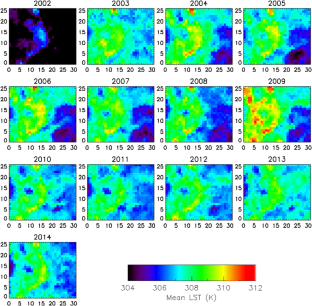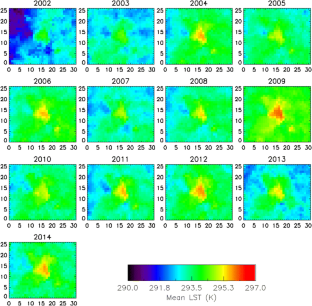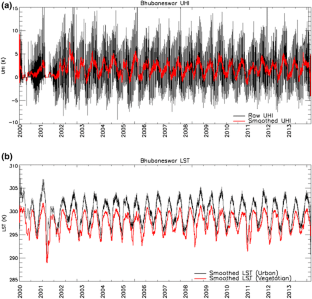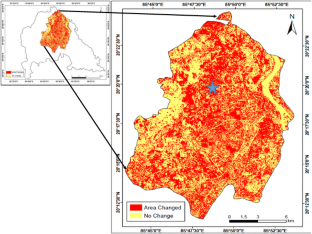 References
1.

Martine G, Marshall A (2007) State of world population 2007: unleashing the potential of urban growth. UN Popul Fund Report, New York

2.

Fischer EM, Oleson KW, Lawrence DM (2012) Contrasting urban and rural heat stress responses to climate change. Geophys Res Lett 39:L03705. https://doi.org/10.1029/2011GL050576

3.

Arnfield AJ (2003) Two decades of urban climate research: a review of turbulence, exchanges of energy and water, and the urban heat island. Int J Clim 23(1):1–26

4.

House-Peters LA, Chang H (2011) Modeling the impact of landuse and climate change on neighborhood-scale evaporation and night time cooling: a surface energy balance approach. Land Urban Plan 103(2):139–155

5.

NOAA National Weather Service Glossary (2017). www.nws.noaa.gov/glossary. Accessed 6 Aug 2017

6.

MetLink Royal Meteorological Society Glossary (2017). http://www.metlink.org. Accessed 6 Aug 2017

7.

Hall SJ, Learned J, Ruddell B, Larson KL, Cavender-Bares J, Bettez N, Groffman PM, Grove JM, Heffernan JB, Hobbie SE, Morse JL, Neill C, Nelson KC, O'Neil-Dunne JPM, Ogden L, Pataki DE, Pearse WD, Polsky C, Roy Chowdhury R, Steele MK, Trammell TLE (2016) Convergence of microclimate in residential landscapes across diverse cities in the United States. Landsc Ecol 31:101–117. https://doi.org/10.1007/s10980-015-0297-y

8.

Encyclopaedia Britannica (2017). https://www.britannica.com/science/microclimate. Accessed 6 Aug 2017

9.

Glossary of Meteorology (2017) Urban heat island. Am Met Soc. http://glossary.ametsoc.org/wiki/urban_heat_island

10.

Srivastava AK, Voogt J, Kshirsagar SR, Srivastava K (2016) Heat islands over Mumbai as revealed by autorecorded thermograph data. J Earth Syst Sci 125(1):85–93

11.

Middel A, Brazel AJ, Gober P, Myint SW, Chang H, Duh J (2012) Land cover, climate, and the summer surface energy balance in Phoenix, AZ, and Portland, OR. Int J Clim 32(13):2020–2032. https://doi.org/10.1002/joc.2408

12.

Grimmond CSB (2007) Urbanization and global environmental change: local effects of urban warming. Geo J 173:83–88. https://doi.org/10.1111/j.1475-4959.2007.2323.x

13.

McGranahan G, Martine G (2014) Urban growth in emerging economies: lessons from the BRICS. Routledge, London

14.

Sahoo B, Bhaskaran PK (2016) Assessment on historical cyclone tracks in the Bay of Bengal, east coast of India. Int J Clim 36:95–109. https://doi.org/10.1002/joc.4331

15.

Sahoo B, Bhaskaran PK (2017) A comprehensive data set for tropical cyclone storm surge-induced inundation for the east coast of India. Int J Clim. https://doi.org/10.1002/joc.5184

16.

Wan Z, Li Z-H (1997) A physics-based algorithm for retrieving landsurface emissivity and temperature from EOS/MODIS data. IEEE Trans Geosci Remote Sens 35(4):980–996

17.

Wan Z (2008) New refinements and validation of the MODIS land surface temperature/emissivity products. Remote Sens Environ 112:59–74

18.

Hung T, Uchihama D, Ochi S, Yasuoka Y (2006) Assessment with satellite data of urban heat island effects in Asian mega cities. Int J Appl Earth Obs Geoinf 8:34–48

19.

Wan Z, Wang P, Li X (2004) Using MODIS land surface temperature and normalized difference vegetation index products for monitoring drought in southern great plains, USA. Int J Remote Sens 25(1):61–72

20.

Ahmad S, Matloob H, Warsi TR, Khan A (2011) The evaluation of heat island effect in various cities in Ganga–Yamuna Doab region using MODIS land surface temperature product. Asian J Environ Sci 6(2):185–190

21.

Rasheed A, Darren R (2009) Multiscale modelling of urban climate. In: Eleventh international IBPSA conference, Glasgow, Scotland, Building Simulation 2009, pp 505–512

22.

Bonan GB (2000) The microclimates of a suburban Colorado (USA) landscape and implications for planning and design. Landsc Urban Plan 49:97–114. https://doi.org/10.1016/S0169-2046(00)00071-2

23.

Harman IN, Belcher SE (2006) The surface energy balance and boundary layer over urban street canyons. Q J R Met Soc 132:2749–2768. https://doi.org/10.1256/qj.05.185

24.

Coutts AM, Beringer J, Tapper NJ (2007) Impact of increasing urban density on local climate: spatial and temporal variations in the surface energy balance in Melbourne, Australia. J Appl Meteorol Climatol 46:477–493. https://doi.org/10.1175/JAM2462.1

25.

Roth M (2007) Review of urban climate research in (sub) tropical regions. Int J Clim 27:1859–1873. https://doi.org/10.1002/joc.1591

26.

Hart MA, Sailor DJ (2009) Quantifying the influence of land-use and surface characteristics on spatial variability in the urban heat island. Theo App Clim 95:397–406. https://doi.org/10.1007/s00704-008-0017-5

27.

Pearlmutter D, Krüger EL, Berliner P (2009) The role of evaporation in the energy balance of an open-air scaled urban surface. Int J Clim 29:911–920. https://doi.org/10.1002/joc.1752

28.

Swain D, Roberts GJ, Dash J, Vinoj V, Lekshmi K, Tripathy S (2016) Impact of rapid urbanization on the microclimate of Indian cities: a case study for the city of Bhubaneswar. In: Proceedings of SPIE Asia-Pacific remote sensing 2016: land surface and cryosphere remote sensing III, p 9877. https://doi.org/10.1117/12.2228111
Acknowledgements
The work was carried out as part of a Department of Science and Technology-India and UK-India Education & Research Initiative-UK (DST-UKIERI) funded collaborative project between Indian Institute of Technology Bhubaneswar, India and University of Southampton, UK (DST reference number INT/UK/P-100/14 and UKIERI reference number DST-2014-15-046) and the authors are grateful to the funding agencies. The authors also acknowledge the institutions viz. USGS/NASA for providing the Landsat and MODIS data free of cost. Standard satellite data processing and analysis software have been used for data processing and visualization in this work. Part of this work was presented at the SPIE Asia–Pacific Remote Sensing Conference, 2016 [28]. Due permission has been obtained from SPIE for representing some figures and text in the present manuscript.
Ethics declarations
Conflict of interest
The authors declare that they have no conflict of interest.
About this article
Cite this article
Swain, D., Roberts, G.J., Dash, J. et al. Impact of Rapid Urbanization on the City of Bhubaneswar, India. Proc. Natl. Acad. Sci., India, Sect. A Phys. Sci. 87, 845–853 (2017). https://doi.org/10.1007/s40010-017-0453-7
Received:

Revised:

Accepted:

Published:

Issue Date:
Keywords
Urbanization

Urban heat islands

Land surface temperature

Land use and land cover change

MODIS

Landsat