Abstract
Voltage-mode, current-mode, transresistance-mode and transconductance-mode KHN-equivalent biquad employing third generation current conveyors (CCIII), realizes low pass, high pass, band pass, notch and all pass filters using grounded passive elements and provides current and voltage outputs and also facilitates tunability of filter parameters. Analysis of the proposed configuration is given that includes non-ideal analysis along with the sensitivity analysis for the used passive and active components. A comparison of the proposed structure with those few existing CCIII-based filters has also been detailed out. The workability of the proposed structure has been demonstrated with PSPICE simulation results.
Access options
Buy single article
Instant access to the full article PDF.
USD 39.95
Price excludes VAT (USA)
Tax calculation will be finalised during checkout.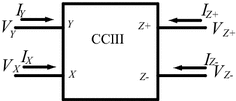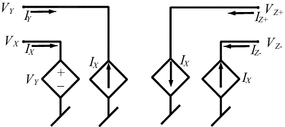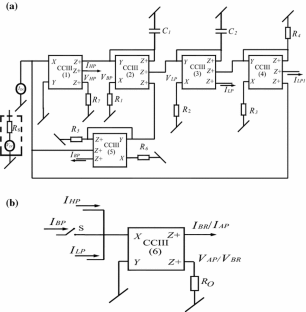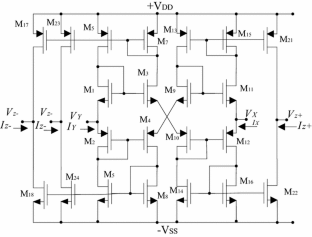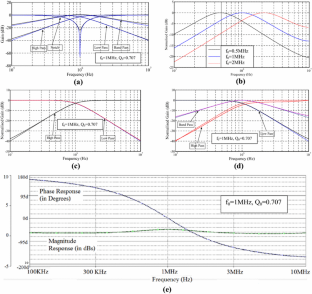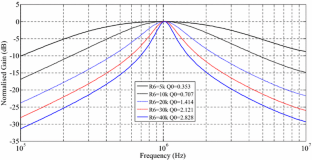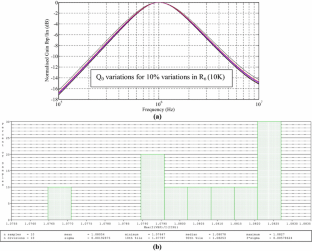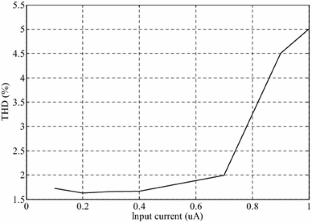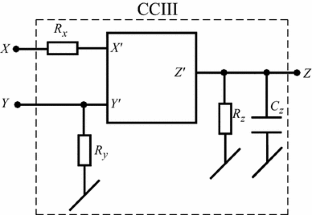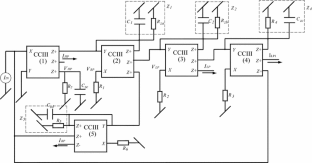 References
Kerwin WJ, Huelsman LP, Newcomb RW (1967) State-variable synthesis for insensitive integrated circuit transfer functions. IEEE J Solid state Circ 2(3):87–92

Soliman AM (1994) Kerwin–Huelsman–Newcomb circuit using current conveyor. Electron Lett 30(24):2019–2024

Senani R, Singh VK (1995) KHN-equivalent biquad using current conveyors. Electron Lett 31(8):626–628

Singh VK, Singh AK, Bhaskar DR, Senani R (2006) New universal biquads using CFOA's. IEEE Trans Circ Syst II 53(11):1299–1303

Senani R, Gupta SS (1997) Universal voltage mode/current mode filter realized with current feedback op-amps. Frequenz 51(7/8):203–208

Abuelma'atti MT, Al-Zaher HA (1998) New universal filter with one input and five outputs using current-feedback amplifiers. Analog Integr Circ Sig Process 16(3):239–244

Soliman AM (2011) Generation of Kerwin-Huelsman-Newcomb biquad filter circuits using nodal admittance matrix expansion. Int J Circ Theor Appl 39(7):697–717

Beg P, Khan IA, Maheshwari S, Siddiqi MA (2011) Digitally programmable fully differential filter. Radioengineering 20(4):917–925

Sanchez-Sinencio E, Geiger RL, Nevarez-Lozano H (1998) Generation of continuous-time two integrator loop OTA filter structures. IEEE Trans Circ Syst 35(8):936–946

Salma KN, Soliman AM (2000) Voltage mode Kerwin–Huelsman–Newcomb circuit using CDBAs. Frequenz 54(3–4):90–93

Toker A, Ozoguz S, Acar C (1999) Current-mode KHN-equivalent biquad using CDBAs. Electron Lett 35(20):1682–1683

Altuntas E, Toker A (2002) Realization of voltage and current mode KHN biquads using CCCIIs. Int J Electron Commun (AEU) 56(1):45–49

Ibrahim MA, Kuntman H (2003) A novel transadmittance-type KHN-biquad employing DO-OTA with only two grounded capacitors. WSEAS Trans Circ Syst 2(3):400–403

Ibrahim MA, Kuntman H (2004) A novel high CMRR high input impedance differential voltage-mode KHN-biquad employing DO-DDCCs. Int J Electron Commun (AEU) 58(6):429–433

Ibrahim MA, Minaei S, Kuntman H (2005) A 22.5 MHz current-mode KHN-biquad using differential voltage current conveyor and grounded passive elements. Int J Electron Commun (AEU) 59(5):311–318

Keskin AU, Biolek D, Hancioglu E, Biolkova V (2006) Current-mode KHN filter employing current differencing transconductance amplifiers. Int J Electron Commun (AEU) 60(6):443–446

Biolek D, Biolkova V, Kolka Z (2007) Universal current-mode OTA-C KHN biquad. World Acad Sci Eng Technol 31:289–292

Soliman AM (2008) History and progress of the Kerwin–Huelsman–Newcomb filter generation and op amp realizations. J Circ Syst Comput 17(4):637–658

Soliman AM (2008) Current-mode filters using two output inverting CCII. Int J Circ Theor Appl 36(7):875–881

Minaei S, Ibrahim MA (2009) A mixed-mode KHN-biquad using DVCC and grounded passive elements suitable for direct cascading. Int J Circ Theor Appl 37(7):793–810

Soliman AM (2008) Generation and classification of Kerwin–Huelsman–Newcomb circuits using the DVCC. Int J Circ Theor Appl 37(7):835–855

Kostan J, Herencsar N, Vrba K (2011) KHN-equivalent voltage-mode filters using universal voltage conveyors. Int J Electron Commun (AEU) 65(2):156–160

Satansup J, Tangsrirat W (2011) Realization of current-mode KHN-equivalent biquad filter using ZC-CFTAs and grounded capacitors. Indian J Pure Appl Phys 49:841–846

Fabre A (1995) Third generation current conveyor: a new helpful active element. Electron Lett 31:338–339

Kuntman H, Cicekoglu O, Ozoguz S, Karacivi B (2000) Universal current-mode filter implemented with the modified third generation current conveyor. In: Proceedings of the IEEE nordic signal processing symposium (NORSIG'OO), Kolmarden, Sweden, 13–15 June 2000, pp 165–168

Kuntman H, Cicekoglu O, Ozoguz S (2002) A modified third generation current conveyor, its characterization and applications. Frequenz 56:47–54

Chunhua W, Keskin AU, Yang L, Qiujing Z, Sichun D (2010) Minimum configuration insensitive multifunctional current mode biquad using current conveyors and all grounded passive components. Radioengineering 19(1):178–183

Chang CM, Yang RH, Tu SH, Hou CL, Horng JW (2008) Universal active current filter using single third generation current conveyor. In: Proceedings of the 7th WSEAS international conference on applied computer and applied computational science. World Scientific and Engineering Academy and Society (WSEAS), pp 163–168

Abuelma'atti MT, Al-Zaher HA (1998) Multifunction active only current mode filter with three inputs and one output. Int J Electron 85(4):431–435

Horng JW, Weng RM, Lee MH, Chang CW (1997) Universal active current filter using two multiple current output OTAs and one CCIII. Int J Electron 82(3):241–247

Sobhy EA, Soliman AM (2009) Novel CMOS realization of balanced output third generation inverting current conveyor with applications. Circ Syst Sig Process 28:1037–1051

Yuce E, Metin B, Cicekoglu B (2004) Current mode biquadratic filters using single CCIII and minimum number of passive elements. Frequenz 58:225–228

Wang HY, Lee CT (2001) Versatile insensitive current mode universal biquad implementation using current conveyors. IEEE Trans Circ Syst II 48(4):409–413

Feki NBEL, Masmoudi DS (2009) High performance dual output second and third generation current conveyors and current-mode multifunction filter application. In: 6th multi-conference on signals, systems and devices, pp 1–6

Piovaccari A (1995) CMOS integrated third-generation current conveyor. Electron Lett 31(15):1228–1229
About this article
Cite this article
Arora, T.S., Sharma, R.K. An All-Mode KHN Equivalent Biquad Using Third Generation Current Conveyor and All Grounded Passive Elements. Proc. Natl. Acad. Sci., India, Sect. A Phys. Sci. 87, 97–108 (2017). https://doi.org/10.1007/s40010-016-0310-0
Received:

Revised:

Accepted:

Published:

Issue Date:

DOI: https://doi.org/10.1007/s40010-016-0310-0
Keywords