Abstract
Missed, swapped, false insurance claimed and reallocation of cattle at slaughter houses is global problems throughout the world. Only few researches have been done so far to solve such major problems. Traditional identification approaches and non-biometrics techniques have such severe problems due to their own boundaries and limitations for the registration and traceability of cattle. These techniques are not able to provide a competent level of security to livestock/cattle. Therefore, cattle identification needs an innovative research for the development of efficient, scalable, affordable, non-invasive, automatic recognition systems for better registration, traceability and security of livestock/cattle. In this paper, an attempt has been made to solve the above problems by using computer vision approaches for cattle recognition using their facial images. The major contributions of this research are in three folds: firstly, the preparations of a facial images database of cattle, secondly, the extraction of set of discriminatory features from the database and implementation of computer vision based face recognition algorithms for recognizing cattle and finally, the experimental results and discussion of face recognition algorithms. Thus, this paper presents a comprehensive review of the performances of various computer vision and pattern recognition approaches for the application of cattle face recognition.
Access options
Buy single article
Instant access to the full article PDF.
US$ 39.95
Tax calculation will be finalised during checkout.
Subscribe to journal
Immediate online access to all issues from 2019. Subscription will auto renew annually.
US$ 79
Tax calculation will be finalised during checkout.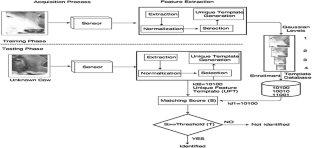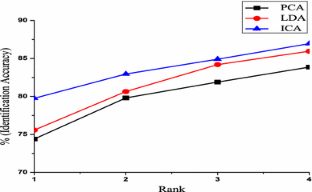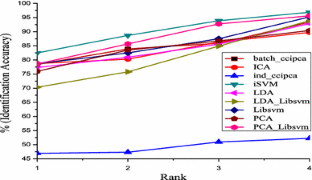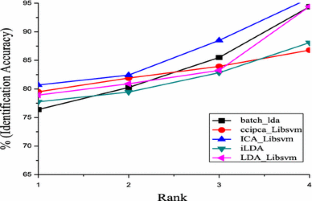 References
1.

Kühl HS, Burghardt T (2013) Animal biometrics: quantifying and detecting phenotypic appearance. Trends Ecol Evol 28(7):432–441

2.

Petersen W (1922) The identification of the bovine by means of nose-prints. J Dairy Sci 5(1):249–258

3.

Ramadan D, Forsyth DA, Barnard K (2006) Building models of animals from video. IEEE Trans Pattern Anal Mach Intell 28(8):1319–1334

4.

Johnston AM, Edwards DS (1996) Welfare implications of identification of cattle by ear tags. Vet Rec 138(25):612–614

5.

Wardrope DD (1995) Problems with the use of ear tags in cattle. Vet Rec 137(26):675

6.

Vlad MARIA, Parvulet RA, Vlad MS (2012) A survey of livestock identification systems. In: Proceedings of 13th WSEAS international conference on automation and information (ICAI12), pp 165–170

7.

http://cattle-today.com/. Accessed 20 March 2014

8.

Barron UG, Corkery G, Barry B, Butler F, McDonnell K, Ward S (2008) Assessment of retinal recognition technology as a biometric method for sheep identification. J Comput Electron Agric 60(2):156–166

9.

Jain AK, Flynn P, Ross AA (2007) Handbook of biometrics. Springer, New York. doi:10.1007/978-0-387-71041-9

10.

Burghardt T, Campbell N (2007) Individual animal identification using visual biometrics on deformable coat patterns. In: International conference on computer vision systems (ICVS07), vol 5, pp 1–10

11.

Eradus WJ, Jansen MB (1999) Animal identification and monitoring. Comput Electron Agric 24(1):91–98

12.

Baranov AS, Graml R, Pirchner F, Schmid DO (1993) Breed differences and intrabreed genetic variability of dermatoglyphic pattern of cattle. J Anim Breed Genet 110(1–6):385–392

13.

Noviyanto A, Arymurthy AM (2012) Automatic cattle identification based on muzzle photo using speed-up robust features approach. In: Proceedings of the 3rd European conference of computer science, ECCS, vol 110, p 114

14.

Noviyanto A, Arymurthy AM (2013) Beef cattle identification based on muzzle pattern using a matching refinement technique in the SIFT method. Comput Electron Agric 99:77–84

15.

Awad AI, Zawbaa HM, Mahmoud HA, Nabi EHHA, Fayed RH, Hassanien AE (2013) A robust cattle identification scheme using muzzle print images. In: Proceedings in federated conference on IEEE computer science and information systems (FedCSIS), pp 529–534

16.

Reed TR, Dubuf JH (1993) A review of recent texture segmentation and feature extraction techniques. CVGIP Image Underst 57(3):359–372

17.

Brunelli R, Poggio T (1993) Face recognition: features versus templates. IEEE Trans Pattern Anal Mach Intell 10:1042–1052

18.

Gross R, Matthews I, Baker S (2004) Appearance-based face recognition and light-fields. IEEE Trans Pattern Anal Mach Intell 26(4):449–465

19.

Yang J, Zhang D, Frangi AF, Yang JY (2004) Two-dimensional PCA: a new approach to appearance-based face representation and recognition. IEEE Trans Pattern Anal Mach Intell 26(1):131–137

20.

Stahl H, Schädler K, Eberhard H (2008) Capturing 2D and 3D biometric data of farm animals under real-life conditions. In: Proceedings in international conference of agricultural engineering, SPC03, C1034 (Federal Ministry for Education and Research of Germany) under grant number 17N2009

21.

Prodger P (2009) Darwin's camera: art and photography in the theory of evolution. Oxford University Press, USA

22.

Scott DK (1978) Identification of individual Bewick's swans by bill patterns. In: Stonehouse B (ed) Animal marking: recognition marking of animals in research. Macmillan Education, UK, pp 160–168

23.

Penzhorn BL (1984) A long term study of social organisation and behaviour of cape mountain zebras equus zebra zebra. Zeitschrift für Tierpsychologie 64(2):97-146

24.

Hady PJ, Domecq JJ, Kaneene JB (1994) Frequency and precision of body condition scoring in dairy cattle. J Dairy Sci 77(6):1543–1547

25.

Ferguson JD, Galligan DT, Thomsen N (1994) Principal descriptors of body condition score in Holstein cows. J Dairy Sci 77(9):2695–2703

26.

Wang Z, Fu Z, Wei C (2010) A RFID-based Traceability system for cattle breeding in China. In: Proceedings in international conference on computer application and system modelling (ICCASM), vol 10, pp 567–571

27.

Minagawa H, Fujimura T, Ichiyanagi M, Tanaka K (2002) Identification of beef cattle by analyzing images of their muzzle patterns lifted on paper. Publ Jpn Soc Agric Inform 8:596–600

28.

Barry B, Gonzales-Barron UA, McDonnell K, Butler F, Ward S (2007) Using muzzle pattern recognition as a biometric approach for cattle identification. Am Soc Agric Biol Eng 50(3):1073–1080

29.

Mishra S, Tomer OS, Kalm E (1995) Muzzle dermatoglyphics: a new method to identify bovines. Asian Livestock (FAO), pp 91–96

30.

Kim HT, Ikeda Y, Choi HL (2005) The identification of Japanese black cattle by their faces. Training 1:e11e12

31.

Burghardt T (2008) Visual animal biometrics. Doctoral dissertation, PhD thesis, University of Bristol, UK

32.

Turk MA, Pentland AP (1991) Face recognition using eigenfaces. In: Proceedings in IEEE computer vision and pattern recognition, pp 586–591

33.

Ruiz-del-Solar J, Navarrete P (2005) Eigen space-based face recognition: a comparative study of different approaches. IEEE Trans Syst Man Cybern Part C Appl Rev 35(3):315–325

34.

Etemad K, Chellappa R (1997) Discriminant analysis for recognition of human face images. JOSA A 14(8):1724–1733

35.

Sugiyama M (2007) Dimensionality reduction of multimodal labeled data by local fisher discriminant analysis. J Mach Learn Res 8:1027–1061

36.

Bartlett MS, Movellan JR, Sejnowski TJ (2002) Face recognition by independent component analysis. IEEE Trans Neural Netw 3(6):1450–1464

37.

Liu C, Wechsler H (1999) Comparative assessment of independent component analysis (ICA) for face recognition. In: Proceedings in audio and video-based biometric person authentication (AVBPA'99), pp 211–216

38.

Comon P (1994) Independent component analysis—a new concept? Signal Process 36:287–314

39.

Weng J, Zhang Y, Hwang WS (2003) Candid covariance-free incremental principal component analysis. IEEE Trans Pattern Anal Mach Intell 25(8):1034–1040

40.

Kim TK, Wong SF, Stenger B, Kittler J, Cipolla R (2007) Incremental linear discriminant analysis using sufficient spanning set approximations. In: Proceedings in IEEE conference on computer vision and pattern recognition, pp 1–8

41.

Chang CC, Lin CJ (2001) LIBSVM: a library for support vector machines. http://www.csie.ntu.edu.tw/~cjlin/libsvm

42.

Guo G, Li SZ, Chan K (2001) Face recognition by support vector machines. Image Vis Comput 19:631–638

43.

Fung G, Mangasarian OL (2002) Incremental support vector machine classification. In: Procceedings of 2nd SIAM international conference on data mining, Philadelphia, pp 247–260

44.

Burt PJ, Adelson EH (1983) The Laplacian pyramid as a compact image code. IEEE Trans Commun 31(4):532–540

45.

Larkin LI, Burt PJ (1983) Multi-resolution texture energy measures. In: Proceedings in IEEE conference on computer vision and pattern recognition

46.

Pisano ED, Zong S, Hemminger BM et al (1998) Contrast limited adaptive histogram equalization image processing to improve the detection of simulated spiculations in dense mammograms. J Digit Imaging 11(4):193–200

47.

Belhumeur PN, Hespanha JP, Kriegman D (1997) Eigenfaces vs. fisherfaces: recognition using class specific linear projection. IEEE Trans Pattern Anal Mach Intell 19(7):711–720

48.

Viola P, Jones MJ (2004) Robust real-time face detection. Int J Comput Vis 57(2):137–154

49.

Becker BC, Ortiz EG (2008) Evaluation of face recognition techniques for application to face book. In: IEEE international conference on automatic face and gesture recognition, pp 1–6

50.

Kitty M, Sirovich L (1990) Application of the KL procedure for the characterization of human faces, IEEE Trans. Pattern Anal Mach Intell 12(1):103–108

51.

Sirovich L, Kirby M (1987) Low-dimensional procedure for the characterization of human faces. JOSA A 4(3):519–524

52.

Burton AM, Miller P, Bruce V, Hancock PJB, Henderson Z (2001) Human and automatic face recognition: a comparison across image formats. Vis Res 41(24):3185–3195

53.

Mizroch SA, Harkness SAD (2003) A test of computer-assisted matching using the North Pacific humpback whale, Megaptera novaeangliae, tail flukes photograph collection. Mar Fish Rev 65:25–37
About this article
Cite this article
Kumar, S., Tiwari, S. & Singh, S.K. Face Recognition of Cattle: Can it be Done?. Proc. Natl. Acad. Sci., India, Sect. A Phys. Sci. 86, 137–148 (2016). https://doi.org/10.1007/s40010-016-0264-2
Received:

Revised:

Accepted:

Published:

Issue Date:
Keywords
Animal biometrics

Face recognition

Cattle identification

Gaussian pyramid

PCA

LDA

ICA