Abstract
The root rot disease caused by Lasiodiplodia theobromae in Morus alba emerged as a serious problem that affect sustainable mulberry production. In this study, the disease symptoms like yellowing of leaves, blackening, and rotting of roots were observed. The associated pathogen was isolated from infected root tissue and pure culture was raised. Based on morphological features, ITS sequencing, and phylogenetic analyses, the fungal pathogen is identified as Lasiodiplodia theobromae. The sequence was deposited in NCBI with the accession number MK811183. The pathogenicity was confirmed by artificial inoculation on mulberry seedlings. This disease can cause great economic loss, as every part of the plant is infected. So, correct identification of disease to take timely management measures is a must, this basic work will give proper identification of pathogen and help to improvise the mulberry production in the country.
Access options
Buy single article
Instant access to the full article PDF.
USD 39.95
Price excludes VAT (USA)
Tax calculation will be finalised during checkout.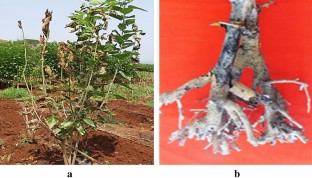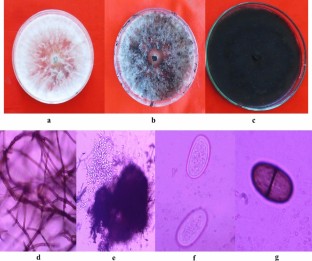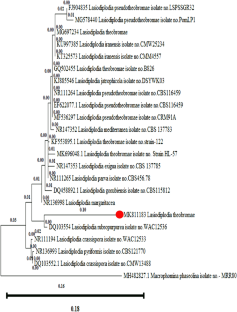 References
Singhal BK, Khan MA, Dhar A, Baqual FM, Bindroo BB (2010) Approaches to industrial exploitation of mulberry (mulberry sp.) fruits. J Fruit Ornam Plant Res 18(18):83–99

Tikader A, Kamble CK (2008) Mulberry wild species in India and their use in crop improvement a review. Aust J Crop Sci 2(2):64–72

Vijayan K, Kar PK, Tikader A, Srivastava PP, Awasthi AK, Thangavelu K, Saratchandra B (2004) Molecular evaluation of genetic variability in wild populations of mulberry (Morus serrata Roxb). Plant Breed 123(6):568–572

Sengupta AR, Gupta R, Biswas A (2019) Computational fluid dynamics analysis of stove systems for cooking and drying of muga silk. Emerg Sci J 3(5):285–292

Zou S, Chen W (2003) A review on chemical constituents, pharmological activity and application of mulberry leaves. J. Chem. Ind. For. Products 1:1–8

Zhang M, Chen M, Zhang HQ, Sun S, Xia B, Wu FH (2009) In vivo hypoglycemic effects of phenolics from the root bark of Morus alba. Fitoterapia 80(8):475–477

Jan B, Parveen R, Zahiruddin S, Khan MU, Mohapatra S, Ahmad S (2021) Nutritional constituents of mulberry and their potential applications in food and pharmaceuticals: a review. Saudi J Biol Sci 28(7):3909–3921

Sharma DD, Naik VN, Chowdary NB, Mala VR (2003) Soilborne diseases of mulberry and their management. Int J Ind Ent 7(2):93–106

Gupta VR, Govindaiah RHV (1997) Diseases and associated pathogens of mulberry nurseries. Indian Phyto-pathol 50:402–407

Zhang YJ, Zhang S, Liu XZ, Wen HA, Wang M (2010) A simple method of genomic DNA extraction suitable for analysis of bulk fungal strains. Lett Appl Microbial 51(1):114–118

White TJ, Bruns TS, Lee SB, Taylor JW (1990) Amplification and direct sequencing of fungal ribosomal RNA genes for phylogenetics. In: Innis MA, Gelfand DH, Sninsky JJ, White TJ (eds) PCR protocols: a guide to methods and applications. Academic press, New York, pp 315–322

Kumar S, Stecher G, Tamura K (2016) Molecular evolutionary genetics analysis version 70 for bigger datasets. Mol Biol Evol 33(7):1870–1874

Xie HH, Wei JG, Liu F, Pan XH, Yang XB (2014) First report of mulberry root rot caused by Lasiodiplodia theobromae in China. Plant Dis 98(11):1581–1581

Punithalingam E (1976) Botryodiplodia theobromae. CMI Descriptions of Pathogenic Fungi and Bacteria, No. 519. Commonwealth Mycological Institute, Key, Surrey, England

Latha P, Prakasam V, Kamalakannan A, Gopalakrishnan C, Raguchander T, Paramathma M, Samiyappan R (2009) First report of Lasiodiplodia theobromae (Pat) Griffon & Maubl causing root rot and collar rot disease of physic nut (Jatropha curcas L.) in India. Australas Plant Dis Notes 4(1):19–20

Nam MH, Park MS, Kim HS, Kim TI, Lee EM, Park JD, Kim HG (2016) First report of dieback caused by Lasiodiplodia theobromae in strawberry plants in Korea. Mycobiology 44(4):319–324

Kumar R, Kumari A, Sinha A, Maurya S (2014) New report of Lasiodiplodia theobromae causing Jatropha decline in Eastern Plateau and Hill region of India. Arch Phytopathol Plant Prot 47(11):1286–1290

Pereira OL, Dutra DC, Dias LAS (2009) Lasiodiplodia theobromae is the causal agent of a damaging root and collar rot disease on the biofuel plant Jatropha curcas in Brazil. Australas Plant Dis Notes 4(1):120–123

Haggag WM (2014) First report of Lasiodiplodia theobromae causing canker and collar rot diseases of physic nut (Jatropa curcas ) in Egypt. J Plant Pathol 96(3):603–611
Additional information
Publisher's Note
Springer Nature remains neutral with regard to jurisdictional claims in published maps and institutional affiliations.
Significance Statement This work is carried out to find the causal organism of mulberry root rot disease. Here, symptoms caused by the pathogen on host plant, its morphological character and molecular identification reveals that Lasiodiplodia theobromae is the causal organism. Further, pathogenicity test also validates the above prediction.
About this article
Cite this article
Kanyakumari, R., Somasekhara, Y.M., Basavaraj, S. et al. Morpho-Molecular Identification of Lasiodiplodia theobromae Causing Root Rot of Mulberry in India. Natl. Acad. Sci. Lett. 45, 451–456 (2022). https://doi.org/10.1007/s40009-022-01161-3
Received:

Revised:

Accepted:

Published:

Issue Date:

DOI: https://doi.org/10.1007/s40009-022-01161-3
Keywords
Root rot

Disease

Mulberry

Bombyx mori

Identification