Abstract
A study was conducted in 2016 to observe the seroprevalence and antigenic prevalence of bluetongue virus (BTV) in goats of Andaman and Nicobar Islands, India. Indirect ELISA and sandwich ELISA were employed to study the seroprevalence and antigenic prevalence. The study revealed 78.49% seropositivity and 72.5% positive for BTV antigens. Thus, the study could be able to reveal the prevalence of BTV antibody and antigens in a unique island ecosystem of India where the arthropod-borne virus was previously absent.
This is a preview of subscription content, log in to check access.
Access options
Buy single article
Instant access to the full article PDF.
US$ 39.95
Price includes VAT for USA
Subscribe to journal
Immediate online access to all issues from 2019. Subscription will auto renew annually.
US$ 99
This is the net price. Taxes to be calculated in checkout.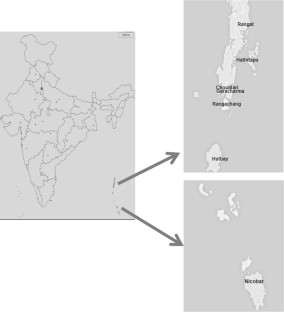 References
1.

Mertens PP, Diprose J, Maan S, Singh KP, Attoui H, Samuel AR (2004) Bluetongue virus replication, molecular and structural biology. Vet Ital 40(4):426–437

2.

Zientara S, Sailleau C, Viarouge C et al (2014) Novel bluetongue virus in goats, Corsica, France. Emerg Infect Dis 20:2123–2125

3.

Mellor PS (1990) The replication of bluetongue virus in Culicoides vectors. Curr Trop Microbiol Immunol 162:143–158

4.

Walton TE (2004) The history of bluetongue and a current global overview. Vet Ital 40(3):31–38

5.

Daniels PW, Sendow I, Pritchardl I et al (2004) Regional overview of bluetongue viruses in South-East Asia: viruses, vectors and surveillance. Vet Ital 40:94–100

6.

Abuelzein EME (1986) Recovery of bluetongue virus serogroup from sera collected for a serological survey from apparently healthy cattle, from the Sudan. J Hyg (Lond) 96:529–533

7.

Mohammed MEH, Taylor WP (1987) Infection with bluetongue and related orbiviruses in the Sudan detected by the study of sentinel calf herds. Epidemiol Infect 99:533–545

8.

MacLachlan NJ (2004) Bluetongue: pathogenesis and duration of viraemia. Vet Ital 40:462–467

9.

Chand K, Biswas SK, Pandey AB et al (2015) Bluetongue in India: a review. Adv Anim Vet Sci 3(11):605–612

10.

Sunder J (2014) Status of livestock and poultry diseases in A & N Islands: strategies to make island disease free. Adv Anim Vet Sci 2(45):42–47

11.

Sunder J, Rai RB, Kundu A et al (2005) Incidence and prevalence of livestock diseases of A&N Islands. Indian J Anim Sci 75(9):1041–1043

12.

Chand K, Biswas SK, De A et al (2009) A polyclonal antibody-based sandwich ELISA for the detection of bluetongue virus in cell culture and blood of sheep infected experimentally. J Virol Methods 160:189–192

13.

Tigga P, Joardar SN, Halder A et al (2015) Seroprevalence of bluetongue in ruminants of Jharkhand. Vet World 8(3):346–349

14.

Singh A, Agrawal R, Singh R et al (2009) Indirect-ELISA based on recombinant Vp7 specific protein for sero-epidemiological investigation of bluetongue in small ruminants of Jammu province. J Immunol Immunopathol 11(2):52–55

15.

Panda MK, Mondal A, Joardar SN (2011) Seroprevalence of bluetongue virus in sheep, goat and cattle in west Bengal. India. Anim Sci Report 5(3):105–110

16.

De A, Batabyal S, Biswas SK et al (2008) Surveillance of bluetongue virus antibody in goats using a recombinant VP7-based indirect ELISA in the coastal saline area of West Bengal, India. Vet Ital 45:339–346

17.

Joardar SN, Barkataki B, Halder A et al (2013) Seroprevalence of bluetongue in north eastern Indian state- Assam. Vet World 6(4):196–199

18.

Pany SS, Biswas SK, Chand K et al (2016) Antigenic evidence of bluetongue virus from small ruminant population of two different geographical regions of Odisha. India. Vet World 9(3):304–307

19.

Gao X, Wang H, Qin H et al (2017) Influence of climate variations on the epidemiology of bluetongue in sheep in Mainland China. Small Rumin Res 146:23–27

20.

Wittmann EJ, Baylis M (2000) Climate change: effects on Culicoides transmitted viruses and implications for the UK. Vet J 160:107–117
Acknowledgements
The authors acknowledge the Director, Indian Council of Agricultural Research—Central Island Agricultural Research Institute, Portblair, for providing necessary facilities to carry out the research. The authors also acknowledge the Director, Animal Husbandry & Veterinary Sciences, Senior Veterinary Officers and the field staffs of Andaman and Nicobar Islands for helping in sample collection.
Additional information
Publisher's Note
Springer Nature remains neutral with regard to jurisdictional claims in published maps and institutional affiliations.
About this article
Cite this article
Inbaraj, S., Chand, K., Biswas, S.K. et al. Emerging Orbiviral Infections in Animals in the Climate Change Scenario: Evidence of Bluetongue Virus Antibodies and Antigens in Small Ruminants of Andaman and Nicobar Islands, India. Natl. Acad. Sci. Lett. 42, 451–454 (2019). https://doi.org/10.1007/s40009-019-0787-6
Received:

Revised:

Accepted:

Published:

Issue Date:
Keywords