Abstract
Terminal heat stress leads to significant yield reduction in wheat. Adaptation strategies to combat this could be either growing heat-tolerant cultivars or adjustments in sowing date. A study was conducted for 2 years to understand the impact of terminal heat stress on wheat using three different wheat cultivars (HD 2932, WR 544 and HD 2967) and three sowing date, viz. D1 (second week of November), D2 (first week of December) and D3 (last week of December) at Indian Agricultural Research Institute (IARI), New Delhi, India. Results revealed that timely sown crop (D1) showed significantly higher number of tillers m−2 (450), plant height (93.5 cm), 1000-grain weight (38 g), grain yield (6.3 t ha−1) and harvest index (0.44) compared with D2 and D3. Yield loss occurred by 70, 29 and 77 kg ha−1 per day due to delay in sowing beyond D1 in varieties, viz. 'HD 2932,' 'WR 544' and 'HD 2967,' respectively. The late-sown crop resulted lower yield, which encountered higher temperature in its terminal growth stages. Among three varieties used, 'WR 544' had lesser decline in growth and yield than other two varieties due to late sowing. It implied that 'WR 544' had thermo-tolerant characteristics. Higher yield in wheat requires both heat-tolerant cultivars and better agronomic strategy under terminal heat stress condition. This study concluded that varietal selection and adjustment in sowing date could be the appropriate adaptation strategies under changing climate especially the terminal heat stress.
This is a preview of subscription content, log in to check access.
Access options
Buy single article
Instant access to the full article PDF.
US$ 39.95
Price includes VAT for USA
Subscribe to journal
Immediate online access to all issues from 2019. Subscription will auto renew annually.
US$ 99
This is the net price. Taxes to be calculated in checkout.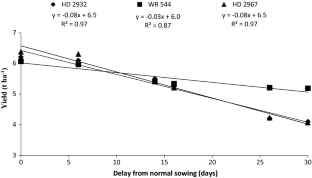 References
1.

IPCC (2014) Climate change 2014. In: Fifth assessment synthesis report (longer report) of intergovernmental panel on climate change. Cambridge University Press, Cambridge, United Kingdom and New York, USA

2.

Alexander LV, Zhang X, Peterson TC, Caesar J, Gleason B, Tank A, Haylock M, Collins D, Trewin B, Rahimzadeh F, Tagipour A, Kumar KR, Revadekar J, Griffiths G, Vincent L, Stephenson DB, Burn J, Aguilar E, Brunet M, Taylor M, New M, Zhai P, Rusticucci M, Vazquez-Aguirre JL (2006) Global observed changes in daily climate extremes of temperature and precipitation. J Geophys Res Atmos 111:1–22

3.

Hennessy K, Fawcett R, Kirono D, Mpelasoka F, Jones D, Bathols J, Whetton P et al (2008) An assessment of the impact of climate change on the nature and frequency of exceptional climatic events. Australian Government Bureau of Meteorology, Melbourne

4.

Wollenweber B, Porter JR, Schellberg J (2003) Lack of interaction between extreme high-temperature events at vegetative and reproductive growth stages in wheat. J Agron Crop Sci 189:142–150

5.

Nagarajan S (2005) Can India produce enough wheat even by 2020? Curr Sci 89(9):1467–1471

6.

Mitra R, Bhatia CR (2008) Bioenergetic cost of heat tolerance in wheat crop. Curr Sci 94:1049–1053

7.

Semenov MA (2009) Impacts of climate change on wheat in England and Wales. J R Soc Interface 6:343–350

8.

Joshi AK, Mishra B, Chatrath R, Ferrara GO, Singh RP (2007) Wheat improvement in India: present status, emerging challenges and future prospects. Euphytica 157(3):431–446

9.

Niles MT, Lubell M, Brown M (2015) How limiting factors drive agricultural adaptation to climate change. Agr Ecosyst Environ 200:178–185

10.

Krishna KG (2011) Studies on the role of heat shock transcription factors and proteins on high temperature tolerance in wheat (Triticumaestivum L.). Division of Plant Physiology Indian Agricultural Research Institute, New Delhi

11.

Singh C (1983) Modern techniques of raising field crops. Oxford and IBH Publishing, New Delhi

12.

Singh D, Chhonkar PK, Dwivedi BS (2005) Manual on soil, plant and water analysis. Westville Publishing House, New Delhi

13.

Gomez KA, Gomez AA (1984) Statistical procedures for agricultural research. Wiley, Hoboken

14.

Irfaq M, Muhammad T, Amin M, Iabbar A (2005) Performance of yield and other agronomic characters of four wheat cultivars. Int J Bot 1(2):124–127

15.

Rahman MA, Chikushi J, Yoshida S, Karim AJMS (2009) Growth and yield components of wheat genotypes exposed to high temperature stress under control environment. Bangladesh J Agric Res 34(3):360–372

16.

Nawaz A, Farooq M, Cheema SA, Wahid A (2013) Differential response of wheat cultivars to terminal heat stress. Int J Agric Biol 15:1354–1358

17.

Khanna CR, Viswanathan C (1999) Evaluation of heat stress tolerance in irrigated environment of T. aestivum and related species. I. Stability in yield and yield components. Euphytica 106(2):169–180

18.

Ortiz R, Sayre KD, Govaerts B, Gupta R, Subbarao GV, Ban T, Hodson D, Dixon JM, Ortiz-Monasterio JI, Reynolds M (2008) Climate change: Can wheat beat the heat? Agr Ecosyst Environ 126(1):46–58

19.

Wassmann R, Jagadish SVK, Sumfleth K, Pathak H, Howell G, Ismail A, Heuer S (2009) Regional vulnerability of climate change impacts on Asian rice production and scope for adaptation. Adv Agron 102:91–133

20.

Ray J, Ahmed JU (2015) Canopy temperature effects on yield and grain growth of different wheat genotypes. J Agric Sci Vet Sci 8(7):48–55

21.

Dubey R (2016) Adaptation options for alleviating terminal heat stress in wheat. Centre for Environment Science and Climate Resilient Agriculture, ICAR- Indian Agricultural Research Institute, New Delhi
Additional information
Publisher's Note
Springer Nature remains neutral with regard to jurisdictional claims in published maps and institutional affiliations.
About this article
Cite this article
Dubey, R., Pathak, H., Singh, S. et al. Impact of Sowing Dates on Terminal Heat Tolerance of Different Wheat (Triticum aestivum L.) Cultivars. Natl. Acad. Sci. Lett. 42, 445–449 (2019). https://doi.org/10.1007/s40009-019-0786-7
Received:

Revised:

Accepted:

Published:

Issue Date:
Keywords
Grain yield

Indo-Gangetic plains

Sowing date

Terminal heat stress

Wheat