Abstract
A systematic investigation was carried out to assess the nutritional composition of 18 different seaweeds belonging to Chlorophyta, Rhodophyta and Phaeophyta collected from Okha coast of Gujarat, India. The results showed that the carbohydrate content ranged from 0.50 ± 0.01 to 34.89 ± 0.02%, protein from 0.429 ± 0.7 to 20.2 ± 0.1%, lipid from 1.0 ± 0.05 to 4.8 ± 0.2% and ash content was in the range of 20 ± 0.2–50 ± 0.5%. Total free amino acid content was fluctuated between 3.36 ± 1.2 and 364.8 ± 8.67 mg/g dry weight basis. In the mineral composition, brown seaweeds contained high calcium and potassium values than the red and green seaweeds. Red seaweeds showed higher concentration of Na and Fe among three groups. Heavy metals were found to be below the detectable levels.
This is a preview of subscription content, log in to check access.
Access options
Buy single article
Instant access to the full article PDF.
US$ 39.95
Price includes VAT for USA
Subscribe to journal
Immediate online access to all issues from 2019. Subscription will auto renew annually.
US$ 99
This is the net price. Taxes to be calculated in checkout.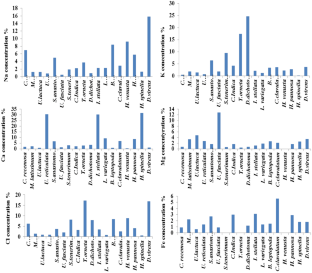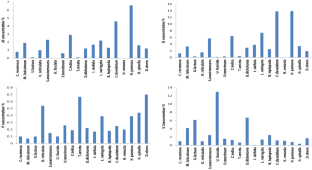 References
1.

Bocanegra A, Bastida S, Benedi J, Rodenas S, Sanchez-Muniz FJ (2009) Characteristics and nutritional and cardiovascular-health properties of seaweeds. J Med Food 12(2):236–258

2.

Wong K, Cheung PC (2000) Nutritional evaluation of some subtropical red and green seaweeds: part I—proximate composition, amino acid profiles and some physico-chemical properties. Food Chem 71(4):475–482

3.

Cardozo KH, Guaratini T, Barros MP, Falcão VR, Tonon AP, Lopes NP, Campos S, Torres MA, Souza AO, Colepicolo P (2007) Metabolites from algae with economical impact. Comp Biochem Physiol C Toxicol Pharmacol 146(1–2):60–78

4.

El-Said GF, El-Sikaily A (2013) Chemical composition of some seaweed from Mediterranean Sea coast, Egypt. Environ Monit Assess 185(7):6089–6099

5.

Arasaki S, Arasaki T (1983) Vegetables from the sea, vol 96. Japan Publ Inc, Tokyo, p 251

6.

Kumar IN, Barot M, Kumar R (2014) Phytochemical analysis and antifungal activity of selected seaweeds from. J Coast life Med 2(7):535–540

7.

Kumar M, Gupta V, Kumari P, Reddy C, Jha B (2011) Assessment of nutrient composition and antioxidant potential of Caulerpaceae seaweeds. J Food Compos Anal 24(2):270–278

8.

Chakraborty S, Santra SC (2008) Biochemical composition of eight benthic algae collected from Sunderban

9.

Kumari P, Kumar M, Gupta V, Reddy C, Jha B (2010) Tropical marine macroalgae as potential sources of nutritionally important PUFAs. Food Chem 120(3):749–757

10.

Joseph H, Roe H (1955) The determination of sugar in blood and spinal fluid with anthrone reagent. J Biol Chem 212:335–343

11.

Lowry OH, Rosebrough NJ, Farr AL, Randall RJ (1951) Protein measurement with the Folin phenol reagent. J Biol Chem 193(1):265–275

12.

Bligh EG, Dyer WJ (1959) A rapid method of total lipid extraction and purification. Can J Biochem Physiol 37(8):911–917

13.

Cunniff P, Association of Official Analytical Chemists (1995) Official methods of analysis of the AOAC International. Association of Official Analytical Chemists, Washington

14.

Lee YP, Takahashi T (1966) An improved colorimetric determination of amino acids with the use of ninhydrin. Anal Biochem 14(1):71–77

15.

Kannan S (2014) FT-IR and EDS analysis of the seaweeds Sargassum wightii (brown algae) and Gracilaria corticata (red algae). Int J Curr Microbiol Appl Sci 3(4):341–351

16.

Manivannan K, Thirumaran G, Karthikai Devi G, Anantharaman P, Balasubramanian T (2009) Proximate composition of different group of seaweeds from Vedalai Coastal waters (Gulf of Mannar): Southeast Coast of India. Middle East J Sci Res 4(2):72–77

17.

Schmidt-Hebbel H, Pennacchiotti I, Masson L, Mella M (1992) Tabla de composición química de alimentos chilenos. Universidad de Chile, Santiago

18.

Burtin P (2003) Nutritional value of seaweeds. Electron J Environ Agricult Food Chem 2(4):498–503

19.

Fleurence J (1999) Seaweed proteins: biochemical, nutritional aspects and potential uses. Trends Food Sci Technol 10(1):25–28

20.

Castro-González MI, Carrillo-Domínguez S, Pérez-Gil F (1994) Chemical composition of Macrocystis pyrifera (Giant Sargazo) collected in summer and winter and its possible use in animal feeding. Ciencias Marinas 20(1):33–40

21.

Rodríguez-Montesinos Y, Hernández-Carmona G (1991) Seasonal and geographic variations of Macrocystits pyrifera chemical composition at the western coast of Baja California. Ciencias Marinas 17(3):91–107

22.

Polat S, Ozogul Y (2008) Biochemical composition of some red and brown macro algae from the Northeastern Mediterranean Sea. Int J Food Sci Nutr 59(7–8):566–572

23.

Ji NK, Kumar RN, Patel K, Viyol S, Bhoi R (2009) Nutrient composition and calorific value of some seaweeds from bet dwarka, west coast of Gujarat, India. Our Nat 7(1):18–25

24.

Pak N, Araya H (1996) Macroalgas marinas comestibles de Chile como fuente de fibra dietética: efecto en la digestibilidad aparente de proteínas, fibra y energia y peso de deposiciones en ratas. Arch Latinoam Nutr 46(1):42–46

25.

Chakraborty S, Bhattacharya T (2012) Nutrient composition of marine benthic algae found in the Gulf of Kutch coastline, Gujarat, India. J Algal Biomass Utln 3(1):32–38

26.

Nisizawa K (2006) Seaweeds Kaiso: bountiful harvest from the seas. Japan Seaweed Association

27.

Sivakumar S, Arunkumar K (2009) Sodium, potassium and sulphate composition in some seaweeds occurring along the coast of Gulf of Mannar, India. Asian J Plant Sci 8(7):500

28.

Cutler JA (2006) Thiazide-associated glucose abnormalities: prognosis, etiology, and prevention. Is potassium balance the key? Hypertension 48(2):198–200. https://doi.org/10.1161/01.hyp.0000231339.51310.b3

29.

Zillich AJ, Garg J, Basu S, Bakris GL, Carter BL (2006) Thiazide diuretics, potassium, and the development of diabetes. Quant Rev 48(2):219–224. https://doi.org/10.1161/01.HYP.0000231552.10054.aa

30.

Krishnaiah D, Sarbatly R, Prasad D, Bono A (2008) Mineral Content of Some Seaweeds from Sabah's South China Sea. Asian J Sci Res 1(2):166–170. https://doi.org/10.3923/ajsr.2008.166.170

31.

Torres A, Cannata J (2003) Metabolismo calcio-fósforo y sus alteraciones. Nefrologıá Clınica. Editorial Medica Panamericana, Madrid, p 91

32.

Faŕιas S, Arisnabarreta SP, Vodopivez C, Smichowski P (2002) Levels of essential and potentially toxic trace metals in Antarctic macro algae. Spectrochim Acta, Part B 57(12):2133–2140. https://doi.org/10.1016/S0584-8547(02)00183-0

33.

Sahebi M, Hanafi MM, Siti Nor Akmar A, Rafii MY, Azizi P, Tengoua FF, Nurul Mayzaitul Azwa J, Shabanimofrad M (2015) Importance of silicon and mechanisms of biosilica formation in plants. Biomed Res Int 2015:396010. https://doi.org/10.1155/2015/396010
Acknowledgements
Dr. Nirmal Kumar J.I. would like to thank University Grants Commission, New Delhi, for financial support. We are also thankful to Sophisticated Instrumentation Centre for Advanced Research and Testing (SICART), Vallabh Vidyanagar, Gujarat, for GC–MS and EDAX analysis.
Ethics declarations
Conflict of interest
The authors declare that they have no conflict of interest.
Additional information
Publisher's Note
Springer Nature remains neutral with regard to jurisdictional claims in published maps and institutional affiliations.
About this article
Cite this article
Barot, M., Nirmal Kumar, J.I. & Kumar, R.N. An Evaluation of the Nutritional Composition of Seaweeds as Potential Source of Food and Feed. Natl. Acad. Sci. Lett. 42, 459–464 (2019). https://doi.org/10.1007/s40009-019-0783-x
Received:

Revised:

Accepted:

Published:

Issue Date:
Keywords
Minerals

Nutritional composition

Seaweeds

Okha coast