Abstract
Sabia campanulata Wall. subsp. ritchieae (Rehder & E.H. Wilson) Y.F. Wu, an endemic species from China is recorded for the first time to the flora of India from Sainj Wildlife Sanctuary of Himachal Pradesh, India. Detail description, illustration, habitat, flowering and fruiting period along with field photographs are provided for easy identification. A note has also been provided on the population status of the taxon in India.
This is a preview of subscription content, log in to check access.
Access options
Buy single article
Instant access to the full article PDF.
US$ 39.95
Price includes VAT for USA
Subscribe to journal
Immediate online access to all issues from 2019. Subscription will auto renew annually.
US$ 99
This is the net price. Taxes to be calculated in checkout.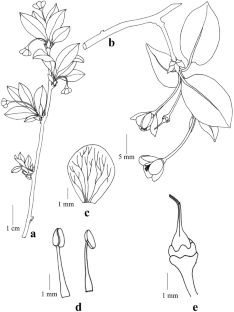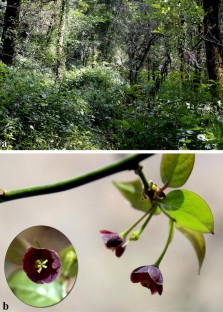 References
1.

ThPMVanDe Walter (1980) A taxonomic revision of the genus sabia (Sabiaceae). Blumea 26:1–64

2.

Law YW, Wu YF (1982) A preliminary study on Sabiaceae of China. Acta Phytotaxonomica Sinica 20(4):421–438

3.

Lixiu G, Brach AR (2007) Sabiaceae. In: Wu ZY, Raven PH, Hong DY (eds) Flora of China. (Hippocastanaceae through Theaceae), vol 12. Science Press, Beijing, pp 25–42

4.

Rehder A, Wilson EH (1914) Sabiaceae. In: Sargent CS (ed) Plantae Wilsonianae, an enumeration of the woody plants collected in western China for the Arnold Arboretum of Harvard University during the years 1907, 1908 and 1910, vol 2. The University Press, Cambridge, p 195

5.

Mabberley DJ (2008) Mabberley's plant book: a portable dictionary of plants, their classification and uses, 3rd edn. Cambridge University Press, Cambridge, p 757

6.

Hooker JD (1876) Sabiaceae. In: Hooker JD (ed) The flora of British India, vol 2. L. Reeve and Co., Kent, pp 1–3

7.

Majumder SC (2000) Sabiaceae. In: Singh NP, Vohra JN, Hajra PK, Singh DK (eds) Flora of India, vol 5. Botanical Survey of India, Kolkata, pp 429–434

8.

Chowdhery HJ, Wadhwa BM (1984) Flora of Himachal Pradesh, vol 1. Botanical Survey of India, Calcutta, p 163

9.

IUCN Standards and Petitions Subcommittee (2016) Guidelines for using the IUCN red list categories and criteria. Version 12. IUCN Species Survival Commission. IUCN, Gland
Acknowledgements
The authors are thankful to Dr. Paramjit Singh, Director, Botanical Survey of India, Kolkata and Dr. P. V. Prasanna, Scientist-F, Botanical Survey of India, Central National Herbarium, for support, facilities and encouragement. Authors are also grateful to the Forest Department of Himachal Pradesh for granting permission to conduct field survey. We also sincerely acknowledge the Ministry of Environment, Forest and Climate Change (MoEF and CC), Government of India, New Delhi, for financial support through its project NMHS/2015–16/LG–05. Dr. S. K. Dey is warmly thanked for his help.
Additional information
Publisher's Note
Springer Nature remains neutral with regard to jurisdictional claims in published maps and institutional affiliations.
About this article
Cite this article
Das, D.S., Rawat, D.S., Sinha, B.K. et al. Sabia campanulata Wall. subsp. ritchieae (Rehder & E.H. Wilson) Y.F. Wu (Sabiaceae): An Addition to the Flora of India. Natl. Acad. Sci. Lett. 42, 531–533 (2019). https://doi.org/10.1007/s40009-019-00791-4
Received:

Revised:

Accepted:

Published:

Issue Date:
Keywords
New record

Sainj Valley

IUCN status