Abstract
Ten fluorescent Pseudomonas species isolated from normal and replant rhizosphere soil samples of apple collected from different locations of Shimla and Kullu districts of Himachal Pradesh. These Pseudomonas species solubilized tri calcium phosphate and showed substantial amount of soluble phosphorus in Pikovskay's broth, exhibited the production of siderophore and growth inhibition against Dematophora necatrix, white root rot causing fungi in apple orchards. Random Amplified Polymorphic DNA analysis was done using four arbitary decamer primers of OPA series to observe genetic homogeneity/polymorphism among 10 isolates of fluorescent Pseudomonas species. Total 25 bands were generated with 4 random decamer oligonuceleotide primers. All the bands generated through RAPD-PCR were polymorphic in nature. The dendrogram constructed using UPGMA method showed that all the ten Pseudomonas isolates were categorized into three distinct clusters. The isolate An-9-Mg and An-H showed maximum similarity (67%) with each other and An-G showed 53% similarity with An-9-Mg and An-H. The isolate Ar-1-Mg was totally different from all other nine strains. Out of the ten Pseudomonas isolates, An-G and An-H showed maximum production of P-solubilization, siderophore and antifungal activity. Therefore, the uniqueness of Pseudomonas isolates An-G and An-H suggested their potential use for developing a cost effective and eco friendly biofertilizers for apple, an important cash crop of Himachal Pradesh.
This is a preview of subscription content, log in to check access.
Access options
Buy single article
Instant access to the full article PDF.
US$ 39.95
Price includes VAT for USA
Subscribe to journal
Immediate online access to all issues from 2019. Subscription will auto renew annually.
US$ 99
This is the net price. Taxes to be calculated in checkout.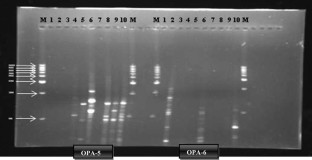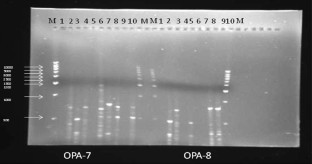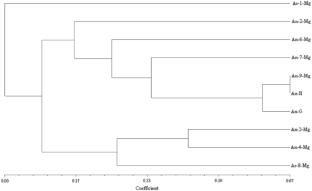 References
1.

Bull CT, Weller DM, Thomashow LS (1991) Relationship between root colonization and suppression of Gaeumannomyces graminis var. tritici by Pseudomonas fluorescens strain 2–79. Phytopathology 81:950–959

2.

David ND, O'Gara F (1994) Metabolites of Pseudomonas involved in the biocontrol of plant diseases. Tibtech 12(4):133–141

3.

Louws FJ, Rademaker JLW, de Bruijn FJ (1999) The three Ds of PCR-based genomic analysis of phytobacteria: diversity, detection and disease diagnosis. Ann Rev Phytopathol 37:81–125

4.

Olsen SR, Cole CV, Whatanable FS, Dean LA (1954) Estimation of available phosphorus by extraction with sodium carbonate. US Department of Agriculture, Washington DC

5.

Schwyn B, Neilands JB (1987) Universal chemical assay for the detection and determination of siderphores. Anal Biochem 28(8):751–759

6.

Vincent JM (1947) Distribution of fungal hyphae in presence of certain inhibitors. Nature 150:850

7.

Hariprasad P, Niranjana SR (2009) Isolation and characterization of phosphate solubilizing rhizobacteria to improve plant health of tomato. Plant Soil 316:13–24

8.

Gyaneshwar P, Kumar GN, Parekh LJ, Poole PS (2002) Role of soil microorganisms in improving P nutrition of plants. Plant Soil 245:83–93

9.

Rodriguez H, Fraga R (1999) Phosphate solubilizing bacteria and their role in plant growth promotion. Biotechnol Adv 17:319–339

10.

Vikram A, Hamzehzarghani H, Alagawadi A, Krishnaraj PU, Chandrashekhar BS (2007) Production of plant growth promoting substances by phosphate solubilizing bacteria isolated from vertisols. J Plant Sci 2(3):326–333

11.

Neilands JB (1981) Microbial iron compounds. Annu Rev Biochem 50:715–731

12.

Marques ASA, Marchaison A, Gardon L, Samaon R (2008) Box-PCR based identification of bacterial sp. belonging to Pseudomonas syringae—P. viridiflavia gp. Genet Mol Biol 31(1):106–115

13.

Babalola OO, Osir EO, Sanni AI (2002) Charaacterization of potential ethylene producing rhizosphere bacteria of Striga-infested maize and sorghum. Afr J Biotech 1(2):67–69

14.

Field D, Wills C (1998) Abundant microsatellite polymorphism in S. cerevisiae and the different distributions of microsatellites in prokaryotes and eukaryotes, result from strong mutation pressures and a variety of selective forces. Proc Natl Acad Sci USA 95:1647–1652
Acknowledgements
This study was supported by Department of Science and Technology funded Project. The authors are thankful to Head of the Department for providing necessary facilities.
About this article
Cite this article
Sharma, R., Rana, S. & Kaur, M. Isolation of Plant Growth Promoting fluorescent Pseudomonas from Mid-Himalayan Apple Orchards and their Similarity Analysis. Natl. Acad. Sci. Lett. 42, 277–281 (2019). https://doi.org/10.1007/s40009-018-0717-z
Received:

Accepted:

Published:

Issue Date:
Keywords
Rhizoshere

PGPR

Fluorescent Pseudomonas

RAPD