Abstract
Launaea nudicaulis (Asteraceae) produces two morphologically distinct types of achenes (whitish brown and black) in a single capitulum. All L. nudicaulis achenes have a pappus and pappi were removed artificially in this study for experimental purposes. The germination of achenes of both colours, with and without pappi, under various temperature regimes and illumination conditions was tested. Different coloured achenes showed differences in their mass and germination behavior. Whitish brown achenes (with and without pappi) displayed greater germination than black ones. Whitish brown achenes without pappi generally displayed greater germination than achenes with pappi. Continuous darkness enhanced germination, regardless of the presence of pappi, indicating that L. nudicaulis seeds are negatively photoblastic.
Access options
Buy single article
Instant access to the full article PDF.
US$ 39.95
Tax calculation will be finalised during checkout.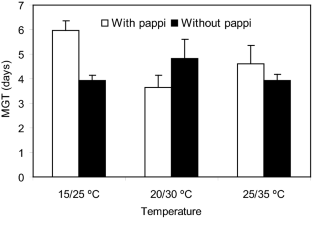 References
1.

Imbert E (2002) Ecological consequences and ontogeny of seed heteromorphism. Perspect Plant Ecol Evol Syst 5:13–36

2.

Brändel M (2004) Dormancy and germination of heteromorphic achenes of Bidens frondosa. Flora 199:228–233

3.

Baskin CC, Baskin JM (2014) Seeds. Ecology, biogeography, and evolution of dormancy and germination. Elsevier/Academic Press, San Diego

4.

Venable DL, Dyreson E, Pinero D, Becerra JX (1998) Seed morphometrics and adaptive geographic differentiation. Evolution 38:344–354

5.

Thompson K, Rickard LC, Hodkinson DJ, Rees M (2002) Seed dispersal: the search for trade-offs. Dispersal Ecol 33:152–172

6.

Gibson JP (2001) Ecological and genetic comparison between ray and disc achene pools of the heteromorphic species Prionopsis ciliata (Asteraceae). Int J Plant Sci 162:137–145

7.

Jongbloed M (2003) The comprehensive guide to the wild flowers of the United Arab Emirates. Environmental Research and Wildlife Development Agency, Abu Dhabi

8.

Kilian N (1997) Revision of Launaea Cass (Compositae, Lactuceae, Sonchinae). Botanischer Garten und Botanisches Museum, Berlin-Dahlem

9.

Norton J, Majid SA, Allan D, Al Safran M, Böer B, Richer R (2009) An illustrated checklist of the flora of Qatar. Browndown Publication, Gosport

10.

Rashid S, Ashraf M, Bibi S, Anjum R (2000) Antibacterial and Antifungal Activities of Launaea nudicauliis (Roxb.) and Launaea resedifola (Linn.). Pak J Biol Sci 3:630–632

11.

Mansoor F, Anis I (2013) Chemical studies of Launaea nudicaulis hook f. extracts with antioxidant and urease inhibitory activities. J Chem Soc Pak 35:233–237

12.

Ahmed R, Qaiser M (1989) Plants of Karachi. Pak J Bot 21:218–246

13.

Gomaa NH (2012) Soil seed bank in different habitats of the Eastern Desert of Egypt. Saudi J Biol Sci 19:211–220

14.

Porras R, Muñoz JM (2000) Achene heteromorphism in the cleistogamous species Centaurea melitensis. Acta Oecol 21:231–243

15.

Sun HZ, Lu JJ, Tan DY, Baskin JM, Baskin CC (2009) Dormancy and germination characteristics of the trimorphic achenes of Garhadiolus papposus (Asteraceae), an annual ephemeral from the Junggar Desert, China. S Afr J Bot 75:537–545

16.

Hale AN, Imfeld SM, Hart CE, Gribbins KM, Yoder JA, Collier MH (2010) Reduced seed germination after pappus removal in the North American dandelion (Taraxacum officinale; Asteraceae). Weed Sci 58:420–425

17.

Cruz-Mazo G, Narbona E, Buide ML (2010) Germination patterns of dimorphic achenes in three related species of Scorzoneroides (Asteraceae, Lactuceae) growing in different environments. Ann Bot Fenn 47:337–345

18.

Gallacher DJ, Hill JP (2008) Effects of camel grazing on density and species diversity of seedling emergence in the Dubai (UAE) inland desert. J Arid Environ 72:853–860

19.

Aguado M, Martínez-Sánchez JJ, Reig-Arminana J, García-Breijo FJ, Franco JA, Vicente MJ (2011) Morphology, anatomy and germination response of heteromorphic achenes of Anthemis chrysantha J. Gay (Asteraceae), a critically endangered species. Seed Sci Res 21:283–294

20.

Gutterman Y (1993) Seed germination in desert plants. Adaptations of desert organisms. Springer, Berlin

21.

Nakamura I, Hossain MA (2009) Factors affecting the seed germination and seedling emergence of redflower ragleaf (Crassocephalum crepidioides). Weed Biol Mgm 9:315–322

22.

Rokich DP, Bell DT (1995) Light quality and intensity effects on the germination of species from the jarrah (Eucalyptus marginata) forest of Western Australia. Aust J Bot 43:169–179

23.

Böer B (1997) An introduction to the climate of the United Arab Emirates. J Arid Environ 35:3–16

24.

Islam MD, Kubo I, Ohadi M, Alili AA (2009) Measurement of solar energy radiation in Abu Dhabi, UAE. Appl Energy 86:511–515
Acknowledgements
Authors are very grateful to Prof. Ashley Nicholas, University of KwaZulu-Natal (UKZN), South Africa, for his critical revision of the manuscript.
About this article
Cite this article
Bhatt, A., Pérez-García, F. Germination Patterns of Dimorphic Achenes in Launaea nudicaulis (Asteraceae) Growing in Desert Environments. Natl. Acad. Sci. Lett. 41, 177–180 (2018). https://doi.org/10.1007/s40009-018-0640-3
Received:

Revised:

Accepted:

Published:

Issue Date:
Keywords
Temperature

Heteromorphic

Seed germination

Desert

Achene colour

Launaea nudicaulis