Abstract
The experiment was conducted to identify the waterlogging stress tolerant genotypes in pigeonpea. Waterlogging treatment was given to the plants at vegetative stage after treatment the survival rate was assessed. Out of 128 germplasm pool, 38 survived and the survival rate was estimated along with Mahalanobis D2 cluster analysis. The range of survival percentage for both pot and field were found between 26.6 and 73.3 with the standard deviation of 14.82 for pot screening and 14.29 for field screening. The pot survival percentage mean for all 38 accessions were found higher than field survival which clearly indicates that environment poses an effect on the performance of the genotypes. The Mahalanobis cluster analysis revealed five clusters. Out of five clusters, two were found comparatively tolerant than the others. The tolerant germplasm can also be used as donor parents in hybridization programs for development of water logging-tolerant genotypes. The identified tolerant germplasms may be utilized to incorporate waterlogging tolerance in the short-duration pigeonpea pool.
Access options
Buy single article
Instant access to the full article PDF.
USD 39.95
Price includes VAT (USA)
Tax calculation will be finalised during checkout.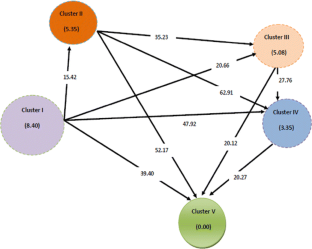 References
1.

Varshney RK, Chen W, Li Y, Bharti AK, Saxena RK, Schlueter JA (2012) Draft genome sequence of pigeonpea (Cajanus cajan), an orphan legume crop of resource poor farmers. Nat Biotechnol 30:83–89

2.

F.A.O. (2014). http://faostat.fao.org

3.

Choudhary AK, Singh D, Iquebal MA (2011) Selection of pigeonpea genotypes for tolerance to aluminium toxicity. Plant Breeding 130:492–495

4.

Singh K, Sharma SP, Singh TK, Singh Y (1986) Effect of waterlogging on growth, yield and nutrient concentration of black gram and green gram under subtropical condition of Varanasi. Ann Agric Res 7:169–177

5.

Vartapetian BB, Jackson MB (1997) Plant adaptations to anaerobic stress. Ann Bot Lond 79:3–20

6.

Kumutha D, Sairam RK, Ezilmathi K, Chinnusami V, Meena RC (2008) Effect of waterlogging on carbohydrate metabolism in pigeonpea (Cajanus cajan L.): upregulation of sucrose synthase and alcohol dehydrogenase. Plant Sci 175(5):706–716

7.

Ponnamperuma FN (1972) The chemistry of submerged soil. Adv Agron 24:29–96

8.

Levitt J (1980) Excess water or flooding stress. In: Levitt J (ed) Responses of plants to environmental stresses, vol 2: water, radiation, salt, and other stresses. Academic Press, New York, pp 213–228

9.

Laanbroek HJ (1990) Bacterial cycling of minerals that affect plant growth in waterlogged soils: a review. Aquat Bot 38:109–125

10.

Kennedy RA, Rumpho ME, Fox TC (1992) Anaerobic metabolism in plants. Plant Physiol 100:1–6

11.

Kumutha D, Ezilmathi K, Sairam RK, Srivastava GC, Deshmukh PS, Meena RC (2009) Waterlogging induced oxidative stress and antioxidant activity in pigeonpea genotypes. Biol Plant 53(1):75–84

12.

Sairam RK, Kumutha D, Ezilmathi K, Chinnusami V, Meena RC (2009) Waterlogging induced oxidative stress and antioxidant enzyme activities in pigeonpea. Biol Plant 53(3):493–504

13.

Kuhad MS, Nandwal AS, Kundu BS (1989) Physiological responses of pigeonpea (Cajanus cajan L.) genotypes to water stress. Indian J Plant Phys 32(3):212–216

14.

Mahalanobis PC (1936) On the generalized distance in statistics. Proc Nat Inst Sci India 2:49–55

15.

Khare D, Rao S, Lakhani JP, Satpute RG (2002) Tolerance for flooding during germination in pigeonpea. Seed Sci Res 30:82–87

16.

Chauhan YS, Silim SN, Rao JVDKK, Johansen C (1997) A pot technique to screen pigeonpea cultivars for resistance to waterlogging. J Agron Crop Sci 178(3):179–183

17.

Krishnamurthy L, Upadhayaya HD, Saxena KB, Vadez V (2012) Variation for temporary waterlogging response within the mini core pigeonpea germplasm. J Agric Sci 150(3):357–364

18.

Sultana R, Vales MI, Saxena KB, Rathore A, Rao S, Rao SK, Mula MG, Kumar RV (2012) Waterlogging tolerance in pigeonpea (Cajanus cajan). J Agric Sci 1:13

19.

Dubey SD, Asthana AN (1987) Selection of plant type resistance to waterlogging in pigeonpea (abstract). In: Food legume improvement for Asian farming systems. Proceedings of the international workshop held in Khon Kaen, Thailand, 311

20.

Perera AM, Pooni HS, Saxena KB (2001) Components of genetic variation in short-duration pigeonpea crosses under waterlogged conditions. J Genet Plant Breed 55(1):31–38

21.

Sarode SB, Singh MN, Singh UP (2007) Genetics of waterlogging tolerance in pigeonpea [Cajanus cajan (L.) Millsp]. Indian J Genet Plant Breed 67(3):264–265
Acknowledgements
The author is indebted to International Crops Research Institute for the Semi-Arid Tropics (ICRISAT) for providing seeds of the germplasms used in the present study. The authors wish to acknowledge, Department of Agriculture Biotechnology, Sardar Vallabhbhai Patel University of Agriculture and Technology, Meerut U.P., for providing the infrastructural facilities. The authors Yashwant Kumar Yadava, Rajesh Kumar Singh, Pawan Kumar, Pushpendra Kumar, M.K. Yadav and Rajendra Kumar were actively involved in experimentation and interaction. The authors Anupam Barh and H.D. Upadhayay contributed in draft preparation and proofreading of data analysis of the manuscript
Ethics declarations
Conflict of interest
The authors declare that they have no conflict of interest.
About this article
Cite this article
Yadava, Y.K., Singh, R.K., Kumar, P. et al. Assay of Genetic Architecture for Identification of Waterlogging Tolerant Pigeonpea Germplasm. Natl. Acad. Sci. Lett. 41, 11–14 (2018). https://doi.org/10.1007/s40009-018-0614-5
Received:

Revised:

Accepted:

Published:

Issue Date:
Keywords
Pigeonpea

Waterlogging

Abiotic stress

Mahalanobis cluster analysis