Abstract
In the present study, autotrophic ammonia oxidizing bacteria (AOB) were isolated and characterized from a fish processing effluent treatment plant. Sequencing of 16S rRNA gene showed AOB affiliation to Nitrosomonas marina, Nitrosomonas nitrosa and Nitrosospira lineages of Betaproteobacteria. The isolates were further confirmed with using ammonia mono-oxygenase subunit-A gene (amoA) specific fluorescence in situ hybridization assay. The reduction of ammonia by these isolates was comparable with the standard AOB pure culture Nitrosomonas europaea ATCC 19718. Among all the cultures, AOB-21 was found to be having highest potential for ammonia removal. The presence of AOB in fish processing effluent treatment plants suggests the usefulness of these isolates in sustainable removal of ammonia from fish processing waste effluent.
Access options
Buy single article
Instant access to the full article PDF.
US$ 39.95
Tax calculation will be finalised during checkout.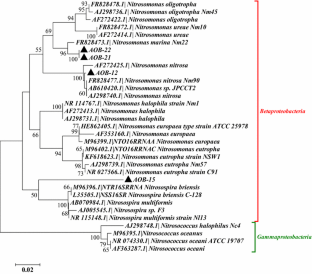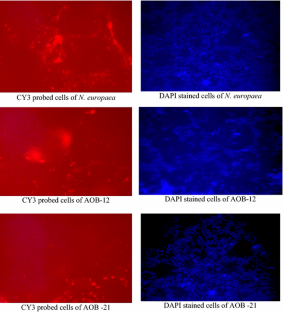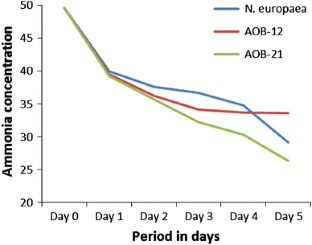 References
1.

Bollmann A, French E, Laanbroek HJ (2011) Isolation, cultivation, and characterization of ammonia oxidizing bacteria and archaea adapted to low ammonium concentrations. Methods Enzymol 486:56–88

2.

Ward BB, Eveillard D, Kirshtein JD, Nelson JD, Voytek MA, Jackson GA (2007) Ammonia-oxidizing bacterial community composition in estuarine and oceanic environments assessed using a functional gene microarray. Environ Microbiol 10:2522–2538

3.

Bellucci M, Curtis TP (2011) Ammonia-oxidizing bacteria in wastewater. Methods Enzymol 496:269–286

4.

Kowalchuk GA, Stephen JR, Deboer W, Prosser JI, Embley TM, Woldendorp JW (1997) Analysis of ammonia-oxidizing bacteria of the beta subdivision of the class Proteobacteria in coastal sand dunes by denaturing gradient gel electrophoresis and sequencing of PCR-amplified 16S ribosomal DNA fragments. Appl Environ Microbiol 63:1489–1497

5.

Rotthauwe JH, Witzel KP, Liesack W (1997) The ammonia monooxygenase structural gene amoA as a functional marker: molecular fine-scale analysis of natural ammonia-oxidizing populations. Appl Environ Microbiol 63:4704–4712

6.

Purkhold U, Pommerening-Röser A, Juretschko S, Schmid MC, Koops HP, Wagner M (2000) Phylogeny of all recognized species of ammonia oxidizers based on comparative 16S rRNA and amoA sequence analysis: implications for molecular diversity surveys. Appl Environ Microbiol 66:5368–5382

7.

Kowalchuck G, Stephen JR (2001) Ammonia oxidizing bacteria: a model for molecular microbial ecology. Annu Rev Microbiol 55:485–529

8.

French E, Kozlowski JA, Mukherjee M, Bullerjahn G, Bollmann A (2012) Ecophysiological characterization of ammonia-oxidizing archaea and bacteria from freshwater. Appl Environ Microbiol 78:5773–5780

9.

Ausubel FM, Brent R, Kingston RE, Moore DD, Seidman JG, Smith JA, Struhl K (1994) Current protocols in molecular biology. Wiley, New York

10.

Reddy AD, Subrahmanyam G, Girisha SK, Karunasagar I, Karunasagar I (2014) Detection of ammonia-oxidizing archaea in fish processing effluent treatment plants. Indian J Microbiol 54:434–438

11.

Amann RI, Binder BJ, Olson RJ, Chisholm SW, Devereux R, Stahl DA (1990) Combination of 16S rRNA-targeted oligonucleotide probes with flow cytometry for analyzing mixed microbial populations. Appl Environ Microbiol 56:1919–1925

12.

Aakra A, Utaker JB, Nes IF, Bakken LR (1999) An evaluated improvement of the extinction dilution method for isolation of AOB. J Microbiol Methods 39:23–31

13.

Keluskar R, Anuradha N, Anjana D (2013) Mutualism between autotrophic ammonia-oxidizing bacteria (AOB) and heterotrophs present in an ammonia-oxidizing colony. Arch Microbiol 195:737–747

14.

Purkhold U, Wagner M, Timmermann G, Pommerening-Röser A, Koops HP (2003) 16S rRNA and amoA-based phylogeny of 12 novel betaproteobacterial ammonia oxidizing isolates: extension of the dataset and proposal of a new lineage within the nitrosomonads. Int J Syst Evol Microbiol 53:1485–1494

15.

Bernhard AE, Donn T, Giblin AE, Stahl DA (2005) Loss of diversity of ammonia- oxidizing bacteria correlates with increasing salinity in an estuary system. Environ Microbiol 7:1289–1297

16.

Subrahmanyam G, Hu HW, Zheng YM, Archana G, He JZ, Liu YR (2014) Response of ammonia oxidizing microbes to the stresses of arsenic and copper in two acidic alfisols. Appl Soil Ecol 77:59–67

17.

Urakawa H, Maki H, Kawabata S, Fujiwara T, Ando H, Kawai T, Hiwatari T, Kohata K, Watanabe M (2006) Abundance and population structure of ammonia-oxidizing bacteria that inhabit canal sediments receiving effluents from municipal wastewater treatment plants. Appl Environ Microbiol 72:6845–6850

18.

Coskuner G, Ballinger SJ, Davenport RJ (2005) Agreement between theory and measurement in quantification of ammonia-oxidizing bacteria. Appl Environ Microbiol 71:6325–6334

19.

Subrahmanyam G, Shen JP, Liu YR, Archana G, He JZ (2014) Response of ammonia oxidizing archaea and bacteria to long-term industrial effluent polluted soils, Gujarat, western India. Environ Monit Assess 186:4037–4050
Acknowledgments
Authors gratefully acknowledge the funding support to the research project under the ICAR- NAIP- National Fund for Basic, Strategic & Frontier Application Research in Agriculture. Grateful thanks to Prof. Daniel J. Arp, Oregon State University, USA for providing the Nitrosomonas europea ATCC 19718 culture.
About this article
Cite this article
Reddy, A.D., Subrahmanyam, G., NaveenKumar, S. et al. Isolation of Ammonia Oxidizing Bacteria (AOB) from Fish Processing Effluents. Natl. Acad. Sci. Lett. 38, 393–397 (2015). https://doi.org/10.1007/s40009-015-0363-7
Received:

Revised:

Accepted:

Published:

Issue Date:
Keywords
Ammonia oxidizing bacteria

Ammonia oxidation

Fish processing effluents

Fluorescence in situ hybridization

amoA gene

16S rRNA gene