Abstract
The present study was designed to demonstrate the loss of ERK dependence on amplified apoptotic signals in arsenic treated rat hepatocytes. Arsenic trioxide treatment (10 μM) exhibited simultaneous activation of caspase 9, caspase 3 and caspase 8. Moreover, expression and secretion of Fas ligand was also prominent. Reduction in nuclear translocation of pERK was directly associated with caspase activation. Treatment with ERK inhibitor further augmented caspase activation. An experiment with Fas receptor blocked cells confirmed self amplification of apoptotic signals via Fas R/caspase 8 interaction.
Access options
Buy single article
Instant access to the full article PDF.
US$ 39.95
Tax calculation will be finalised during checkout.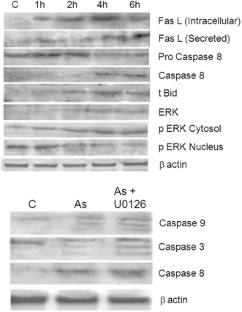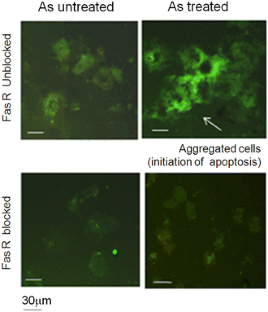 References
1.

Li H, Engström K, Vahter M, Broberg K (2012) Arsenic exposure through drinking water is associated with longer telomeres in peripheral blood. Chem Res Toxicol. doi:10.1021/tx300222t

2.

Pulido MD, Parrish AR (2003) Metal-induced apoptosis: mechanisms. Mutat Res 533:227–241

3.

Kang YH, Yi MJ, Kim MJ, Park MT, Bae S, Kang CM, Cho CK, Park IC, Park MJ, Rhee CH, Hong SI, Chung HY, Lee YS, Lee SJ (2004) Caspase-independent cell death by arsenic trioxide in human cervical cancer cells: reactive oxygen species-mediated poly(ADP-ribose) polymerase-1 activation signals apoptosis-inducing factor release from mitochondria. Can Res 64:8960–8967

4.

Malugin A, Kopečková P, Kopeček J (2006) HPMA copolymer-bound doxorubicin induces apoptosis in ovarian carcinoma cells by the disruption of mitochondrial function. Mol Pharm 3:351–361

5.

Roy S, Bhattacharya S (2006) Arsenic induced histopathology and synthesis of stress proteins in liver and kidney of channa punctatus. Ecotox Environ Safety 65:218–229

6.

Ghosh D, Bhattacharya S, Mazumder S (2006) Perturbations in the fish immune responses: organ and cell specific effects of arsenic. Comp Biochem Physiol Part C 143:455–463

7.

Roy S, Chattoraj A, Bhattacharya S (2006) Arsenic-induced changes in optic tectal histoachitecture acetylcholinesterase–acetylcholine profile in channa punctatus : amelioration by selenium. Comp Biochem Physiol Part C 144:16–24

8.

Bhattacharya S, Bhattacharya A, Roy S (2007) Arsenic induced responses in freshwater teleosts. Fish Physiol Biochem 33:463–473

9.

Datta S, Saha DR, Ghosh D, Majumdar T, Bhattacharya S, Mazumder S (2007) Sublethal concentration of arsenic interferes with proliferation of hepatocytes and induces in vivo apoptosis in clarias batrachus L. Comp Biochem Physiol Part C 145:339–349

10.

Ray A, Roy A, Agarwal S, Bhattacharya S (2008) As2O3 toxicity in rat hepatocytes: manifestation of caspase mediated apoptosis. Toxicol Ind Health 24:643–653

11.

Datta S, Ghosh D, Saha DR, Bhattacharya S, Mazumder S (2009) Chronic exposure to low concentration of arsenic is immunotoxic to fish: role of head kidney macrophages as bio markers of arsenic toxicity to clarias batrachus. Aquatic Toxicol 92:86–94

12.

Agarwal S, Roy S, Ray A, Mazumder S, Bhattacharya S (2009) As2O0 and lead acetate induce apoptosis in adult rat hepatic stem cells. Cell Biol Toxicol 25:403–413

13.

Kitchin KT (2001) Recent advances in arsenic carcinogenesis: modes of action, animal model systems, and methylated arsenic metabolites. Toxicol Appl Pharmacol 172:249–261

14.

Waalkes MP, Liua J, Wardb JM, Diwanc BA (2004) Animal models for arsenic carcinogenesis: inorganic arsenic is a transplacental carcinogen in mice. Toxicol Appl Pharmacol 198:377–384

15.

Abrahams VM, Kamsteeg M, Mor G (2003) The Fas/Fas ligand system and cancer immune privilege and apoptosis. Mol Biotechnol 25(1):19–30

16.

Inglis JK (1980) Introduction to laboratory animal science and technology. Pergamon Press, Oxford

17.

Wada T, Penninger JM (2004) Mitogen-activated protein kinases in apoptosis regulation. Oncogene 23:2838–2849

18.

Xia Z, Dickens M, Raingeaud J, Davis RJ, Greenberg ME (1995) Opposing effects of ERK and JNK-p38 MAP kinases on apoptosis. Science 270:1326–1331

19.

Özören N, El-Deiry WS (2003) Cell surface death receptor signaling in normal and cancer cells. Semin Can Biol 13:135–147

20.

Inayat-Hussain SH, Ross D (2005) Intrinsic pathway of hydroquinone induced apoptosis occurs via both caspase-dependent and caspase-independent mechanism. Chem Res Toxicol 18:420–427

21.

Czaja MJ, Liu H, Wang Y (2003) Oxidant-induced hepatocytes injury from menadione is regulated by ERK and AP-signaling. Hepatology 37:1405–1413

22.

Rosseland CM, Wierod L, Oksvold MP, Werner H, Ostvold AC, Thoresen GH, Paulsen RE, Huitfeldt HS, Skarpen E (2005) Cytoplasmic retention of peroxide-activated ERK provide survival in primary cultures of rat hepatocytes. Hepatology 42:200–207
Acknowledgments
This work was supported by Department of Science & Technology (DST), Ministry of Science & Technology Project No SR/SO/AS-22/2008) and the National Academy of Sciences, India (NASI). AR is grateful to CSIR for a SRF, SC gratefully acknowledges DST for a SRF, SM is grateful to University Grants Commission for SRF and SB acknowledges NASI for the award of Senior Scientist Platinum Jubilee Fellowship.
Conflict of interests:
No conflict of interest exists.
About this article
Cite this article
Ray, A., Chatterjee, S., Mukherjee, S. et al. Interplay of Loss of ERK Dependence and Amplification of Apoptotic Signals in Arsenic Treated Rat Hepatocytes. Natl. Acad. Sci. Lett. 36, 599–602 (2013). https://doi.org/10.1007/s40009-013-0175-6
Received:

Revised:

Accepted:

Published:

Issue Date:
Keywords
Hepatocyte

Arsenic

Apoptosis

Fas

Caspase

ERK