Abstract
Bacterial diseases, diarrhoea, cholera, typhoid and dysentery mainly originate through consumption of bacterial contaminated water. Comparative in-vitro antimicrobial activity of some essential oils (EOs) against a few water borne bacterial diseases are reported. The minimum inhibitory concentrations (MIC) of essential oil of Micromeria biflora Benth for Escherichia coli (ATCC-25922), E. coli (MTCC-723), Shigella dysenteriae (ATCC-23513) Salmonella typhimurium (MTCC-98) respectively was 0.172, 0.308, 0.178, 0.202 mg/ml but in case of Vibrio cholerae (MTCC-3906) the oil was found ineffective. The essential oil of Citrus reticulata Blanco had MIC against E. coli 2.60 mg/ml, V. cholerae 8.06 mg/ml, S. dysenteriae 2.99 mg/ml, S. typhimurium 5.18 mg/ml, but the oil has no efficacy against E. coli (MTCC). Further, due to synergistic activity, the oils were found to be more effective against MTCC strain of E. coli and V. cholerae at MIC of 0.15 and 0.14 mg/ml respectively. The phylogenetic evaluations of the pathogens were carried out with help of ClustalW computer program.
Access options
Buy single article
Instant access to the full article PDF.
US$ 39.95
Tax calculation will be finalised during checkout.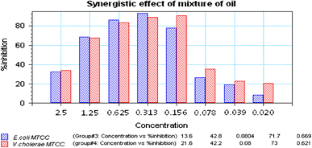 References
1.

Walsh JA (1990) Estimating the burden of illness in the tropics. In: Warren KS, Mahoud AAF (eds) Tropical and geographical medicines, 2nd edn. Mc-Graw Hill, New York

2.

Ashbolt NJ (2004) Microbial contamination of drinking water and disease outcome in developing regions. Toxicology 198:229–238

3.

WHO (2003) The global water supply and sanitation assessment 2000. Retrieved 28 Dec 2004

4.

Akerele O (1993) Nature's medical botany: do not throw it away. World Health Forum 14:390–395

5.

Nyazena ZN, Kire FC (1986) The interaction between traditional medicine remedies used for gastrointestinal diseases as conventional drugs. East Afr Med J 63:258–262

6.

Ellof JN (1998) Which extractant should be used for the screening and isolation of antimicrobial components from plants. J Ethnopharmacol 60:1–6

7.

Tepe B, Donmez E, Unlu M, Candan F, Daferera D, Vardar-Unlu G (2004) Antimicrobial and antioxidative activities of the essential oils and methanol extracts of Salvia cryptantha (montbret et aucher ex benth.) and Salvia multicaulis (vahl). Food Chem 84:519–525

8.

Marin FR, Soler-Rivas C, Benavete-Garcia O, Castillo J, Perez-Alvarez JA (2007) By-products from different citrus processes as a source of customized functional fibres. Food Chem 100:736–741

9.

Mishra RK, Kumar A, Shukla AC, Tiwari P, Dikshit A (2010) Quantitative and rapid antibacterial assay of Micromeria biflora Benth. Leaf essential oil against Dental caries causing bacteria using phylogentic approach. J Ecobiotechnol 2(4):22–26

10.

Kumar A, Mishra RK, Tiwari AK, Pandey A, Shukla AC, Dikshit A (2011) Role of phylogenetic analysis for anti-bacterial activity of essential oil of Trachyspermum ammi L. Against water borne pathogens. Adv Environ Biol 5(6):1271–1278

11.

Clevenger JF (1928) Apparatus for the determination of volatile oil. J Am Pharm Assoc 17:346

12.

NCCLS (2003) Methods for dilution antimicrobial susceptibility tests for bacteria that grow aerobically—approved standard, M7-A5, 5th edn. Wayne, Pennsylvania

13.

Smith-Palmer A, Stewart J, Fyfe L (1998) Antimicrobial properties of plant essential oils and essences against five important food-borne pathogens. Lett Food Microbiol 26:118–122

14.

Delaquis PJ, Stanich K, Girard B, Mazza G (2002) Antimicrobial activity of individual and mixed fractions of dill, cilantro, coriander and eucalyptus essential oils. Int J Food Microbiol 74:101–109

15.

Higgins D (1996) Clustal W version 1.6. The European Bioinformatics Institute, Cambridge

16.

Felsenstein J (1995) PHYLIP (phylogeny inference package), version 3.5c. University of Washington, Seattle

17.

Saito N, Nei M (1995) The neighbor-joining method: a new method for reconstructing phylogenetic trees. Mol Biol Evol 4:406–425

18.

Maidak BL, Larsen N, McCaughey MJ, Overbeek R, Olsen GJ, Fogel K, Blandy J, Woese CR (1994) The ribosomal database project. Nucleic Acids Res 22:3485–3487

19.

Cilia V, Lafay B, Christen R (1996) Sequence heterogeneities among 16S ribosomal RNA sequences, and their effect on phylogenetic analyses at the species level. Mol Biol Evol 13(3):451–461

20.

Aznar R, Ludwig W, Amann RI, Schleifer KH (1994) Sequence determination of rRNA genes of pathogenic Vibrio species and whole-cell identification of Vibrio vulnificus with rRNA-targeted oligonucleotide probes. Int J Syst Bacteriol 44(2):330–337

21.

Ehresmann C, Stiegler P, Fellner P, Ebel JP (1972) The determination of the primary structure of the 16S ribosomal RNA of Escherichia coli. 2. Nucleotide sequences of products from partial enzymatic hydrolysis. Biochimie 54(7):901–967

22.

Drancourt M, Bollet C, Carta A, Rousselier P (2001) Phylogenetic analyses of Klebsiella species delineate Klebsiella and Raoultella gen. nov., with description of Raoultella ornithinolytica comb. nov, Raoultella terrigena comb. nov. and Raoultella planticola comb. Int J Syst Evol Microbiol 51(3):925–932

23.

Zerzghi H, Brooks JP, Gerba CP, Pepper IL (2010) Influence of long-term land application of class B biosolids on soil bacterial diversity. J Appl Microbiol 109(2):698–706

24.

Adnan J, Al-Rehaily (2006) Composition of essential oil of Micromeria Biflora ssp. Pak J Biol Sci 9(14):2726–2728

25.

Chang ST, Chen PF, Chang SC (2001) Antibacterial activity of leaf essential oils and their constituents from Cinnamomum osmophloeum. J Ethnopharmacol 77:123–127

26.

Knobloch K, Weigand H, Weis N, Schwarm HM, Vigenschow H (1986) Action of terpenoids on energy metabolism. In: Brunke EJ (ed) Progress in essential oil research: 16th international symposium on essential oils. De Gruyter, Berlin, pp 429–445

27.

Sikkema J, De Bont JAM, Poolman B (1994) Interactions of cyclic hydrocarbons with biological membranes. J Biol Chem 269(11):8022–8028

28.

Denyer SP, Hugo WB (1991) Mechanisms of antibacterial action-A summary. In: Denyer SP, Hugo WB (eds) Mechanisms of action of chemical biocides. Blackwell, Oxford, pp 331–334

29.

Sikkema J, De Bont JAM, Poolman B (1995) Mechanisms of membrane toxicity of hydrocarbons. Microbiol Rev 59(2):201–222

30.

Davidson PM (1997) Chemical preservatives and natural antimicrobial compounds. In: Doyle MP, Beuchat LR, Montville TJ (eds) Food microbiology: fundamentals and frontiers. ASM, Washington, DC, pp 520–556

31.

Smith-Palmer A, Stewart J, Fyfe L (1998) Antimicrobial properties of plant essential oils and essences against five important food-borne pathogens. Lett Food Microbiol 26:118–122
Acknowledgment
Thanks to Department of Science and Technology (DST) for financial assistance; to Head, Department of Horticulture Aromatic and Medicinal Plants, Mizoram University, Aizawl as well as Head, Department of Botany, University of Allahabad for providing laboratory facilities.
About this article
Cite this article
Kumar, A., Gupta, R., Mishra, R.K. et al. Pharmaco-Phylogenetic Investigation of Micromeria biflora Benth and Citrus reticulata Blanco. Natl. Acad. Sci. Lett. 35, 253–257 (2012). https://doi.org/10.1007/s40009-012-0029-7
Received:

Revised:

Accepted:

Published:

Issue Date:
Keywords
Water borne bacterial diseases

Micromeria biflora
Citrus reticulata

Synergistic

Phylogenetic