Abstract
Purpose
This study aimed to investigate clinical pharmacokinetics (PKs) of choline after oral administration of choline alfoscerate capsule and newly developed syrup formulation using population pharmacokinetic modeling and simulation approach.
Methods
Each subject received 1,200 mg single administration of choline alfoscerate capsule or syrup. Blood collection was performed 13 times each day before administration and on the day of administration. Baseline blood was collected to investigate the circadian rhythm of endogenous substance of choline. A PK model of choline was developed to describe baseline circadian wave and its absorption and disposition characteristics after oral administration of exogenous choline substances. Furthermore, the developed model was used to generate stochastic simulation data for investigating choline exposure with a regimen of clinical practice settings.
Results
The one-compartment with circadian input, first-order absorption, and first-order elimination well described the plasma concentration of choline. Baseline circadian wave was described using cosine function with parameters of baseline concentration (C0), amplitude (Amp), and time shift to peak (Tshift). Intrinsic choline concentration followed a typical circadian rhythm. Exogenous choline substance increased the endogenous choline concentration. Furthermore, three times daily dosing of choline alfoscerate increased choline exposure than once a day administration with the same amount of choline alfoscerate.
Conclusion
This is the first study investigating PKs of choline alfoscerate using pharmacokinetic modeling, including circadian input function to ameliorate physiological and pharmacological properties of choline. Results of this study provide meaningful information for evaluating clinical effectiveness of choline alfoscerate.
This is a preview of subscription content,
to check access.
Access this article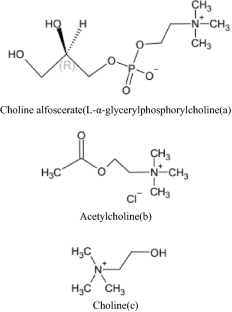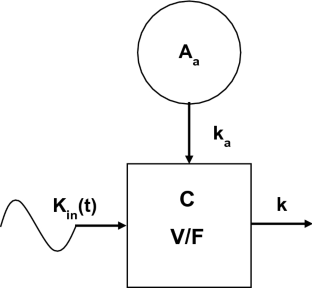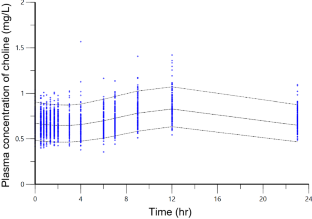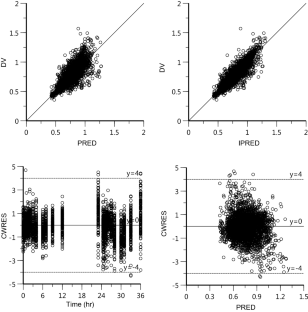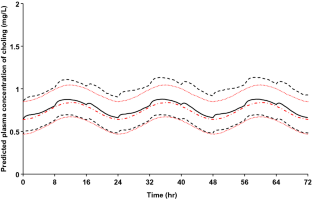 Similar content being viewed by others
References
Abbiati G, Fossati T, Lachmann G, Bergamaschi M, Castiglioni C (1993) Absorption tissue distribution and excretion of radiolabelled compounds in rats after administration of [14C]-L-alpha-glycerylphosphorylcholine. Eur J Drug Metab Pharmacokinet 18:173–180

Ayyar VS, Krzyzanski W, Jusko WJ (2019) Indirect pharmacodynamic models for responses with circadian removal. J Pharmacokinet Pharmacodyn 46:89–101

Chong Kun Dang Pharmaceutical Corp. Gliatirin Soft Cap. (Choline alfoscerate) [package insert]. Ministry of Food and Drug Safety. https://nedrug.mfds.go.kr/pbp/CCBBB01/getItemDetail?itemSeq=200600026. Accessed 28 July 2021

FDA (2018) Bioanalytical Method Validation Guidance for Industry.Center for Drug Evaluation and Research. https://www.fda.gov/regulatory-information/search-fda-guidance-documents/bioanalytical-method-validation-guidance-industry.Accessed 22 May 2018

FDA (2021) Bioequivalence Studies With Pharmacokinetic Endpoints for Drugs Submitted Under an ANDA.Center for Drug Evaluation and Research. https://www.fda.gov/regulatory-information/search-fda-guidance-documents/bioequivalence-studies-pharmacokinetic-endpoints-drugs-submitted-under-abbreviated-new-drug. Accessed 20 August 2021

Glass BD, Haywood A (2006) Stability considerations in liquid dosage forms extemporaneously prepared from commercially available products. J Pharm Pharm Sci 9:398–426

Gullapalli RP, Mazzitelli CL (2017) Gelatin and non-gelatin capsule dosage forms. J Pharm Sci 106:1453–1465

Hut RA, Van der Zee EA (2011) The cholinergic system, circadian rhythmicity, and time memory. Behav Brain Res 221:466–480

Hyun-Ah K, Se-Mi K, Seung-Rae K, Min-Sun K, Sang-No L, In-Ho K, Hee-Doo Y, Yoon-Gyoon K, Yong-Bok L (2010) Bioequivalence of cholicerin soft capsule to gliatilin soft capsule (choline alphoscerate 400 mg). J Pharm Investig 40:109–115

Khan A, Carmona R, Traube M (2014) Dysphagia in the elderly. Clin Geriatr Med 30:43–53

Kim H, Han S, Cho YS, Yoon SK, Bae KS (2018) Development of R packages: "noncompart" and "ncar" for noncompartmental analysis (NCA). Transl Clin Pharmacol 26:10–15

Krause A, Lowe PJ (2014) Visualization and communication of pharmacometric models with berkeley madonna. CPT Pharmacomet Syst Pharmacol 3:e116

Marta C-B, Carolina M, Nina G, Luis MJ (2017) Alzheimer's disease prevention: from risk factors to early intervention. Alzheimer's Res Ther 9:71

Min MH, Park JH, Hur JH, Shin HC, Cho Y, Kim DD (2019) Formulation and bioequivalence studies of choline alfoscerate tablet comparing with soft gelatin capsule in healthy male volunteers. Drug Des Devel Ther 13:1049–1058

Ministry of Food and Drug Safety (2021) Guideline for the Drug Equivalence Test Bioequivalence Evaluation Division. https://www.mfds.go.kr/brd/m_1060/view.do?seq=14825&srchFr=&srchTo=&srchWord=%EC%9D%98%EC%95%BD%ED%92%88%EB%8F%99%EB%93%B1%EC%84%B1&srchTp=0&itm_seq_1=0&itm_seq_2=0&multi_itm_seq=0&company_cd=&company_nm=&Data_stts_gubun=C9999&page=1#none. Accessed 8 April 2021

Ministry of Health and Welfare (2020) Korean Dementia Observatory 2020. https://sh.nid.or.kr/community/pds_view.aspx?bid=221.Accessed 12 May 2021

Moreno MDJM (2003) Cognitive improvement in mild to moderate Alzheimer's dementia after treatment with the acetylcholine precursor choline alfoscerate: a multicenter, double-blind, randomized, placebo-controlled trial. Clin Ther 25:178–193

Parnetti L, Mignini F, Tomassoni D, Traini E, Amenta F (2007) Cholinergic precursors in the treatment of cognitive impairment of vascular origin: ineffective approaches or need for re-evaluation?. J Neurol Sci 257:264–269

Perry EK, Gibson PH, Blessed G, Perry RH, Tomlinson BE (1977) Neurotransmitter enzyme abnormalities in senile dementia. Choline acetyltransferase and glutamic acid decarboxylase activities in necropsy brain tissue. J Neurol Sci 34:247–265

Young YH, Koo LB, Sun GH (2012) Stability of triamcinolone added in three oral liquid syrups. Korean J Clin Pharm 22:176–180
Acknowledgements
When conducting this study, the Korea United Pharm Inc. supported clinical trials.
Ethics declarations
Conflict of interest
All authors (A.‑G. Im, G.‑W. Choi, D.W. Kang, S.‑J. Cho, J. Kim, K.Y. Kim, H.‑Y. Cho) declare no competing interests.
Research involving human and animal participants
All protocols performed in studies involving human participants followed the ethical standards of the Institutional Review Board of Metro Hospital, Anyang-si, Gyeonggi-do, Republic of Korea (IRB No. MER-IRB-2018–05-21–01). They were in accordance with the 1964 Helsinki declaration and its later amendments or comparable ethical standards. Informed consent was confirmed by the Institutional Review Board of Metro Hospital.
Additional information
Publisher's Note
Springer Nature remains neutral with regard to jurisdictional claims in published maps and institutional affiliations.
About this article
Cite this article
Im, AG., Choi, GW., Kang, D.W. et al. Population pharmacokinetic modeling and simulation of choline in healthy Korean subjects after oral administration of choline alfoscerate. J. Pharm. Investig. 52, 331–339 (2022). https://doi.org/10.1007/s40005-022-00562-2
Received:

Accepted:

Published:

Issue Date:

DOI: https://doi.org/10.1007/s40005-022-00562-2
Keywords