Abstract
The aim of the current research was to investigate the release of diclofenac sodium, a poorly water-soluble drug from different formulations in vitro. A microemulsion (ME) was prepared using caprylocaproyl polyoxyl-8 glycerides, diethylene glycol monoethyl ether, and propylene glycol monolaurate. For enhancing the viscosity, carbopol was used to form an ME-based gel. The prepared formulations were characterized for physical appearance, droplet size, zeta potential, refractive index, percentage transmittance, heating–cooling cycles, phase separation, pH, conductivity, viscosity, drug content, staining solubility test, transmission electron microscopy and in vitro drug release using Franz diffusion cells. The mean droplets size for ME and ME-based gel-systems were 114.4 ± 0.472, and 178 ± 2.46 nm respectively, whereas the zeta potential values were −33.3 ± 0.64 mV for the former and −33.0 ± 0.40 mV for the latter. No significant variations in the pH nor physical appearance alterations were observed while stability tests were performed. Further, TEM images for drug-loaded ME and the gel exhibited nano-droplets that were spherical in shape. The release rate of diclofenac sodium formulated as ME or as ME gel had the highest release values (76.67 ± 8.63%) and (69.28 ± 7.14%) after 6 h respectively. This was statistically significant (p < 0.0001) compared to the control and different marketed formulations or compounded preparations. The ME-based gel had a higher viscosity suitable for topical administration without dripping. The in vitro result suggested that ME systems are powerful topical vehicles for enhanced penetration of diclofenac sodium.
Access options
Buy single article
Instant access to the full article PDF.
US$ 39.95
Tax calculation will be finalised during checkout.
Subscribe to journal
Immediate online access to all issues from 2019. Subscription will auto renew annually.
US$ 79
Tax calculation will be finalised during checkout.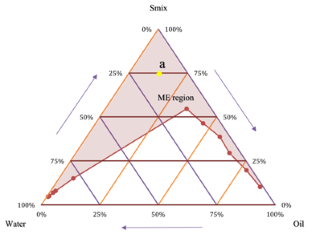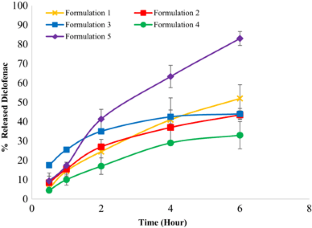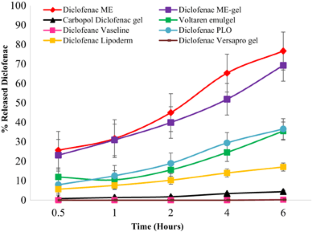 References
Akhtar N, Talegaonkar S, Khar RK, Jaggi M (2013) Self-nanoemulsifying lipid carrier system for enhancement of oral bioavailability of etoposide by P-glycoprotein modulation: In vitro cell line and in vivo pharmacokinetic investigation. J Biomed Nanotechnol 9(7):1216–1229

Altman RD, Dreiser R, Fisher CL, Chase WF, Dreher DS, Zacher J (2009) Diclofenac sodium gel in patients with primary hand osteoarthritis: a randomized, double-blind, placebo-controlled trial. J Rheumatol 36(9):1991–1999

Atlantic Pharmacy and compounding (2016) Topical pain preparations. http://www.atlanticcompounding.com/wp-content/themes/atlanticpharmaandcompounding/pdf/topical-pain-preparations.pdf. Accessed 15 Dec 2016

Azeem A, Khan ZI, Aqil M, Ahmad FJ, Khar RK, Talegaonkar S (2009) Microemulsions as a surrogate carrier for dermal drug delivery. Drug Dev Ind Pharm 35(5):525–547

B & B Pharmacy compounding & Health Care Center (2016) Pain management compounding. http://www.bbpharmacy.com/paincompounding.html. Accessed 15 Dec 2016

Banning M (2008) Topical diclofenac: clinical effectiveness and current uses in osteoarthritis of the knee and soft tissue injuries. Expert Opin Pharmacother 9(16):2921–2929

Barakat N, Fouad E, Elmedany A (2011) Enhancement of skin permeation and anti-inflammatory effect of indomethacin using microemulsion. Asian J Pharm 5(3):141–149. doi:10.4103/0973-8398.91989

Barthel H, Halewood D (2009) Randomized controlled trial of diclofenac sodium gel in knee osteoarthritis. Semin Arthritis Rheum 39(3):203–212

Bhala N, Emberson J, Merhi A, Abramson S, Arber N, Baron JA, et al (2013) Vascular and upper gastrointestinal effects of non-steroidal anti-inflammatory drugs: meta-analyses of individual participant data from randomised trials. Lancet 382(9894):769–779

Bikkad ML, Nathani AH, Mandlik SK, Shrotriya SN, Ranpise NS (2014) Halobetasol propionate-loaded solid lipid nanoparticles (SLN) for skin targeting by topical delivery. J Liposome Res 24(2):113–123

Biswal B, Karna N, Nayak J, Joshi V (2014) Formulation and evaluation of microemulsion based topical hydrogel containing lornoxicam. J Appl Pharm Sci 4(12):77–84

Burnham R, Gregg R, Healy P, Steadward R (1998) The effectiveness of topical diclofenac for lateral epicondylitis. Clin J Sport Med 8(2):78–81

Chauhan L, Muzaffar F, Lohia S (2013) Design, development and evaluation of topical microemulsion. Int J Pharm Pharm Sci 5(2):604–610

Chen H, Chang X, Du D, Li J, Xu H, Yang X (2006) Microemulsion-based hydrogel formulation of ibuprofen for topical delivery. Int J Pharm 315(1):52–58

Coneac G, Vlaia V, Olariu I, Muţ AM, Anghel DF, Ilie C et al (2015) Development and evaluation of new microemulsion-based hydrogel formulations for topical delivery of fluconazole. AAPS PharmSciTech 16(4):889–904

Delgado-Charro MB, Iglesias-Vilas G, Blanco-Méndez J, López-Quintela MA, Marty J, Guy RH (1997) Delivery of a hydrophilic solute through the skin from novel microemulsion systems. Eur J Pharm Biopharm 43(1):37–42. doi:10.1016/S0939-6411(96)00016-1

Fouad SA, Basalious EB, El-Nabarawi MA, Tayel SA (2013) Microemulsion and poloxamer microemulsion-based gel for sustained transdermal delivery of diclofenac epolamine using in-skin drug depot: in vitro/in vivo evaluation. Int J Pharm 453(2):569–578

Gallardo V, Zouaki Y, Parera A, Ruiz MA (2002) Effect of cellulosic polymer on the release of salicylates in topical formulations. React Funct Polym 50(1):33–40

Gannu R, Palem CR, Yamsani SK, Yamsani VV, Yamsani MR (2010) Enhanced bioavailability of lacidipine via microemulsion based transdermal gels: formulation optimization, ex vivo and in vivo characterization. Int J Pharm 388(1):231–241. doi:10.1016/j.ijpharm.2009.12.050

Grace D, Rogers J, Skeith K, Anderson K (1999) Topical diclofenac versus placebo: a double blind, randomized clinical trial in patients with osteoarthritis of the knee. J Rheumatol 26(12):2659–2663

Gupta S, Bansal R, Ali J, Gabrani R, Dang S (2014) Development and characterization of polyphenon 60 and caffeine microemulsion for enhanced antibacterial activity. BioMed Res Int. doi:10.1155/2014/932017

Harwansh R, Rahman A, Dang J (2010) Microemulsion system for transdermal of diclofenac sodium for bioavailability enhancement. J Pharm Res 3(9):2182–2185

Helal DA, El-Rhman DA, Abdel-Halim SA, El-Nabarawi MA (2012) Formulation and evaluation of fluconazole topical gel. Int J Pharm Pharm Sci 4(5):176–183

Hu Z, Tawa R, Konishi T, Shibata N, Takada K (2001) A novel emulsifier, labrasol, enhances gastrointestinal absorption of gentamicin. Life Sci 69(24):2899–2910. doi:10.1016/S0024-3205(01)01375-3

Khiljee S, Rehman N, Sarfraz M, Montazeri H, Lbenberg R, Khiljee T (2010) In vitro release of indian penny wort, walnut, and turmeric from topical preparations using two different types of membranes. Diss 17(4):27–32. doi:10.14227/DT170410P27

Khiljee S, Rehman NU, Khiljee T, Loebenberg R, Ahmad RS (2015) Formulation and clinical evaluation of topical dosage forms of indian penny wort, walnut and turmeric in eczema. Pak J Pharm Sci 1(28):2001–2007

Kogan A, Garti N (2006) Microemulsions as transdermal drug delivery vehicles. Adv Colloid Interface Sci 123:369–385

Kotagale NR, Patel CJ, Parkhe AP, Khandelwal HM, Taksande JB, Umekar MJ (2010) Carbopol 934-sodium alginate-gelatin mucoadhesive ondansetron tablets for buccal delivery: Effect of PH modifiers. Indian J Pharm Sci 72(4):471

Kreilgaard M, Pedersen EJ, Jaroszewski JW (2000) NMR characterisation and transdermal drug delivery potential of microemulsion systems. J Control Release 69(3):421–433. doi:10.1016/S0168-3659(00)00325-4

Lawrence MJ, Rees GD (2000) Microemulsion-based media as novel drug delivery systems. Adv Drug Deliv Rev 45(1):89–121

Lopes LB (2014) Overcoming the cutaneous barrier with microemulsions. Pharmaceutics 6(1):52–77

Maxima Pharmaceuticals Inc. (2016) Transdermal delivery of medications. http://www.maximapharmaceuticals.com/English/physician.asp. Accessed 3 December 2016

Medisca (2012) In vitro skin study: optimized delivery of diclofenac sodium. https://www.medisca.com/Pages/Studies/pdf-files/white-papers/VersaPro%20Gel%20Base%20Flyer.pdf

Müller R, Radtke M, Wissing S (2002) Solid lipid nanoparticles (SLN) and nanostructured lipid carriers (NLC) in cosmetic and dermatological preparations. Adv Drug Deliv Rev 54(1):131–155

Moghimipour E, Salimi A, Karami M, Isazadeh S (2013) Preparation and characterization of dexamethasone microemulsion based on pseudoternary phase diagram. Jundishapur J Nat Pharm Prod 8(3):105–112. doi:10.17795/jjnpp-9373

Nair B, Taylor-Gjevre R (2010) A review of topical diclofenac use in musculoskeletal disease. Pharmaceuticals 3(6):1892–1908

Ng S, Rouse J, Sanderson F, Eccleston G (2012) The relevance of polymeric synthetic membranes in topical formulation assessment and drug diffusion study. Arch Pharm Res 35(4):579–593. doi:10.1007/s12272-012-0401-7

Nikumbh KV, Sevankar SG, Patil MP (2015) Formulation development, in vitro and in vivo evaluation of microemulsion-based gel loaded with ketoprofen. Drug Deliv 22(4):509–515

Novartis Consumer Health I (2006) Clinical pharmacology biopharmaceutics review(s) - FDA. https://www.accessdata.fda.gov/drugsatfda_docs/nda/2007/022122_ClinPharmR.pdf. Accessed 1 Jan 2016.

Novartis Consumer Health I (2009) Voltaren® gel. https://www.accessdata.fda.gov/drugsatfda_docs/label/2009/022122s006lbl.pdf. Accessed 25 March 2015.

Özgüney IS, Karasulu HY, Kantarci G, Sözer S, Güneri T, Ertan G (2006) Transdermal delivery of diclofenac sodium through rat skin from various formulations. AAPS PharmSciTech 7(4):E45

Park K, Kim C (1999) Preparation and evaluation of flurbiprofen-loaded microemulsion for parenteral delivery. Int J Pharm 181(2):173–179. doi:10.1016/S0378-5173(99)00029-0

PCCA (2013) A validated transdermal vehicle with superior results over PLO. http://professionalarts.com/wp-content/uploads/2013/07/Lipoderm-Studies-Booklet_2013.pdf. Accessed 23 December 2016

Peira E, Scolari P, Gasco MR (2001) Transdermal permeation of apomorphine through hairless mouse skin from microemulsions. Int J Pharm 226(1):47–51

Rhee Y, Choi J, Park E, Chi S (2001) Transdermal delivery of ketoprofen using microemulsions. Int J Pharm 228(1):161–170

Richards H, Thomas CP, Bowen JL, & Heard CM (2006) In-vitro transcutaneous delivery of ketoprofen and polyunsaturated fatty acids from a pluronic lecithin organogel vehicle containing fish oil. J Pharm Pharmacol 58(7):903–908

Sanna V, Peana AT, Moretti MD (2009) Effect of vehicle on diclofenac sodium permeation from new topical formulations: in vitro and in vivo studies. Curr Drug Deliv 6(1):93–100

Shafiq-un-Nabi S, Shakeel F, Talegaonkar S, Ali J, Baboota S, Ahuja A et al (2007) Formulation development and optimization using nanoemulsion technique: a technical note. Aaps Pharmscitech 8(2):E17

Shahzadi I, Masood M, Chowdhary F, Anjum A, Nawaz M, Maqsood I et al (2014) Microemulsion formulation for topical delivery of miconazole nitrate. Int J Pharm Sci Rev Res 2(24):30–36

Shainhouse JZ, Grierson LM, Naseer Z (2010) A long-term, open-label study to confirm the safety of topical diclofenac solution containing dimethyl sulfoxide in the treatment of the osteoarthritic knee. Am J Ther 17(6):566–576

Shalviri A, Sharma AC, Patel D, Sayani A (2011) Low-surfactant microemulsions for enhanced topical delivery of poorly soluble drugs. J Pharm Pharm Sci 14(3):315–324

Shinde U, Pokharkar S, Modani S (2012) Design and evaluation of microemulsion gel system of nadifloxacin. Indian J Pharm Sci 74(3):237

Singh AK, Chaurasiya A, Singh M, Upadhyay SC, Mukherjee R, Khar RK (2008) Exemestane loaded self-microemulsifying drug delivery system (SMEDDS): development and optimization. Aaps Pharmscitech 9(2):628–634

Tandel H, Patel P, Jani P (2015) Preparation and study of efavirenz microemulsion drug delivery system for enhancement of bioavailability. Eur J Pharm Med Res 2(5):1156–1174

Thakkar H, Nangesh J, Parmar M, Patel D (2011) Formulation and characterization of lipid-based drug delivery system of raloxifene-microemulsion and self-microemulsifying drug delivery system. J Pharm Bioallied Sci 3(3):442

Thakkar PJ, Madan P, Lin S (2014) Transdermal delivery of diclofenac using water-in-oil microemulsion: formulation and mechanistic approach of drug skin permeation. Pharm Dev Technol 19(3):373–384. doi:10.3109/10837450.2013.788658

The Medicine hope pharmacy, PCCA. (2009) Commonly requested pain management compounds. http://www.medicineshoppe.com/~/media/images/sites/the%20medicine%20shoppe/0279/pain%20management%20compounding%20ideas.ashx. Accessed 27 November 2016

Tugwell PS, Wells GA, Shainhouse JZ (2004) Equivalence study of a topical diclofenac solution (pennsaid) compared with oral diclofenac in symptomatic treatment of osteoarthritis of the knee: a randomized controlled trial. J Rheumatol 31(10):2002–2012

US Food and Drug Administration (1997) Guidance for industry: Dissolution testing of immediate release solid oral dosage forms. Center for Drug Evaluation and Research, Rockville
Acknowledgements
The authors gratefully acknowledge Taibah University, Madinah, Saudi Arabia for funding this project through the Drug Development and Innovation Centre at University of Alberta, Edmonton, Canada. The authors are also thankful to Gattefosse, for providing excipients for this study.
Ethics declarations
Conflict of interest
This research work does not contain any studies with human and animal subjects performed by any of the authors. The authors (B. Hajjar, K. Zier, N. Khalid, S. Azarmi and R. Löbenberg) declare that they have no conflict of interest.
About this article
Cite this article
Hajjar, B., Zier, KI., Khalid, N. et al. Evaluation of a microemulsion-based gel formulation for topical drug delivery of diclofenac sodium. J. Pharm. Investig. 48, 351–362 (2018). https://doi.org/10.1007/s40005-017-0327-7
Received:

Accepted:

Published:

Issue Date:
Keywords
Diclofenac sodium

Microemulsion

Gel

Carbopol

Topical delivery

In vitro release