Abstract
Rice plays an important role in feeding the world's population, especially the people who live in developing countries. More than 90% of the world's rice is produced and consumed in Asia. Blast disease caused by Magnaporthe Oryzae is one of the most important diseases of rice in the world. This study evaluated the power of 10 blast-specific SSR markers in the determination of genetic diversity among 30 cultivars of Indica rice. The phenotypic evaluation was also performed using M. Oryzae at the stage of three or four leaves. A total of 23 effective alleles with an average of 2.21 alleles per locus were found. A total of 28 alleles were also observed per locus with an average of 2.8. Also, the average of Polymorphic information content (PIC) for the studied markers was estimated as 0.42. RM204 and RM413 showed the highest (0.60) and the lowest (0.081) PIC, respectively. The UPGMA-based dendrogram obtained from the binary SSR data divided 30 studied genotypes into three groups. In phenotypic testing, the observed phenotypic similarities corresponded to those in UPGMA-based dendrogram with some intermixing. The phenotypic evaluation also divided the population into three groups. According to Student's t tests for comparing the phenotypic and genotypic data, SSR markers RM277 and RM8225 were found to be linked to semi-susceptible and resistant phenotypes, respectively.
This is a preview of subscription content,
to check access.
Access this article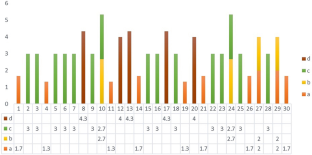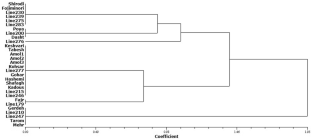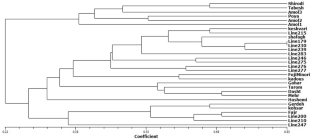 References
Anderson JA, Churchill GA, Autrique JE, Tanksley SD, Sorrells ME (1993) Optimizing parental selection for genetic linkage maps. Genome 36(1):181–186

Ashkani S, Rafii MY, Sariah M, Siti NA, Rusli I, Harun AR, Latif MA (2011) Analysis of simple sequence repeat markers linked with blast disease resistance genes in a segregating population of rice (Oryza sativa). Genet Mol Res 10(3):1345–1355

Ashkani S, Rafii MY, Rahim HA, Latif MA (2013) Genetic dissection of rice blast resistance by QTL mapping approach using an F 3 population. Mol Biol Rep 40(3):2503–2515

Ashkani S, Rafii MY, Shabanimofrad M, Miah G, Sahebi M, Azizi P, Tanweer FA, Akhtar MS, Nasehi A (2015) Molecular breeding strategy and challenges towards improvement of blast disease resistance in rice crop. Front Plant Sci 16(6):886

Baraket G, Chatti K, Saddoud O, Abdelkarim AB, Mars M, Trifi M, Hannachi AS (2011) Comparative assessment of SSR and AFLP markers for evaluation of genetic diversity and conservation of fig, Ficus carica L., genetic resources in Tunisia. Plant Mol Biol Rep 29(1):171–184

Berilus SR, Pattanayak A, Ram G (2013) Analysis of genetic variability in rice cultivars of Arunachal Pradesh (India) using microsatellite marker. Afr J Biotechnol 12(8):798–810

Cantrell RP, Reeves TG (2002) The cereal of the world's poor takes center stage. Science 296(5565):53

Chungada AS, Gokhale NB, Patil DM, Sawardekar SV, Patil PP (2016) Molecular screening of rice germplasm for biotic and abiotic stresses and their diversity study by using SSR markers. J Indian Soc Coast Agric Res 34(2):1

DeZwaan TM, Carroll AM, Valent B, Sweigard JA (1999) Magnaporthe grisea pth11p is a novel plasma membrane protein that mediates appressorium differentiation in response to inductive substrate cues. Plant Cell 11(10):2013–2030

Eizenga GC, Agrama HA, Lee FN, Yan W, Jia Y (2006) Identifying novel resistance genes in newly introduced blast resistant rice germplasm. Crop Sci 46(5):1870–1878

Fjellstrom R, Conaway-Bormans CA, McClung AM, Marchetti MA, Shank AR, Park WD (2004) Development of DNA markers suitable for marker assisted selection of three Pi genes conferring resistance to multiple Pyricularia grisea pathotypes. Crop Sci 44(5):1790–1798

Fuentes JL, Correa-Victoria FJ, Escobar F, Prado G, Aricapa G, Duque MC, Tohme J (2008) Identification of microsatellite markers linked to the blast resistance gene Pi-1 (t) in rice. Euphytica 160(3):295–304

Fukuoka S, Saka N, Mizukami Y, Koga H, Yamanouchi U, Yoshioka Y, Hayashi N, Ebana K, Mizobuchi R, Yano M (2015) Gene pyramiding enhances durable blast disease resistance in rice. Sci Rep 14(5):7773

Ganie SA, Borgohain MJ, Kritika K, Talukdar A, Pani DR, Mondal TK (2016) Assessment of genetic diversity of Saltol QTL among the rice (Oryza sativa L.) genotypes. Physiol Mol Biol Plants 22(1):107–114

Giarrocco LE, Marassi MA, Salerno GL (2007) Assessment of the genetic diversity in Argentine rice cultivars with SSR markers. Crop Sci 47(2):853–858

Hannum S, Indriyani R (2018) Genetic diversity of local rice (Oryza sativa L.) from North Sumatera using simple sequence repeat (SSR). In: Journal of physics: conference series vol 1116, no 5. IOP Publishing, p. 052025

Hasan MM, Rafii MY, Ismail MR, Mahmood M, Alam MA, Abdul Rahim H, Malek MA, Latif MA (2016) Introgression of blast resistance genes into the elite rice variety MR263 through marker-assisted backcrossing. J Sci Food Agric 4:1297–1305

Ho WC, Ko WH (1997) A simple method for obtaining single-spore isolates of fungi. Bot Bull Acad Sin 38:41–44

Khush GS (2005) what it will take to feed 5.0 billion rice consumers in 2030. Plant Mol Biol 59(1):1–6

Križman M, Jakše J, Baričevič D, Javornik B, Prošek M (2006) Robust CTAB-activated charcoal protocol for plant DNA extraction. Acta Agric Slov 87(2):427–433

Koide Y, Kobayashi N, Xu D, Fukuta Y (2009) Resistance genes and selection DNA markers for blast disease in rice (Oryza sativa L.). Jpn Agric Res Q JARQ. 43(4):255–280

Law JW-F, Ser H-L, Khan TM, Chuah L-H, Pusparajah P, Chan K-G, Goh B-H, Lee L-H (2017) The potential of Streptomyces as biocontrol agents against the rice blast fungus, Magnaporthe oryzae (Pyricularia oryzae). Front Microbiol 8:3

Liu XQ, Wang L, Chen S, Lin F, Pan QH (2005) Genetic and physical mapping of Pi36 (t), a novel rice blast resistance gene located on rice chromosome 8. Mol Genet Genom 274(4):394–401

Liu Y, Zhu XY, Zhang S, Bernardo M, Edwards J, Galbraith DW, Leach J, Zhang G, Liu B, Leung H (2011) Dissecting quantitative resistance against blast disease using heterogeneous inbred family lines in rice. Theor Appl Genet 122(2):341–353

Mahalingam A, Saraswathi R, Ramalingam J (2013) Simple sequence repeat (SSR) markers for assessing genetic diversity among the parental lines of hybrid rice (Oryza sativa L.). Afr J Biotechnol 12(33)

McCouch SR, Teytelman L, Xu Y, Lobos KB, Clare K, Walton M, Fu B, Maghirang R, Li Z, Xing Y, Zhang Q (2002) Development and mapping of 2240 new SSR markers for rice (Oryza sativa L.). DNA Res 9(6):199–207

McCouch SR, Teytelman L, Xu Y, Lobos KB, Clare K, Walton M, Fu B, Maghirang R, Li Z, Xing Y, Zhang Q (2002) Development and mapping of 2240 new SSR markers for rice (Oryza sativa L.) (supplement). DNA Res 9(6):257–279

Moumeni A, Leung H (2003) Genetic and molecular dissection of blast resistance in rice using RFLP, simple sequence repeats and defense-related candidate gene markers. Iran J Biotechnol 1(1):47–58

Moumeni A, Samadi BY, Wu J, Leung H (2003) Genetic diversity and relatedness of selected Iranian rice cultivars and disease resistance donors assayed by simple sequence repeats and candidate defense gene markers. Euphytica 131(3):275–284

Nachimuthu VV, Muthurajan R, Duraialaguraja S, Sivakami R, Pandian BA, Ponniah G, Gunasekaran K, Swaminathan M, Suji KK, Sabariappan R (2015) Analysis of population structure and genetic diversity in rice germplasm using SSR markers: an initiative towards association mapping of agronomic traits in Oryza sativa. Rice 8(1):30

Nahavandi R, Hafezamini P, Shamsudin MN (2011) Genetic diversity of intensive cultured and wild tiger shrimp Penaeus monodon (Fabricius) in Malaysia using microsatellite markers. Afr J Biotechnol 10(69):15501–15508

Pan QH, Hu ZD, Takatoshi T, Wang L (2003) Fine mapping of the blast resistance gene Pi15, linked to Pii, on rice chromosome 9

Rafii MY, Rahim HA, Ali NS, Mazlan N, Abdullah S (2015) Introgression of Pi-kh resistance gene into a Malaysian cultivar, MR264 using marker-assisted backcrossing (MABC). Int J Agric Biol 17:1172–1178

Rathour R, Chopra M, Sharma TR (2008) Development and validation of microsatellite markers linked to the rice blast resistance gene Pi-z of Fukunishiki and Zenith. Euphytica 163(2):275–282

Rohlf FJ (2000) NTSYS-PC: numerical taxonomy and multivariate analysis system, version 2.2. Exeter Software, Setauket, New York

Sharma R, De Vleesschauwer D, Sharma MK, Ronald PC (2013) Recent advances in dissecting stress-regulatory crosstalk in rice. Mol Plant 6(2):250–260

Sirithunya P, Tragoonrung S, Vanavichit A, Pa-In N, Vongsaprom C, Toojinda T (2002) Quantitative trait loci associated with leaf and neck blast resistance in recombinant inbred line population of rice (Oryza sativa). DNA Res 9(3):79–88

Song JY, Lee GA, Choi YM, Lee S, Lee KB, Bae CH, Jung Y, Hyun DY, Park HJ, Lee MC (2014) Blast resistant genes distribution and resistance reaction to blast in Korean landraces of rice (Oryza sativa L). 한국자원식물학회지 27(6):687–700

Susan A, Yadav MK, Kar S, Aravindan S, Ngangkham U, Raghu S, Prabhukarthikeyan SR, Keerthana U, Mukherjee SC, Salam JL, Adak T (2019) Molecular identification of blast resistance genes in rice landraces from northeastern India. Plant Pathol 68(3):537–546

Talbot NJ (2003) on the trail of a cereal killer: exploring the biology of Magnaporthe grisea. Ann Rev Microbiol 57(1):177–202

Wilson RA, Talbot NJ (2009) under pressure: investigating the biology of plant infection by Magnaporthe oryzae. Nat Rev Microbiol 7(3):185

Wong SC, Yiu PH, Bong ST, Lee HH, Neoh PN, Rajan A (2009) Analysis of Sarawak Bario rice diversity using microsatellite markers. Am J Agric Biol Sci 4:298–304

Yeh FC, Yang RC, Boyle TB, Ye ZH, Mao JX (1999) POPGENE version 1.32, the user-friendly shareware for population genetic analysis. Molecular Biology and Biotechnology Centre, University of Alberta, Alberta

Zhang YX, Wang Q, Jiang L, Liu LL, Wang BX, Shen YY, Cheng XN, Wan JM (2011) Fine mapping of qSTV11 KAS, a major QTL for rice stripe disease resistance. Theor Appl Genet 122(8):1591–1604

Zhu M, Wang L, Pan Q (2004) Identification and characterization of a new blast resistance gene located on rice chromosome 1 through linkage and differential analyses. Phytopathology 94(5):515–519

Zhu X, Chen S, Yang J, Zhou S, Zeng L, Han J, Su J, Wang L, Pan Q (2012) The identification of Pi50 (t), a new member of the rice blast resistance Pi2/Pi9 multigene family. Theor Appl Genet 124(7):1295–1304
Acknowledgements
The authors are thankful to the Department of Biotechnology, Islamic Azad University Science and Research Branch for the financial aid to this project.
Ethics declarations
Conflict of interest
The authors declare that there is no conflict of interest.
Additional information
Publisher's Note
Springer Nature remains neutral with regard to jurisdictional claims in published maps and institutional affiliations.
About this article
Cite this article
Farahzadi, F., Ebrahimi, A., Zarrinnia, V. et al. Evaluation of Genetic Diversity in Iranian Rice (Oryza Sativa) Cultivars for Resistance to Blast Disease Using Microsatellite (SSR) Markers. Agric Res 9, 460–468 (2020). https://doi.org/10.1007/s40003-019-00447-1
Received:

Accepted:

Published:

Issue Date:

DOI: https://doi.org/10.1007/s40003-019-00447-1
Keywords